Visit Kagawa Prefecture, a Hidden Tourist Destination : Admire the Best of Japanese Art at Kotohira Shrine and Shoin
Kotohira Shrine in Kagawa Prefecture is filled with all the elements to fully enjoy the beauty of Japan, including beautiful buildings and numerous Fusuma paintings by Japan's leading artists, such as Okyo Maruyama.
Many foreign tourists visit Naoshima Island in the Seto Inland Sea, but there are still a few who make the trip to Kotohira Shrine.
I would like you to take this opportunity to visit the Seto Inland Sea and take a short trip to see its splendor.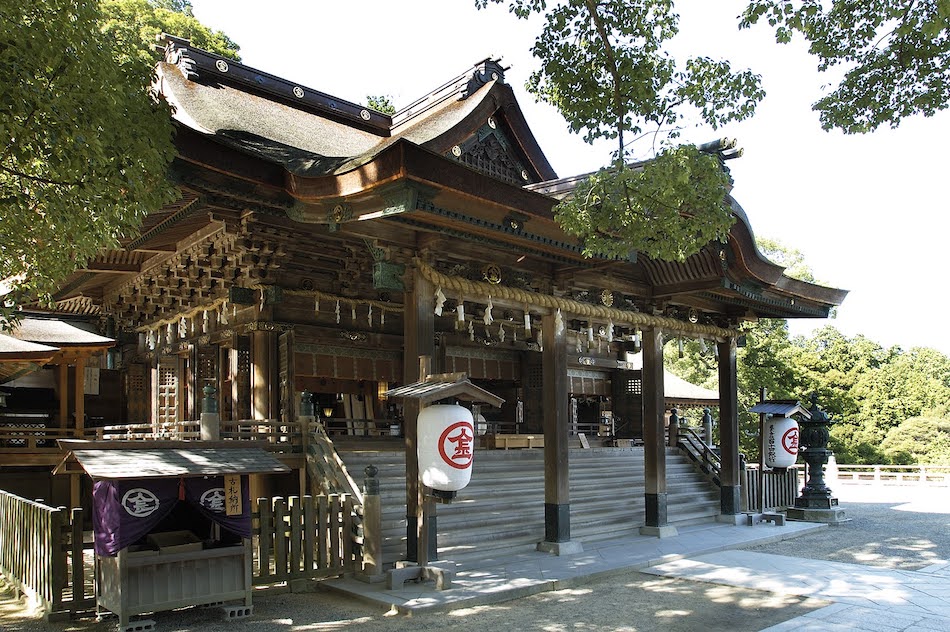 Kotohira Shrine is located halfway up Mt. Zozu, a scenic spot that overlooks the Seto Inland Sea and has been designated as a Seto Inland Sea National Park, a place of scenic beauty and a natural monument.
Although it is not clear when it was founded, it is said to have been influenced by the syncretism of Shinto and Buddhism that began in the Nara period (early 10th century), and was widely worshiped as Kompira Daigongen, the Great Avatar of Kompira, during the Muromachi period.
Since the mid-19th century, he has been worshiped as the guardian deity of maritime transportation. When you visit the majestic main shrine, you can look out over the Seto Inland Sea (which Kotohira Shrine has been watching over for a long time).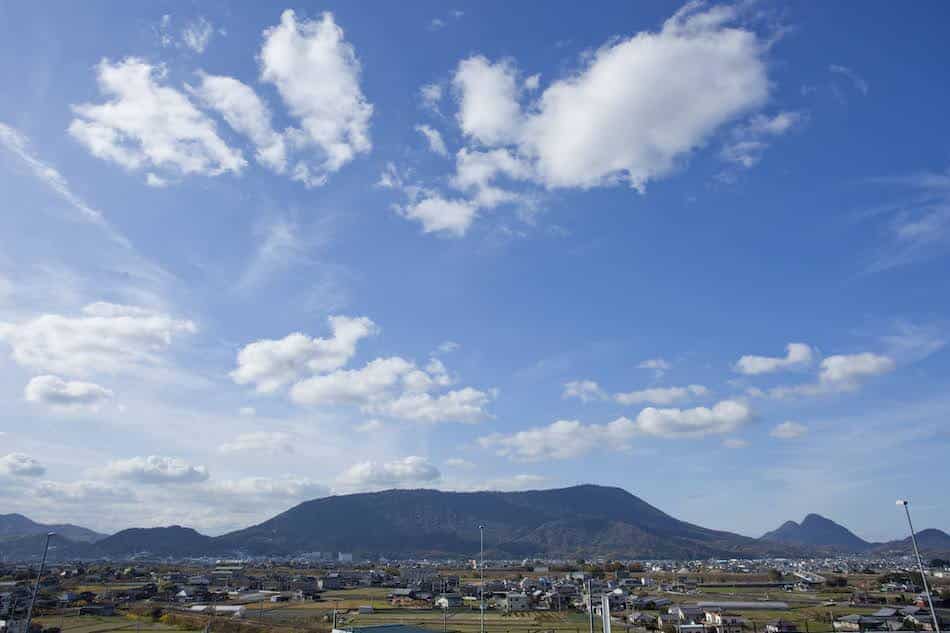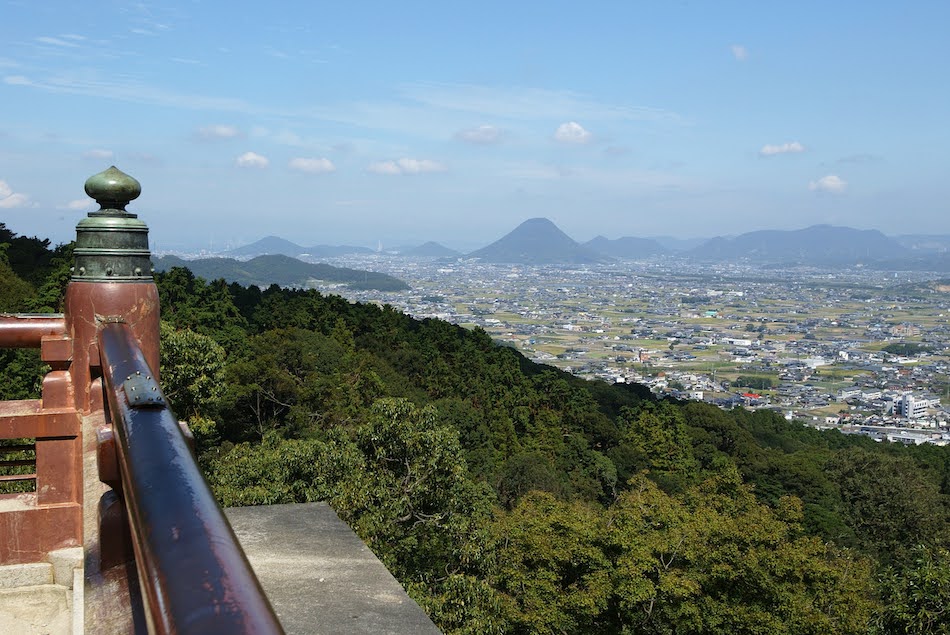 The Shoin introduced here is located halfway up the mountain from the foot of the temple to the main shrine.
Omote Shoin (Drawing Room) is said to have been built in the Manji era (1658-1660) with a gabled structure and a cypress bark roof.
This Shoin (Drawing Room) was used as a guest hall by Betto Konkoin, who served as Konpira Daigongen. He used it as a place to hold various ceremonies and receive people who came to worship.
There are masterpieces by Okyo Maruyama on the sliding doors of the five tatami rooms in the building to welcome the imperial family, Shoguns, and feudal lords of the time who visited Kotohira Shrine.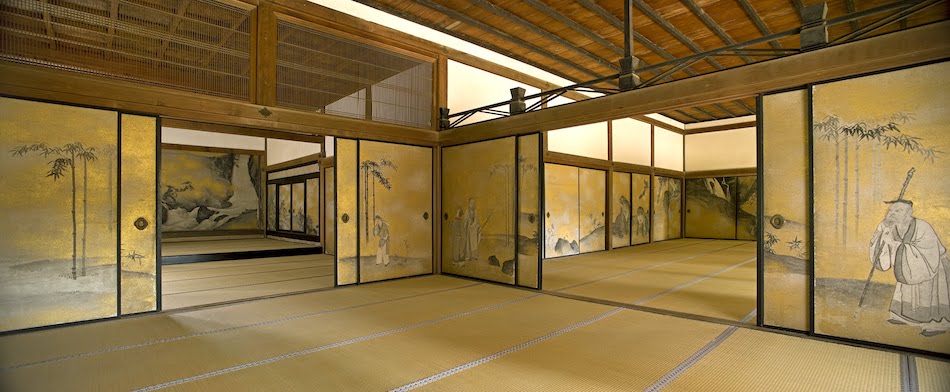 Okyo Maruyama was a representative painter of the Kyoto art world in the middle of the Edo period, and the founder of the Maruyama school.
He adopted the technique of sketching while observing the actual object, instead of the traditional method of drawing while looking at the illustrations of his master.
In his fifties, which could be considered the later years of Okyo's life, he worked on the Fusuma paintings "Tsuru-no-ma, Crains room" and "Tora-no-ma, Tigers Room" which he produced in 1787 and 1794.
"Tigers Room", "Shichiken-no-ma, Seven Sages Room", "Jodan-no-ma, Upper Row Room," and "Landscape Room" are spaces with different uses.
Among them, the most famous is the "Tigers Room," which includes the "Water-drinking tiger" and the "Tiger staring in all directions."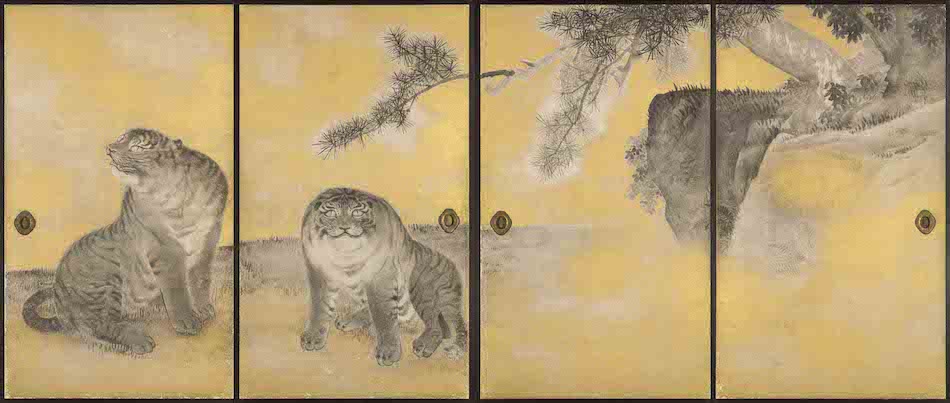 In "Tigers Room," Okyo depicts eight tigers in a large space with 16 sliding doors.
When Okyo was active, there were no tigers in Japan.
At that time, Japanese artists painted tigers based on paintings depicting tigers, imported furs, and cats. However, Okyo was also an artist who emphasized the importance of understanding bone structure.
It is said that Okyo obtained paintings and furs of tigers from China and the Korean peninsula, and based his anatomy on them. He imagined the tiger's appearance and drew it.
Perhaps because of the circumstances at the time, the tigers depicted by Okyo sometimes give the impression of being cute, like small animals like cats, compared to the tigers depicted in later years.

The tigers depicted by Okyo vary in a variety of ways, but all of them are depicted in a space with no depth, giving the viewer a powerful sense of movement as if they were jumping out of a sliding door.
The two tigers with their faces close to the river's surface drinking water are called the "Water-Drinking Tigers" and the tiger depicted looking straight ahead under a pine tree is called the "Tiger Staring in All Directions."
Even though the tiger did not exist, there is an unmistakably real tiger that is sublimated in Okyo and is filled with a sense of realism. You can see why it is called Okyo's masterpiece in his later years.

There is much to see in this Omote Shoin (Drawing Room) other than these wonderful paintings on Fusuma screen.
The Kemari, a type of football played by courtiers in ancient Japan at Kotohira Shrine, is designated as an intangible cultural property of Kagawa Prefecture, and the garden in front of the Omote Shoin (Drawing Room) is the venue for the Kemari.
Inside is a flat Kemari court, Marigakari, about 15 meters square.
At its four corners, pine, willow, cherry, and maple trees are planted, each indicating a direction.
All of these trees are bifurcated. And this is said to be the Yorishiro, the object representative of a divine spirit where the Kemari god, Shirage Daimyojin (a deity with extraordinary spiritual powers) resides, so it is said that this makes it easier for the god to sit.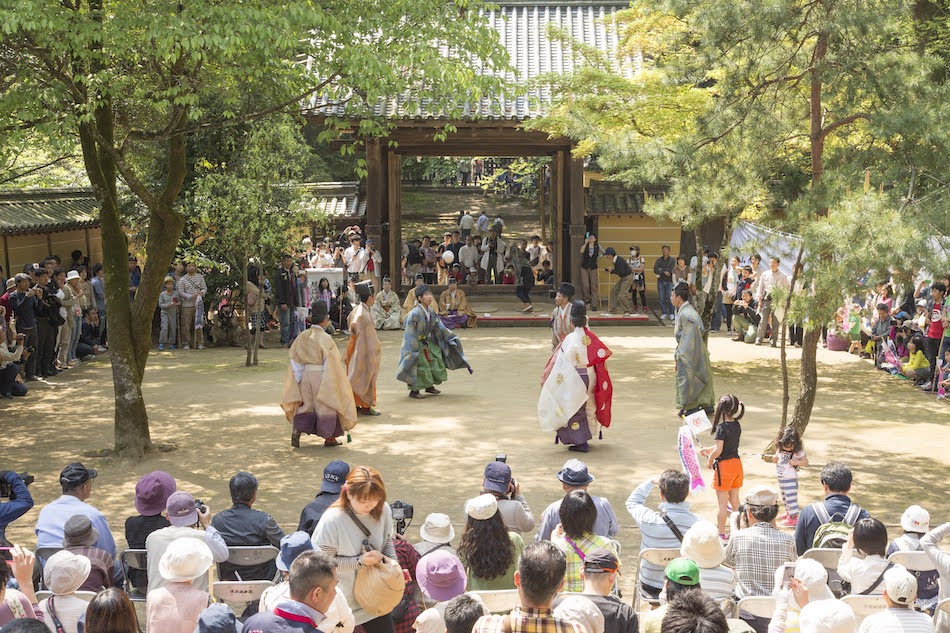 Kotohira Shrine is enshrined on Mt. Zozu in Kotohira Town, Kagawa Prefecture, since ancient times, attracting people's faith and supporting the hearts of the people of the area.
Furthermore, it also plays a role as the center of art in this area, and the Omote Shoin Study Room and Oku Shoin Study Room house many works by painters who were active in the Edo period, such as Ito Jakuchu and Maruyama Okyo.
Kotohira Shrine also owns many works by Yuichi Takahashi, Japan's first Western-style painter.
The collection of works held by Kotohira Shrine is artistically wonderful and valuable, and there is no doubt that they are cultural assets that represent Japan. His works have been highly acclaimed overseas, and a major exhibition was held at the Musée Guimet in France, where he received high acclaim.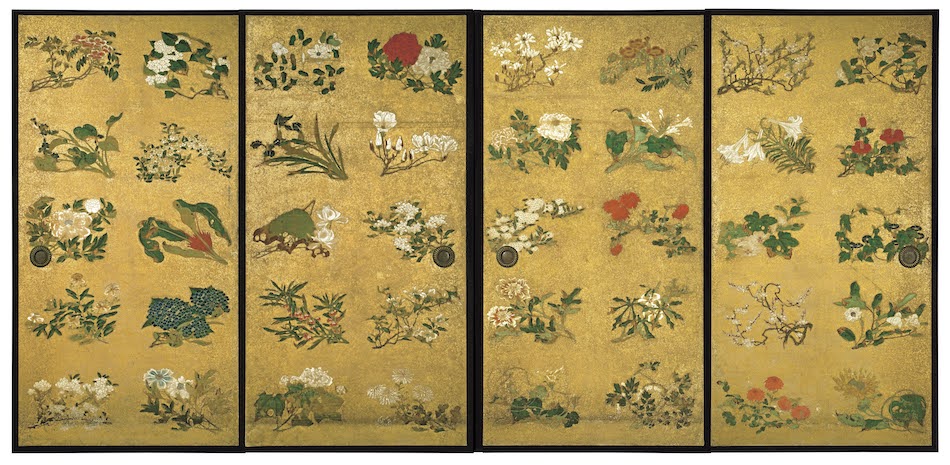 The area from Okayama to Kagawa has a lot of excellent art.
The Ohara Museum of Art, located in Kurashiki City, Okayama Prefecture, is a famous art museum with a reputation that stands out, and Naoshima is known as an island of contemporary art.
If you are going to visit the Setouchi Inland Sea, you should definitely climb up the 1,000-odd steps and visit Kotohira Shrine.
It is truly a wonderful moment to take a break at Omote Shoin on the way up the long staircase and immerse yourself in the world of Okyo.
The greatest beauty can be found in a majestic space that attracts people's faith.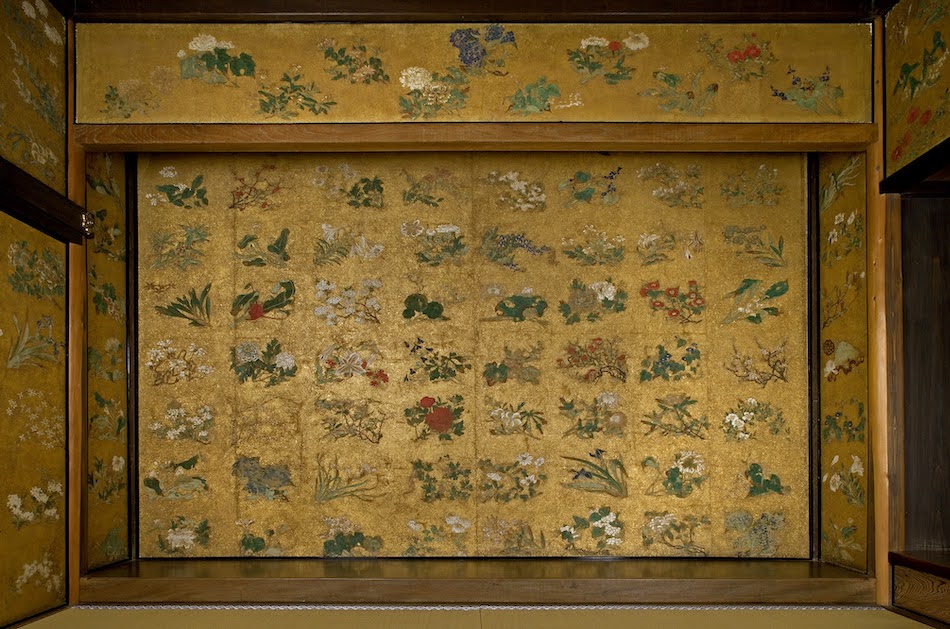 Kotohira Shrine Official Website