Andaz Tokyo presents seasonal fresh menus
Can you smell the spring yet? The lush scenery and the appearance of cherry blossoms are almost here, and we can't wait to officially say hello to our favorite season of the year.
To greet the long-awaited arrival of this season, Andaz Tokyo Toranomon is welcoming it the best way they know how: by providing you with an unforgettable experience through their new set of delectable menus. Let's welcome the spring with Andaz Tokyo fresh menus.
MEAT AND ORGANIC HERBS
Let's start off with the spring-inspired course dinner of The Tavern – Grill & Lounge. Created by Chef Yamaguchi, almost every element present on the dish is reminiscent of a spring garden, wherein fresh herbs are being used to highlight the flavor of each dish. Expect a tasteful combination of different herbs and spices like the medley of chive, dill, tarragon, and Italian parsley, plus various unique components like lemon oil powder and Australian pink salt.
Here are the dishes being offered at The Tavern – Grill & Lounge menu:
COURSE MENU
Organic Vegetable and Herb Salad, Balsamic Pearls, Lemon Oil Powder, Australian Pink Salt, Bagna Cauda Sauce
Yakuzen Chicken Consommé Soup
Grilled Seasonal Fish, Lemon, Fresh Herb Crust, Green Beans, Clam Sauce, Wild Rocket Oil
Grilled Japanese Beef Tenderloin, Estragon Mustard, Mixed Herbs, Swiss Chard, Béarnaise Sauce
Five-Grain Rice Pudding, Berry Compote, Mint Sherbet, Tapioca Pearls, Detox Herb Tea Soup
Their spring menu is available from March 1 to April 30, priced at JPY 12,000 for its 4-course menu and JPY 14,000 for the 5-course menu.
SPRING GREEN AFTERNOON TEA
Do you fancy yourself a cup of tea? When you're in a place as dreamy as Japan during spring, it's hard to say no to the finer things in life. Through The Tavern – Grill & Lounge, you may now enjoy this beautiful season of new blooms with a refreshing cup of tea. Not only that, but you'll also be pampered with their tasteful selection of sweet and savory canapes, which brings out the fresh flavors and bright colors of spring.
Here are the canapes being offered:
SAVORY MENU
Foie Gras and Brown Sugar Syrup Dome, Green Tea Powder
Sakura Leaf Marinated Chicken, Couscous, Green Beans
Cherry Tomato Ladybug, Avocado, Organic Bread
Red Sea Bream Brandade, Herb Salad, Green Powder
Fromage Blanc, Asari Clam, Cucumber, Lemon Verbena Sauce
SWEET MENU
Melon Shortcake
Pistachio Tart
Matcha Mousse
Avocado Cheesecake
Mojito Verrine, Mint
Bonbon Chocolate (Bergamot)
SCONES
Matcha & White Chocolate
Orange & Raisin
SAKURA AFTERNOON TEA AT SAKURA GARDEN
Who would want to say no to a view as stunning as this?
To keep up with the hotel's springtime tradition, their annual Sakura Garden returns to the 52nd floor rooftop terrace. Here, you'll be welcomed with their Sakura Afternoon Tea that wouldn't be complete without the beauty of their pink cherry blossoms and the stunning views of Tokyo Tower.
Their menu is something to watch out for as well—from mille crepes filled with beetroot puree all the way to their sakura rare cheesecake, you know that you're in for a treat.
Here's a list of their menu:
SAVORY MENU
Sakura Red Sea Bream Escabeche, Spring Vegetables
Beetroot and Cream Cheese Mille Crepes
Sakura Shrimp, Nanohana Rape Blossoms, Fresh Spring Roll
Salted Sakura Blossom, Parmesan, Rice Croquette
Foie Gras Mousse Tartlet, Dried Sakura Blossom
SWEETS MENU
Sakura Short Cake
Sakura Blanc Mange
Sakura Opera
Sakura Éclair
Sakura Rare Cheesecake
Sakura Chocolate Bonbon
SCONES
Sakura
Raisin & Orange
SAKURA PERRIER-JOUËT FREE FLOW PLAN AT SAKURA GARDEN
An evening spent under the cherry blossoms at Sakura Garden while staring at the sparkling views of Tokyo sounds like an unforgettable night, don't you think? At the rooftop bar, you can enjoy Perrier-Jouët Champagne by the glass or free-flowing, accompanied by sakura- inspired snacks, draft beer, wine and soft drinks. To complement your drink, you have the option to choose between various high-end snacks like the Bamboo Shoots and Escargot Gratin served with Sakura Blossom Powder and Garlic Baguette.
Here's the full list of their snacks menu and free flow plan:
SNACKS MENU
Sakura Leaf Marinated Cheese, Two Types of Tomato Caprese
Sakura Mini Burger
Bamboo Shoots and Escargot Gratin, Sakura Blossom Powder, Garlic Baguette
PLAN A / One glass of Perrier-Jouët Champagne
2 Hours Beverages Free Flow (1.5 Hours Last Order)
House Wine, Draft Beer, Select Soft Drinks
PLAN B / Free flow of Perrier-Jouët Champagne
2 Hours Beverages Free Flow (1.5 Hours Last Order)
Perrier-Jouët Champagne, White & Red Wine, Draft Beer, Select Soft Drinks
House Wine, Draft Beer, Soft Drinks
Price: Plan A: JPY 8,000 (Including 3 Snacks) Plan B: JPY 12,000 (Including 3 Snacks)
SAKURA CHIRASHI SUSHI LUNCH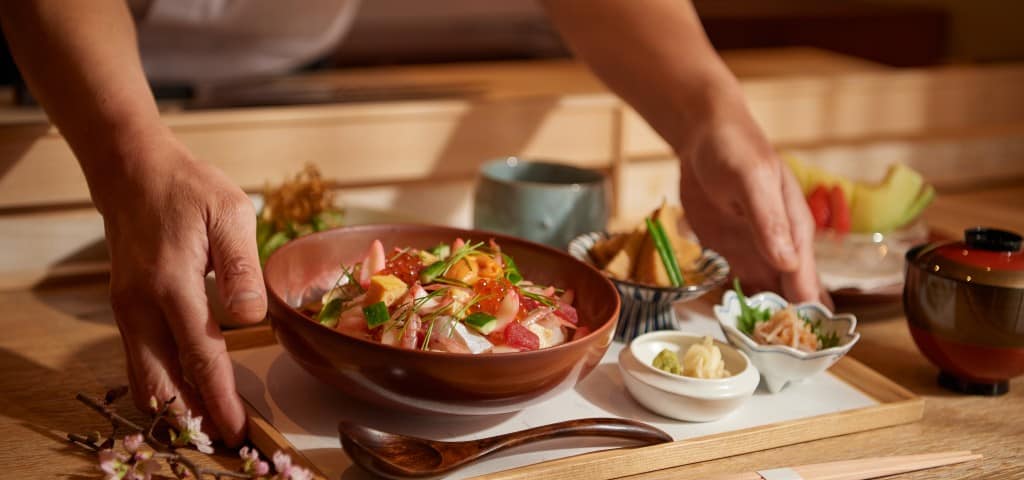 If authentic Edo-style sushi with a twist of spring season is what you're after, then the SUSHI by Andaz Tokyo has got you covered. They will surely wow you with their lunch course featuring luxurious chirashi sushi, using only the freshest seasonal catch including sakura bream and sakura shrimp.
Here's the full list of the Sakura Chirashi Sushi Lunch Menu:
Mixed Green Leaf Salad with Homemade Plum Bonito Dressing
Two Types of Daily Appetizers
"Bara Chirashi Sushi" Assorted Diced Sashimi (Sea Bream, Tuna, Sakura Shrimp, Ikura, Uni, etc.) on Sushi Rice
Miso Soup
Seasonal Fruits
SPRING ROAST CHICKEN DINNER PLAN
No feast is ever complete without a good 'ol roasted chicken. With BeBu's flavorful marinade using a zesty Cajun lemon spice, perfectly roasted in the oven for that moist meat and light crispy skin, you can be certain that they surely know how to make a killer roast. Along with their roasted chicken, they also have other mains that will surely pleasure your tastebuds.
Here's the full list of their course menu:
Herb Marinated Roast Chicken with 3 Types of Potato (Purple Potato Puree, Rosemary Roast Potato, Andaz Style Candied Sweet Potato)
Smoked Salmon, Dill Sour Cream
Grilled Butter Lettuce, Smokey Bacon, Green Tarragon Dressing
Mac & Cheese
Vegetable Soup, Spelt Wheat, Lemon Olive Oil
Mini Chicken Tsukune Burger
Mini Éclair
SAKURA SWEETS 2021
Andaz Tokyo's Pastry Shop will make you feel like a kid in a candy store with their gorgeous, intricately crafted desserts that are not just pleasing to the eyes but to your tastebuds too. Their popular Sakura Box returns this year with a selection of eight bite-sized sakura treats including Sakura Opera, Sakura Macaron, Sakura Tart, and other Sakura-inspired desserts.
Here's a list of The Pastry Shop's signature sweets and their prices:
Sakura Box JPY 2,950
(Sakura Shortcake, Sakura Opera, Sakura Rare Cheesecake, Sakura Macaron, Sakura Roll Cake, Sakura Chocolate Terrine, Sakura Mousse, Sakura Tart)
Sakura Roll Cake JPY 550
Sakura Rare Cheesecake JPY 550
Sakura Blanc Mange JPY 580
Sakura Éclair Small JPY 200 / Large JPY 450
Sakura Macaron 3 pieces JPY 1,200 / 6 Pcs pieces 2,300
The Sakura Sweets 2021 will be available from March 15 to April 18.