Bill Partyline March 1st, 2005
PEOPLE
GAGA Films had a glittering premiere of the film Phantom of the Opera at Kossi Nenkin Kaikan. The stage had been tastefully draped opera-style, there were rows of huge gold candelabra and a glistening black grand piano, too. The visiting celebrities, director Joel Schumacher, producer and music writer Andrew Lloyd Webber, actress Emmy Rossum, and actors Gerard Butler and Patrick Wilson, were introduced and made a few comments. I enjoyed helping with the guestlist for the premiere, adding friends who are really into opera as well as some Japanese fashion and showbiz personalities. They all loved the film. Got to know the Phantom, Gerard Butler, when he dropped by the Lex. What a nice guy.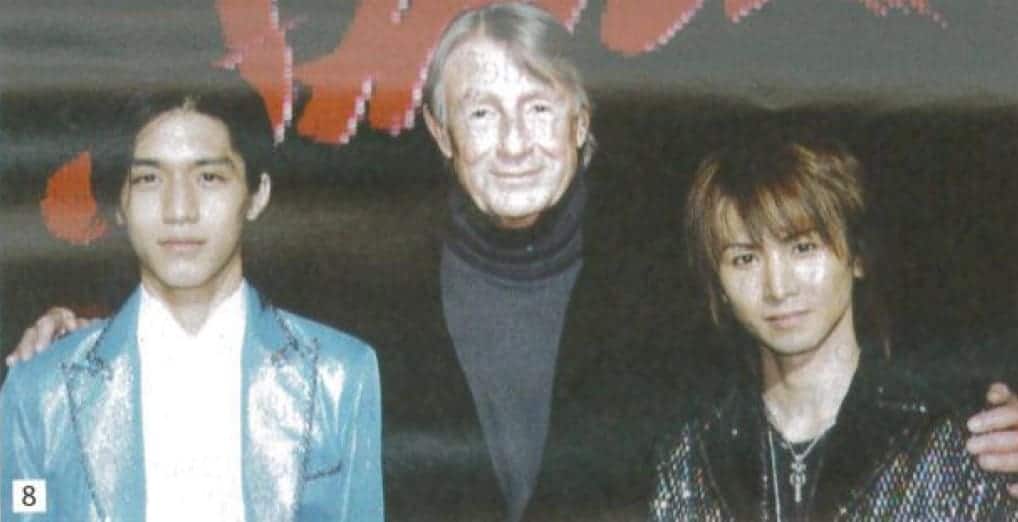 Controversial film director Oliver Stone was in town with another nice guy, Irish superstar actor Colin Farrell, to promote the historical epic Alexander for Shochiku. Colin lived up to his laid-back reputation – at the press conference, he wore jeans, an open shirt, and smoked. One reporter asked why he had his hair in a ponytail and he told her, " it keeps the hair from fall­ing down in front of my face." In talking about the film, Oliver said he's been interested in Alexander since he was a kid. "He was not the typical conqueror, but a visionary creating the first empire that was a fusion between the East and the West." I really enjoyed talking with Colin later. He's a nice guy who feels youth is undervalued, is crazy about his 17-month-old son, loves Ireland, and loves to party.
PARTIES
It was a beautiful day for Spanish Ambassador Francisco Javier Conde de Saro's and his wife Ana Martinez's midday reception to celebrate Their country's national day. I had beautiful company with me that day, as the Ethiopian fashion designer Gellia was in town with her fiance, Wolfgang Puck. He was busy checking out his eight restaurants in Japan, so I had the privilege of taking Gelila to a few parties. She's not only beautiful, she's really fun to be with. Needless to say, she attracts a lot of attention wherever she goes. Once the many guests congratulated Francisco and Ana in their completely renovated home, most moved out on the terrace to enjoy the weather, and the delicious Spanish food, which included paella and wines. It was a busy day for our Spanish friends, and I really appreciated Ana taking time to give us a personal tour of her home, with its many Spanish treasures. She and Francisco have a great deal to be proud of.
It was wall-to-wall people as well at the Turkish Ambassador Solmaz Onaydin's early evening reception on the occasion of Turkey's Anniversary of the Proclamation of the Republic. Solmaz is not only very popular, she's a super hostess as well. Many of her friends from all walks of life came to congratulate, and to enjoy the superb Turkish food and warm ambiance. It was perfect for the occasion.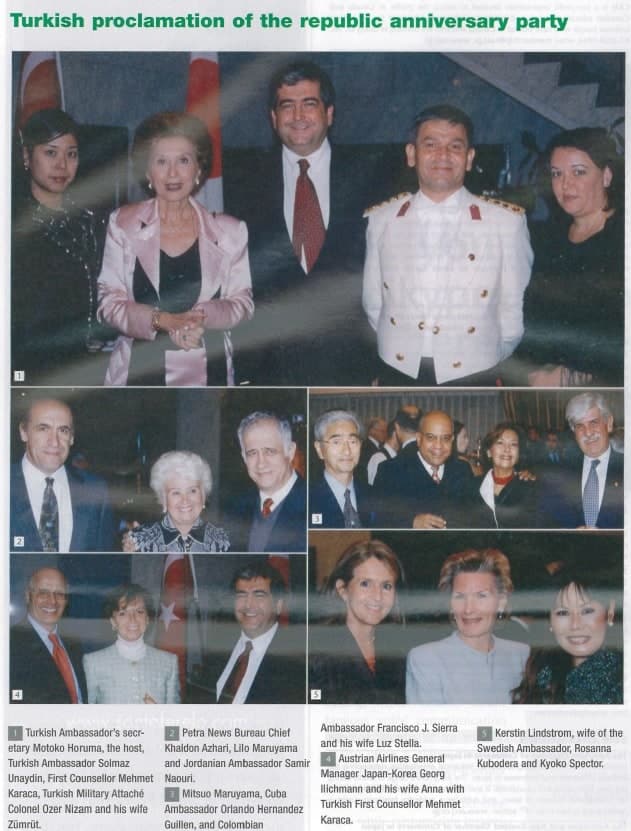 Tatjana and Rosanna are both super chic ladies and the collection they showed was, as expected, very special and original. Oman's 34th National Day, hosted by Oman Ambassador Mohammed Al Zarrafi and his wife Samira AI-Zadjali, was a great day. Oman is one of the countries on the top of my list of "must visits" this year. World travelers Mitsuo and Lilo Maruyama have nothing but raves for the fairytale-like country on the Arabian Gulf and Gulf of Oman. The host and hostess of the party, along with high-ranking mem­bers of their staff, looked regal in national costume. Samira's dress was really something, very beautiful. A large, gold framed photo of Oman's ruler, Sultan Qaboos bin Said, was flanked by beautiful floral congratulatory messages from Japanese friends of Oman. The country's national emblem was enclosed in ice and tastefully illuminated. In the center of the ballroom, speaking of tasteful, the bountiful buffet of Omani specialties as well as Japanese, Chinese and Western favorites was excellent.
It was a huge turnout at the midday reception hosted by Algerian Ambassador Amar Bendjama and his wife Nadia to celebrate their country's National Day. It was, as well, proof positive of Amar and Nadia's popularity with a big variety of their friends, including Japanese politicians, diplomats, business leaders and the cream of both Japanese and foreign society. The weather was everything that anyone could ask for, sunny and relatively warm. Long tables groaned under silver trays of an amazing variety of foods at buffets on both the first and second floors of the tastefully decorated residence. The selection of cakes and pastries had to be seen (and tasted!) to be believed. It was a beautiful celebration in every way, perfect for the occasion.
The Australia Society Tokyo, hosted its annual Gala Ball at the Grand Hyatt Hotel recently. Guests were treated to an entertaining evening, beginning with Brazilian dancers who led them to the ball room. Surprise entertainers for the evening were The Singing Waiters from Australia who act as waiters and then break into an impersonation of the Three Tenors, and who were given a standing ovation. The night continued with a cabaret show and great music from the Melbourne band, Captain Spalding. Proceeds from the evening go to support the Nonohana-no-ie childrens orphange and the Rice Patrol, a charity that feeds the homeless. Photos of the ball can be viewed at www.imagescope.eom.au/ausballOS/index.html, and more information about The Australia Society is at www.australiasocietyjapan.com.
PLACES
CHECK OUT the blue and white lights on the bushes lining Omotesando. They, along with the tubular bubbling lamps, are a really nice touch to one of Tokyo's trendiest areas. Speaking of trendy, one of my favorite celebs, singer-songwriter Gwen Stefani, is about to launch a new Japanese-inspired accessory line called Harajuku Lovers. The illustrated characters featured on the accessories are inspired by four girls she met at Harajuku and who appear in her concerts and hit videos.
I introduced Gwen to film director Renny Harlin at the Lex one night, with the hope he'd use her in one of his films. Renny didn't (yet) but Martin Scorcese cast her as the legendary actress Jean Harlow in his highly acclaimed film The Aviator. It wasn't a big part, but Gwen looked great and has several offers for other films in the near future.
*First published at the Tokyo Weekender