Hersey's Partyline July 1978
I'm sorry I had to miss our Independence Day celebration with two great Americans . . . U.S. Ambassador Mike Mansfield and his wife, Maureen. I just know it was a nice party over at the embassy. I also had an invitation to that special day's doings at the American Club. From the looks of the program everyone there must have had a real blast, too. My thanks to Dick Bush and Ken Emerson for the invitation.
About the time they were all celebrating, I was paddling a dugout canoe in the lagoon in front of Le Lagoon Hotel in Port Villa . . . and that's really not too bad at all.
On France's Bastille Day, the 14th, I'll probably be doing the tamure in Tahiti. From what I hear, they really do it up big there. I know I'll enjoy it, but am sorry to miss the reception that two very good friends and very nice people, French Ambassador Louis Dauge and his wife. Edith, will be holding that day at their residence.
As I've said before, I've got gypsy feet. When the chance comes, I go and with Tokyo's social scene the way it is, there's no time I could go without missing something. Anyway, my sincerest congratulations to the U.S. and France on their national days.
This week's column centers on the fashion and showbiz world. There have been a lot of beautiful people in Tokyo the last month or so for some interesting happening . . . the "STAR WARS" promotion, the Tokyo Music Festival, Mori Hanae's super new building and the debut of the pulsating Samba Club in Roppongi.
On Thursday, the 15th, had dinner with Mark Hamill, his gal, Marilou York, and his business manager, Nancy Hutsen. Then we headed for the Tokyo Prince Hotel, where TBS was holding a reception to meet the many international and local contestants for the Tokyo Music Festival.
July Summer Break Travel News
Tokyo's traveling, and it seems like everyone is either out of town, just back or about to leave. If you don't believe me, just try to book a flight out to almost anywhere. It's not easy.
People on the move include Pan Am's Rush and Shirleigh Clark, who just left for several stops across the U.S. and then a holiday in Greece. The Greek Isles seem to be a favorite this year. I ran into dancer Christina Bottorff at the Hilton pool this week and she's just back from two weeks there. Kneale Ashwell and his Hiroko were at the pool too and wearing Porto Cervo T-shirts. They spent two weeks at that Sardinian resort before going on to London to visit Kneale's family. I jokingly told Kneale he had been in Japan too long and had really become brand-conscious. In addition to his Italian T-shirt, he was wearing Levi sneakers, LaCoste socks and Budweiser shorts. He and Hiroko not only make a good-looking couple, they're nice people.
Thierry and Diane DeBeauce just left for France to spend a month at Diane's family resort home on the Riviera. They'll be back here for about ten days in September to say sayonara and then go on to Morocco for Thierry's new diplomatic posting. I missed a big party friends held for Thierry and Diane in "The Space" at Mori Hanae's building. During lunch with Akira (Aki) Mori last week he showed me photos and talked about the party. It really looked and sounded wild.
Egypt Air's director here, Efmat El Gammal, left with wife Kikuko and their two-year-old daughter, Farida, for a holiday with his family in Egypt. His daughter, who was born on Egypt's National Day, had a birthday on June 23.
Alitalia's Piero is back from Italy. He and his wife, Elizabeth, left the children with their grandparents and then made a grand tour of Sicily, which he describes as "one of the most beautiful places" he's ever been. Elizabeth and the children stayed on in Europe and will return to Japan later this month. Carlo Morelli, the head of Alitalia here, has been busy with the Far Eastern director, Ugo Zaccheo, who's here from Singapore. He does have plans to join his wife, Enza, and their three super kids at their beach house south of Rome for a week or so before they return for school. United Airlines' John Courtright and his wife, Virginia, just left too. They'll make stops in Australia and New Zealand before going on to San Francisco.
Charles and Maureen D' Honau are on Maui with their two boys and will be back later this month. Don and Barbara Knode are headed for New York. Their tall, good-looking daughter Kim is working in summer stock there.
I called the Soviet Embassy to talk to Yurii Totrov and learned that he and his family were on home leave. Perhaps they'll run into Christina Onassis if they get to Siberia. From what I've been told, it's beautiful there during the summer months. Received a huge postcard from Moscow from Masako Ohya. She was staying there a few days before going on to Bulgaria for the International Ballet Concours. Her husband, Shinzo, was 84 in early July. He's a remarkable man, and we wish him many more years of good health and happiness.
Many Tokyoites may not be leaving the country, but they're certainly getting out of the city and Karuizawa seems to be their favorite getaway. "Come on up for a few days," said the always hospitable Amy Sung as she extended an invitation to stay at her place. Her daughter Mary is off to Hawaii for a few weeks to visit Amy's other daughter, Annie, who's teaching there. I would have liked to have made it to Karuizawa for the tennis tournament. From what I've heard, that was quite a weekend. If I do go out of town, I want to get up to the Nasu View Hotel, where a new group of Ramon Obusan Dancers from the Philippines are performing nightly. Those kids are good.
Last year was the first time in eleven years I didn't spend late August and early September in Europe with a side trip down to Morocco or Tunis. The reason for the change was the Perahera Festival at Kandy in Sri Lanka. I did get there last August and will never forget the marvelous two weeks I had in that island country. I do plan on traveling to Egypt with Shinzo and Masako Ohya in October, when she'll be decorated by the Egyptian government for her tireless efforts in promoting cultural exchanges and friendship between the two countries. That experience is really worth waiting for.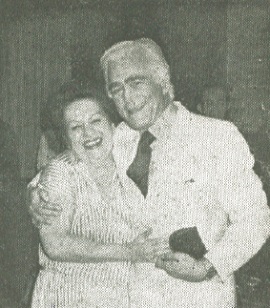 Some of the biggest travel news is that Corky Alexander plans on traveling back to Canada and the States for a couple of weeks. His wife, Mary, makes the trip annually to visit her family, but it's been awhile since Corky was really able to get away. Believe me, only his family and the staff know how hard he works and how much time he puts in every day to get Weekender and Image's other publications out every issue. Have a nice holiday, Corky. . .you deserve it.
With all the comings and goings, it would seem that Tokyo would really be quiet this time of the year. Not so . . . in fact, I've been surprised at all the happenings around town.
Party at Shin and Misa Watanabe
On Friday, the 16th, we joined many of the same people plus more of the arts, fashion and entertainment world in the luxurious California-style home of Shin and Misa Watanabe. They, of course, head the entertainment empire here that includes everything from music publishing to artists' representation to club management.
As we entered the street in Hiroo where they live, a long line of tuxedoed men directed us to a parking space, then escorted us to the house. The garden had been covered with a striped canopy, where half a dozen booths had been set up to serve Japanese specialties. The huge crowd in the house was divided into several groups . . . some were watching Kenji Sawada's (a Watanabe talent) performance in France on a videotape machine, others were seeing a magician perform in the living room and many were just star-gazing. The stars included Catherine Deneuve, Sylvie Vartan, Johnny HaIladay, Mark Lester, Debby Boone and a host of Japanese "talents."
Misa, who's just back from Italy, looked great in a black sequin dress. ("I loved Florence—Roberto Bucciarelli was so helpful.") She's a great hostess and really surprised Johnny Halladay and the rest when she had a huge chocolate cake wheeled in for Johnny's 35th (?) birthday.
Others who enjoyed the celebrity-packed evening included Sony's Akio and Yoshiko Morita, Polaroid's Dick Otomo with his talented wife, Mari Yoshimura, French Ambassador and Mme. Louis Dauge, Thierry and Diane de Beauce, Francoise Morechand, fashion designer Junko Koshino, singer- model Andrew Simmons, Yogi Nishikawa, Tats Nagashima, and 20th Century-Fox's man in Japan, Dino Troni, with his wife, Leonor.
Misa has an energetic approach to all she does, and she's headed for the U.S. in a few weeks with a stop in Hawaii, where one of her clients, Akira Fuse, will preform at the Sheraton Hotel there.
Tokyo Music Festival in Budokan Hall
Sunday, the 17th, was the big day for the Tokyo Music Festival in Budokan Hall. The show was beautifully staged, ran very smoothly, and we enjoyed every minute of it. The highlight of the evening of course, was Diana Ross. She's pure magic on the stage and has the ultimate star quality you read or hear about.
After the show there was a huge sayonara reception in the Tokyo Prince Hotel, and that was the place people really let their hair down. Most of the performers got up on the stage and did their thing.
Debby Boone sang "You Light up My Life," Al Green gave out with his popular "Belle," and Hideki Saijo put on a half-hour show . . . that boy can really move. Diana Ross had changed from her slinky blue-sequin stage dress to black pants and a wine Chinese silk jacket and really joined in the fun.
She and Al Green broke the traditional barrel of sake, and after a more than two-hour show by the many talents there, the band played for dancing. Several musicians from Diana Ross' and Al Green's group got in with the Japanese band, and they gave out with some great sounds.
The party broke up about 3 a.m., and that brought down the curtain on the Seventh Tokyo Music Festival International Contest. Some of the artists like Al Green and The Emotions stayed on to do concerts, Israeli singer Hedva negotiated a contract and Debby Boone left the next day, since she was going on tour in the U.S. Our congratulations to TBS and Masafumi Watanabe and his staff . . . it was fabulous.
Hanae Mori's New Building Opening Party
On Tuesday, the 20th. I stopped by the Foreign Correspondents' Club before going on to the gala opening of Hanae Mori's new building. The occasion was a cocktail reception hosted by the Berlitz Schools of Languages commemorating their 100th year in language education. At the reception they had set up the "world's largest birthday card" with congratulatory messages artistically presented in every language imaginable. The special guest of honor that evening was H.I.H. Prince Mikasa, who has studied several languages at Berlitz and who, I understand, is really an exceptional student. Most recently he's been studying Arabic. I envy his gift for languages.
That evening, there was a milestone in fashion here in Japan . . . the opening of Hanae Mori's spectacular new building on Omotesando in Kita-Aoyama. To celebrate the opening, Hanae Mori had invited nearly 1,000 friends and business associates to a gala reception and Parisian haute couture show. The five-story mirrored-wall structure was designed by Kenzo Tange and has 17 shops, a French restaurant and "The Space," a large room that can be used for fashion shows, etc. There are plans to rent the basement out to small shops and have an antique flea market similar to the ones you see on Kings Road in London.
I got there on time for a change and the place was already packed. Most of us moved to the second floor, where they had set up a bar and there was plenty of room to browse. There was a jewelry shop and another with children's clothes designed by former model-actress Mild Irie (she's married to Seiji Ozawa now and they have two beautiful children).
Almost all the diplomatic corps and their wives turned out for this fashion-social event. It was nice seeing Mrs. Mansfield looking so good and I'm so glad she's feeling batter. Ghanaian Ambassador and Mrs. Victor Wood were there with a very special guest, Clariett Wilmot, who's with Ghana's foreign ministry. Isetan was well represented by the president, Tanji Kosuge, and Matsuya by its executive vice-president, Kan Yamanaka.
From the fashion world there was Issey Miyake, Francoise Morechand, and Nao Oishi, and from the world of art and entertainment, Seiji Ozawa, Tetsuko Kuroyanagi, Akihiro Maruyama, Norman and Mary Tolman and Misa Watanabe. Prince and Princess Konoe were there, and Princess Mikasa and her daughter, Princess Masako, showed up a bit later . . . just in time for the show.
About 8:30 everyone moved to the fifth floor for a buffet dinner. The menu featured vichyssoise, roast beef, vegetables and ice cream • it was excellent. From here we moved into "The Space" for the fashion show.
Tetsuko Kuroyanagi was M.C. and, as hard as she tried, couldn't persuade an always-modest Hanae Mori to go up on the ramp and make a speech. Aki Mori, who also worked very hard for the building opening, shares his mother's modesty and stayed in the background.
Tetsuko did introduce the architect, Kenzo Tange (he's not so modest), the art director, Iko Tanaka, the man who did all the interior lighting, Tatamichi Ito, and Suga, who flew here from New York to do the mannequins' hairstyles. It was colorful, fast-paced and drew ooh's and aah's from the audience.
Gloria—the black mannequin on the ramp, not the one in the audience—is absolutely beautiful and really knows how to show clothes. She's American but operates out of Paris. Andrew Simmons sort of summed up all our feelings about Hanae Mori when he said: "She really has excelled in every way." Just a few fashion notes about the crowd that evening. Hanae Mori wore a black beaded top and a long black skirt; Mild Irie was all in white.
Princess Mikasa had on an elegant pale-green print kimono and her daughter wore a long gold dress. Misa Watanabe looked very chic in black and pink satin with old lace on the sleeves and collar. Maureen Mansfield had on a pastel print long dress and Edith Dauge was wearing a long dress and matching stole in pastel-striped chiffon.
Most of the men wore black tuxedos, but Seiji Ozawa, who has always been known as a nonconformist, showed up in a white Mao jacket and white turtleneck . . . he look-ed great. And, finally, Mrs. Tange wore a brilliant-blue dress covered with what looked like chicken feathers. It look-ed good on her, but several of us waited outside to see what would happen if she got caught in the rain or a high wind. From the Hanae Mori reception many of the guests moved over to the Brooks Restaurant on Aoyama Dori, where avant-garde illustrator Tadanori Ono was having a party.
Otsukaresama Party for Catherine Deneuve
On Sunday, the 25th, I had the privilege of spending the evening in the apartment of Shotaro and Yoko Kawazoe at a very intimate otsukaresama party for French film actress Catherine Deneuve. There were only about 20 people there, and it really gave me a chance to talk with and get to know the fabulous lady. I had met her at Misa Watanabe's a week earlier. At that time she was in black and silver lamé, sat in a corner of Misa's garden with Sylvie Vartan and Johnny Halladay and didn't mix with anybody but her group.
I, along with several others, thought she was a real snob. We were all very wrong. At the Kawazoes' she was in a simple red and green plaid dress. The minute she came in, she kicked off her shoes, sat on the floor and was really casual, friendly and relaxed. Her English is very American and she uses all the latest American slang . . . this costar "was really cool," that film "was really heavy," etc.
I told her about the impression she had made on many of us at the Watanabes' party, and she seemed surprised. Then she said, "You know. I can see how people might have felt that way. I had been working all day and then saw Sylvie's show. I really was tired. When we came in, we just all sat together out in the garden and didn't feel like circulating. I was also hungry and it seemed every time I went to take a bite someone was snapping my picture. Nobody looks good when they're eating." I told her how I had seen Gina Lollobrigida actually hit a Japanese photographer's camera when he tried to photograph her eating. It did happen and I've always tried to avoid doing that myself.
She was telling me about her 14-year-old boy, and Marjorie Ishibashi said. "Gee, you must have married early." Catherine said, "Dear, I said I had a child 14 years ago. I didn't say anything about getting married 14 years ago." The more I talked to her, the more I liked her and she really won my heart when she said Americans were the kindest and most helpful people in the world. She has a fan for life. Once again . . . an experience that proves how it's a mistake to judge people by one experience or a first impression.
Others at the Kawazoes' that evening included singer Sato Masaaki, Kumi Antoine, Hiroshi and Mayari (Marjorie) Ishibashi and noted architect Yutaka Murata. Artist Toshimitsu Imai and his wife, Yoko, were there, they're just back from a very successful exhibition in Paris. Ryozo Shibata, head of Alpha Cubic, left early, since he was leaving the next day for the U.S. to check out its new store on Rodeo Drive in Beverly Hills. It turned out to be a beautiful evening with the Kawazoes and their friends.
Celebrating Spain's National Day
On Friday, the 23rd, we joined the noon-day crowd at the Spanish Embassy reception to congratulate Spanish Ambassador Jose Aragones, his staff and the Spanish community on their National Day. There was "rain for Spain" that day, but it didn't keep people away. Most of the ambassadors who were in town were there, and Japan was well represented by top government officials, including Keisuke Arita, vice-minister of Foreign Affairs, and Bunsei Sato, a member of the Diet. Sato-san, who's in on about everything, told us they were still expecting problems at Narita. It was basically a stag affair, but a few ladies did make the scene. These included Eileen Foley; Joan Itoh, Holli Ferretti, and Kaoru (Rose) Kanetaka, whose TV travel program, "Seki no Tabi," has been running 19 years and is still on top.
In talking with the ambassador, we were happy to hear that his wife, Monica, is feeling fine and currently enjoying holidays at one of Spain's beach resorts with their son. Ambassador Aragones plans to join them for a few weeks in August.
Dinner party at the home of United Arab Emirates Ambassador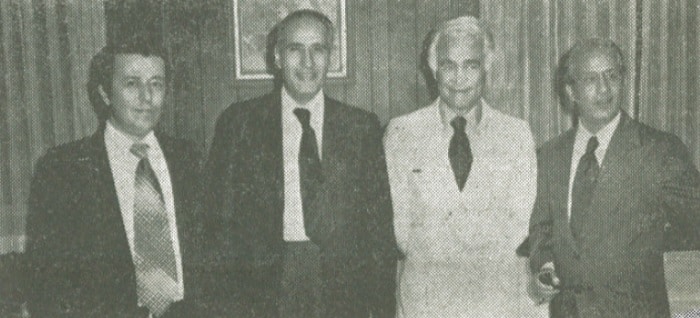 I started out Friday, the 28th, at a dinner party at the home of United Arab Emirates Ambassador Ahmed Salim Al-Mokarrab and his wife, Salwa. The dinner party was in honor of Ambassador Ryohei Murata and his wife, Reiko. The ambassador was recently appointed Japan's ambassador to the United Arab Emirates, and he and Mrs. Murata will be leaving for Abu Dhabi in a few days.
Guests included French Ambassador and Mme. Louis Dauge, Iranian Ambassador and Mme. Nasser Majd, Turkish Ambassador Celal Eyiceoglu, Egyptian Ambassador and Mme. Mohsen Khalek, Yugoslavian Ambassador and Mme. Miroslav Kreacic, Saudi Arabian Ambassador Zein A. Dabbagh and Libyan Charge d'Affaires and Mme. Nuri M. Betelmad. Japan was well represented by Hideichi Nose and S. Shimizu, both top executives at Nippon Electric Co. Ltd. (N.E.C.), Hiroshi Takagi, managing director of Zivnon Opt-Tech Co. Ltd., and Yoshiro Ohbayashi, president of Ohbayashi Gumi Co. Ltd. Other guests included Jane Scolinos and TMA's Nick and Adele Bou-Saba.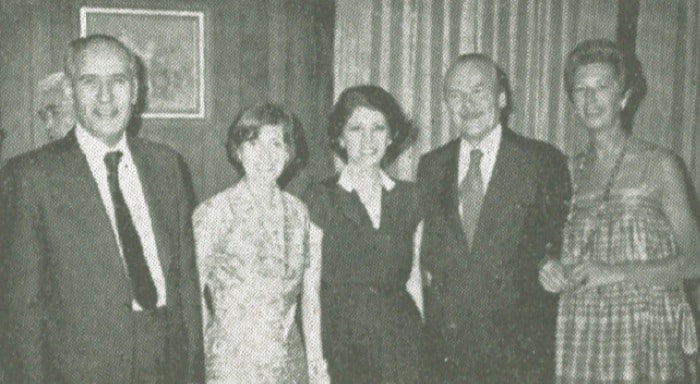 The dinner — a mixture of Arab and Western dishes—was superb . . . glad I hadn't eaten much earlier that day. Afterward everyone enjoyed the relaxed cordiality invariably encountered at the Al-Mokarrabs. This was my first chance to talk with Egyptian Ambassador Khalek and his wife, Noha, since I returned. They'll be leaving sometime this fall after five years in Japan. An extremely popular couple, they have made countless friends for themselves and Egypt. I plan on writing much more about the Khaleks later . . . . Meanwhile, the ambassador is busier than ever lecturing on the principles of Egypt's peace initiative in the Middle East, preparing for Prime Minister Fukuda's visit to Egypt and the Ohyas' trip there, and taking care of the endless duties a diplomat has here.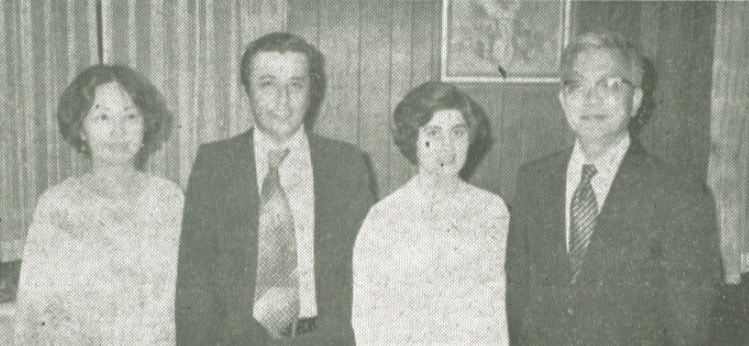 I also learned that another very popular diplomatic couple. Yugoslavian Ambassador Miroslav Kreacic and his wife, Vanda, will be leaving us in October. It seems you just get to know people and they leave. The consolation, of course, is having the privilege of getting to know them in the first place and knowing that when you visit their countries or wherever they're posted that you have friends there. It was a super evening at the Al-Mokarrabs and the perfect way to get back into Tokyo's social scene after a month in the South Pacific.
Miss Young International Contest 1978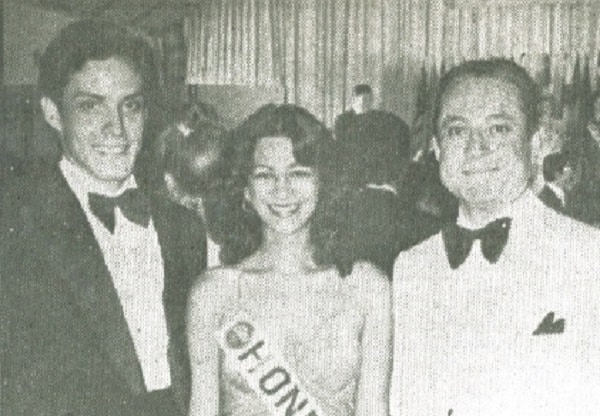 On Monday, the 31st, joined a huge crowd in the Palace Hotel at a reception to meet the 41 contestants from all over the world who were in Japan for the Miss Young International Contest. Well, not really from all over the world. I didn't see any contestants from any of the Arab or African countries. Perhaps they were invited and weren't able to make it. I haven't found out yet.
The evening's program was extremely well organized. The participants — and there were some real beauties — all dressed in what had to be their most glamorous evening gowns and lined up across the stage against a backdrop of flags of the countries represented. Then, one by one, they came to the front of the stage, introduced themselves and moved off stage to mix with the guests.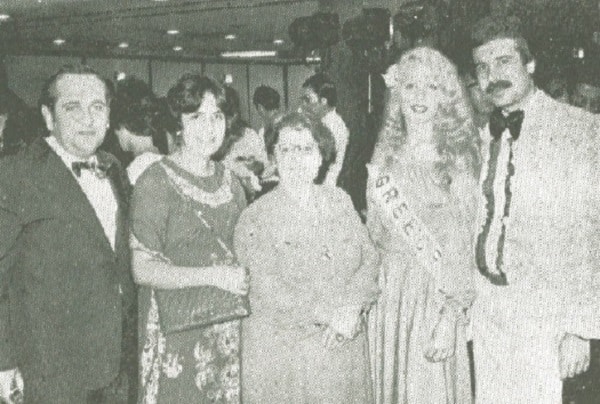 Those invited to the reception included Chilean Charge d'Affaires Patricio Rodriquez, his wife, Paz, and both Gustavo Ponce and Jose Antonio Lopez of the Chilean Embassy. (You couldn't have kept them away.) Mexican Ambassador Olea's son, Nacho, was there. He had brought his friend, Juan Manuel Robles, the son of Mexican Minister Counselor Robles who had arrived in Japan a few weeks ago.
The Netherlands was well represented by Charles and Terry Van der Sloot, and the Greeks by the Charge d'Affaires Efstratious Mavroudis, the Ioannidas family and a new addition to the Greek Embassy, Denis Dionissopoulos. Austrian Ambassador Franz Weidinger was there. Last year Austria's entry, Brigitta Siejlinde Cimarolli, won the title of Miss Young International here in Japan. The entry this year, Renate Karoline Schneider, who resembles Candice Bergen, also looked like she had a good chance to win. Alonzo R. Tinagan of the Philippine Embassy introduced me to his country's entry, Anne Rose Thompson Blas. She had the look of a winner too. Honduran Ambassador Cesar Mossi Sorto was there with his tall, personable son Luis, who was introducing Honduran entry Emily Antoinette Hawit. Other guests incuded Italian Ambassador Vincenzo Tornetta and a new man in town, Paul Ripert, who is representative here for Compagnie Generale Transbaltique.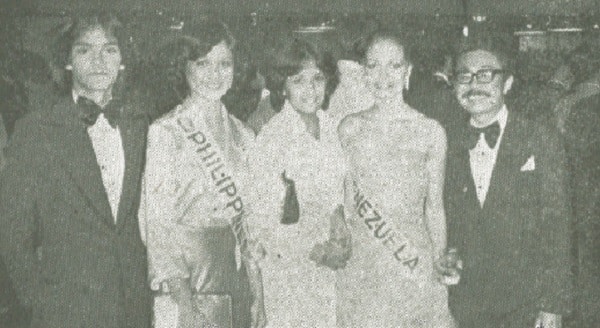 During the bountiful buffet a group from Brazil put on a fabulous stage show, then a rock band took over, and everyone had a chance to get down (some up on the stage) and boogie. The girls all were gorgeous and it must have really been tough for the judges to decide this year's winner. That first evening I probably would have chosen Miss Holland, Nicole Cohen. She's a super-looking girl and what a personality. I was really busy during the week and couldn't get to Jingumae for the contest and final judging. Vivian Del Carmen Unger Borbon, from Costa Rica, won. It's too bad Ambassador and Mrs. German Perez Gago couldn't have been here. They just left a few months ago.
In and Around Tokyo
As usual, I just wasn't able to get everything done before I left Tokyo, so here I am on the balcony of my room in the Chateau Royal Hotel in Noumea typing—or at least trying to type—the last few weeks' happenings in Tokyo. The view is one of those that have to be seen to be believed. I'm right over the pool area and they're setting up for a barbecue and a program of Polynesian dances this evening. A few people are fishing off the hotel pier; some are catching the last rays of the day at the beach; there's a lone waterskier and across the bay I can see a couple dozen people enjoying the latest craze here . . . wind-surfing.
• Coffee with Clyde MeAvoy, who's Continental Airlines managing director for Japan and Asia, and learned that Clyde has another love besides his family and work. It's a Model-A Ford . . . just out of the garage in Virginia and in perfect condition. He bought the 1931 Ford from a taxi driver in Burma four years ago, and naturally it's one of his most treasured possessions.
• One day a few weeks ago Michaela von Habsburg and I had lunch at the Hilton with Nobuo Ennyu, one of the prime movers in Toray Industries. We were in the tea lounge for an hour and then moved down to the Kayaki Grill. The number of people we ran into in that two hours was really something . . . it was almost like a party. They included Diet Member Bunsei Sato, film actor Toshiro Mifune, singer Yoko Kon (Pinky), whose new record, "Yuwaku." is bound to be a winner, John Read of Rolex, Fred Langhammer of Estee Lauder, Dino Troni of 20th Century-Fox, Guy Hentsch of the Swiss Embassy, Geoffrey Yu of the Singapore Embassy and Mr. Nakatani, president of the Japan-Arab Association. That's quite a variety, but the Hilton is like that.
IN TOWN
• Chris Walker's brother, David, visiting here from Sydney. He's a skilled potter and has been checking out the pottery scene around Japan. Chris, as you know, heads Levi Strauss' Japan operation.
ON THE MOVE
• Tilly Bussano and Bibi Giorgio off to Hong Kong to meet a friend (man), then on to Nepal for some heavy backpacking and Kashmir for rest and recovery on a beautiful houseboat there.
• Chiye Hachisuka off to the U.S. for a few months. She tells me the date for the Black and White Ball is set. It's Oct. 27 in the Tokyo Hilton. Plan ahead . . . it's always sold out.
As I've said before, I've got gypsy feet. When the chance comes, I go and with Tokyo's social scene the way it is, there's no time I could go without missing something. Anyway, my sincerest congratulations to the U.S. and France on their national days.