Bill's Partyline May 2nd, 2008
PEOPLE
Oscar-winner Javier Barden made a quick trip to promote the film No Country for Old Men for Paramount. Javier won his Oscar for Best Supporting Actor in his role as Anton Chigurh, the truly weird villain in the Coen brothers film that also won the best film award. I've followed the Spanish actor's career since he was a teenager, and he's done some really great work. These include Before Night Falls and The Sea Inside. At the press conference he said he was very impressed with Japan and the politeness of the people; "Tokyo's so clean, Madrid's not." he added. In talking about the film, he had nothing but praise for the Coens. "I'm an actor, and once I decide to do a film, I do what the director asked me to do. Ethan and Joel Coen look like university students. 'they don't speak all that much but they always agree with each other, and are open to questions and easy to work with" Javier told the media.
Thanks to long-time friend Dick Sano, who's Senior Vice President of Film Distribution at Sony Pictures, I have over the years met a lot of interesting and important people in the film business. A few nights ago I joined Dick, some of his staff and young rising star, actor Jim Sturgess at lnukaya restaurant in Roppongi. Jim was here to promote 21, a film about six M.I.T students who took Vegas casinos for millions. Jim has a solid background in British TV movies and series. He gained recognition in the U.S. through his role in Across the Universe with rave reviews for his rendition of many of the Beatles. This year he stars in The Other Boleyn Girl and Crossing Over. Jim's a cool, laid back and talented young actor. I'm sure you'll be seeing a lot more of him. Sony Pictures will release 21 here on May 31.
One of Tokyo's all-time best-liked couples Ron and Maria Anderson, who live in New York City, were back and made the Ritz-Carlton their home in Tokyo for the almost two weeks they were here. I visited them a few times and was surprised to see how busy the huge lobby coffee shop (great views of Tokyo) was. More, lots more, on Ron and Maria later. I dropped by another beautiful hotel, The Westin Tokyo, by Yebisu Gardens, to see one of their special guests, celebrity psychic Ron Bard.
PARTIES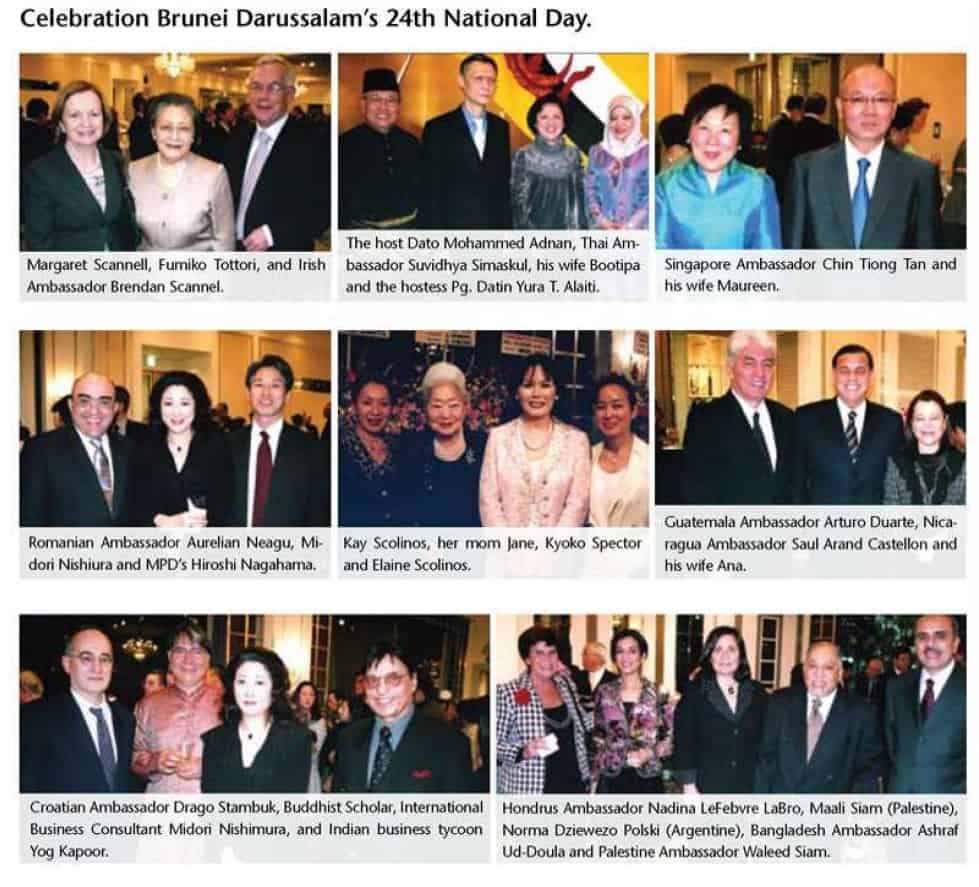 On Saturday, Feb. 23, the Ambassador of Brunei and Madame Pg. Dann Yura Alain hosted a well-attended reception at the Hotel New Otani. The occasion was the 29th National Day of Brunei Danissalam. Guests were an Interesting mix of Japanese government officials, diplomats, business leaders, and many other friends of the popular and very active couple. As well as a nice selection of both Western and Japanese food, there was one table of Brunei favorites. They were excellent. In addition to the usual party-crashers, a woman I haven't seen for a long time, one who claims she's the granddaughter of a concubine of the Meiji Emperor showed up. I got to know her many years ago but heard she's been in the U.S. "where she insists on being called a Princess." I've been on the social scene here for a long time and have met a long of phonies. If they don't hurt others I don't much care what they do, but frankly I really have a bad feeling about this woman after I read what she told the author, Ben Hills, of the book Princess Masako Prisoner of the Chrysanthemum Throne when he interviewed her. Check it out and you'll understand what I'm saying. Aside from all that, the Brunei Bash was laid back and really enjoyable. Our congratulations.
A few nights later, Croatian Ambassador Drago Stambuk hosted a wonderful welcome party for his visiting President Stjephan Mesic at the Imperial Hotel. The President's live-day first-time visit was the highlight of celebrations marking the 15th anniversary of the establishment of Diplomatic Relations between Croatia and Japan. His busy schedule included meeting HIM the Emperor, and Prime Minister Fukuda. Mesic, the last head of state for the former Yugoslavia, told the media "we need an independent Kosovo to achieve stability in the Balkan Region." He also said Croatia would seek membership in Nato this spring and seeks to join the European Union In 2010. He has an ambitious and busy schedule. President Mesic obviously likes people and after opening speeches by Ambassador Stambuk, a Japanese dignitary and himself, he mingled with the crowd, met most of the many there, and posed for photos with everyone who asked. That was really thoughtful. The number of tourists including the Japanese visiting Croatia has shown tremendous growth In the past year. It's a beautiful country with friendly hospitable people. Put Croatia at the top of your must see list.
As always, I had tons of fun arid met lots of nice people from all over the world at the annual St. Patrick's Day Parade in Omotesando. Irish Ambassador Brendan Scannell and his wife Margaret were there of course, and took part in the "the biggest and best St. Patrick's Day parade in Japan so far." The Japanese really love Ireland—me too. A big congratulations to all our Irish friends on this super special event. Just going through the Refugees International Japan Art of Dining 2007 directory and see the cover photo was of Daniele Yoshlkoshi's table setting Dejeuner Pldn Soleil Sur La Cote d Azar at the 2007 exhibition.
PLACES
Over in Shinjuku, the Hilton has completely redone their marble lounge in the lobby. After the lunch buffet they set up an awesome dessert buffet. It's always busy and the afternoon crowd of mostly ladies really love the Hilton sweets. To give their customers even more satisfaction, the hotel just opened their very upscale "Chocolat Boutique Tokyo" in their new lobby. The Hilton Tokyo's General Manager, Christian Baudat, explains "the Chocolat Boutique has brought together the finest artisans in the field to create what is truly Japanese and totally unique. It really is very special." Christian also told me they will be holding art exhibitions in the lobby area soon. I've been using the Hilton gym, swimming pool, sauna and jacuzzi for years. They've lust completed the renovation by Precor and its so much easier and pleasant to work out there.
Over at the Grand Hyatt in Roppongi Hills, they're holding The Celebration of Five Seasons as a part of their fifth anniversary. Throughout Jun. each of their restaurants, China room, Oak Door, Fiorentina, Roku Sushi, Keyakizaka Teppanyaki, the French Kitchen, and Maduro, all have special menus. My favorites are the cream soups and crab cakes in The Oak Door, and the tortillas in Maduro. Hopefully, the weather is better by now, and I can relax at one of the tables at our city's best delicatessen at the Park Hyatt Hotel. The variety of international foods there is endless. I had an hour to kill before the Clovertield press conference at the Peninsula so had a cappuccino in their beautiful lobby.
If you're in the Hiroo area he sure to visit the redecorated second floor of the National Azabu Supermarket. They have a marvelous selection of kitchenware, toiletries, party decorations, home accessories, stationery, English books, international magazines, etc, etc. The first-floor supermarket also makes for great shopping. Like all the different ethnic foods they carry and am currently hooked on the Brazilian national food; regard It's a black bean, sausage, and bacon stew that's not expensive, easy to prepare, delicious and healthy.
*First published at the Tokyo Weekender
*Images Copyright: Tsukasa Shiga