Bill's Partyline April 15th, 2011
I have been knocking out this column for over 40 years—and believe me, I can't remember ever having so much difficulty in finding the right words to express how I feel. The earthquake, the tsunami, and the damaged nuclear power plants all happened so fast and affected so many people, In some ways, it still feels like a very bad dream. I've spent much of my life here in Japan and have really come to respect and love the country and the Japanese people. Through my Japanese friends and expats who live here, I've had an interesting, exciting and truly wonderful Life that has included travel all over the world, meeting and becoming friends with people from all walks of life and truly enjoying my work in fashion, film, journalism, showbiz, nightlife). As others say to me and I often say to myself, -How lucky can you get. No matter what happens, I will always appreciate and never forget the help and support so many of my friends have given me over the years. One of the major problems now is knowing what I can do to help repay those who have done so much for not only me, but in many cases the world in general. I am, of course, involved in many of the events happening to help others, but somehow I just don't feel that I'm doing enough.
If any of you know of any special programs to help, please let us know here at the Weekender and we'll do our best to help you get help to those who really need it. It's not easy, but be as optimistic as possible, there of course will be other tragedies in this otd world of ours, but with people working together life will go on. It is amazing what a smile and kind word can do, so please spend as much time as you can with friends and family, get out of the house and support what businesses you can, pray that things will get better, remember those who are suffering and once again help whoever, whenever and wherever you can! I'm not alt that happy about the way this opening came together but I know each of you have your own feelings and thoughts about the triple tragedy and will, of course handle it in your own way. As I said—life goes on and we all have to do the best we can, not only for ourselves, but others as well. With that I will move on to my regular coverage of special events here in old Edo. Meanwhile pray for and support Japan.
PEOPLE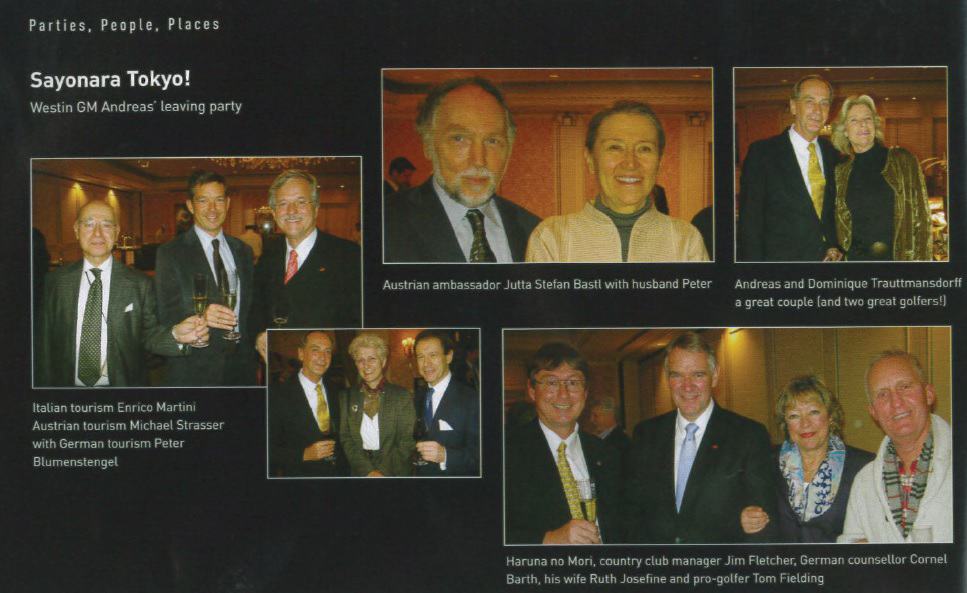 After four and a half years as General Manager at the elegant Westin hotel in Ebisu, Andreas Trauttmansdorff and his wife Dominique have moved to Shanghai, where he will take over as the new GM. Prior to their departure they hosted a relaxing, wonderful and mostly Austrian cuisine dinner party for their diplomatic, business and golf friends. Dominique, who is a doctor of naturopathic medicine, wasn't able to practice in Japan, so taught yoga instead. Several of her students were at the party and had nothing but praise for the lady and what she had taught them. Andreas has been a wonderful friend to both me and and the Weekender. We'll certainly miss them and wish them all the best in their new home. Looking forward to visiting them soon.
PARTIES
Kuwaiti grand gala celebration at the Imperial Hotel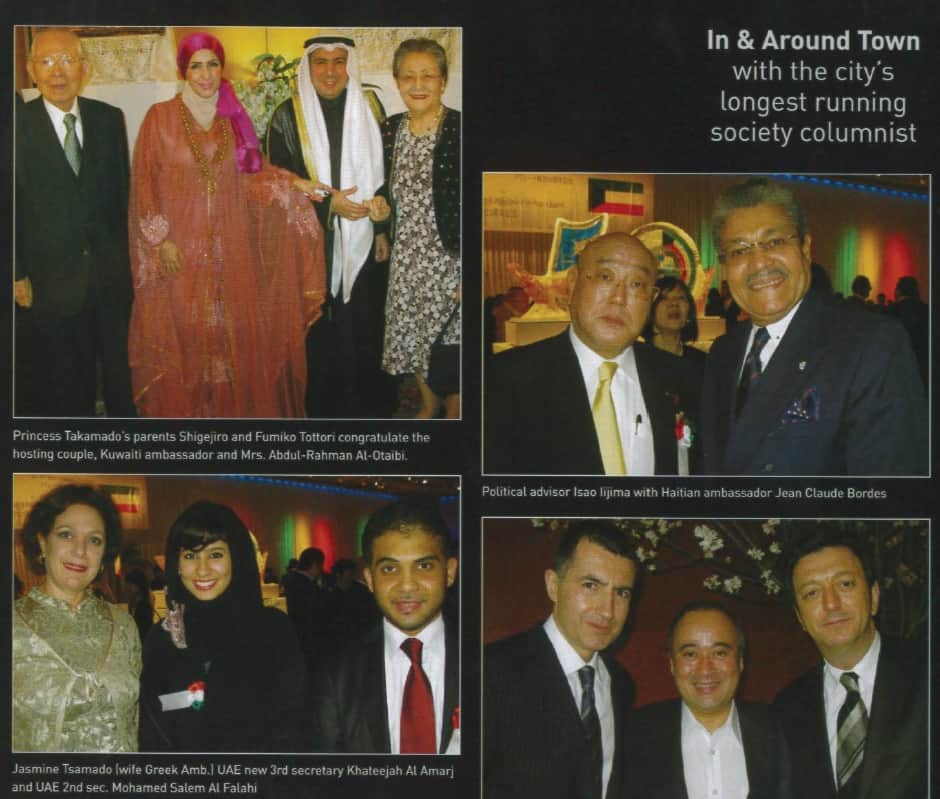 Kuwaiti ambassador Abdul Rahman Al-otaibi, his wife Jamilah, their three children Humood, Khaled and Hata and their staff went all out to make their national day one of the grandest, most exotic and most interesting evenings Tokyo's ever seen. In addition to being Kuwait's 50th anniversary of independence, they were also celebrating their 20th anniversary of liberation from Iraq and the 5th anniversary of the assumption of power by H.H the Amir of Kuwait. The Imperial's huge banquet venue, the Peacock room, took on a beautiful Kuwaiti night look, the ceiling was covered with twinkling stars, there was a large replica of a traditional Kuwaiti style building at each end of the room, several colorful tents serving Arabic coffee, mint tea, dates and palm trees everywhere. It was really impressive.
The bountiful buffet with its Arabic, Japanese, Chinese and western foods was impressive as well. Many of our Arab friends wore traditional costumes, really adding color to the event. Even the Kuwaiti men, (although in western fashion) added color with their scarves in the colors of Kuwait's flag—red, white and green. I'd also like to congratulate Abdul and Jamilah on the big photograph exhibition of Kuwait's culture, history and excellent relations with Japan that was set up in two smaller rooms at the entrance to the Peacock room. This really gave guests the opportunity to learn a lot about Kuwait. I've had the privilege of visiting there several times and the photos sure brought back some great memories.
British Airways' Haneda to Heathrow party at the Conrad Hilton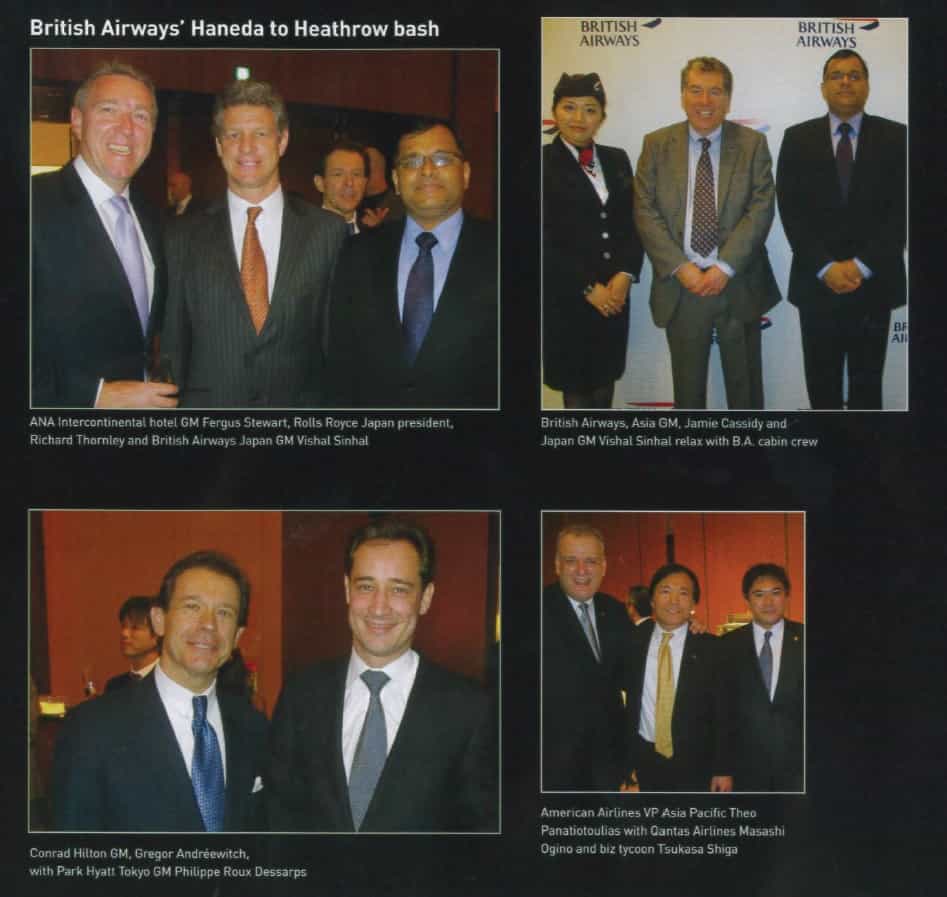 The British Airways reception to celebrate the inauguration of their Haneda to Heathrow route was wall-to-wall interesting people, mostly from the travel/tourism worlds. It was nice seeing a lot of friends I hadn't seen for a long time. The program started off with short speeches by British Airways execs Jamie Cassidy and Vishal Sinhal. I loved the Japanese taiko (drum) shows and the high school group that performed at the party had to be one of the most energetic and dynamic I've ever seen. After their show a four member Japanese Beatles took-alike land sound-alike] group played some great music — man, those guys were good! The buffet dinner, as always at the Conrad was Hilton food; Hilton service at its best.
PLACES
Special screening of "Oba: The Last Samurai" My sincerest thanks to noted Noh play actor Nao Umewaka for the opportunity to see a screening of the World War II film "Oba: The Last Samurai" ITaiheiyo no Kiseki: Fox to Yobareta Otokol. The film. which was directed by both Hideyuki Hirayama and long time friend Cellin Gluck, told the exciting, emotional and very moving story of the Japanese soldier Oba and a small group of his devoted followers who were the last to surrender in Saipan at the end of the war. The directors did a great job of showing both the Allies and the Japanese sides of the story and the cast was excellent. Friends who also enjoyed the evening included film critic Donald Ritchie, art dealer Norman Tolman and former politician and now professor Kyoko Kusakabe.
*First published at the Tokyo Weekender
*Images Copyright: Tsukasa Shiga