Bill's Partyline April 1981
I was really glad I got back from Hawaii in time for the Tokyo Ballet Company's production of Giselle. Guest performers Eva Evdokinova and Peter Breuer were superb and the principles and the corps of the Tokyo Ballet Company couldn't have been better. The music (by the Tokyo Philharmonic Orchestra, conducted by Michel Queval of L'Opera de Paris), the sets and the costumes were proof positive that, as they say in a song from Chorus Line, "Everything is beautiful at the ballet." After the performance we went backstage to congratulate the dancers, and to thank Tadatsugu Sasaki, president of the Tokyo Ballet Company. Sasaki-san told us about some of the big projects he's working on, and we'll get into them as they materialize.
On Sunday the 26th, once again we had the privilege of celebrating Russian Easter with Walter and Natalie Ermakoff who invited many friends to their home for that very special day. It was a 4 to 8 p.m. affair with people stopping by, congratulating Walter and Natalie, enjoying the buffet of special food for the occasion (the chocolate cheesecake is something else) and taking advantage of the Sunday pace of relaxing, enjoying and chatting with friends. More than 100 people came by, including U.A.E. Ambassador Ahmad Al-Mokarrab and his wife Salwa, Jordanian Ambassador Zahayr Mufti and his wife Ozcan, Syrian Ambassador Abdul Wadoud Atassi and his wife Sawssan, Jim and Lucia Smith, Hadi and Maha Debs, Gordon and Dorothy Lightfoot, Bob and Betty Appeldorn, Tatsi Stewart and Yuki Kozai.
That evening it was over to The Lexington Queen where Miki Watanabe (the oldest daughter of showbiz tycoons Shin and Misa), and her friend Kaoruko Igarashi were celebrating their birthday. Miki turned 20 and Kaoruko's now 21. They're both good-looking, outgoing young ladies, and about 100 friends at the party (mostly university friends or young people in showbiz) were really exceptional. Miki had been in the recent production of Hair and most of the cast showed up and danced to the music of that production. There were games, a huge cake, flowers and a lot of fun, laughing and dancing. It was super celebration in every way. Happy birthday, Miki and Kaoruko, and many more to come.
On Monday the 27th I joined about 8,000 Rod Stewart fans at his opening concert at Budokan. For me it was two solid hours of good entertainment, and even those who don't especially dig his music, have to admit he's one helluva showman. Unfortunately I had to leave early as I had accepted an invitation to be a judge for a formalwear contest at the Samba Regency Club in the Century Hyatt. It just took an hour and singer-actor Jerry Ito walked away with the grand prize: a huge bottle of Aramis and a trophy for being the best-dressed show business personality.
From there it was back to Roppongi and the Lexington where I had promised to meet Rod Stewart and his band. They showed up about 11 and boogied on into the next morning. Rod never sits still . . . even after a concert; that must take tremendous physical stamina. I'm happy to report his off-stage personality is as electric and charming as his on-stage charisma — it was a nice experience to watch his way with people.
On Thursday the 30th started out the day early at United Artists' screening room. U.A. man in Japan Mike Murphy scheduled a showing of "Cave-man," a very funny film starring Ringo Starr and Barbara Bach. "It's sort of our way of congratulating Ringo and Barbara on their marriage," Mike said when he extended the invitation over the phone. I haven't laughed so hard since "Blazing Saddles" and "Young Frankenstein" and feel Corky will be advising you to see this one. After the film there was a wine-tasting conducted by Bob Simon of Pieroth Japan K.K., followed by lunch.
Early that afternoon 20th Century Fox held a press conference at the Tokyo Hilton for actress Jane Fonda, here to promote the film "9 to 5." About 250 journalists were there and, as expected, most of them were more interested in her feelings about nuclear energy, the feminist movement and politics than they were about the film. It had been announced she would not discuss these things but, as expected, she pretty much took things in her own hands. Needless to say, the lady is extremely efficient . . . almost too efficient. I took all kinds of notes but after going over them realize it's all stuff that's been said over and over again, so don't think I'll go into it here. As for the film, Dolly Parton's in it and I'd go to Nashville (in fact I have) to see and hear that lady.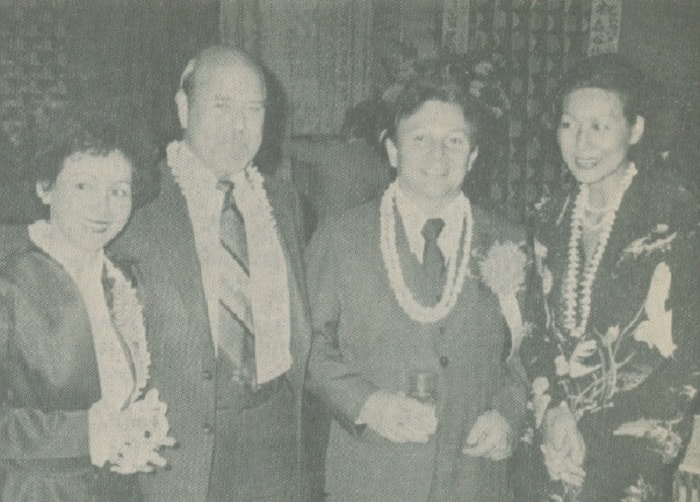 It was back to the Hilton that evening as well, for a huge reception in the Pink Pearl Ballroom given by Guam Governor and Mrs. Paul Calvo. The governor and his delegation had just finished a very successful promotion at Portopia and stopped by Tokyo a few days to meet with people in the travel and tourism business. Popular Japanese singer Hiroshi Kameyatsu was there, and I learned that he had taken part in the Portopia promo and has done several other promotions for Guam as well. The program at the Hilton reception that evening included an introduction of the members of the delegation and an exciting musical show by Guam's top singer Jimmy Dee and the Chamoritas, nine lovely ladies who could convince anyone that Guam's the place to go. I visited there for the first time in December and had five great days at the recently opened Pacific Islands Club. If you haven't been to Guam, be sure and get there while you're in this part of the world. If you have been there, I'm sure you'll go back.