Hersey's Partyline April 2016
PEOPLE
I heard a dear friend, Guy Laliberté sold his big and beautiful business the world-famous Cirque du Soleil. He's done a lot of interesting and good things since he and another street performer made their dream come true by creating the fabulous circus. Guy's a dynamic guy who does things like flying into orbit and here on Earth, gets involved in so many worthwhile charity projects. Just got an email from him about the "One Night for One Drop"  charity auction in Las Vegas. Guy founded the One Drop foundation in  2007 to provide access to safe water to the most disadvantaged regions of the world. This is the 4th year they've done this, and the prizes include meeting and greeting celebrities, luxury travel, and many other unique and interesting things, including Victoria Secret Fashion Show packages, and walk~on roles in movies. For information, contact info@ charityhuzz.com to help Guy keep up the good work. 
One of ]apan's top restaurateurs Kozo Hasegawa, owns many restaurants here in Tokyo. These include Gonpachi, where visiting US  Presidents always eat; Monsoon; La Boheme; Legato; and many other very busy chains. For quite some time now he's been commuting from Japan to California on his latest project, which he describes as "an amazing mega restaurant." He'll soon open at the Third Street Promenade in Santa Monica—construction was just finished and it will open in May. I'm sure that's going to be very special, as well as very busy.  Our congratulations to Kozo and his staff. 
PARTIES
MARUYAMA CHINESE DINNER — HILTON'S DYNASTY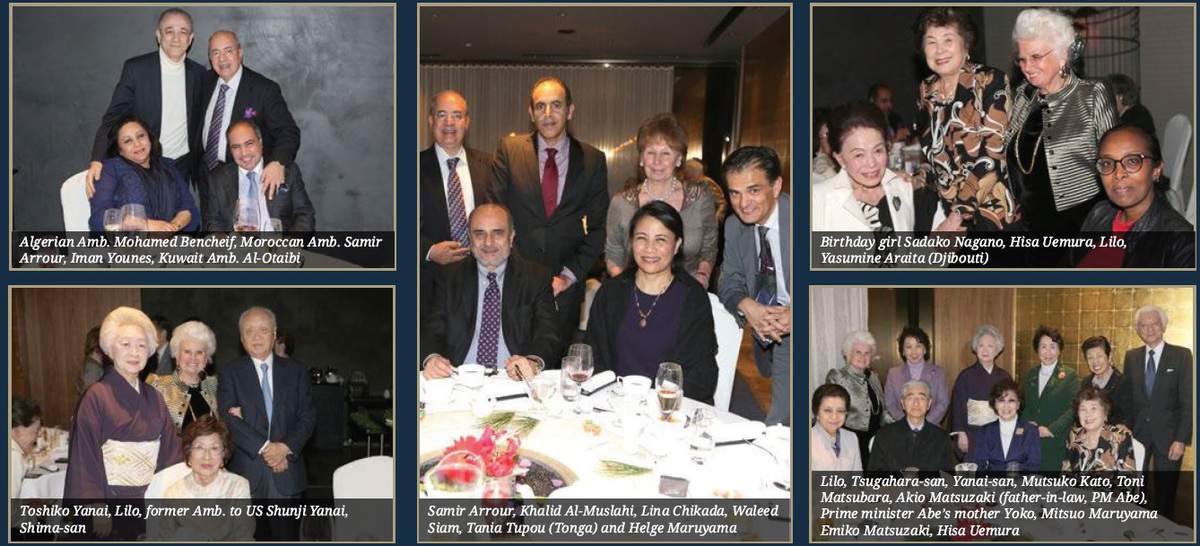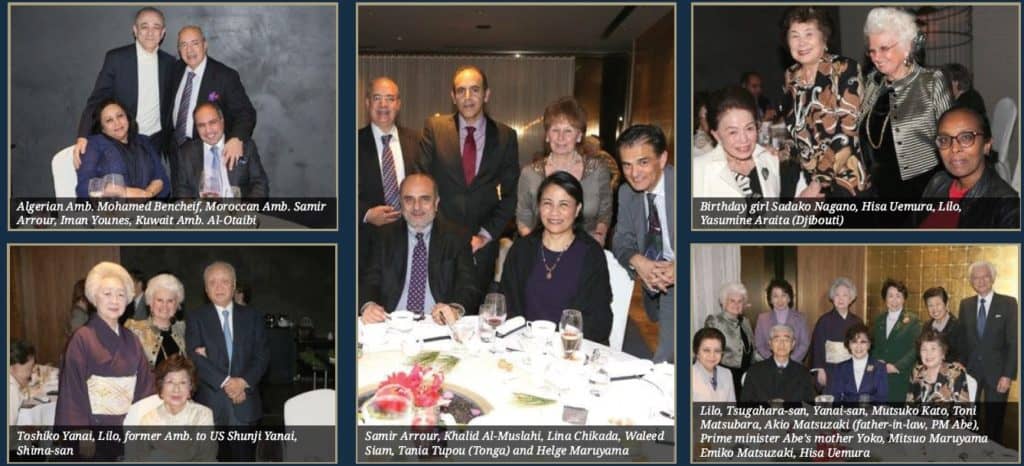 Mitsuo Maruyama, his wife Lilo, and their son Helge always go all out to make anything they do really special. It seems they're always traveling, and have been named the most traveled family in the World by Several travel organizations. When they're in Japan their annual garden party at their beautiful home in Tochigi is one of the most legendary parties on the Tokyo social scene. In addition to that  Lilo often hosts luncheons for her many int'l and Japanese friends. This year their annual Chinese dinner at Hilton  Tokyo's Dynasty restaurant was bigger and better than ever. Special guests included Prime Minister Abe's mother, Yoko Abe as well as his in-laws, Akio and Emiko Matsuzaki (He's with Morinaga Chocolate). Other members of the Tokyo glitterati included Hisako Uemura, whose husband Banjiro is the founder of the huge Tohokushinsha Company on Aoyama Dori and also the owner of the popular National Azabu Supermarkets. The ten-course dinner was excellent and it was, as always, a great, laid-back evening with a full house of good friends and good people. 
CEREMONY BIRTHDAY FOR ANNA 
Ceremony President Tsukasa Shiga (who many of you know)  hosted a birthday party in Roppongi Hills Club for his super Russian wife Anna recently. Guests were mostly former Russian and  Ukrainian models and their very international Japanese husbands and many of their beautiful, energetic kids. The food at Roppongi  Hills was excellent and it was a relaxing and interesting evening with a really nice guest list. Happy birthday Anna—and many more to come. 
PLACES
GRAND OPENING OF OAKWOOD PREMIERE TOKYO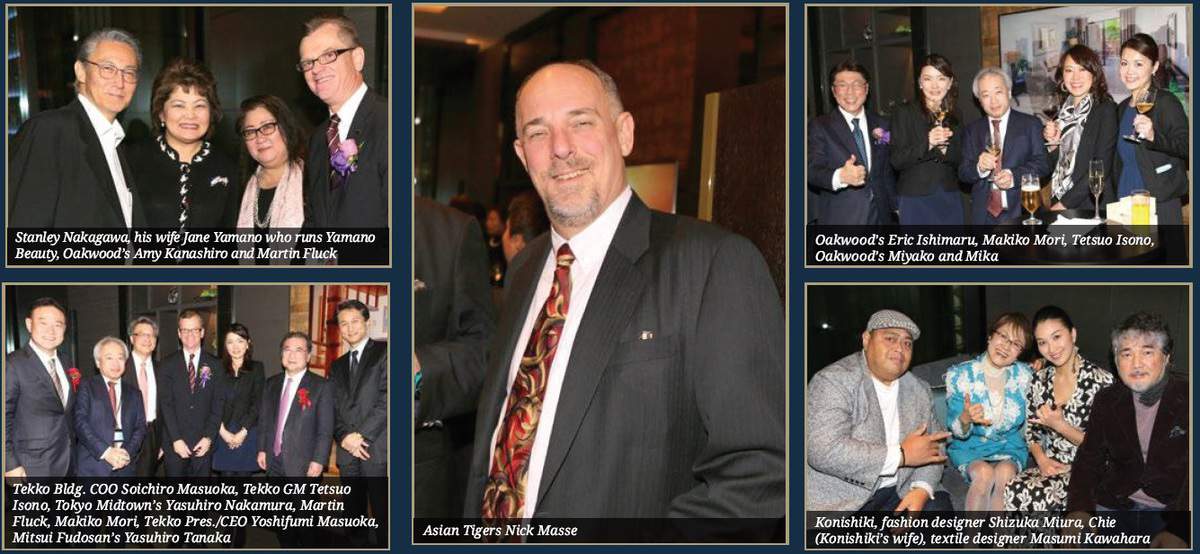 As a longtime fan of and frequent guest of many of their special events, l was sure that the opening of Oakwood Premier's luxurious new serviced apartments, the IZ3-room Oakwood Premier Tokyo in Marunouchi would be very special. Located on the 6th to the 19th floor of the ultra-modern Tekko Building, the serviced apartments offer all the amenities, services, and facilities we have come to expect from Oakwood. As their brochure reads, it's a  sanctuary in a pulsating city. Guests at the cocktail reception were  an interesting mix of Japanese and foreign VIPs.  After a short welcome speech by Oakwood Asia Pacific Ltd's managing director Dean Schreiber, people there enjoyed the gourmet buffet, mixing with old friends, making new friends and enjoying the fun entertainment. The New Oakwood Premier is just steps away from Tokyo  Station. You should drop by and check it out.
*First published at the Tokyo Weekender
*Images Copyright: Tsukasa Shiga