Bill's Partyline April 5th, 2010
PEOPLE
As most of you know, the movie scene here in old Edo has really been busy. Japan is a favorite destination for stars and directors to promote their films, and recently there's been one celeb after another here for their film promos. Hugh Grant was back, this time to promote 'Did You Hear About the Morgans?' for Sony, and I heard that he and a friend partied at the Geronimo shot bar in Roppongi. Jude Law was here to promote Sherlock Holmes for Warner Brothers, and really made a first-class presentation at the premiere at Roppongi Hills. He was traveling with Sienna Miller and his four children, and spent any free time he had showing them around Tokyo. One of the things they enjoyed was a dinner at Ukai, a famous restaurant behind Tokyo Tower that specializes in a variety of delicious and healthy dishes made from tofu.
Oscar-winner Benicio del Torro was in town for Toho Towa to promote Wolfman, and Leonardo DiCaprio was here to promote Shutter Island for Paramount. Leo brought his family this time, and they spent several days exploring Kyoto. Warner Brothers also brought in martial arts actor Jon Foo to promote his film Tekken: King of Iron Fist Tournament. Jon is very international; he has a British passport, lives in Thailand, and works all over the world. Thanks to friends, I was able to set up a party for him at the New Lex, and the club was full of Japanese showbiz personalities. We really surprised Jon when we brought in a long-time friend of his, Joey Beni, a very talented dancer from L.A. Jackie Chan, who spends considerable time in Japan, was also here for a week doing several charity projects. He does a lot to help others.
PARTIES
MARUYAMAS' CHINESE DINNER
One of the world's most traveled couples, Mitsuo and Lilo Maruyama, are also some of our city's top party hosts. Anything they do (garden parties, yacht parties, etc.) is special, and the 11-course Chinese dinner they hosted with their son Helge at Hilton Toyko's Dynasty Restaurant was all that and more. Guests were an interesting mix of diplomatic couples, business leaders and socialites, and the food was excellent. I sat between two of my favorite ladies, Jane Scolinos and Grace Saito. Polish Ambassador Jadwiga Rodowicz was also at our table, and the evening really gave me the opportunity to get to know this exceptional lady better. I would also like to thank her for the invitation to a Chopin evening she co-hosted with French Ambassador Philippe Faure a week later. Sponsors for the event included HSBC, among others.
LUNCH AT THE SOUTH AFRICAN EMBASSY
South African Ambassador Gert Grobler hosted a luncheon to introduce popular soccer player Hidetoshi Nakata to members of the African diplomatic corps and a group of Japanese VIPs. South Africa, as you know, will host the World Cup this summer, and Nakata is Friendship Ambassador for the 2010 FIFA World Cup Trophy Tour. The program that day included a welcome speech by Ambassador Grobler, followed by a speech by dean of the African Corps, Gabonese Ambassador Jean Christian Obame. Nakata also spoke, and obligingly posed for photos with fans. He's currently involved in many humanitarian activities, and spends considerable time working with the Take Action Foundation, which is very active in many projects in Africa. Kudos to him; he has so much to be proud of.
PLACES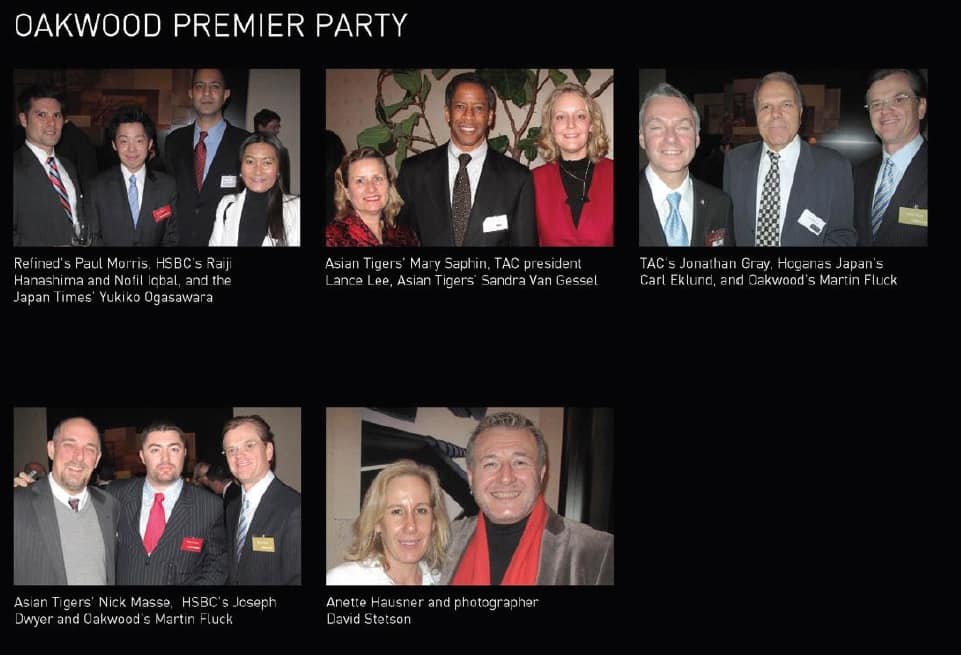 I'm sure that all of the 200-odd guests at Oakwood Premiere Tokyo Midtown's elegant and interesting evening really enjoyed themselves and will be happy to hear that Oakwood Japan's top man Martin Fluck is planning to do quarterly gatherings like this. Sponsors for the evening included the Hong Kong Shanghai Bank, Asian Tigers and Wall Street. It was really nice seeing many longtime friends, including TAC president Lance Lee. Three of his four great sons party at the New Lex from time to time (the fourth is a bit young for the Roppongi scene). Lance's wife is a medical doctor, and the whole family is really great.
*First published at the Tokyo Weekender
*Images Copyright: Tsukasa Shiga