Bill's Partyline August 2014
PEOPLE
A big welcome to the new Brazilian Ambassador Andre Correa Do Lago and his dynamic wife Beatrice. They're a very tall and outgoing couple who I'm sure will really do well here. When I asked how they first met, Beatrice answered, "We were both sitting down." Well, we wish them a long happy and successful stay in Japan. It's never easy saying sayonara to friends you've really gotten to know, like, and admire. It's even more difficult when several couples are leaving at almost the same time. The first two are Irish Ambassador John Neary and his wife Kathleen. They've been in Japan for four years. Kathleen was taking care of VIP visitors for the president of Ireland, so she had to go back home often. The second couple is French Ambassador Christian Masset and his wife Helene. They've been here just over two years and are scheduled to return home at the end of the month as Ambassador Masset will be taking up a high-level post in Paris. Both of these couples have done so much to further relations between their countries and Japan, as well as make so many friends from all walks of life for themselves. We'll have coverage of their sayonaras in September's Weekender. All I can say now is that it has been great to be friends with these special people, and we wish them all the best.
PARTIES
AZERBAIJANI NATIONAL DAY-OKURA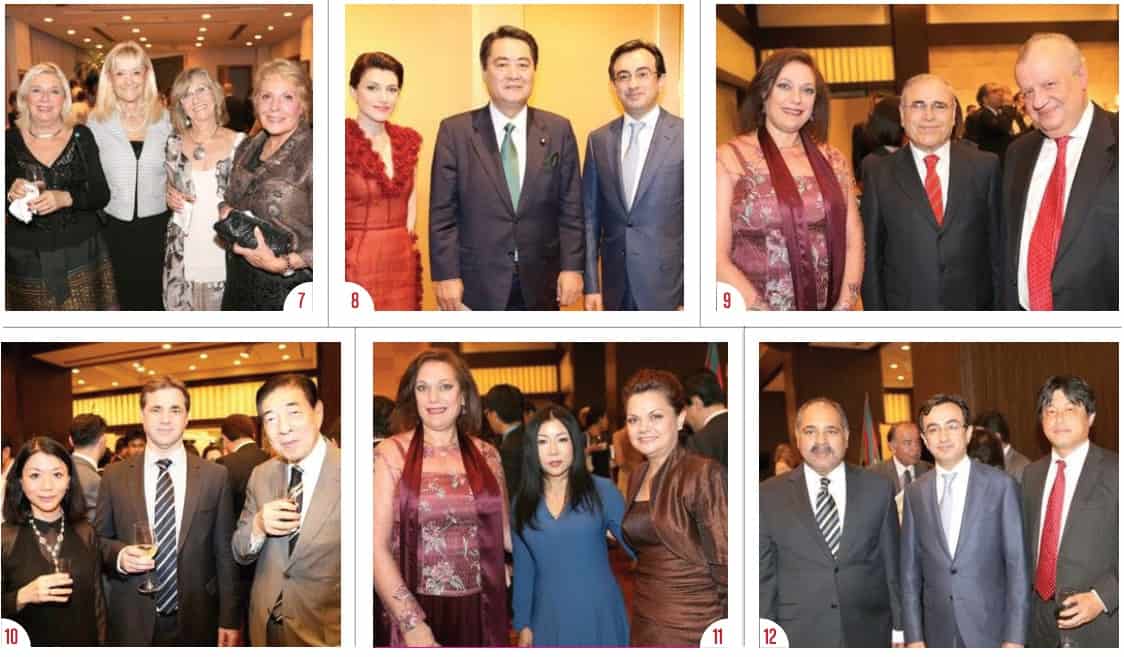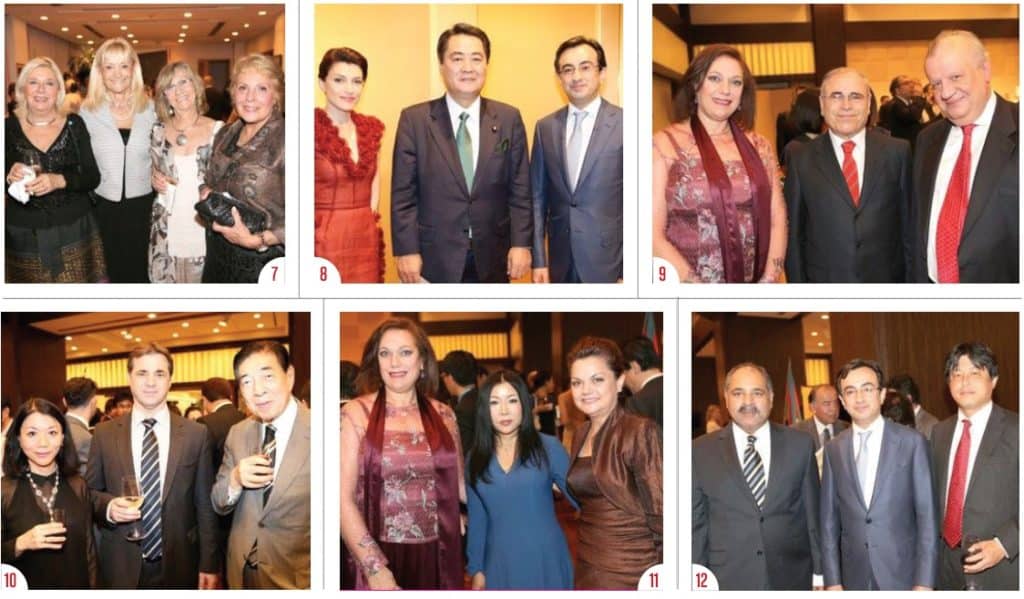 Ambassador Gursel Ismayilzada and his wife Rana hosted a crowded and very elegant reception on the occasion of their National Day, May 20, at the Okura Hotel. The opening program included speeches by the Ambassador and several high-ranking Japanese government officials. After these, guests mingled and chatted with old friends, and new ones as well. It was a relaxing evening with interesting people, a superb buffet, and a warm ambiance. Kudos to the many good-looking Azerbaijani ladies there that evening. They really have an eye for chic fashion.
ARGENTINE NATIONAL DAY CELEBRATION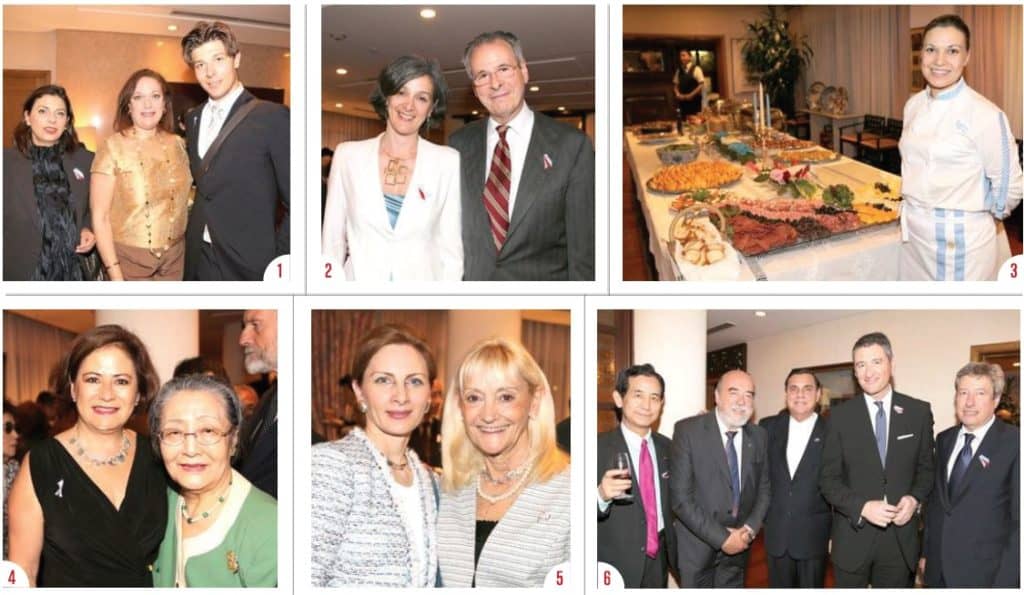 It was (as expected) wall-to-wall people at the home of Argentine Ambassador Raul Dejean and his wife Teresa for their country's National Day. I had asked the Dejeans if I could bring a friend, Swiss medical student Michel Bielecki, with me and they said OK. Michel's about six foot four, has a movie star's looks, speaks seven languages and has a really outgoing personality. Needless to say, he made a lot of new friends that evening. He's actually starting a consulting company here, along with several Japanese. More on this later. I got a bit of attention as well. Ambassador Dejean actually stopped the receiving line for a few minutes to go get a bag of six cans of Argentine meat. I had read about this in an American magazine and given Raul the article a few months ago, suggesting that he introduce the delicious meat to Japan. He hadn't forgotten and went all out to get some for me. That's the kind of man he is.
PLACES
KEEPING UP WITH NORMAN TOLMAN
Noted art dealer Norman Tolman has been all over the world this year. A few months ago he treated his entire staff to an around-the-world trip to celebrate his 77th birthday. Stops included London, Lisbon, Morocco and Istanbul. He actually had his birthday party in Casablanca at Kathy Kriger's world-famous restaurant—Rick's Café in Casablanca. Kathy was Norman and my mutual friend and we both got to really know her through her work at the US Embassy here, and later, in Prague. We knew she had a dream about opening the restaurant. Because the name was made famous in the film Casablanca, she first had to acquire the rights to the name Rick's Café from Warner Brothers, met with local members of Casablanca's government, and opened "Rick's Café" which has become a huge success. It has been years since I had dinner at an Irish pub in Prague with Kathy when I was visiting there, and "she has turned Hollywood fantasy into Moroccan reality." Pm so happy she remembered and sent me a copy of her book, Rick's Café, through Norman. The café opened in 2004 to rave reviews and has become a "must-stop-by" for any traveler to Casablanca. It's really nice to see friend's dreams—with a lot of work—come true. Norman Tolman has, as always, been super busy. In the middle of his endless world travels, he somehow managed to open another gallery here in Tokyo. This one titled the Tolman (Private) Collection specializes in antique (100, 200 and 300 year old) Imari porcelain. I will check it all out and have more info soon. The gallery is at 2-2-18 Shiba Daimon in Minato-ku—a short walk from the new Hyatt Andaz Hotel near Atago Tunnel. For information call 03-3434-1300.
*First published at the Tokyo Weekender
*Images Copyright: Tsukasa Shiga