Bill's Partyline August 2015
PEOPLE
SAYONARA TO CANADA'S LAURIE PETERS
It was nice seeing Canada's Consul Laurie Peters at a recent National Day party. The only downer was hearing that after four years here she's left by now. Laurie's a dynamic, outgoing, very active lady who made many friends for Canada, and of course herself, during her posting here. l first got to know her when she hosted a Sayonara for U.S. Cultural Attache Richard Mei. That was a fun evening with lots of leaders in Japanese show-biz including some great jazz musicians who put on a really rocking show. 
PARTIES
DEJEAN'S ARGENTINE NATIONAL DAY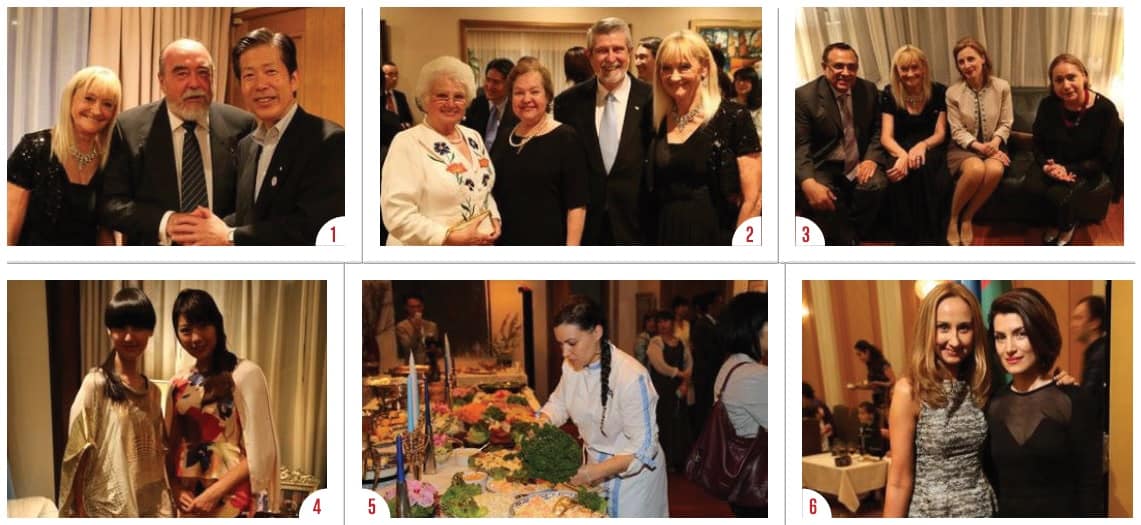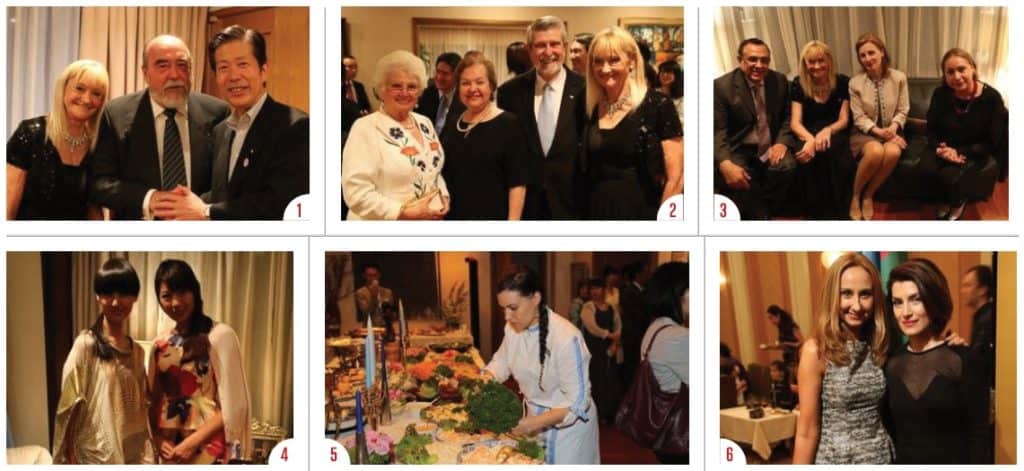 Had a fun, laid-back evening at the home of Argentine Amb. Raul Dejean and his wife Teresa. The occasion was their country's National Day and the evening at their home had a Latin festival mood. After the welcome congratulation speeches, it was a relaxed evening of talking with friends,  meeting interesting people for the first time, and enjoying the bountiful delicious buffet prepared by the Embassy's super chef, Penelope Barboza, and her assistants. Interesting people included two tall Japanese beauties. One is a pro volleyball player, the other plays Japanese taiko (drums). It was also nice meeting newly arrived Mexican Ambassador Carlos Fernando Almada Lopez. Our sincerest wishes to the Ambassador and his family have a happy, successful, and long posting here, and our wishes that their lovely country will soon solve its problems. 
ARAB WEEK RECEPTION—MANDARlN 
It was the 7th annual Arab week and the full schedule of interesting events started off with a glittering VIP-packed reception at the elegant Mandarin  Hotel. Prime Minister Abe took time out of his busy schedule to make a short but very meaningful speech and congratulate his many Arab friends on the occasion. Other speakers included Palestine Representative Waleed Siam,  who's head of the Arab diplomatic corps here. Waleed, his wife Maali, the other members of the Council of Arab Ambassadors, heads of mission, their wives, and many of their children really worked together with the Mandarin staff i.n making it all very special.  The buffet not only featured the Mandarin's culinary creations, but also a huge variety of home-made Arabic dishes from each participating country—talk about delicious The wives of the diplomats had all worked hard to give the party venue an Arabic look and preparing their countries' food favorites for the bountiful buffet. ln addition to that, each looked fabulous in the national dress which, alongside that exotic jewelry, really made for a kaleidoscope of color.  It was—as you can see~a a very special evening. 
AZERBAIJAN NATIONAL DAY RECEPTION—OKURA 
Azerbaijan Amb. Gursel Ismayilzada and his wife Rana are a popular couple, As expected their national day reception at Hotel Okura was wall-to-wall interesting people. The ladies there were all super chic, and several had brought their cute kids who looked cool in national costumes. The program included a welcome speech by the Ambassador and a speech by  Isao Iijima, a popular Japanese politician, on ]apanese~Azerbaijan  friendship and increasing business ties.  I enjoyed talking with longtime friends Nobutake and Tamayo Odano.  I first met Nobutake when he was director of protocol i.n the Gaimusho,  and he and his wife have always been good helpful friends. He's very busy as an advisor to the Imperial Household, and I really appreciated him introducing me to the current Head of Protocol, Jun Yamazaki, and his wife Junko. Also, our congratulations to Gursel, Rana, and the people of Azerbaijan on the success of the first European games recently held in their beautiful country. 
PLACES 
Let's start over at the Okura Hotel at their popular garden fair. I did get up early and over to the Okura for HIH Princess Takama-  do's cutting the ribbon to ufficially open the prestigious event. This year there were 10 countries participating. As always there was a huge crowd waiting to see the spectacular gardens, and of course the always chic, always special Princess. Once the ribbon was cut. it was pretty much a  pandemonium with the huge crowd pushing and shoving in attempts to get photos of the gardens and the princess. I was able to get photos of eight of the event's diplomatic participants, which we ran last month, but just couldn't find two—Michele Robach and Ilda Esteves, the wives of the  Swedish Ambassador Magnus Robach and the Portuguese Ambassador  Francisco Xavier Esteves, respectively. My apologies to them both—and my congratulations on their beautiful and artistic gardens.
CWAJ RECEPTION—ANDAZ HOTEL 


Thanks to Japanese expert Norman Tolman I had the opportunity to get together with long-time friends and meet a lot of nice and interesting people for the first time. The occasion was a dinner party at the Andaz Hotel for the opening of their busy season—and the 60th anniversary of the formation of the College Women's Association of Japan (CWAJ). The ladies who are members of CWA] really work hard to help young artists from Japan fulfill their dreams. The billions of yen they raised over the years pay for scholarships and help hopeful young artists in many ways. lt was a very inspiring evening with a speech by guest speaker Norman Tolman and a young blind scholar who was a benefactor of CWAJ's assistance. CWAJ's big project—their annual Print Show—will be held at the Tokyo American Club from October 30 to November yourself and others a favor: take your checkbook, credit cards, or cash, and check it out. 
*First published at the Tokyo Weekender
*Images Copyright: Tsukasa Shiga