Hersey's Partyline August 2017
PEOPLE
ROTARY CLUB MEMORIAL CONCERT FOR GRACE SAITO
I enjoyed a superb Japanese lunch at the Peninsula recently with Saitama business tycoon Tsukasa Shiga and Rotary Club International director Hiroaki Kobayashi. I've known Shiga since he was a student at St. Mary's and Hiroaki since his days as a leading executive at several top hotels. In between the many courses I had the opportunity to bring up the possibility of a charity concert in memory of the late and great Grace Saito. A true philanthropist, she had over the years supported some of the Rotary's many projects by donating the proceeds from the many classical concerts she sponsored.
Kobayashi liked the idea and a few months later I received an invitation to a charity concert for the eradication of polio dedicated to Grace Michiko Saito. It was a full house at Sogetsu Kaikan for this truly wonderful lady.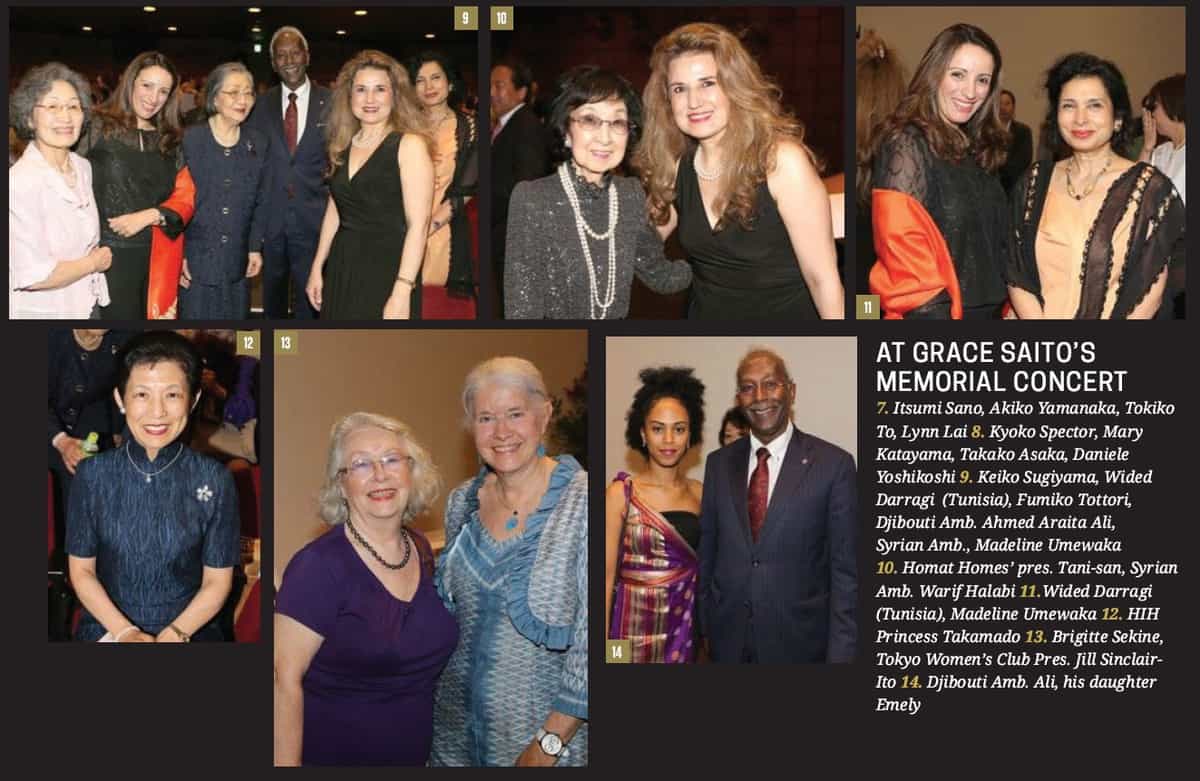 HIH Princess Takamado, a friend and fan of Grace, was the guest of honor. The performance by seven top classical musicians and singers was excellent. The closing — when everyone there was asked to join them in singing "Amazing Grace" — was an outstanding finale for the occasion. Our thanks and congratulation to Rotary International for this much-deserved evening. 
PARTIES
ISRAEL'S INDEPENDENCE DAY CELEBRATION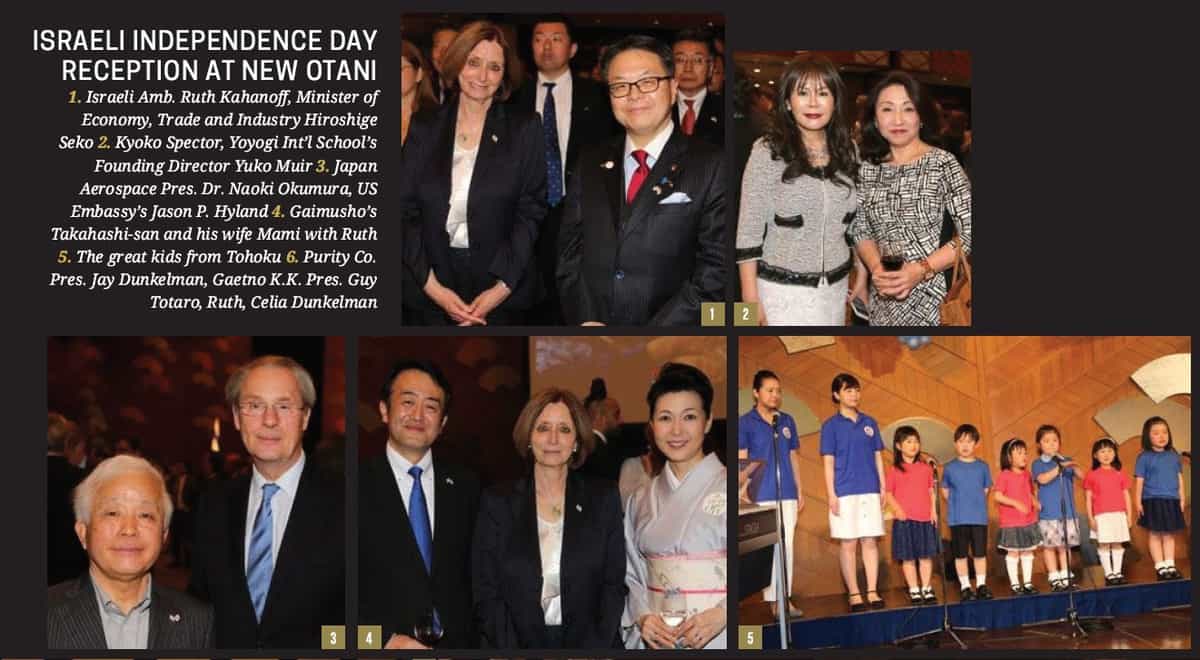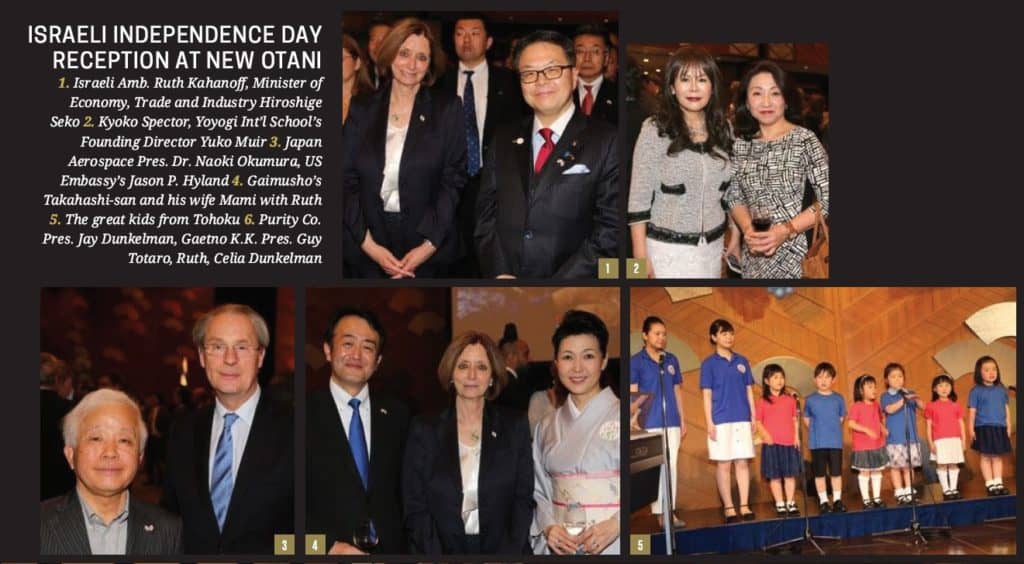 Israeli Ambassador Ruth Kahanoff hosted a big reception for her country's Independence Day celebration at the New Otani Hotel. The program opened with a very informative speech by Ruth emphasizing Israel's long and good relationship with Japan. This was followed by a group of beautiful kids from Tohoku who sang several Israeli songs. They really put their hearts and voices into their performance.       
Ruth is an excellent ambassador and has made many friends for both herself and for Israel. I, along with others there, was happy to try the Israeli food as well as Japanese favorites. The laid-back ambiance of the evening really brought back some great memories of my two trips to Israel — and the many dynamic people I met there.
AZERBAIJAN NATIONAL DAY RECEPTION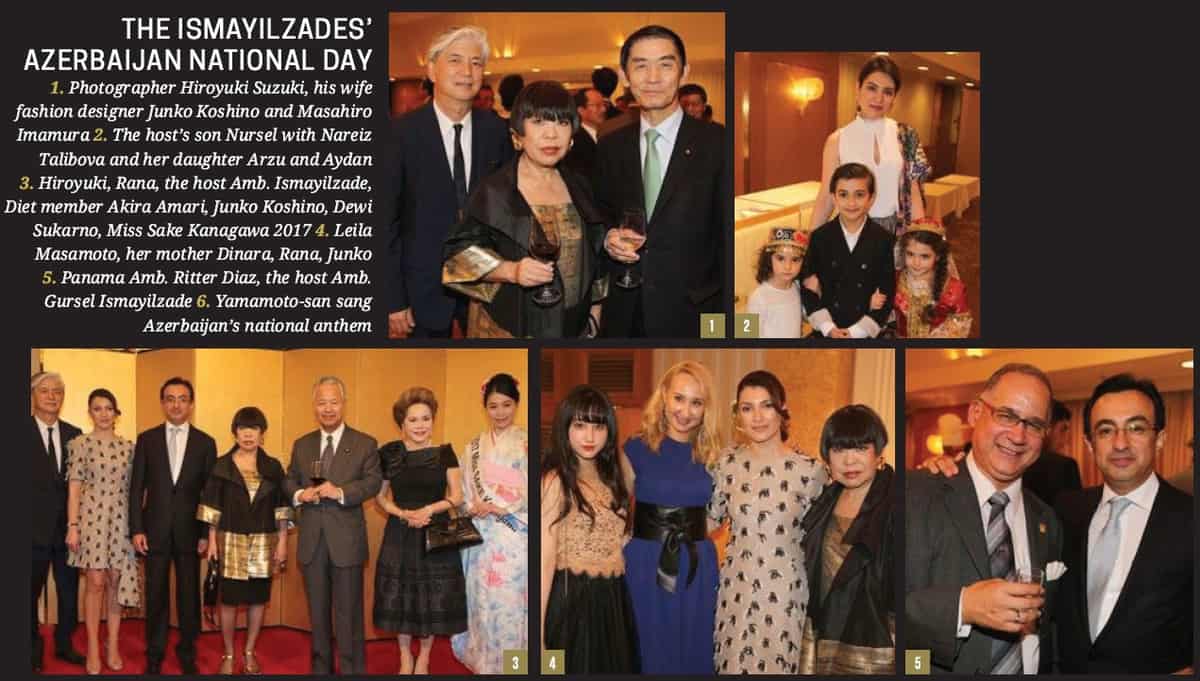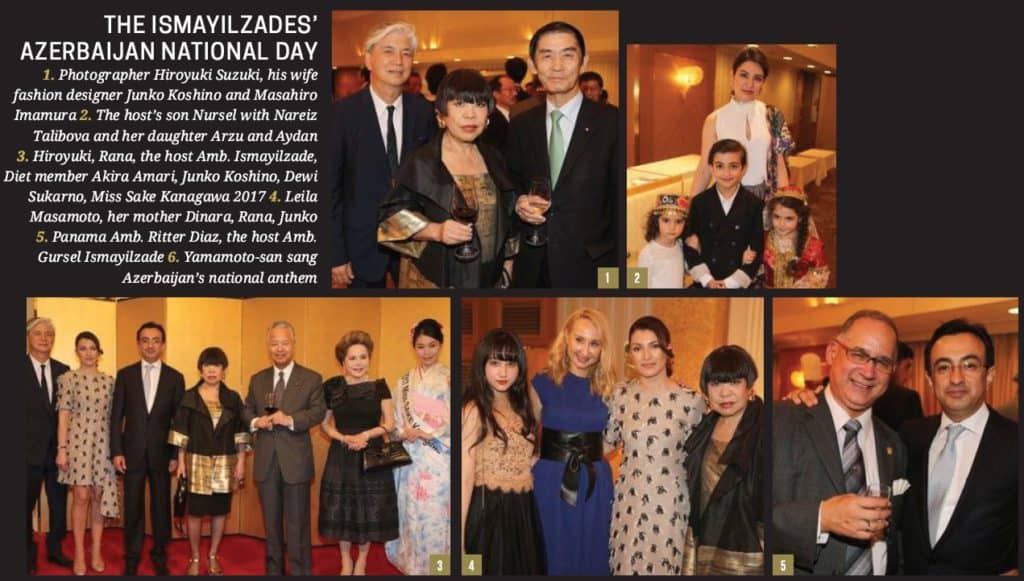 In the Okura Hotel's luxurious Orchard Room, Azerbaijan Ambassador Gursel Ismayilzade and his lovely wife Rana hosted a reception on the occasion of their Republic Day and the 25th anniversary of the establishment of diplomatic relations between Azerbaijan and Japan.  The program opened with a lady from Azerbaijan dressed in national costume singing the national anthems of the hosting country and Japan. This was followed by a very informative welcoming speech by the host.
It was a colorful gathering with several of the children there wearing national costumes. Azerbaijani women, as you can see by the photos, are wonderfully fashionable — at another recent party Rana wore a dynamic dress by Issey Miyake, and for her national day reception, she wore an original Italian creation. The Ismayilzades are a very popular couple, and it was wall to wall interesting people enjoying the relaxing special celebration. 
PLACES
THAI FESTIVAL IN YOYOGI PARK
I was up early on Saturday, May 13, and joined Thai Ambassador Bansarn Bunnag, his wife and many Japanese and Thai VIP visitors at the 18th festival opening ceremony. The Thai Festival is always one of the most popular and this year was a celebration of the 130th anniversary of Thailand-Japan diplomatic relations. Unfortunately, it was raining that day, but it was still crowded and everyone really seemed to be enjoying themselves. My thanks to Ambassador and Mrs. Bunnag who sat me next to the new Indonesian Ambassador and Mrs. Arifin Tasrif who kindly shared their umbrellas.
OPENING FESTIVAL — SAISEIKAI'S NEW BUILDING
Time as we all know really flies. It's been three years and four months since I had to spend six weeks in Saiseikai Hospital. I really thank my doctor Kempei Matsuoka. He's the man who recommended the hospital and one of the many staff there who helped me through what could have been some rough times. 
In May, I had the privilege of joining him, his wife Yasue, his daughter Sachiko, who's also a diabetes specialist, and her two daughters Sakura and Aoi at the opening festival of the hospital's new big super modern facilities.  In 1911, Emperor Meiji donated ¥1.5 million for the establishment of a public medical institution. Now they have 41 branch offices (hospitals, clinics, etc.) in 37 prefectures. 
If you need any more information on Saiseikai, call 03-3451-8211 and ask for Yoshihara-san.  She really knows her work. I should add she was the interpreter for Donald Trump when he visited Japan about 35 years ago. 
*First published at the Tokyo Weekender
*Images Copyright: Tsukasa Shiga