Bill's Partyline August 3rd, 2007
PEOPLE
Twentieth Century Fox brought in veteran actor Bruce Willis as well as his young co-stars Justin Long who plays a hacker, and Hong Kong actress Maggie Q. to promote the highly-rated action film Die Hard 4.0. Willis was 30 minutes late (usual for him) and was really in high spirits. "Genki desu ka?" he asked the room full of media, adding: "I'm really happy to be back here. Japan's one of my favorite countries." He then requested the lights be turned down "because we can't see anybody." It was obvious that Bruce, Justin, and Maggie had a good relationship, and that they really had enjoyed working together. Willis said, "I'm happy to be back in action films, but at 52 it was a real physical challenge." He went on to say, "It's not just an action film, there is drama. My character loves his family and country and has a strong disrespect for authority."
Asia's top singer Jung Ji-Hoon who goes by the stage name of "Rain" made a stopover in Tokyo to discuss his new role in the Joel Silver film, Speedracers. The film is being directed by the Wachowski brothers, Larry and Andy, and is being show on location in Berlin. Japanese superstar and very international actor Hiroyuki Sanada also stars in the film.
PARTIES
Still sort of overwhelmed by the size and scope of the US Ambassador Thomas Schieffer and his wife Susanne's super celebration of the good old USA's Independence Day at their residence yesterday. The decorations, the musical show, the food, and Tom and Susanne's hospitality made it all very special. Congratulations to the hosting couple and their staff on what had to be one of the best July 4th bashes ever. Photos and more details later.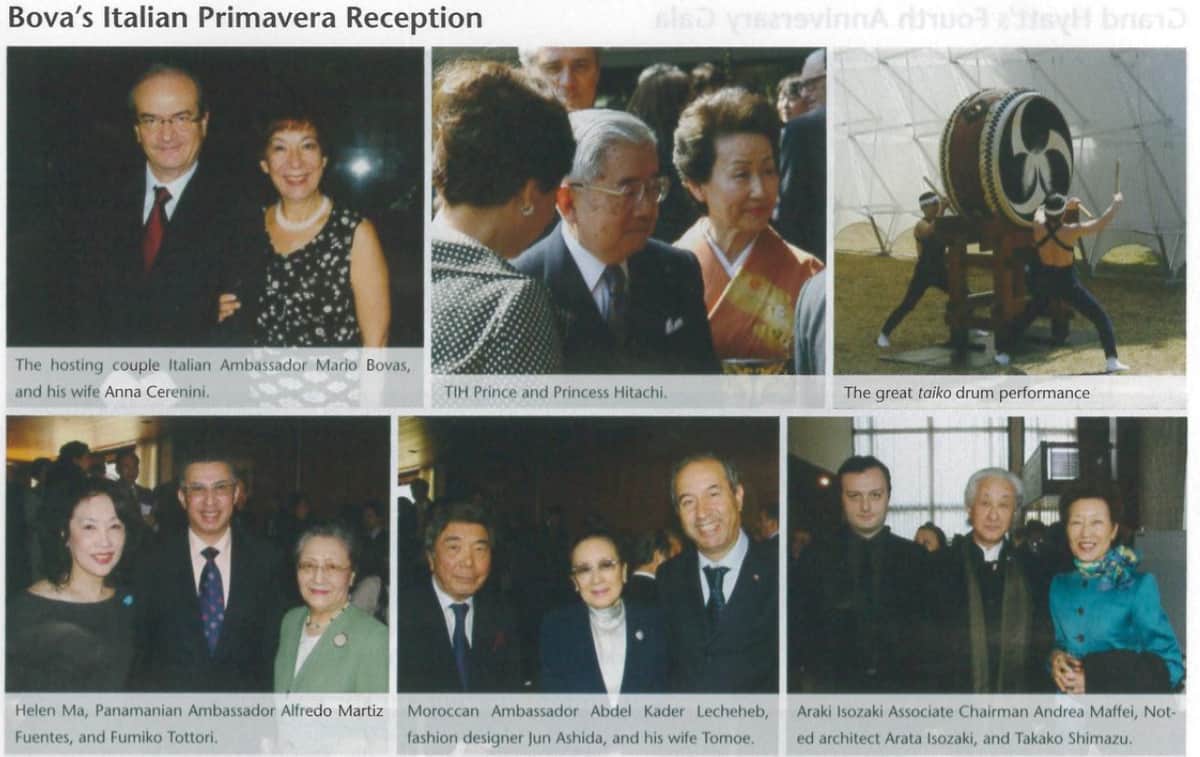 It was wall-to-wall interesting and important people at the Italian Embassy for the official inauguration of Primavera Italiana 2007. The super event was hosted by Italian Ambassador Mario Bova and his wife Anna Cenerini and special guests included TIH Prince and Princess Hitachi and Italian Deputy Prime Minister and Minister of Culture, Honorable Francisco Rutelli. At the main entrance to the Bovas' residence, there was a dynamic display of Italian automobiles and motorcycles. A huge futuristic white canvass had been set up in the Bovas' legendary garden. Under the arch was a black and white taiko, which was also huge, and a group of drummers put on a really exciting show. The long tables in the main reception and the dining room groaned under trays of everyone's favorite Italian foods. Needless to say, the guests all really enjoyed the feast.
PLACES
As impossible as it seems, the popular and prestigious Grand Hyatt Tokyo Hotel in Roppongi Hills recently celebrated its fourth anniversary. To celebrate the special event the General Manager Xavier Destribats and his staff hosted a glittering gala reception. The hotel's ballroom was the main venue, but there were exhibitions, etc. in several of the hotel's other function rooms as well. The guest list included politicians, Diplomats, big business representatives, top society members and familiar faces from the fashion, arts, and entertainment worlds. The ballroom itself looked fantastic with real trees hanging at different levels from the high ceiling, spectacular flower arrangements, and an amazing array of food from all over the world. Xavier made a short and meaningful speech and an orchestra played soft and mellow music throughout the evening.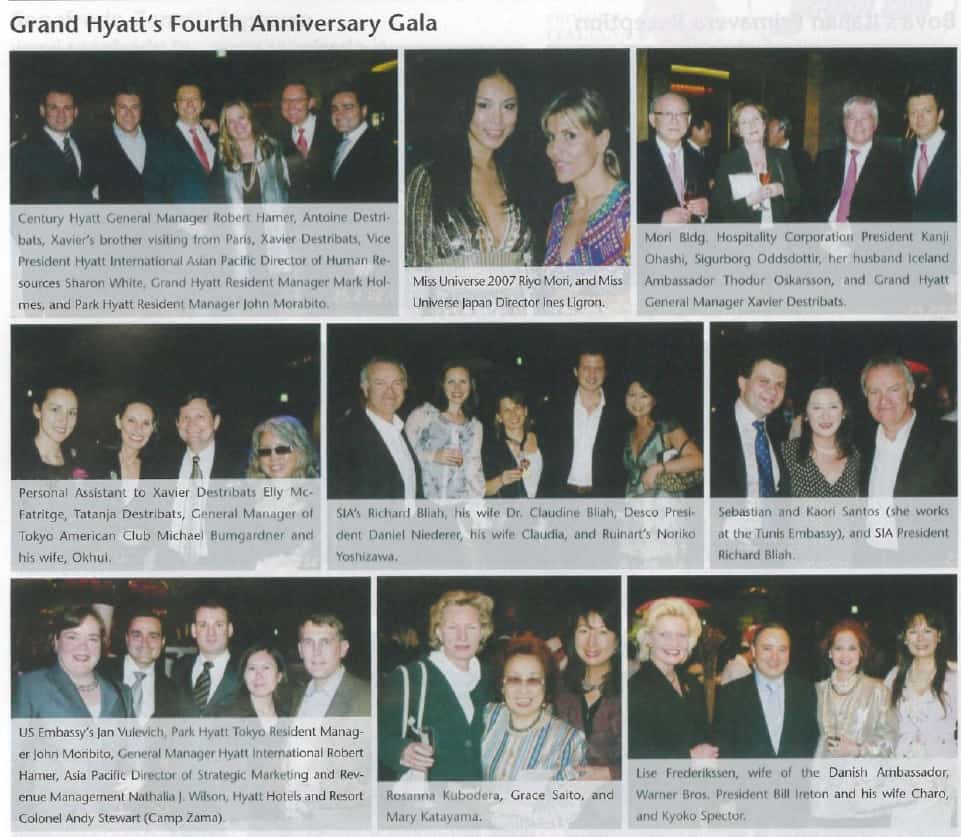 I enjoyed talking with Lise Frederikssen, wife of the Danish Ambassador. She's chairperson of this year's Ikebana International Fair and Is Involved in many worthwhile projects. It was also nice to meet Xavier's brother Antoine who was visiting here from Paris. I appreciated Ines Ligron Introducing me to the then Miss Japan—now, Miss Universe Riyo Mori. She, as you can see, is a beauty and after talking with her, it was easy to see how three years in Canada and a dance career gave her the confidence to win her title as Miss Universe 2007. I also enjoyed meeting the beautiful and talented actress Kanda Uno. The thoroughly enjoyable evening also gave guests the opportunity to view the banquet rooms and an exhibition of the hotel's new and innovative banqueting styles, as well as the new Kayakizaka Teppanyaki restaurant. Kudos to all concerned.
Let's face it—few people like hospitals, which are almost always crowded and can be depressing. If you have some problems, the modem, well-staffed Saiseikai clinic in Shibuya is a good alternative. They have a general internal department, diabetes section, neurology, cardiology, hematology, ophthalmology, and dermatology as well. The clinic is open Monday-Fri-day from 9:30am-12:30pm and 2:30-5pm, and on Saturdays from 9:30am-12noon. Address: Tei-to Aoyama Bldg. 2F, Shibuya-ku. Tel. 03-3407-0895.
*First published at the Tokyo Weekender
*Images Copyright: Tsukasa Shiga