Bill's Partyline August 6th, 2010
PEOPLE
Sex and the City 2 Premiere
It was glamour galore at the Roppongi Hills Arena when limo after limo unloaded some of Japan's most beautiful women for the premiere of Warner Brothers' Sex and the City 2. Familiar faces included former Miss Universe Ryo Mori, model sisters Karen, Jessica and Angelica Michibata, and many of Japan's top actresses. The local girls made a great effort with their fashion, and in all honesty I thought much of it was more glamorous and chic that what the cast wore in the film. But the film's wardrobe was designed to be extreme—it's all part of the personalities of the cast. The stage where the celebrities gave their speeches was all aglitter, and Moet Chandon had set up two huge champagne pyramids. It really was quite an evening…kudos to all concerned.
Sayonara for Hilton GM
Over at the Hilton Tokyo in Shinjuku, Oded Lifschitz, VP of Japan, Korea and Mirconesia for Hilton Worldwide, joined other Hilton executives in hosting a beautiful sayonara party for the hotel's GM Christian Baudat, while welcoming his successor Naoki Oto. The glittering event was held in the hotel's recently redecorated Kiku ballroom, and it was packed full of friends of Christian and Naoki, including VIPs from all walks of life. The speeches were short and meaningful, and the lavish buffet featured the very best in Japanese, Chinese and Western foods. Christian, who's been GM there for five years, has done wonders with the hotel, and it's been interesting seeing the many dynamic changes he's made there. Like many others, I'm really indebted to him for his generosity and support over the years. He and his staff have really gone all out to help me make my annual holiday party for orphans the gratifying, enjoyable event it always is.
PARTIES
Oakwood Anniversary Party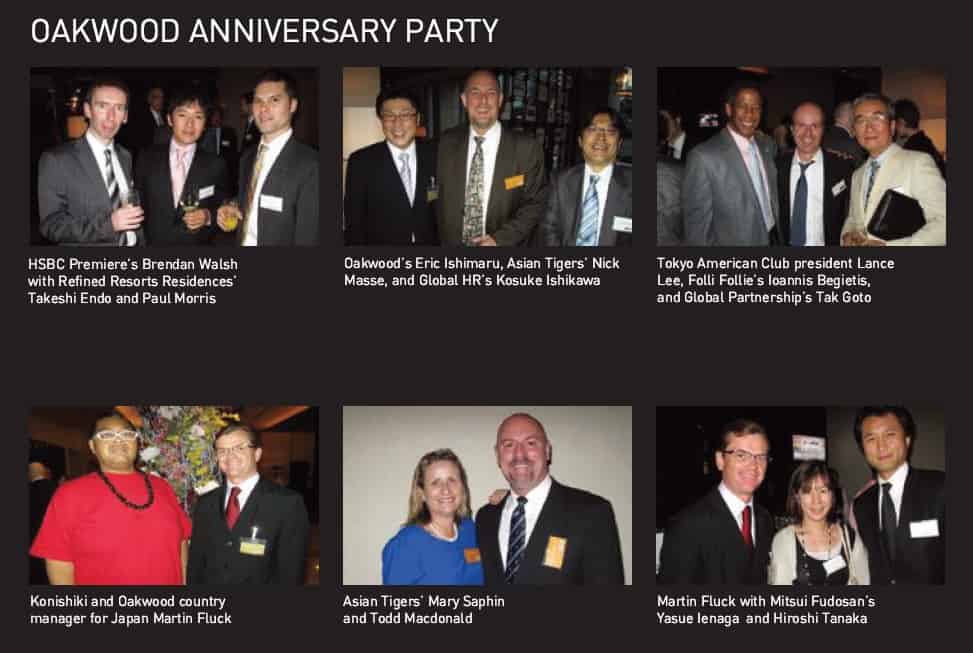 As a part of the celebrations for Oakwood's 50th anniversary worldwide and 10th anniversary in Japan, the company worked with Hong Kong Shanghai Bank, Asian Tigers, the Tokyo American Club and Wall Street Associates to host a very successful event at the luxurious Oakwood Premiere Tokyo Midtown. The quarterly event was held to express thanks and a feeling of goodwill, as well as to introduce the guests to each other. Sumo star Konishiki was a special guest that evening, and he not only proposed a toast, but also sang a few of his hit songs. In talking with him, I learned that he has lost 300 pounds, which is really amazing. The food, the relaxed atmosphere, and the many interesting people in attendance added up to a great evening that was perfect for the occasion. I often run into Hollywood stars and other celebrities who stay at Oakwood properties here in Tokyo. My sincerest congratulations to all the hardworking people who make Oakwood the prestigious company that it is.
PLACES
Indian Festivals and Events
My busy Indian friends have been even busier that usual with a full calendar of tourism promotions, cultural presentations, and of course exhibits by the talented artist Mrinalini Singh, wife of the Indian ambassador. Recent VIP visitors from India have included Surjeet Banerse, the secretary of tourism. I really enjoyed talking with him about Mumbai and Goa, which I plan to visit soon. Here's a couple of dates to mark down for upcoming Indian events: on the weekend of September 25 to 26, the colorful and exciting Indian festival takes place in Yoyogi Park, and one of India's most important festivals, Diwali, takes place on November 5. There'll be all kids of special happenings in and around Tokyo for the holiday.
*First published at the Tokyo Weekender
*Images Copyright: Tsukasa Shiga