Bill's Partyline December 2013
PEOPLE
Min-On Brings Cuba to Japan
"Oops They Did It Again." As I mentioned before, Soka Gakkai's Min-On concert association is a true leader in bringing cultural shows from all over the world and taking Japanese cultural programs overseas. One of the most recent was a dynamic Cuban musical show by world famous sax player and bandleader, Cesar Lopez, and Habana Ensemble. The program was a two solid enjoyable hours of a wide variety of Cuban music by the 10-piece orchestra, the popular singer Ana Iris, and four (two guys, two girls) really hot dancers. Min-On worked with a really nice couple, Cuban Ambassador Marcos Rodriguez Costa and his wife Rosa and the Cuban Ministry of Culture on getting this all together. A few weeks later Min-On had a jazz concert featuring headliner Herbie Hancock. Unfortunately I couldn't make it. Got to know Herbie over the years when he dropped by the New Lex Tokyo. He's a member of Soka Gakkai.
Looking back, I find it amazing how many wonderful people I've met and got to know through writing this column. These certainly include an exceptional couple who are right at the top—Philippines Ambassador Manuel Lopez and his dynamic lady, Maria Teresa. Mixing with them and the crowd at a recent Filipino festival in Yokohama made me realize even more how respected and loved they are by their big community in Japan. I feel so lucky to have them, and so many other wonderful friends out there.
PARTIES
Arab Day Gala Celebration—Mandarin Hotel
This year's Arab Day was celebrated by a first-class party all the way in the elegant ballroom of the Mandarin Hotel. The evening was organized and hosted by the Council of Arab Ambassadors and Heads of Missions in Tokyo. The twenty-two member countries under the leaders of Palestine Ambassador Waleed Siam, who's Dean of the Arab Diplomatic Corps made it a very special event in every way.
The huge Arabic-inspired centerpiece in the middle of the ballroom was beautifully created by a very artistic lady—Jamilah al-Otaibi, wife of the Kuwaiti Ambassador. Each of the Arab countries had their chefs prepare food for the buffet, and it was excellent.
Special guests included popular Prime Minister Shinzo Abe, and after his congratulatory speech he was swamped by guests trying to shake his hand, have their photo taken with him, or just be close to the amazing man.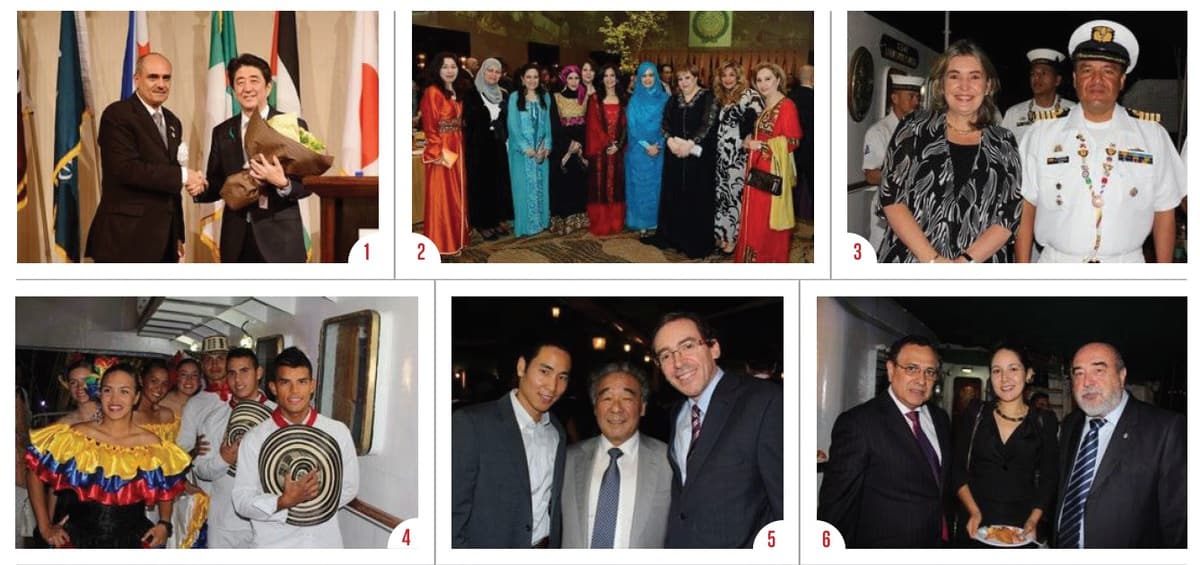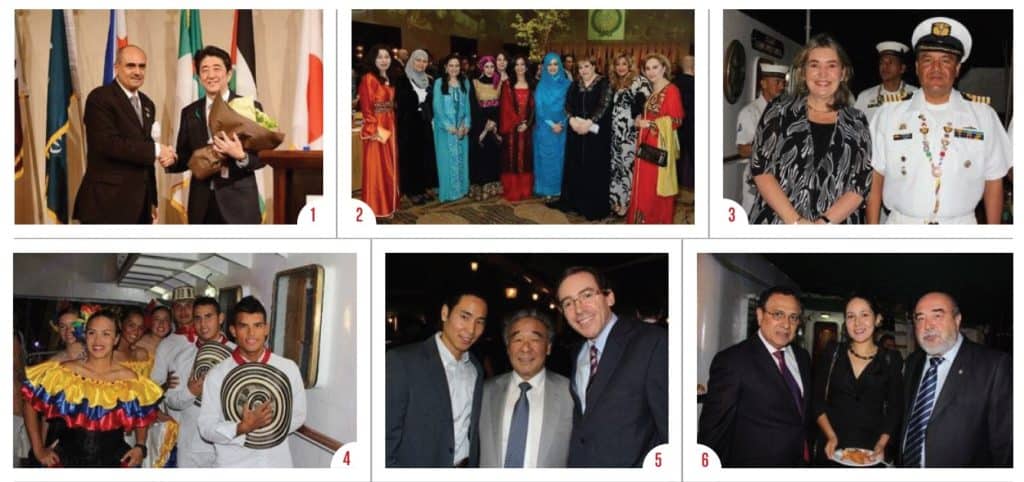 Colombia's "Gloria" visits Japan
This magnificent Colombian Naval officer's training ship was docking at Harumi Pier for four days. I've had open houses for the cadets and crew of Mexico's Cuauhtemoc, the Chilean Esmeralda and several other countries' training ships over the years at the New Lex Tokyo. I met with Colombian Ambassador Patricia Cardenas and her staff and planned on doing the same for those on the Gloria.
Malaysian Celebration at Chinzanso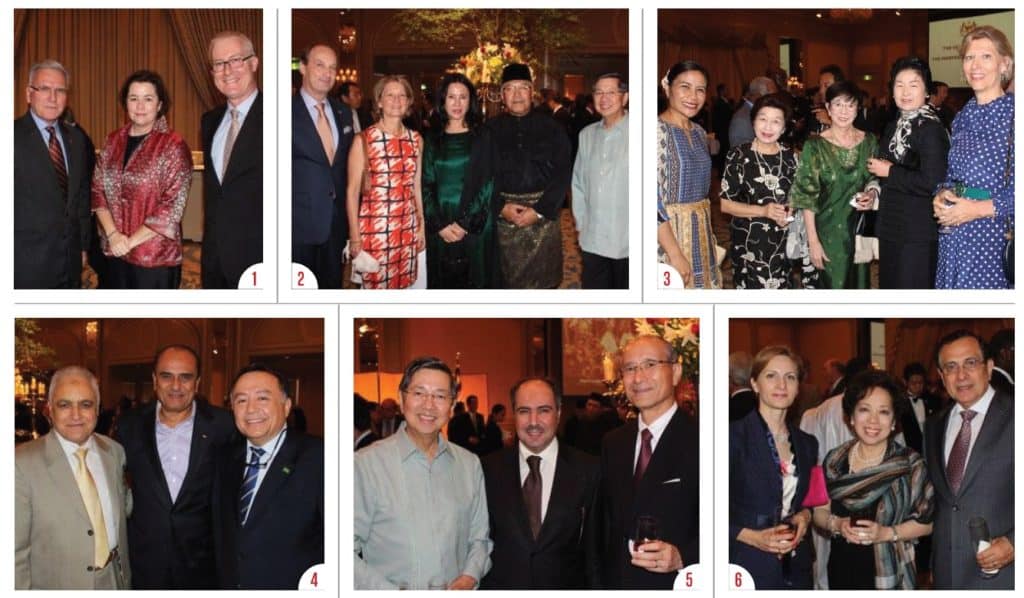 Malaysian Ambassador Shaharuddin Md. Son and his wife Datin Nora Sikin both looked super chic in Malaysian national fashion at the reception they hosted to celebrate their beautiful country's National Day at the Chinzanso Hotel. They're a popular couple and as expected, there was a big crowd event at the early evening. The program included an excellent speech by the Ambassador, another by a Japanese dignitary, the playing of the Malaysian and Japanese anthems and a toast. 2014 has been designated as "Visit Malaysia" year, and there's a full calendar of special events to make this an even bigger and full schedule of events, bargains and great experiences in Malaysia.
PLACES
I often visit Midtown's Oakwood Premiere residences to say hello to Oakwood execs Martin Fluck, Eric Ichimura and their super staff, and I have a space there with a great view of the park where I can work on the column. The Oakwood lounge is always busy, and have really met some interesting people. These include sumo great/entertainer Konishiki and his gorgeous wife Chie who do much of their charity work for many causes outside of Midtown. Others include baseball, soccer and rugby players and F-1 drivers. Then there's usually a business leader on two that include Pasona President Kazuyuki Namba. The place is usually a beehive of activity with wine tastings, special parties, and volunteer workers from "Hands on Tokyo" and Blackstone wrapping gifts for Konishiki's "Kona Santa" projects in Tohoku and elsewhere.
*First published at the Tokyo Weekender
*Images Copyright: Tsukasa Shiga