Bill's Partyline December 2014
PEOPLE
NICK MASEE'S ANNUAL CHARITY BARBECUE
I've known Nick Masee, managing director of Asian Tigers Mobility Japan for a long time and really appreciate his friendship to me and his support of the Weekender. As busy as Nick is—and he really is—he spends much of his free time helping others, especially handicapped children. For the first time, I was able to accept Nick's invitation to his annual fundraising dinner to watch seasonal fireworks show from his spacious apartment and balcony on Yamate Don. Nick's tastefully decorated apartment is big, but it was wall-to-wall with more than 100 charity-minded people mixing, making new friends, and enjoying the bountiful buffet and drinks. In addition to viewing the fireworks, people relaxed while listening to the live saxophone music of Marcus Pittman (he's good) and posed for a variety of photos by pro photographer Kerry Raftis. Nick is the only non-Japanese to receive the prestigious Machikaido Philanthropist Award. Believe me, he deserves it. Proceeds of the charity party that day all went to helping handicapped children. Nick is also very active in YMCA activities and the Run for the Cure Foundation, which held another successful run around the Imperial Palace at the end of November.
PARTIES
DO LAGOS' BRAZIL NATIONAL DAY RECEPTION
This was the first big event hosted by recently-arrived Brazilian Ambassador Andre Aranha Correa Do Lago and his wife Beatrice. The occasion was to celebrate their National Day, and they and their staff really went all out to make the reception at their residence a very special event. The outgoing and already popular couple really put their own personal touch on the furnishings and art in their new home and it looked great. All of the things they plan to do with the garden, etc. sounded good. I also want to compliment the embassy chef. The buffet of salads and pies with delicious, flaky crusts was excellent. A first for me, and a new favorite, was the hearts of palm pie. Delicious!! Lots of nice people there, and everyone had the opportunity to mingle and chat before a group of Brazilian musicians came in and made some lively Brazilian sounds. It was great.
VIETNAM SPECIAL PARTY AT THE NEW OTANI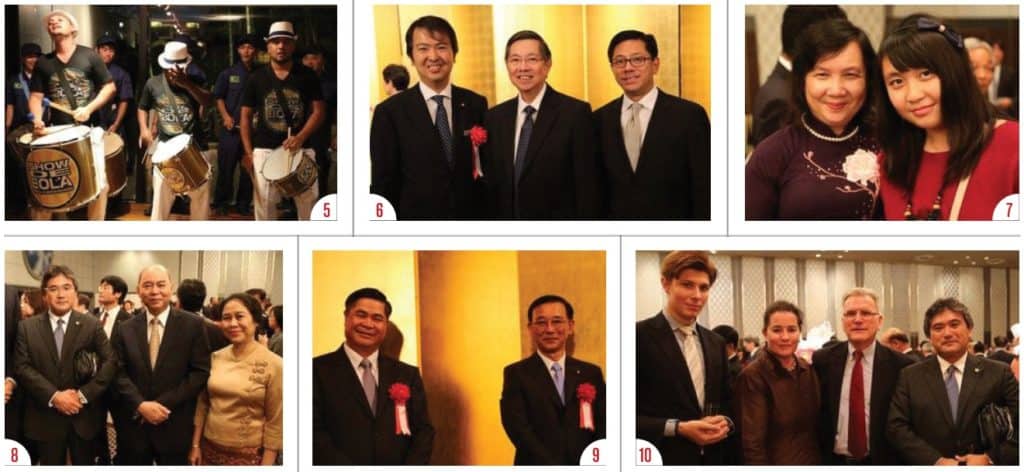 My apartment is a few minutes' walk from the Vietnamese Embassy, and thanks to Ambassador Doan Than Hung and his wife Le Nguyet Nga, I've met many interesting people, had some great Vietnamese food, and really enjoyed many receptions at their home in Moto Yoyogi. September 1 was the 69th Anniversary of the Socialist Re-public of Vietnam, and they celebrated this special occasion with many of their friends, with a colorful, people-packed reception at the Tsuru West Room in the New Otani Hotel. The numerous Japanese government officials, business leaders, and other VIPs were proof positive of how much time and effort the Ambassador, his wife, and their staff have put into furthering good relations between their country and Japan. Our hearty congratulations.
ARMENIA'S 28TH ANNIVERSARY OF INDEPENDENCE CELEBRATION AT THE OKURA HOTEL
Armenian Ambassador Dr. Grant Pogosyan and his wife Natalia chose the Okura Hotel's Akebono Room for their country's 28th Independence Day. Plenty of Tokyo's celebrities were there, along with a wide variety of interesting people that included Japanese government leaders, diplomats, business magnates, and of course the Armenian community. The Ambassador made an excellent welcome speech and even added a touch of humor. I, and the other guests, really enjoyed the bountiful buffet that featured many delicious Armenian dishes. My congratulations on the reception—and the beautiful Armenian dress the hostess Natalia wore for that special evening.
PLACES
YOYOGI INTERNATIONAL SCHOOL PARTY AT PATINASTELLA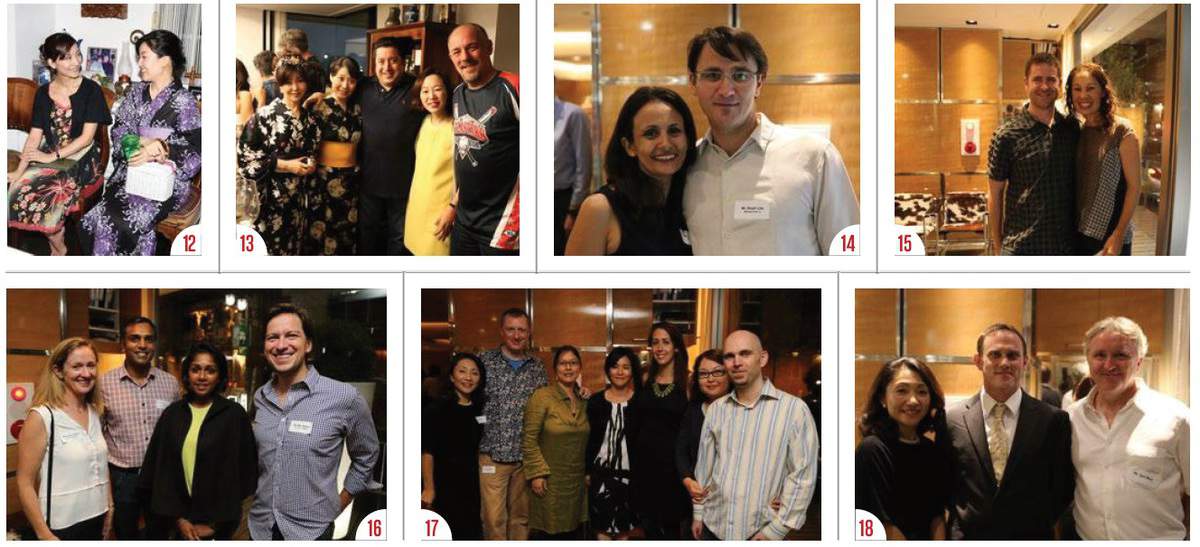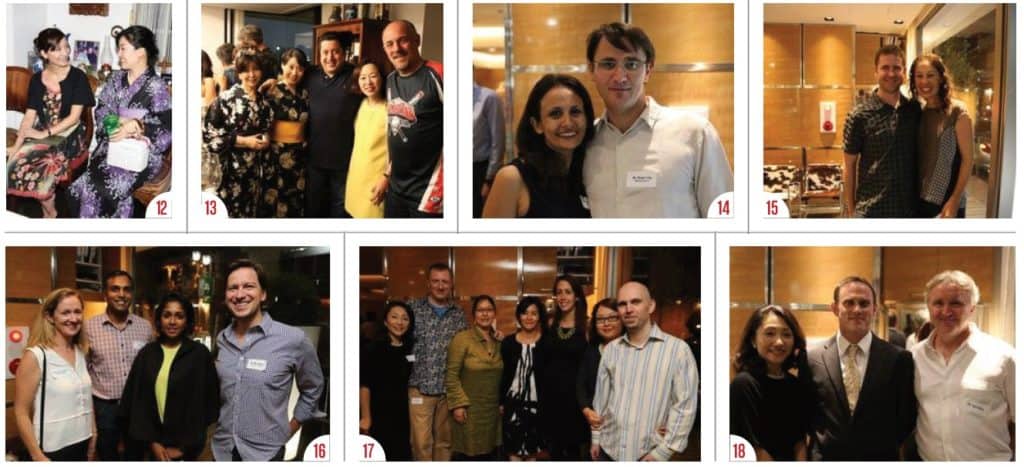 There was an interesting gathering at Patinastella (formerly Pat-ina), a super-chic restaurant near Bunkamura on Tokyu honten don. The occasion was a laid-back buffet dinner where parents of the many students at the highly regarded school, founded and run by Yuko Muir, could gather and mingle. I couldn't stay long, but I was happy I dropped by, met some interesting people, and checked out the delicious buffet.
HALLOWEEN-HERE AND THERE
Japan really went overboard with celebrating Halloween this year. I saw plenty of young girls dressed in costumes and roaming around Roppongi and Shibuya, weeks before the actual day of Halloween. Those Don Quixote shops, where people were lined up to buy costumes, really were happy with the cash coming in. National Azabu had a very successful party in Arisugawa park with food, a flea market, and a costume contest. Konishiki dressed up in drag-sporting a black dress and lots of makeup for the lively party at Oakwood Premiere in Midtown. That was fun.
*First published at the Tokyo Weekender
*Images Copyright: Tsukasa Shiga