Hersey's Partyline December 2016
PEOPLE      
REST IN PEACE MY FRIENDS
Thailand's highly respected, much loved King, H. M. Bhumibol Adulyadej passed away. The very special man who was the world's longest-reigning, richest, and most revered ruler passed away on October 13 at the age of 88. During the seven decades of leading his country, he won the hearts of not only the Thai people but people all over the world for his countless efforts in making things better for his country and people. Thanks to several Thai ambassadors and friends in the hotel business in Thailand, I met the great man twice — once at the legendary  Oriental Hotel in Thailand, and once in a rural area where I was a guest of the government visiting one of his agricultural projects and he was there taking photos. As most of you know, the king played the saxophone, loved jazz, and once even played with Duke Ellington. Duke's daughter Mercedes is a friend, and we talked about this when she was here in Tokyo. The world has lost a great human being, a great man, and a great leader. 
PRINCE TAKAHITO MIKASA 
The world lost another special person when Mikasa-no-miya passed away on October Z7. He was 100 years old, and as a member of the imperial family had an interesting and full life. I first met Prince Mikasa at a party many years ago and told him I majored in anthropology. He told me he majored in archaeology, and we became friends. 
GRACE SAITO 
Closer to home, we also lost a truly great lady — Grace Saito. This lovely,  generous philanthropist was one of the kindest people I've ever met. She loved fashion, classical music, and her many friends really loved and miss her. Grace kept busy with her frequent classical music concerts which she held in Sogetsu Kaikan, the Imperial Hotel, the Grand Hyatt, the Peninsula, the Tokyo Hilton, and other prestigious venues. Through her many friends and connections, she was always able to get really good classical music artists to perform in her well-attended concerts. She was a very active member of the Rotary Club and proceeds of her events went to them for many worthwhile causes. She also helped me with several projects for less fortunate kids in the Philippines. We lost Grace on October 6. I'm so glad I was able to visit her at her lovely nursing home with Lilo Maruyama and Kyoko Spector several Limes. She really was very special. 
PARTIES
DEWI'S CHARITY GALA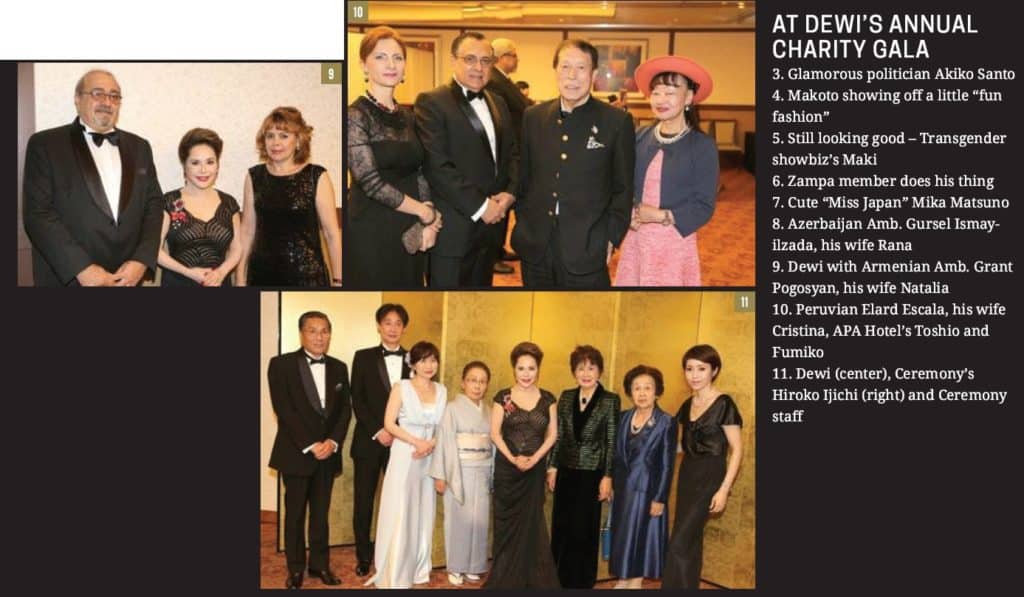 It was a full house (about 500 people) i.n the huge Maiougi Room at the beautiful Tokyo Meguro Gajoen. The occasion was Dewi Sukarno's 19th  Annual Grand Imperial Banquet Charity Gala Dinner to benefit the Japanese Red Cross Society and the Association for Aid and Relief.  The audience was a kaleidoscope of color with a lot of familiar faces from the worlds of government, big business, fashion, arts, and entertainment. The fashion was original and, for the most part, super chic.  The women's jewelry was proof positive of the song "Diamonds Are a  Girl's Best Friend," as sung by Marilyn Monroe in the film Gentlemen  Prefer Blondes.  Thanks to Dewi, I had the privilege of sitting at one of the best tables, right in front of the stage. Others at my table included politician  Akiko Santo; Kyoko Spector; a real cute Miss Japan, Madeline Umewaka; and Toshio & Fumiko Motoya, who own all those APA hotels you see everywhere you got  Dewi opened the program with a heartfelt speech. This was followed by a toast by Azerbaijani Ambassador Gursel Ismayilzada and the presentation of the proceeds of the evening to the two main charities. Congratulations to Dewi and her many friends who made it so special. 
LA SCALA BALLET'S PARTY AT GEORGl'S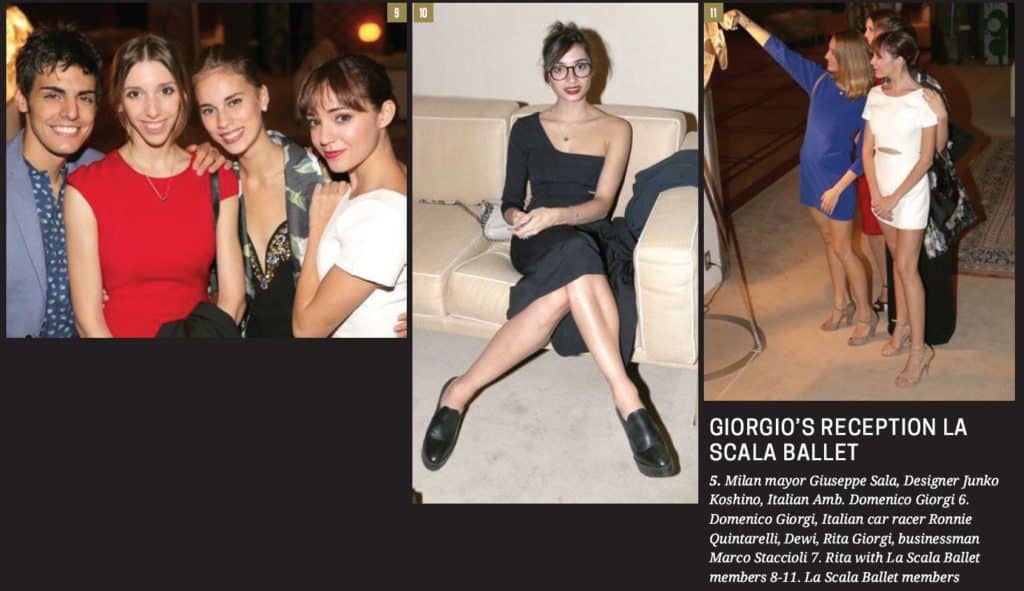 Italian Ambassador Domenico Giorgi and his dynamic wife  Rita have been super busy this year. It has been the 150th         anniversary of Italy-Japan relations, which has meant a full schedule of all kinds of special events to celebrate the event. One of my favorites  was a laid-back, yet glamorous party at Domenico and Rita's beautiful  home for a visiting group from Milan that included the mayor of Milan, Giuseppe Sala, top executives of La Scala, and about 50 of the cast and crew of the renowned La Scala Ballet in Milan, who were here to put on a spectacular production of "Don Quixote." It was really special for me when I learned the production (costumes, sets, choreography) was pretty much the same as the original, which starred my late great friend  — and one of the most talented dancers ever — Rudolf Nureyev.
PLACES
MIN-ON CONCERT ASSOCIATION BRINGS THE BIBAP


I love musicals, and I love Seoul. I don't know why but I just never got to see the musical "Bibap," which has been playing there for six years.  Thanks to good friends at Soka Gakkai's Min-On Concert Association, I  got to see the musical here, and I really enjoyed it. The talented six boys and two girls gave several performances at Nakano Sun Plaza. The stage setting was mostly a kitchen in a Korean restaurant. The music, singing.  dancing and energy were really great. I was so happy when the cast came out to the lobby after the show and shook hands and took photos with many of the audience members. Congrats to Kim Hyun-Hwao director, Korean Cultural Center on helping get "Bibap" to Japan. Min-On does a cultural exchange with countries all over the world — that's something we really need these days. In November they worked with Venezuelan Ambassador Seiko Ishikawa to bring the Grammy-nominated tropical music band "Guaco" here. I had to miss it, but I heard it was a  really colorful and exciting show. 
*First published at the Tokyo Weekender
*Images Copyright: Tsukasa Shiga