Bill's Partyline December 3rd, 2010
PEOPLE
Happy to see that friends in showbiz promotion are doing well. Kyodo's Al Arashida really gave the two days of full-house audiences at the A hall in Tokyo International Forum a great night of marvelous music by noted composer/musician/singer David Foster and a group of his talented friends. They included Nat King Cole's daughter Natalie, the Grammy Award-winning songwriter; "The Canadian Tenors" group; Peter Cetera; and 18-year-old Filipino singer Charice Pempengco, who has appeared on Oprah, guest starred on Fox TV's Glee and had a number one hit with "Pyramid" on Billboard's Dance Charts.
Bill and Charo Ireton were there with three of their five kids, Matthew, Roberta and Edward. Roberta and Matthew liked the show so much that they went the next night as well, and as I mentioned in my last column, he got to sing in front of 5,000 people. It couldn't have happened to a more deserving guy. I'm sure you'll be hearing a lot about him in the near future.
PARTIES
Ceremony hosts party for F-1 drivers at the New Lex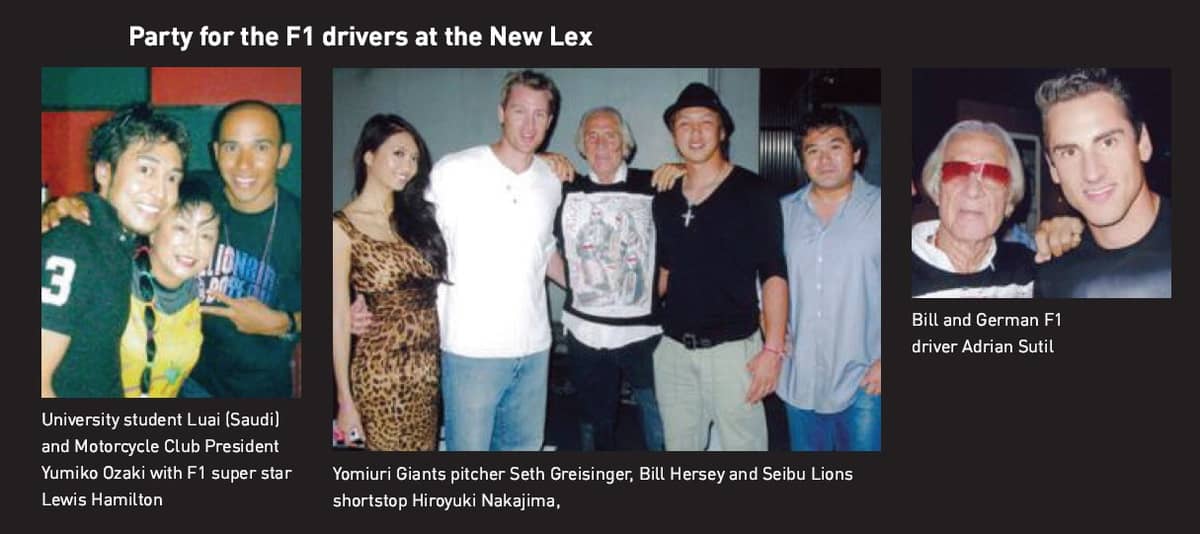 Ceremony president Tsukasa Shiga is a real fan of Formula 1 racing and, for the fourth year in a row, he hosted a party after the race for the drivers and their friends, which, of course, included many Japanese and international fashion models at the New Lex. A half a dozen of the racers and many of their fans got to the club about midnight and partied on until the early AM. This was the first time one of the world's greatest athletes, driver Lewis Hamilton, attended the Tokyo celebration and, happy to hear, he was really down to earth, mixed with the crowd and had a good time. Other sporty figures at the party included Yomiuri Giants pitcher Seth Greisinger and Seibu Lions shortstop Hiroyuki Nakajima.
Colorful Colombia festivals at Hibiya Park
Colombia, unlike most countries who have their annual culinary and cultural festivals at Yoyogi Koen, held theirs in Hibiya. It was a dynamic event with an energy-packed crowd enjoying the Colombian food and drinks, the butt-shaking music, and fun, fantastic dancing. Our Latin friends really know how to move and really get into it. I've been listening to the CDs a couple of the Colombian bands gave me almost every day since.
Tyler Foundation charity party at Oakwood Midtown
Oakwood Midtown is proof positive of why Oakwood is the most trusted name in serviced apartments worldwide. I'm always happy to see friends use the luxurious lounge and food and beverage facilities for worthwhile events. On Sept. 29, the Tyler Foundation had a successful evening and raised a considerable amount to help less fortunate children in Hawaii. Former sumo champ, Konishiki, now all around entertainer, was guest of honor and sang a couple of his own compositions. He's a good musician and a good man. Congratulations to all.
PLACES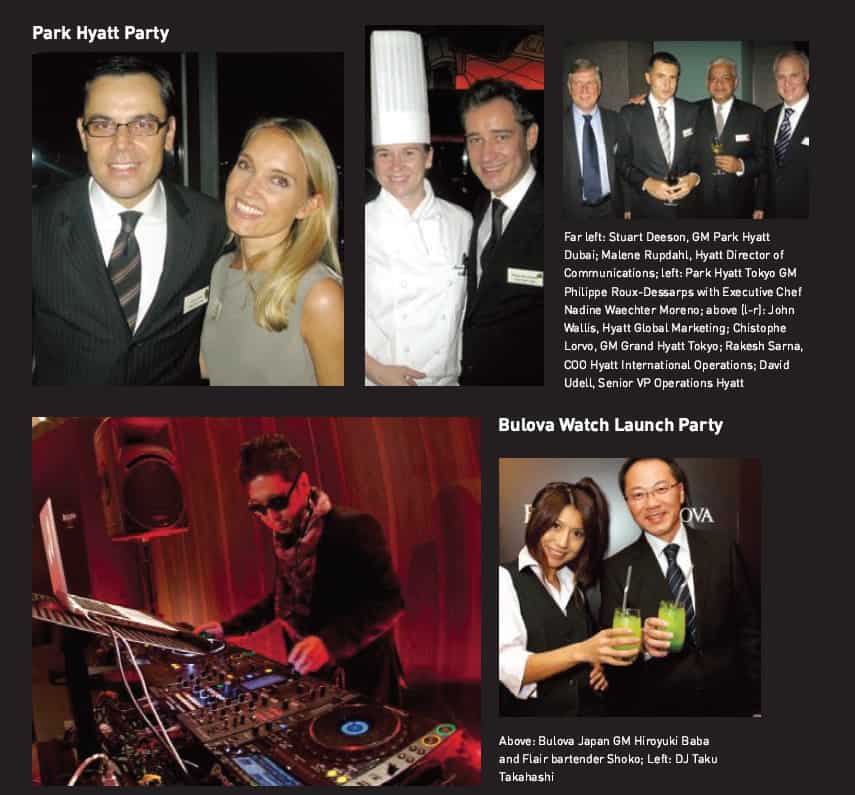 It was first class all the way at the event "A Taste of Park Hyatt" which was held in the world-famous New York Grill on the 52nd floor of Tokyo's prestigious Park Hyatt in Shinjuku. That evening 30 chefs from Park Hyatts the world over had gathered to prepare a feast of true culinary art that had to be seen and tasted to be believed. It was a super cool, wonderful evening that gave me the opportunity to see a lot of longtime friends and make some new ones as well. It was really nice seeing senior VP of operations David Udell. He used to work for Hyatt in Japan, has been a long-time friend and always goes out of his way to make me feel important. Following Japanese tradition, each guest was given a gift when they left. What I thought was a cake turned out to be 24 chic coupons, each good for a two-night stay at a Park Hyatt in about every major city in the world. There were also coupons for dinner for two at each of the hotels' best restaurants. That my friends, and I'll use the words again, is real class.
Bulova Watch hosts launch and thanks reception
Bulova VP Eric Hoffman flew in to join Bulova's Japan GM Hiroyuki Baba in hosting a launch and thanks party for their valued partners here. They chose Ark Hills as their venue, and the evening's program included a juggling performance by talented bartender Shoko Tomita, a live-painting session by Shuko Tsuchiya and music by DJ Taku. Bulova has a rich history of 135 years and a tradition as being a leader in design, and their latest creations really look good. It was a lively, laid-back evening, thanks to Elizabeth Hildebrand who was working for Ogilvy at that time. Recently got an e-mail from her regarding her changing jobs. We wish her all the best.
*First published at the Tokyo Weekender
*Images Copyright: Tsukasa Shiga