Bill's Partyline December 4th, 2008
I really enjoyed meeting and spending time with British actress Jacqueline Bisset during several of her visits here. Jacqueline was born in 1941 and started her film career in 1967 in the movie 'No For The Road.' That same year she played Miss Goodthighs in the James Bond satire Casino Royale. She went on to star in an endless number of films and made-for-TV Movies. These included several in French and Italian productions. She was nominated for and received many awards for her work. The talented actress was named as one of the sexiest 23 women in film ever, but never married. She is, however, godmother to actress Angelina Jolie. The first time I met Jacqueline was at a small dinner party hosted by UIP' Films at Inakaya restaurant in Roppongi. I remember how much she enjoyed the fun, noisy, and very popular 'country-style' eatery. She also enjoyed the food. The next day I took her shopping at lssey Miyake and Junko Koshino's boutiques. She loves fashion and bought a lot of the mote conservative, tasteful designer creations. The second time I met Jacqueline she was here with the "love of her life, " Russian ballet dancer Alexander Godunov. Alexander, who had co-mallet] and played a terrorist in the film Die Hard with Bruce Willis, brought Jackie to Japan with him when he came here to do a series of dance performances.
PARTIES

I don't normally like to get up for early Sunday happenings, but I'm glad I did for Panoramic Hospitality VP Xavier Destribats and his wife Tatiana's brunch in their Aobadai home. In addition to being a great interior designer (the house is fantastic), Tatiana is a super cook. The people there, the food, and the conversation all added up to a thoroughly enjoyable Sunday break.
As they say, when it rains it pours, and that saying is right on as far as national days happening the last few months. In this column I'd like to give you a rundown of two of the special celebrations. It was a busy evening so I couldn't stay as long as I would have liked at Papua New Guinea Ambassador and Mrs. Michael M. Maue's celebration at the Palace Hotel. It was wall-to-wall Japanese government officials and business leaders there that night. Papua New Guinea has done a good job of furthering diplomatic relations and trade with Japan. My thanks to Air Nuigini's Regional Manager Kenzo Shimoda for the introduction to Japan-Papua New Guinea Friendship Ambassador Mayumi Ono.
PLACES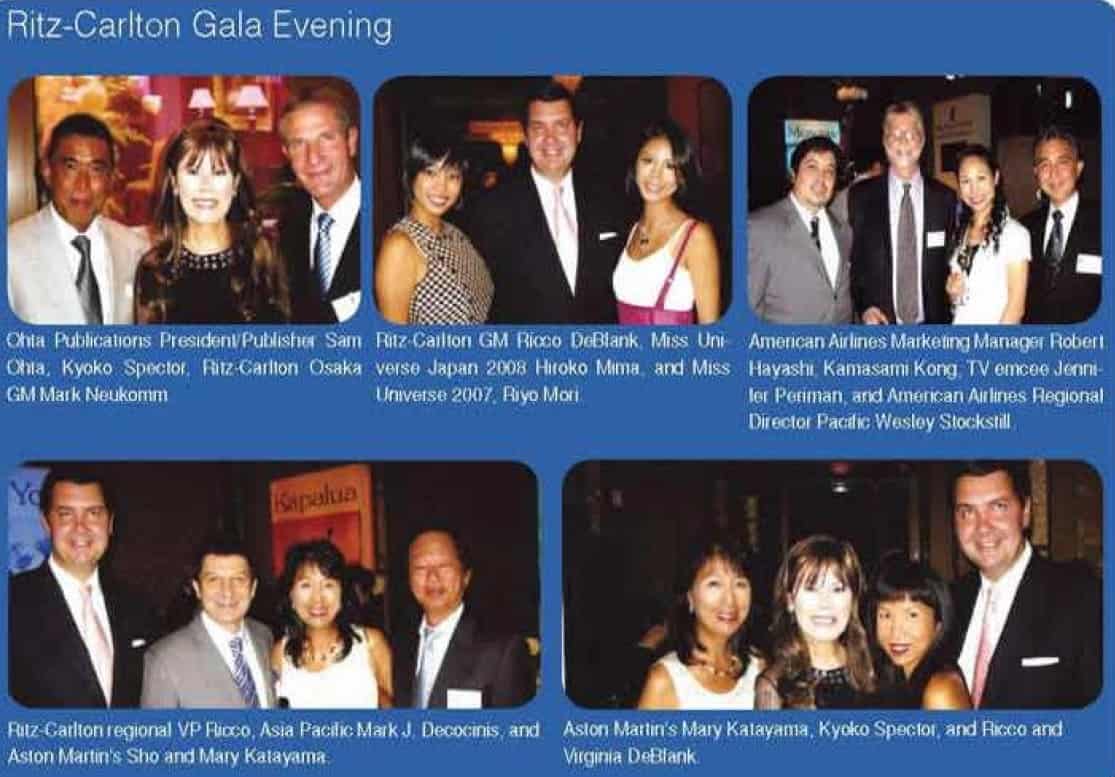 It was a glamorous evening at the Ritz-Carlton ball-room when the prestigious hotel chain's regional VP Asia-Pacific Mark J. Decocini joined Ritz-Carlton Tokyo's GM Ricco DeBlank for a reception to introduce some of their many hotels and resorts. It was an interesting evening with the hotels' reps from around the world showing the great facilities they have to offer.
Hilton Hotels have become very Involved in one of the world's most exciting sports—the Fl races. Prior to the race here October 12, they got together with several of the main sponsors for F1 and hosted a reception in the Hilton Tokyo's Marble Lounge. Participants in the Partners Party included Vodafone, McLaren, Johnnie Walker, Mobil, Tag Heuer, Enkei, Kenwood, Boss, Bridgestone, Cgsyfiasa, and Mercedes-Benz. Guests enjoyed the buffet and a concert by Japan's "top guitarist," Hotel. I really enjoyed meeting many of the interesting people there. They included car designer (Ferrari and Maserati) Kiyoyuki Okuyama. Ken, as he likes to be called, just created a very limited edition (90) of the new KO 7 Spider for Maserati.
*First published at the Tokyo Weekender
*Images Copyright: Tsukasa Shiga