Bill's Partyline December 6th, 2009
PEOPLE
It's that time of the year when there are so many worthwhile charity events, as well as our Weekender special on several of the great organizations and individuals involved in charity work. I do feel this is a good time to open my column by giving credit and thanks to many caring and giving people out there who do so much to help so many. Over the years many of these friends have given me clothing, toys, and even medical supplies to send to the needy in the Philippines, and other places. Others have helped me with postage to send those huge boxes which make so many people happy. Prime supporters of getting the big boxes of useful donated items to families overseas include Maria Anderson, who lives in New York now but still helps me, Jane Scolinos, Grace Saito, Koichi and Daniele Yoshikoshi, Chichan Plessner, Jane Yonamine, Phil Miller, Cristiano Scognamiglio, Mick Lay, the good people at RayBan sunglasses, Gene Pelc and his family, my neighbor Alef Saraie and a wonderful lady from Finland, and British fashion model Tina Bingham.
I'm busy working with the public relations girls at Hilton Tokyo on our 11th annual Christmas party to benefit orphans, that will take place at the hotel. It's always fun, and once again, I have so many good friends who include HIH Princess Takamado, her mother Fumiko Tottori, former sumo champs Konishiki and Akebono, dozens of ambassadors' wives, entertainers Steven Haynes and Rene Bosman, the Guardian Angels, and so many other leaders in both the local and international communities here who helped make it all happen.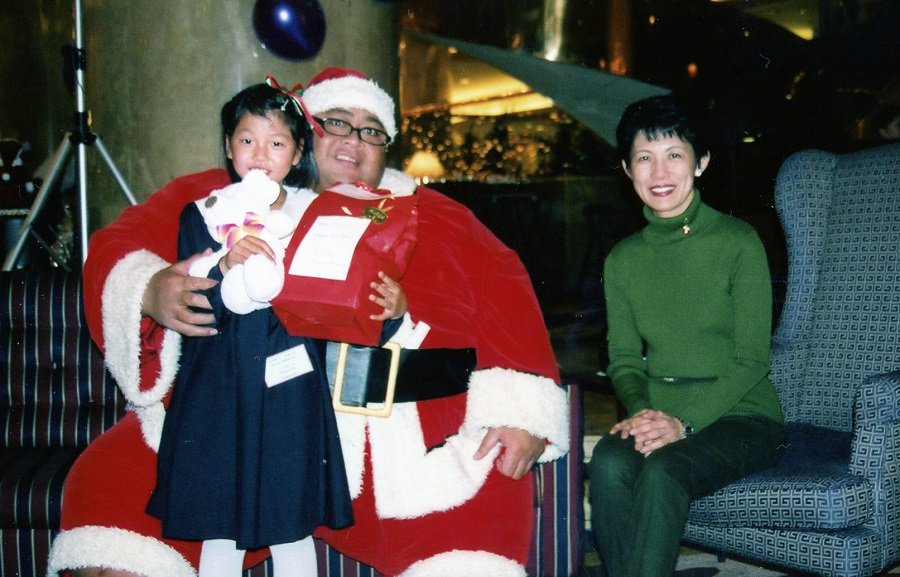 Friends in the film business have really gone all-out every year to help out with various causes. These include Bill and Charo Ireton of Warner Brothers, Dick Sano of Sony Pictures, Hiro Matsuoka of Toho Towa, Ichiro Okazaki of Paramount, Hiro Suzuki of Walt Disney Studios Motion Pictures, and Jesse Lee of Twentieth Century Fox. Others always willing to lend a helping hand include Tohokushinsha's Banjiro and Hisako Uemura (he also owns National Azabu supermarket). I also want to thank Atul Parekh and Kazuo Ogawa, the hard-working jewelry team who set up five annual gala dinner shows at Hilton Tokyo to benefit Birdlife International. One of their more recent projects was the glittering dinner at Meiji Gajoen, where they produced Dewi Sukarno's annual charity event (to benefit the Red Cross).
PARTIES
Opening of the New Omani Embassy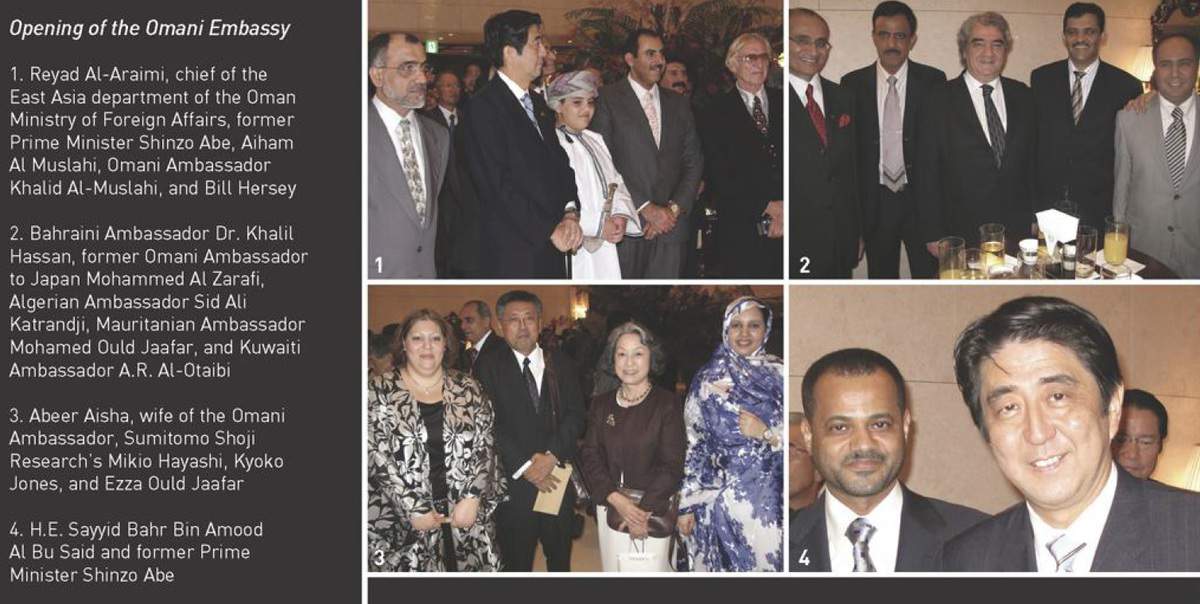 Oman's secretary-general of the ministry of foreign affairs, H.E. Sayyid Bahr Bin Amood Albu Said, and his delegation flew in to join Oman's Ambassador Khalid Al-Muslahi and his wife Abber A. Aisha for the opening ceremony of Oman's majestic new embassy building in Hiroo. The seven-story white building with the huge gold emblem showing Oman's traditional khanjar dagger in a sheath superimposed over two crossed swords is truly impressive. The design, by Yasui Architects and Engineers and done under the careful guidance of the Omani ambassador and his staff reflects Oman's heritage, culture and tradition. In addition to diplomats' offices and residences, there's a large banquet hall on the first floor. The ambassador's wife Abeer selected most of the furniture, which she had made in China. She did a fantastic job. Special guests that evening included former Prime Minister Shinzo Abe, diplomats, Japanese government officials, and business leaders. Kudos to the embassy chef—the bountiful buffet of Japanese, Western and Arabic foods was outstanding. Khalid and Abeer are really enjoying their new embassy and home. They are also, I might add, making good use of and sharing their joy. On Halloween I was invited to a party they had for handicapped children. It was a beautiful and moving evening for the kids, their parents and me.
Singaporean National Day Celebration
The huge crowd at the Imperial Hotel for the Singaporean national day reception was proof positive of the popularity of the host couple, Ambassador and Mrs. Tan Chin Tiong, and the strong relations between Japan and Singapore. Powerful business friends I saw there included honorary Sony chairman Norio Ohga and his wife Midori, and Mori Building's chairman and CEO Minoru Mori and his wife Yoshiko. There were also, of course, many diplomats, business leaders, and Japanese government officials. The hotel venue was brightly decorated in bright red, and the superb buffet included Chinese, Japanese and Western favorites. As always, the Singaporean embassy had contacted several of the best Singaporean restaurants in Tokyo, and they had set up food stalls serving delicious satay, dim sum, and the best Hainan chicken I've ever had. My sincerest congratulations to the people of Singapore. It was a great evening, perfect for the location.
PLACES
Hilton Tokyo's New Ballroom
My relationship with Hilton Tokyo goes back a long way, and it's really been nice seeing the marvelous changes during the three-year, multimillion-dollar renovation. Following the refurbishment of the guest rooms, the executive lounge, lobby and fitness center, the general manager Christian Baudat (one of the most charitable men I know) has implemented the next stage with the new ballroom, the Kiku, and the banquet lobby. The new ballroom, which can accommodate up to 600 for a sit-down dinner and 1200 in theater style, has taken on a bright, warm, spacious look and feeling with a Japanese essence. The opening reception featured a fabulous buffet of highly rated Hilton food and a lively song and dance show. I enjoyed talking with the newly arrived head of the Malaysian tourist office, Noor Azlan, and enjoyed telling him about the Malaysian national days, fashion and culture shows I've attended at the Hilton. I wish him all the best in promoting his fantastic country here in Japan. At the same time, Hilton Tokyo recently celebrated its 25th anniversary. My sincerest congratulations to all concerned.
*First published at the Tokyo Weekender
*Images Copyright: Tsukasa Shiga