Bill's Partyline December 7th, 2007
PEOPLE
It's been a while since actor Matt Damon shared the nest Original Screenplay Oscar with his long-time buddy Ben Affleck for the film Good Will Hunting. Nowadays Matt makes big bucks in Hollywood and much of his success has come from his recurring role as lead Jason Bourne in the super-successful series The Bourne Identity, The Bourne Supremacy and now The Bourne Ultimatum. The personable young actor made his third visit to Japan recently, stopping at Toho-Towa to promote the third film in the series. At a press conference held at the Ritz-Carlton, he told the press that The Bourne Ultimatum had been the most challenging and the most stressful film to make in the series; there was a lot of training involved and it took over a year to shoot.
Although working with friends from the first two films made the process easier, the combat skills he had to learn were much different than those before—and not easy. "My character in the Bourne series means a lot to me", Matt said. "It's been so good for my career, I now have a much wider choice of films to choose from." He went on to say, "I love to go about any kind of film […] Of course, [it] depends on the script and the director." With shooting done in many different places, making the Bourne series was like taking a trip around the world. Some scenes were set in areas like The Medina in Tangiers, Morocco, where conditions were hard to control and cast members were nearly forced to double as guerillas. (Most people in those scenes were real people not extras.) Matt's personal life has been exciting as well. On Dec. 9, 2005, he married Argentine-born Luciana Bozan Bartoso, and became stepfather to her nine-year-old daughter. The couple's first child, Isabella, was born Jun. 11, 2006. Matt is a devoted family man, and his family travels with him when he's working. He has committed to several films but may, at his wife's wishes, cut back a bit.
PARTIES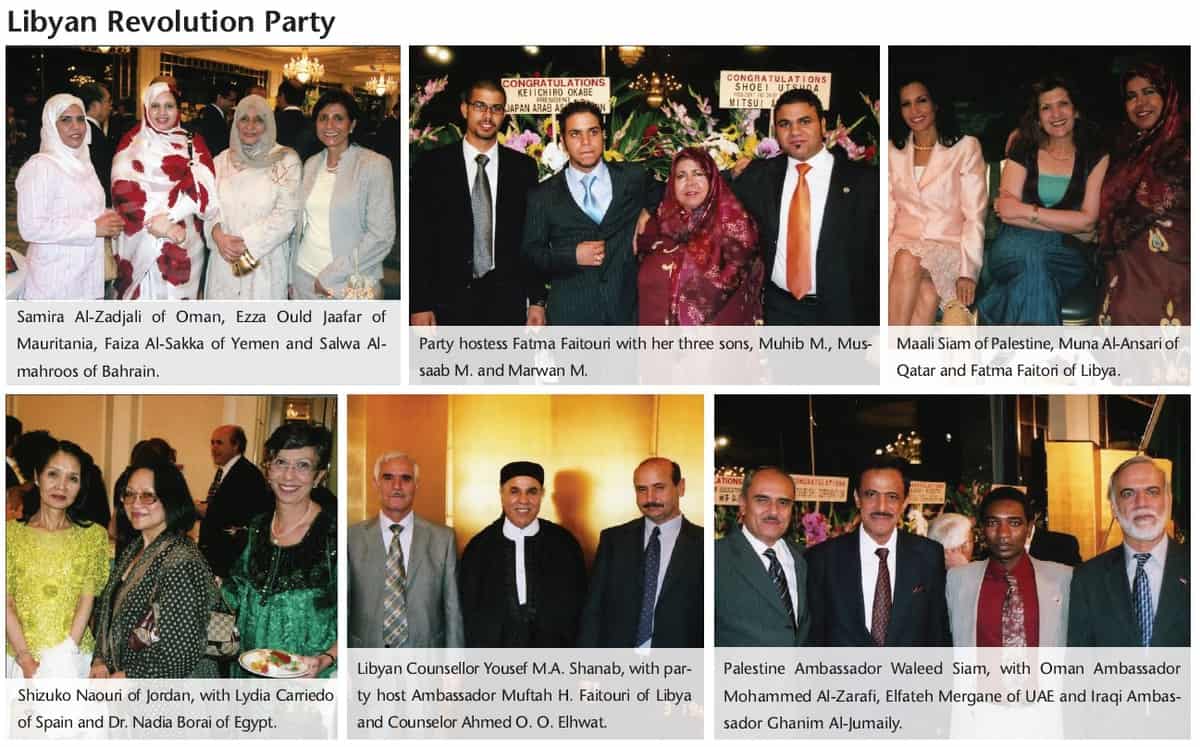 At the New Otani, H.E. Maftah M.H. Faitouri and Ambassador of the Great Socialist People's Libyan Arab Jamahiriya and his wife Fatma hosted a grand reception on the occasion of the 38th anniversary of the Great September First Revolution. The Faitouris are a popular couple and, as expected, there was a big turnout that evening. The hostess Fatma has had some health problems lately, and I was really happy to see that she was well on the way to a full recovery. Her marvelous smile was proof of her improvement. I also enjoyed meeting the Faitouri's three sons, who were busy helping their parents make sure their many guests were enjoying themselves (which, believe me, they were). The bountiful buffet included some of the best cous-cous I've ever had. When I learned that Fatma herself had prepared this, I gave her my compliments, to which she replied, "Whenever you feel hungry, just call and I'll send some over to your house!" That's traditional Libyan thoughtfulness and generosity for you.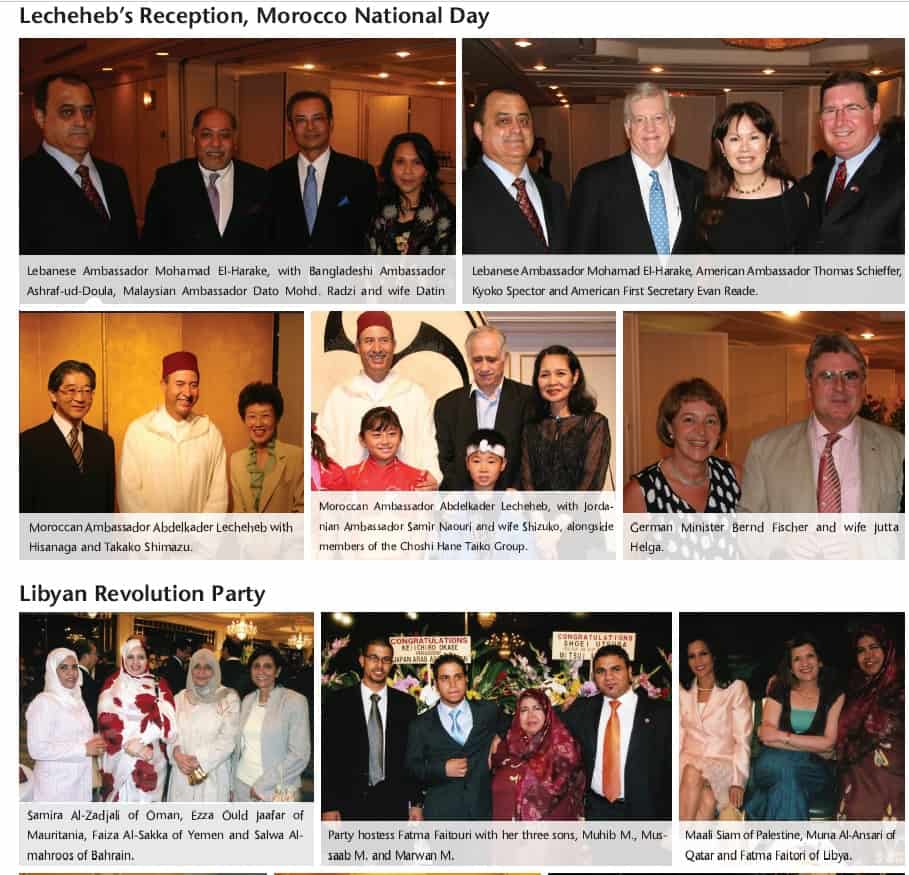 Over at The Palace Hotel, Moroccan Ambassador Abdelkader Lecheheb hosted a festive celebration to mark both Morocco's National Day as well as the anniversary of H.M. King Mohammed VI's ascension to the throne. It was a relaxing evening with a big gathering of powerful, well-known and interesting people. Kudos to the hotel's food and beverage department: the Moroccan, Western and Japanese buffet was excellent! There was also an exciting show by a Japanese taiko drum group. (Everyone likes the taiko!) I enjoyed meeting and chatting with recently arrived Lebanese Ambassador Mohamad El-Harake, who was posted in the U.S. prior to coming to Japan. During the course of the evening, I had the opportunity to introduce him to U.S. Ambassador Thomas Schieffer, and the outgoing, friendly, Texas-style Ambassador told him to "drop by the house and say 'hello'. I knew he was sincere in his offer. Many years ago I had the privilege of meeting and having lunch with King Mohammed. At that time he was Crown Prince, and I remember how gentle, worldly and knowledgeable he was. I also had the opportunity to show his younger brother, Prince Moulay, around Roppongi. He was very outgoing, loved to party and really enjoyed meeting and talking with all different kinds of people. Like his big brother, Prince Moulay was also very worldly and knowledgeable. The only thing missing at the wonderful Moroccan celebration was the Ambassador's superwife Lamia. She had to be in Morocco at the time, on family business.
It was a very worthwhile Mongolian Children's Charity event at Suji's popular restaurant, across flout the International Clinic at likura Katamachi crossing in Roppongi on Sep. 13. The special guest was Patricia Scroope, who gave up her teaching job of ten years at Sacred Heart to go to Mongolia to work with street children in Ulan Bator, as well as with inmates in the state-run women's prison. Her slideshow and talk were really interesting.
PLACES
Take 17 out of 24 F1 racers and put them in a small club—The New Lex—with many of their fans and friends just after the big Fl Japanese Grand Prix Race at Fuji Speedway and you have a great party! There was a lot of energy and noise that night, but no real problems. The drivers posed for pictures with many of the people there, danced and, from what I was told, really had a good time. Thanks to party sponsor Ceremony Corp. President Tsukasa Shiga. I got to meet all the drivers, and have since developed an interest in what's often called "the world's most exciting sport."
Good food, good drinks and the opportunity to spend time with interesting people of all ages and backgrounds interested in helping the less-fortunate added up to a very rewarding evening. Suji's, by the way—with its light, bright New York-style decor—proved itself to be the perfect venue for parties and events.
*First published at the Tokyo Weekender
*Images Copyright: Tsukasa Shiga