Bill's Partyline February 11th, 2011
PEOPLE
Former Boxing Champ Onizuka's Art Exhibition in Roppongi Katsuya Onizuka former WBA super flyweight champion who created a boxing boom in Japan in the early 1990s showed another side to his personality and real talent as an artist at a recent exhibition of his paintings. The Roppongi Gallery was filled wall-to-wall people from the sports, fashion, and entertainment worlds and was as close to a SoHo gallery in NYC opening as anything I've seen here in Tokyo. Special guests included popular actor Tsurutaro Kataoka, who I had met several times but never knew he had boxing skills as well. Katsuya's paintings are strong and dynamic, most are contemporary and some almost pornographic! It was a colorful evening with Katsuya and his friends. He told me he planned on holding an exhibition in Mexico in the near future. Happy to see his work (which wasn't cheap) was selling well.
PARTIES
Cote d'Ivoire National Day
Ivory coast ambassador Liliane Boa hosted a relaxing midday reception at the New Otani on the occasion of her country's national day. It was a beautiful day, and the hotel venue gave guests the opportunity to see the hotel's huge and magnificent garden. Kudos to the food and beverage department. The buffet of mostly African food was excellent. JETRO president Sadako Ogata of UN refugee fame was there, and I always enjoy talking with this very special lady. It was also nice seeing the ambassador's daughter, Malika, who took a day off from school to help with the celebration.
Thai King Bhumibol Adulyadej's 83rd birthday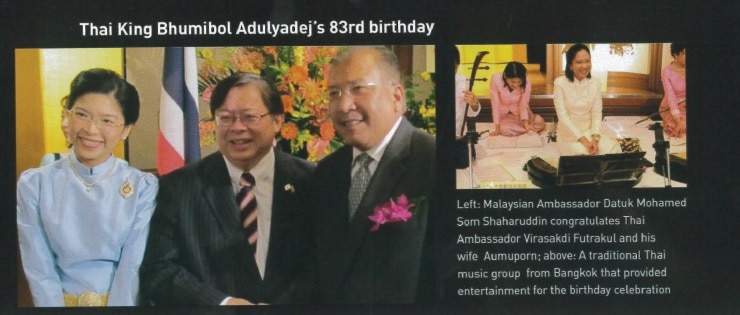 It was the first time for Thai ambassador Virasakdi Futrakul and his wife Aumuporn to host a birthday celebration in Japan for their highly respected and much-loved king. They chose the Imperial Hotel for their venue and, along with their staff, went all out to make it the well-attended festive occasion it was. Special touches included each guest receiving a Thai orchid at the reception entrance. The buffet featured long, beautifully decorated tables piled high with steaming dishes of Thai food favorites. Entertainment included traditional Thai music and dance. The Futrakul are a very dynamic couple, perfect as their country's representatives to Japan.
PLACES
South African wine promotion
My thanks to the South African Chamber of Commerce's Chrissi Theodorakakos for the invitation to the promotion of South Africa's excellent wines, dried fruits and rooibos tea at the Hilton Tokyo. It was a relaxed, colorful evening of good people, superb South African food and lots of good entertainment. I enjoyed seeing friends from Cirque du Soleil's "ZED", which is currently playing at Disneyland. I know many of them from their parties at the Lex. Kudos on their performance at the reception — they're so good and so international. It was also nice seeing pop star Baby M. She looked great in a dress she had designed herself and made in Manila. Her mom Monica Hui was with her that night. She's a very busy and very cool lady who helps Baby M in her career and owns a tourist lodge in SA. The mother-daughter team do a lot of charity projects in the Philippines, and Baby M has an adopted Filipino brother and Filipina sister.
Brazil's Global TV films a drama in Tokyo
I was surprised when I got a phone call from a Brazilian friend asking me about the possibility of a film crew here from Rio shooting a segment of a new Brazilian TV drama at the new Lex. No problem I told him, adding that the club would be packed on Saturday night when they hoped to film. "Great, that's what we want," he said. The cast and crew, about 26 people, showed up at the club with what seemed to be tons of equipment and miles of cord and cables. The cast included gorgeous superstar Barbara Paz and actors Paolo Wallean and Christian. Barbara's married to award-winning Brazilian director Hector Babenco, who directed one of my all-time favorite films, "Pixote". The crew really knew what they were doing and, even with the crowd at the club, finished filming in a little over an hour. Most stayed on, made new friends and partied until 5 a.m. Man can those Brazilians party.
*First published at the Tokyo Weekender
*Images Copyright: Tsukasa Shiga