Bill's Partyline February 2012
PEOPLE
Zac Efron here for Warner Brothers
Young actor Zac Efron took time out of his busy schedule and flew to Tokyo to do a day of promotion for Warner Brothers hit flick, New Year's Eve. Zac, who's a superstar here in Japan, drew a big crowd of fans at the premiere and gave a great press conference. New Year's Eve is a very uplifting film—something people here needed after 2011. He's currently working on The Lucky One, another film for Warner Brothers.
One of my highlights for the New Year was seeing violin virtuoso Ryu Goto back in Japan, he spends most of his time in the Big Apple where he's a regular performer at Carnegie Hall. He played a few concerts at the Suntory Hall while he was here in Tokyo and one of the best Christmas presents I got this year was an autographed copy of his latest album Paganiniana (Out now!). Ryu's sister Midori is also one of Japan's top violinists and recently earned a black belt in karate. From what I hear, that's very unusual for someone who's hands and fingers are so important in their profession.
Before moving on to our city's busy social scene I'd like to thank several friends that include Ron and Maria Anderson, Jane Scolinos, Grace Saito, Jane Yonamine, Daniele Yoshikoshi, Banjiro and Hisako Uemura and Mitsuo and Lilo Maruyama for helping me with the costs of postage on eight of those huge balikbayan boxes packed with clothes, toys and so much more I send to needy families in the Philippines on special occasions.
PARTIES
The Roos's awesome Sunday art exhibition at the U.S. embassy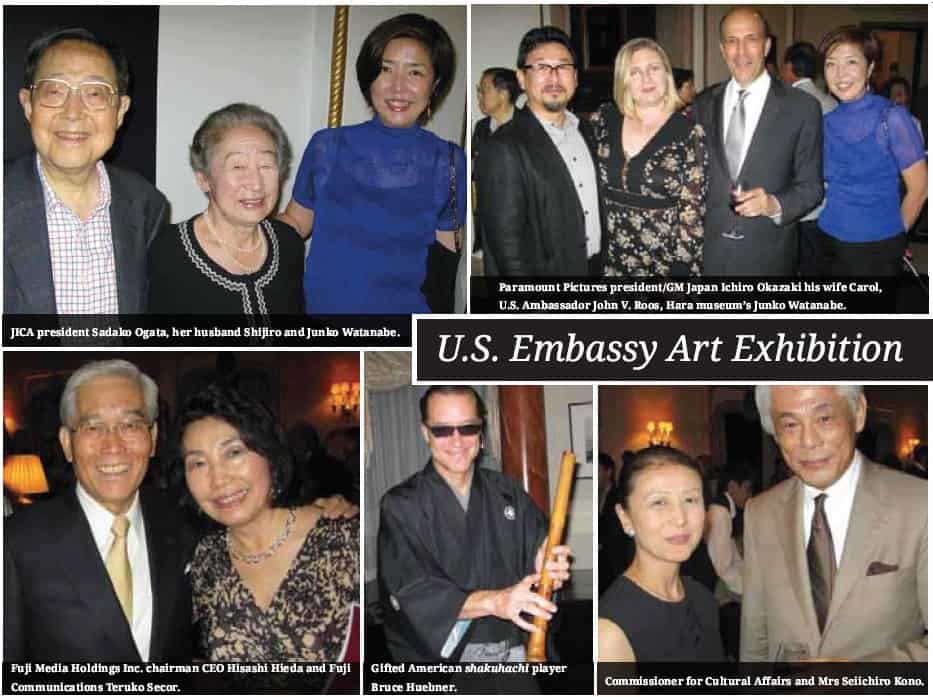 It was really a VIP crowd and believe me, everyone fortunate enough to be there that day had nothing but rave reviews for the "Ties over time" event. The unique exhibition featured artworks by sixteen Japanese and American artists with links to both countries. The evening also honored life-long achievements of the American laureate of the 23rd Praemium Imperiale, Bill Viola. As I said it was a real classy crowd with so many chairmen, CEOs, presidents and leaders in art, theater and film, all meeting and mixing and thoroughly enjoying sharing the very special evening. The buffet featured both American and Japanese favorites and the live music by American Shakuhachi player Bruce Huebner couldn't have been better. Kudos to the hosts U.S. ambassador John Roos, his wife Susan and the many people who helped get it all together.
Glittering Algerian national day reception
It was a special and people-packed evening as well at the fantastic Arabic-designed residence of Algerian ambassador Sid Ali Ketrandji and his wife Amal. The occasion was to celebrate Algeria's 57th national day and it was an Arabian nights mood with many of the guests in national dress. I heard several people say Amal looked like an Arabian princess which she really did: What a beautiful dress! The lavish buffet was set up in several rooms and with the Arabic arches, marble and tile floors and bubbling fountains, it was really exotic and as I said very Arabian Nights.
Colombian president Juan Manuel Santos whirlwind tour of Japan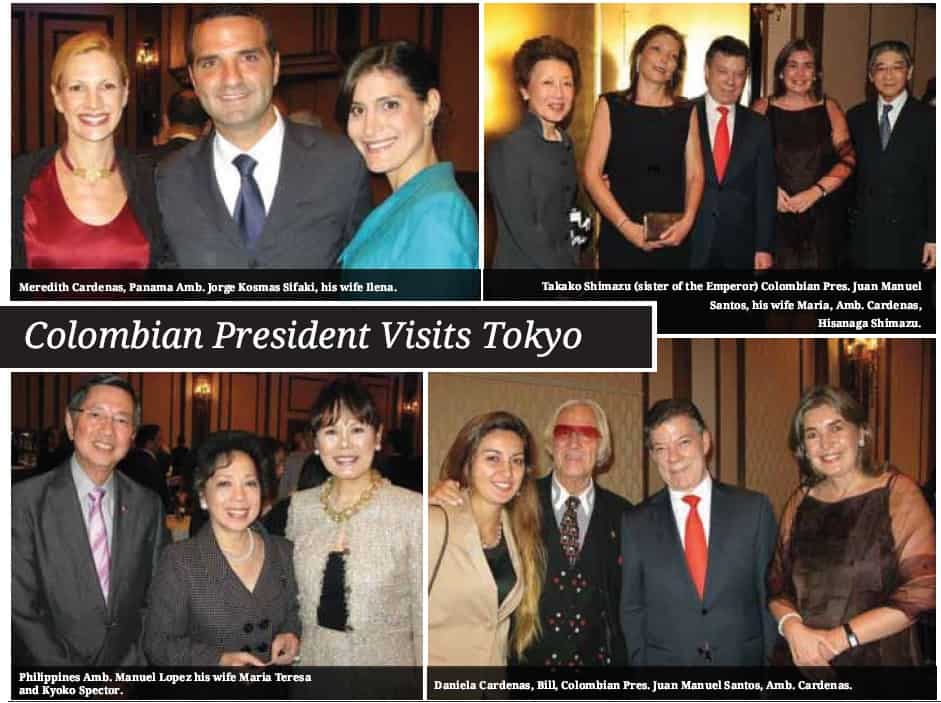 Colombian ambassador Patricia Cardenas and Luis Genaro Munoz of Colombia's National Federation of Coffee Growers hosted a well-attended reception at the Imperial hotel for Colombian president Santos, during his three-day official visit to Japan. Guests were a powerful mix of Japanese government officials, diplomats and business leaders from both the Japanese and expat communities. The president's wife Maria Clemencia as well as a delegation of businessmen from Colombia were also special guests that evening. As expected, the visit was very busy; there was a meeting of the president and Senorita Santos with the imperial couple and meetings with Japanese politicians that resulted in a bilateral investment treaty and economic partnership agreement. I had the privilege of meeting and talking with president Santos himself and it was easy to see why this personable leader is so popular.
PLACES
American Apparel's glittering Michael Jackson charity concert after party
I am happy to report that the two Michael Jackson memorial charity concerts—that starred three of his brothers Marlon, Tito and Jackie—were a huge success here in Tokyo. Special guests that participated in the sold-out shows included the wild and wonderful Macy Gray, Japan's Ai (pictured above), super dancer Travis Payne from Los Angeles and dozens of Japanese dancers, including Kento, AKA "Japan's Michael Jackson". The party which didn't start until midnight was held in the Shangri-La hotel and the grand ballroom as well as all the adjoining event spaces (the VIP room, Hennessey bar, Sony MJ dance games space) were filled to capacity with so many of our city's beautiful people.
There was an endless amount of interesting people-packed parties for the holidays at the New Lex. In addition to our regular customers, there were so many old-time friends back in Tokyo and from all over the world. We had some great get-togethers.
*First published at the Tokyo Weekender
*Images Copyright: Tsukasa Shiga