Bill's Partyline February 2013
PEOPLE
As always at this time of the year, there were a lot of special TV shows. Our British friends continue to do some amazing things and the London production of Andrew Lloyd Webber's The Phantom of the Opera, which was filmed at the Royal Albert Hall in London, was musical entertainment at its best. A special finale bonus featured my favorite singer, Sarah Brightman, singing the show's theme song. In his intro of her, Webber called her "The lady who makes music from heaven". Pick up one of her several dozen CDs on the renovated 7th floor of Tower Records in Shibuya and I'm sure you'll hear why he feels this way. I might add Sarah is not only a top talent, she's a very nice lady (I met and had a party for her at the New Lex few years ago).
Embassy events included a concert with Croatian pianist, Goran Filipe, hosted by his country's ambassador to Japan, Mrs. Mira Martines and a colourful, traditional Christmas party hosted by Maria Teresa Lopez at the tastefully decorated embassy residence. I also saw a dynamic exhibition of photos taken by Japanese who had visited Oman at the Oman Embassy in Hiroo, an exciting program of traditional Indian dance sponsored by Min-on Concert Association at Nakano Sun Plaza and several intimate get-togethers hosted by diplomat friends who, like me, were in Japan for the holidays.
PARTIES
Bill Hersey, the Weekender and Hilton Tokyo's 15th annual holiday orphans party
My sincerest thanks go to the many caring giving people who helped at our 15th charity party at the Hilton. These included many of the spouses of diplomats and business leaders as well as several others who all took time out of their busy schedules to make it a very special day for the children (what beautiful kids they were) they each paired up with for the party. Our long-time collaborators include Coca Cola, Walt Disney Pictures, Warner Brothers Entertainment, Sony Pictures, Toho Towa, Paramount Pictures, Lufthansa Airlines, United Airlines, Mercedes Benz, Tsukasa Shiga and Sanrio's Hello Kitty not only sent gifts for each of the kids at the party, they sent enough to give to all the children at the six participating schools so that students who couldn't be there that day didn't miss out.
Algeria's glittering exotic national day reception
The beautiful Minami Azabu residence of Algerian ambassador, Sid Ali Ketrandji and his wife Amal, with its marble floors, arched doorways, stained glass windows, fountains and garden is a majestic venue for any event. It was, as you can imagine, perfect for the celebration of Algeria's 58th National Day, a special and truly memorable evening in every way. Amal wore a fantastic, custom-made Algerian dress for the occasion and looked like she had just stepped out of an imaginary copy of "Arabic Vogue". Long buffet tables had been set up in several of the residence's many rooms and the food offered included many delicious Arabic dishes I hadn't seen before, as well as Japanese, Chinese and Western favorites. The laid-back atmosphere gave the many guests the opportunity to enjoy legendary Arab hospitality at its best and was perfect for the occasion.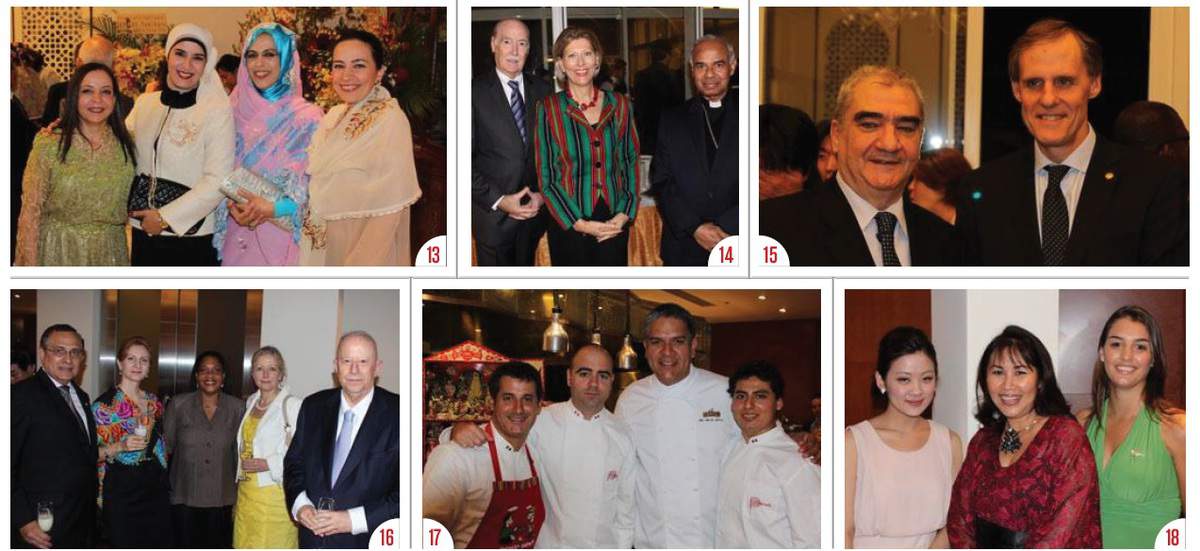 Peruvian Gastronomic Festival at the Hilton Tokyo
Our Sincerest congratulations to Peruvian ambassador, Elard Escala and his wife on the many special events the couple hosted as part of the celebration of their country's 191st Independence Day. These included a very successful and enjoyable Peruvian gastronomical food festival at the Hilton Tokyo. They flew four of Peru's top chefs in, and believe me all four really knew their business. Peru has always been famous for its tourist destinations, its scenery, music and handicrafts. In the past few years, it's also been recognized for the quality, variety and excellence of its cuisine. In addition to enjoying the amazing variety of food at the opening party I also had the chance to meet many of the Latin ambassadors and their wives for the first time.
PLACES
After New Year's, I got together with a long-time friend, world-renowned art dealer Norman Tolman, for breakfast at the completely renovated Palace Hotel. I had no time to check it all out but the light bright and big dining areas in the lobby area look fantastic. The high ceilings are impressive, as are the fireplaces and the outdoor dining area has heaters; it's a great spot to watch the swans swim in the Imperial Palace moat. I was out of Tokyo for the re-opening party but I will check it all out in the near future. Norman's always fun and he's always busy, his big – and I do mean big – project now is planning a series of events pretty much all over the world to help the grand lady, super artist Toko Shinoda, celebrate her 100th birthday (she's still painting!) on March 28th. More, much more, on that later.
*First published at the Tokyo Weekender
*Images Copyright: Tsukasa Shiga