Bill's Partyline February 2015
PEOPLE
I played couch potato quite a bit during the holidays, and thanks to the Uemura family (Tohoku Shinsha, National Supermarkets), I have five or six Korean channels on my home system. I don't mind admitting I'm a real fan of K-pop, and am really impressed with how professional young K-pop artists, male and female, have become in such a short time. Korean promoters and producers are really surpassing J-pop with supersets, original fashions, a huge variety of all-color/all-style hair, unbelievably well-coordinated dancing, and lots of talent. They're fast gaining popularity all over the world and I recently saw a TV presentation of a hugely popular Korean musical show in Brazil. If you visit Tower Records and follow showbiz trends here, you know what huge fascination Japanese women, both young and old, have for K-pop.
When I think about the rise of these K-pop stars, I can't help but think about Japan's idol maker Johnny Kitagawa, whom I worked with for 10 years—his groups include SMAP, Arashi, Kattun, and Kiss-My-Ft2. They are talented but seem to be too much under the control of promoters. One example is singer/actor Jin Akanishi. He pushed too hard on his dream of being an entertainment artist: not a pop star. His dream resulted in the cancellation of many of his projects and even blacklisting.
PARTIES
Hersey, Hilton, Weekender Annual Orphans Party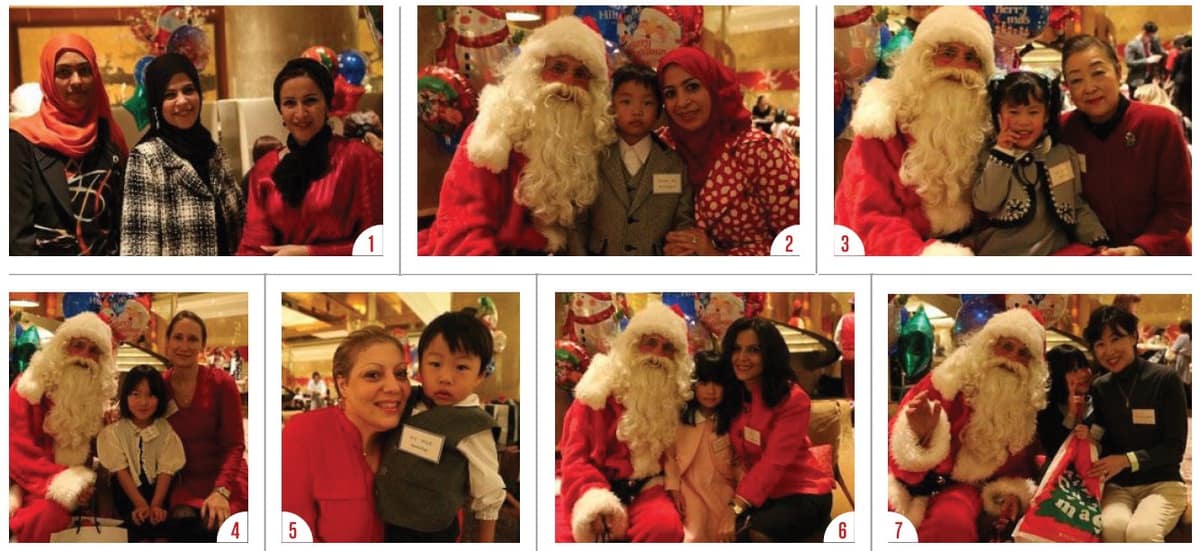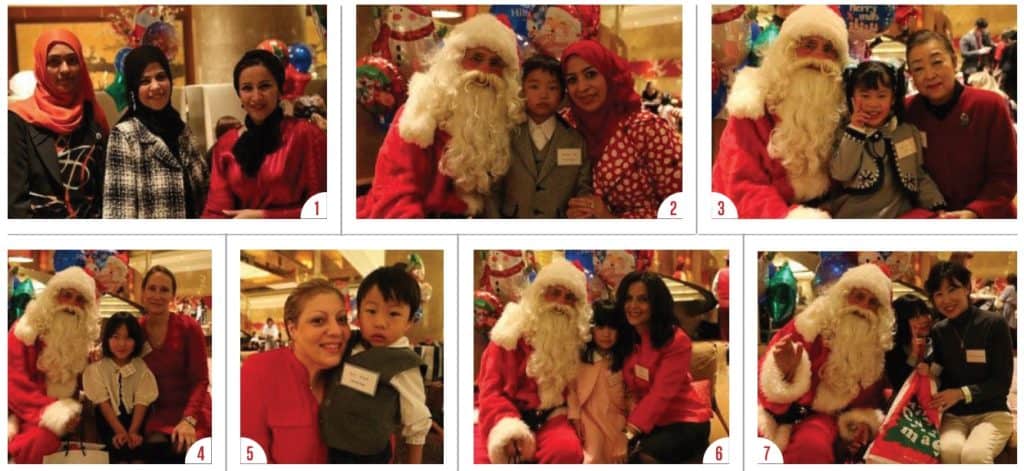 This was my 17th annual Christmas party for orphans. The venue, as always, was the marble lounge that the Hilton staff had, as always, turned into a winter wonderland. Their huge tree decorated with hundreds of teddy bears was beautiful. Happy to report we had a great turnout of generous caring people who did a great job of taking care of the beautiful little boy or girl they were paired off with for the day. These Santa's helpers included many Ambassadors' wives, showbiz personalities, community leaders, guardian angels, and more.
Singapore National Day
The many people from all walks of life at the Imperial Hotel for Singaporean Ambassador Chin Siat Yoon and his wife Wang Lee Moi's National Day reception were proof positive of Japan and Singapore's good relationship. There were welcome speeches by the host and several Japanese government officials. The opening ceremony closed with the dignitaries on stage cutting a big cake. After that guests mingled, mixed, and enjoyed the superb variety of Singapore food. The Imperial's food is always good, but they were very smart in being the first to allow embassies to bring in food from their countries' best restaurants in Japan. The satay, duck and chicken dishes were all very special.
Elegant Evening at Italian Embassy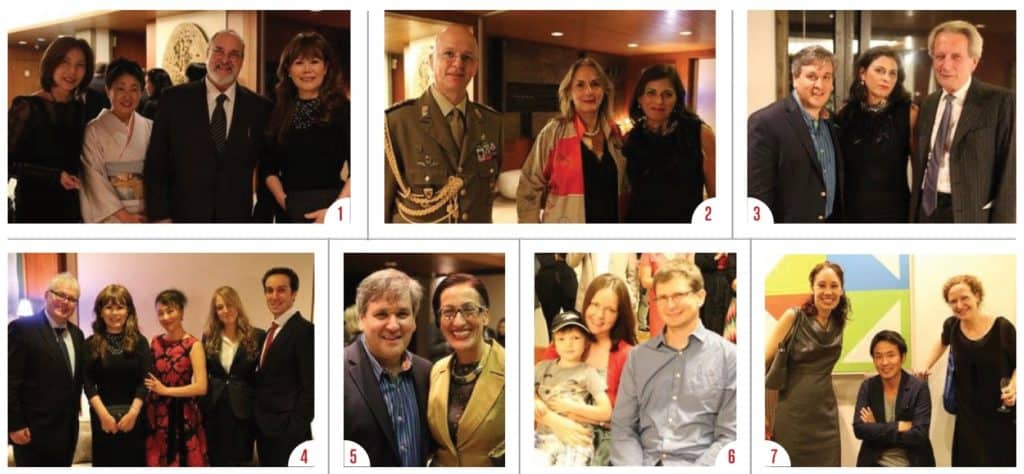 A classical concert series by the world-famous Orchestra Dell Accademia Nazionale di Santa Cecilia Roma played to full houses all over Japan during their winter tour here. The orchestra, with its more than 100 members, is a favorite with classical music lovers here. During their stay in Japan, Italian Ambassador Domenico Giorgi and his wife Rita hosted a reception at their beautiful home. Special guests included noted music director Antonio Pappano and violinist Ayako Suwanai. Other lucky local guests included both Italian, French, and of course Japanese members of the fashion, arts, entertainment, and music industries. Enjoyed talking with Antonio and hope to take him up on his invitation to the opera in New York. It was a perfect evening of interesting people, Italian food at its best and Domenico and Rita's hospitality. They should be back in Tokyo by now after a holiday in exciting Cambodia.
PLACES
Just before the holidays, the Hilton had a huge opening party for their super chic new 2nd dining floor, Tsunohazu. Photos later, but for now I strongly recommend that you check out any—or better yet, all—of the super outlets: the Metropolitan Grill, Zatta bar and lounge, Dynasty Chinese restaurant, and Junisoh Japanese cuisine. I also suggest you visit the pastry counter. The sourdough bread is delicious. There were about 1,500 people there that night—all enjoying the food, drink and ambiance.
New Zealand Ukulele Concert
It was a fun colorful noisy evening at the New Zealand Embassy when the Wellington International Ukulele Orchestra presented a lively concert to guests of New Zealand Ambassador William Mark Sinclair. Those there had the opportunity to meet and mix with the performers, who wore wild clothes and were all really outgoing and talented. Kudos to the embassy chef! The buffet was original and excellent.
Tokyo-Manila Jazz & Arts Festival
The Tokyo-Manila Jazz & Arts Festival three-day went full blast in Tokyo, from November 28 to 30. The vibrant cross-cultural celebration of music grooved into its third year, more powerful and energetic than ever. Super performances from renowned musicians from Japan and the Philippines' jazz worlds included Tetsuro Kawashima, Yuki Arimasa, Boy Katindig, and Noel Cabangon. One voice that really stood out was the ever-passionate voice of Japan-based Filipino artist Charito, who set up the concert series as a means of uniting the two countries.
*First published at the Tokyo Weekender
*Images Copyright: Tsukasa Shiga