Hersey's Partyline February 2016
PEOPLE
MIN-ON'S DYNAMIC FLAMENCO SHOW 
The highlight of showbiz entertainment for me in December was the  Min—On Concert Association's Flamenco Show at Nakano Sun Plaza. Normally I'm not all that much into Japanese students doing dances from other countries but believe me, the Japanese girls in the show were really professional and looked good in the colorful flamenco costumes. The music included familiar songs from the opera "Carmen" to top tangos from Argentina. Min-On had brought in several musicians from Spain and two male dancers, Andoitz Ruibal and Santiago Erranz, who were really sensational and got the standing ovations they certainly deserved.  Min-On President Kobayashi-san, who treats me like one of the family,  gave me a wonderful surprise when he had his staff take me backstage to meet the dancers. japan's top flamenco dancer Yoko Komatsubara,  a longtime friend I hadn't seen for a long time, had put the dynamic show together. It was a really happy reunion with a hug and a kiss. Yoko emceed the show and did the choreography, as well as joining the cast in several numbers. She still looks great and can really dance. It was a  great night of fiery flamenco in every way. 
PARTIES
OMAN NATIONAL DAY RECEPTION—PALACE HOTEL 


Thanks to all concerned to celebrate the 45th National Day of Oman Amb.  Khalid Al-Muslahi and his wife Abeer hosted a midday reception in the  Yamabuki Room at the Palace Hotel. The hosting couple is very popular and there was a big turnout for their celebration. Khalid is a very professional diplomat—a little quiet, but very outgoing and personable. Abeer is a live wire who is really full of energy. The special couple has children, including one daughter lman with special needs and they make sure she gets the special attention she needs and is always looked after. The other children are Areej, who goes to art school in Scotland, and their son, Ryham studies physics in  London. In Japan, Abeer not only took care of her family, but she also helped many Japanese with handicapped kids and is really active in so many worthwhile charity projects. The reception was laid back with a lot of interesting people from all walks of life enjoying the bountiful buffet, the company, and the ambiance.
THAI KING BUMBIBOUS SBTH BIRTHDAY CELEBRATION  AT THE IMPERIAL 
My thanks to Thai Amb. Sihasak Phuangketkeow and his wife, Varaporn for the invitation to a very special reception for long-time and much loved H.M. King Bhumibol Adulyadej's birthday. The sparkling evening took place in the luxurious Peacock Room in the Imperial Hotel. Many of the Thai ladies wore chic colorful Thai national costumes, and the buffet featured all our favorite Thai foods. For entertainment, there was Thai music and traditional dances by groups of very talented performers.  Many years ago I had the privilege of meeting his majesty at a  reception at Bangkok's legendary Oriental Hotel. I still have a CD of King Bhumbibol playing the saxophone with a Thai jazz group. The birthday celebration of the beloved King was festive and elegant, perfect for the occasion, and sure brought back a lot of great memories of my many visits to beautiful Thailand. 
PLACES   
SHAKE SHACK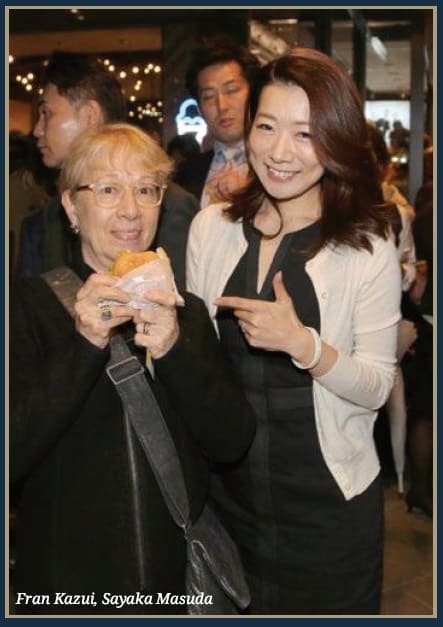 Anthony Tsunoda, the Board Director/President of the recently opened Shake Shack in Meiji Park had told me they invited 1500 people for the opening party. I went with film gurus Kuz and Fran Kuzui. We got there pretty much on time, and from the looks of the long lines of guests, just about everyone who was invited must have come. We really appreciated Anthony, who spotted us in the crowd, came over and took us to the VIP section. I was amazed at the number of people I knew but hadn't seen for a long time. The Sazeby group, which Shake Shack belongs to, also has the famous Chaya restaurants both here and in  Los Angeles. The guests that evening were mostly ]apanese, and a very international-oriented group who were very successful in whatever they did. Our hamburgers and shakes that night were well worth the wait,  and the rustic décor with many trees, picnic tables, and several areas to relax and enjoy has already become a favorite with the trendies—even with the cool weather. Anthony is also in the fashion market and owns the outlet for my favorite shoes: "Campers" on Omotesando.  Shake Shack, there has already become a favorite hangout and a  great place to meet interesting people and to be seen. Hope to see you there. just heard there are already plans to open another shop in Ebisu. 
*First published at the Tokyo Weekender
*Images Copyright: Tsukasa Shiga