Bill's Partyline February 6th, 2009
PEOPLE
I've had the privilege of knowing Yasuyuki Nambu for many years and the super-successful business tycoon really hasn't changed much at all. He still looks young, smiles a lot. is very busy. and is involved in all kinds of worthwhile international projects. Recently he's been keeping busy bringing young people from some of the poorer countries here to study the Japanese way of fanning. One of his dreams is for families everywhere to be able to grow much of their own food.
Through his work, the environmental and social activist has made friends from all walks of life and from all over the world. People at a recent party I went to at his beautiful Moto Azabu home included politicians, diplomats, business leaders, artists, and entertainment personalities. Guests of honor were the Minister of Land, Infrastructure, Transport and Tourism Kazuyoshi Kaneko and the Japan Tourism Agency Commissioner Yoshiaki Hompo. The sit-down dinner was course after course of really delicious Japanese health food. Almost all home-grown I was told. After dinner, our host had his soundproof glass doors facing the big garden closed and his daughter Yasuka, who studied flute in Germany, played several selections. She has a lot of class and is really talented.
PARTIES
Turkish and Algerian National Days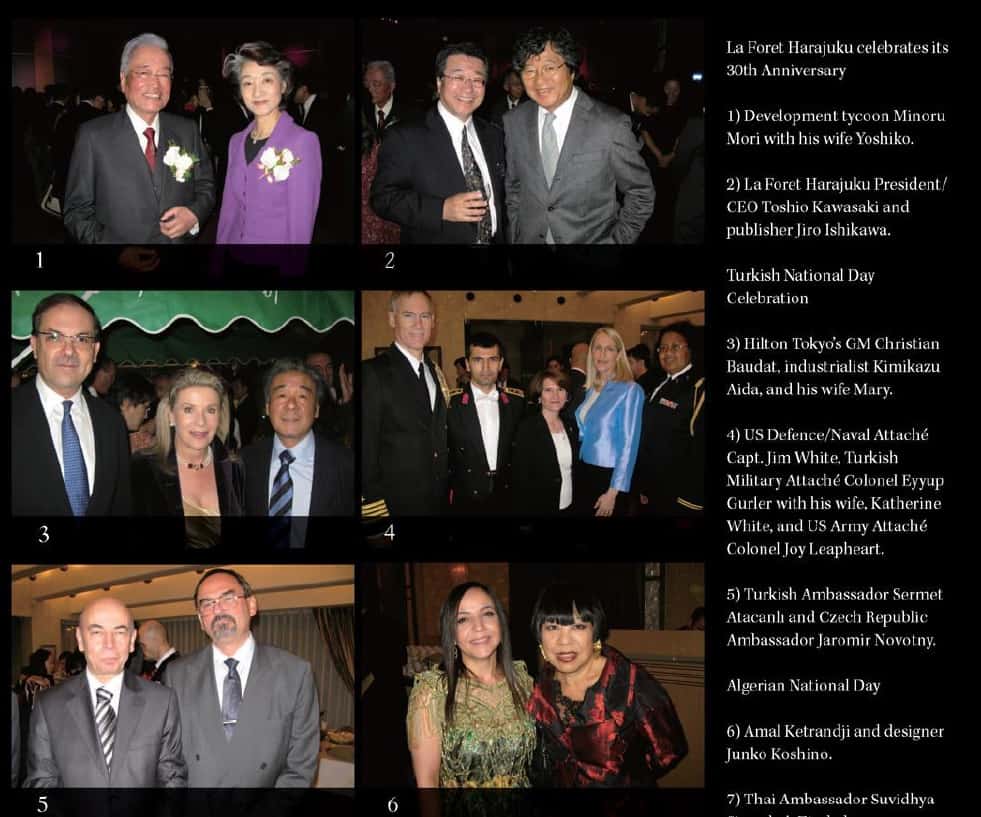 Illikish Ambassador Atacanli as well as Algerian Ambassador Ketrandji and his wife Amal are all popular people on our city's busy social scene. As anticipated, it was wall-to-wall people at Ambassador Atacanli's Tange-designed residence and the Algerian reception at the Ritz Carlton Hotel. The Turkish food at Sermees was fantastic. At Sid and Amal's I really enjoyed meeting and talking with Masahiko Shibayama, the vice-minister for foreign affairs. It's nice to see Japan is getting more and more young politicians.
PLACES
La Foret Harajuku Celebrates 30th Anniversary
The super fashion outlet La Foret in Harajuku is a shopper's paradise with floor after floor of trendy shops. They're also well-known for avant garde theater and dance performances. To celebrate their 30th anniversary they hosted a huge gala dinner event at the Grand Hyatt. Long-time friend Jiro Ishikawa, one of Japan's top publishers, was there and I really appreciated him introducing me to La Foret 's top execs. I worked with Jim many years ago when I was fashion editor of Heibon Punch Men's Weekly. He went on to head Magazine House and became publisher of Brutus, Popeye, and many other successful magazines.
The Oak Door Never Fails to Impress. As always, anything that happens at the Grand Hyatt's Oak Door Restaurant is special. This time it was an intimate dinner party hosted by the hotel's GM Roger Lienhard. Guests were, for the most part, PR directors of top Japanese companies as well as leaders in the media business. It was a laid-back evening with a group of our city's VIPs, organized to introduce the creative culinary talent of chef Mark Hellyar. It was really gourmet food at its best.
*First published at the Tokyo Weekender
*Images Copyright: Tsukasa Shiga