Bill's Partyline January 2012
PEOPLE
Over Christmas I had a phone conversation with Princess Takamado, we talked a lot about the March 11 earthquake and tsunamis and how well the Japanese have coped with those horrendous disasters. We also discussed the "big one" which scientists have predicted will happen in Tokyo for decades now. We've learned we can't control old Mother Nature but we should be as prepared as we possibly can. There are constant reminders of how to get ready for an earthquake and rules to follow in case of a natural disaster and, as they say, it's better to be safe than sorry.

Japan Loves Tom Cruise
Movie star Tom Cruise renewed old friendships and made many new friends on a recent trip to Tokyo. He was In Japan for only about a day and a half and, believe me, really worked hard on the promotion of his new film Mission: Impossible – Ghost Protocol. In between the morning press conference and evening premiere he did back to back interviews for Japanese TV and press and mixed with a group of children from Fukushima In his suite at the Ritz Carlton. Always one to please fans. Cruise spent two full hours shaking hands and signing autographs on the red carpet at the Roppongi Hills arena. Even with a really rough schedule he looked good, seldom stopped smiling and did everything possible to please the thousands of fans who showed up to greet him. Kudos to the Paramount people here, considering time limitations they did one hell of a good job. The action stunts in Ghost Protocol have to be seen to be believed, I specially like the segment shot in Dubai—go and check it out while it's still showing!
PARTIES
Saudi National Day Celebration at the Imperial Hotel
Special guests at Saudi Arabia's people-packed national day reception included former Japanese Prime Minister Yukio Hatoyama, the Minister of Justice Hideo Hiraoka and the Mayor of Fukushima Takanori Seto,it was also nice celebrating with so many Saudi students I know. They looked great in their national costumes and their dancing and singing really brought back memories of my four days at the Janadriyah culture festival outside Riyadh. Back then I was a guest of the Saudi Arabian National Guard and will never forget their kindness and trademark Arab hospitality. The buffet at the Imperial Hotel, with Its Arab, Japanese and Western dishes was superb and Saudi Ambassador Abdulaziz Turkistani's reception was really colorful and exciting.
Maruyama's Polynesian Garden Party
As you can see by the photos (top left) the guests followed the dress code of something Polynesian for Mitsuo and Lilo Maruyama's annual garden party. The Maruyama's beautiful Californian ranch-style home in Tochigi Ken, is built on the side of a big hill overlooking a golf course. With a huge swimming pool In the main garden, several gazebos and a traditional Japanese garden, their house looks like something out of Better Homes and Gardens magazine. We were blessed with great weather that day and the buffet was served outside where guests enjoyed a Polynesian dance show while they were eating and socializing. It was a great day in every way. My thanks to Bahrain ambassador Hassan for getting me there and Kyoko Spector for getting me back to Tokyo, domo arigato!
PLACES
Jamaica Rocks
The Min-on Concert Association's concert series 'Jamaica Rocks' really did rock) After the two-hour extravaganza of top Jamaican entertainment at Nakano Sun Plaza, guests had the opportunity to meet and mix with the cast at a reception hosted for the visiting artists—talk about beautiful and talented people! My thanks to Jamaican ambassador Claudia Barnes for her introduction to Minister of Information, Culture, Youth and Sports, Olivia Grange. She's a very interesting woman, who recently spoke at the United Nations about the need to create a network on youth development and strengthening Jamaica's cooperation with the UN.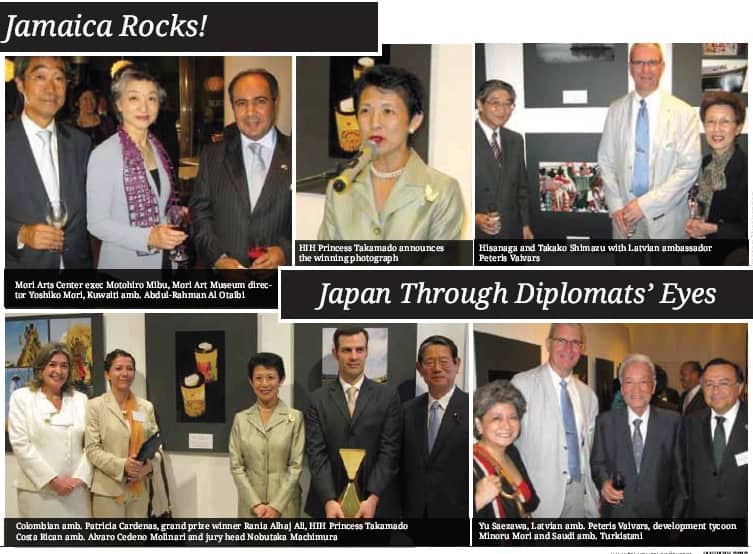 Japan through Diplomats' Eyes photo exhibition
In keeping with the times the recent photo competition and exhibition was titled "Resilient and Dynamic Japan" and was proof that a picture is worth a thousand words. HIH Princess Takamado, a very good photographer herself, is honorary chairman of the annual event while Colombian Ambassador Cardenas and Diet Member Nobutaka Machimura head the photo jury. Kudos to the many who helped set it all up and to the venue Roppongi Hills space as the food and service were excellent. I would like to say thanks to Machimura San', I really liked his matsurt photos and he gave me some useful info on how to catch the action and movement the next time I shoot photos at this kind of event.
*First published at the Tokyo Weekender
*Images Copyright: Tsukasa Shiga