Bill's Partyline January 2015
PEOPLE
Many friends traveled over the holidays include Lilo Maruyama, her husband Mitsuo, and her sons Helge and Thomas. They celebrated Helge's birthday in Bhutan. The guys returned to Tokyo and Lilo went on to Europe and the US for about a month of traveling.  Bill and Charo lreton took their annual getaway to Hawaii where they got together with their five children. Mat-thew and Roberta both keep super busy on the showbiz scene here, William works here and in the US. Thomas (who just graduated from a university in LA) is working on film production in the US, and the youngest, Edward, is graduating from high school this year and will go on to college. Another good friend, Colonel Joe Sweeney, is heading for Hawaii as well. He's lived there off and on and really knows the islands. Other good friends who travel often include Kuichi Yoshikoshi and his chic energetic French wife Daniele. They did a lot of interesting and unusual travel during 2014, and are already planning some interesting trips next year. Just got a nice holiday card from former Tokyoites Ron and Maria  Anderson. They live in the Big Apple now and ask me to extend holiday greetings to their many friends here.
PARTIES
BEAUTIFUL HUNGARIAN NATIONAL DAY
It was a lovely day for the midday reception that Hungarian Ambassador lstvan Szerdahelyi and his wife Reiko hosted in their light and bright  Mita Residence. The occasion was to celebrate Hungary's National Day.  The Ambassador delivered a short and meaningful speech in perfect Japanese before mingling with a varied mix of guests that included government officials, diplomats, business leaders, and many others of the hosting couple's many friends. Reiko is very popular, and thanks to her friendships I got to see some of our mutual friends whom I hadn't seen for a long time. These included Princess Takamado's mother, Fumiko  Tottori, and Etsuko Hattori who both keep very busy with ILBS Charity projects.
CEREMONY'S POST F1 RACE PARTY 

It was Ceremony President Tsultasa Shiga's 17th year to sponsor an after—  the-race party here in Tokyo for the Formula 1 drivers in town—they actually had three or four parties, as several of the drivers who arrived four or five days before the race dropped by the Roppongi venue to chill out with their managers, crew, and friends Living here.  I'm sure you remember that the weather was not good around this time—in fact, it was almost typhoon time Sunday, October 5, the day of the race. Young French driver Jules Bianchi had a bad accident and is still in a hospital in France. Fernando Alonso and all the other racers were feeling down about their friend's accident, so the Roppongi party wasn't packed like it's always been, but several of the drivers showed up because of their friendship with Shiga. These included Jensen Button, Alonso, and several others. 
DEWI SUKARNO'S 17TH ANNUAL CHARITY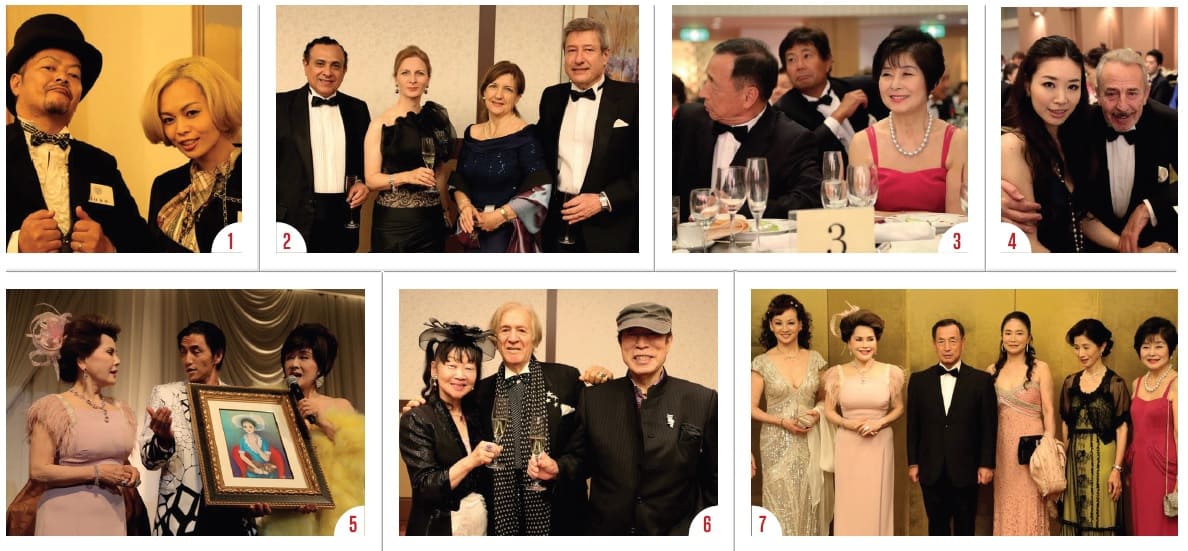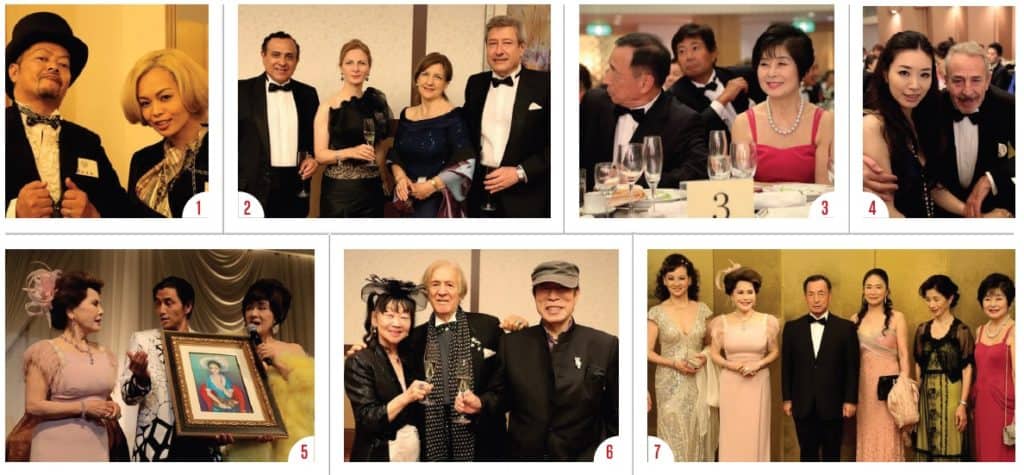 Dewi Sukarno hosted her 17th annual Grand Imperial Charity Banquet at the beautiful Tokyo Meguro Gajoen's recently. That lady really knows how to make the event. lt was a real happening and my choice for the party of the year.  I had the privilege of sitting at one of the head tables. Others at the table included former Air Force general, and now powerful politician Toshio Tamogama, Diet member Alciko Santo, and Italian Ambassador Domenico Giorgio and his dynamic wife Rita.  The venue literally glittered with a kaleidoscope of the colorful,  glamorous, and original fashion worn by the more than 500 VIPs there that evening. Guests included top government officials, top business leaders, diplomats and familiar faces from the film, music, fashion and art worlds. 
PLACES
OAKWOOD PREMIERE MIDTOWN 
Midtown Oakwood Premiere not only provides beautiful serviced apartments, but they also have many special events in their luxurious lounge.  These include small intimate parties that feature top entertainment by personalities that include Konishiki and his fabulous Wife Chie, who put on an excellent Hawaiian show, and jazz nights featuring some of our city's and the world's most talented musicians. The lounge has also given me the opportunity to meet F1 drivers, actors, soccer and  US football players, business leaders and all kinds of interesting for their support and congratulations on the many awards H I  people from all over the world. My thanks to Martin Pluck, GM and Director of Operations in North Asia, and his super staff.
TAE ASHIDA COLLECTION—GRAND HYATT'
Noted Designer ]un Ashida was super busy organizing events to celebrate the ]un Ashida 50th Anniversary "The Survival of Elegant" — SO  Years of Jun Ashida at the National Art Center in Tokyo. He didn't do his regular show at the Hyatt, but his daughter Tae, who's also a super woman's wear designer, showed her elegant and very wearable spring-summer collection Z015 at three packed shows at the Grand Hyatt's ballroom. Tae is really a genius for color and fabric coordination. Her parents have much to be proud of. She, I might add, helped set up the exhibition at the National Art Center—it was first class all the way. 
*First published at the Tokyo Weekender
*Images Copyright: Tsukasa Shiga