Bill's Partyline January 6th, 2010
PEOPLE
My sincerest thanks to Sony Pictures' Dick Sano for the invitation to the VIP reception for the 2012 premiere. This gave me the opportunity to meet Sony chairman and CEO Sir Howard Stringer and also to congratulate the son of Sony founder Akio Morita, Masao Morita, on his recent appointment as representative director of Sony Pictures Entertainment. It was also nice getting to know Ritz Carlton Hotel GM Francois Cnockaert better. He's an interesting man.
Visit by South African Actress
South African Ambassador Gert Grobler is not only one of the busiest men in town, he's one of the most thoughtful. Thanks to him I saw the great musical Umoja and an awesome performance by the Soweto Gospel Choir. I also attended a lunch at the South African embassy for soccer legend Hide Nakata, as well as one for Miss Japan, Emiri Miyasaka. They both visited South Africa recently; Hide to promote soccer and Emiri to compete in the Miss World contest. I recently received a call from Gert inviting me to the opening of a new South African pub and grill, Golden Lion. One of his friends, Brumilda van Rensburg, who's a popular actress in S.A., was in town and was a special guest that evening. What a cool lady. Gert will continue to be busy—actually a lot busier with the World Cup 2010 coming up in his country, as well as a year of other special events to celebrate South Africa and Japan's 100th anniversary of diplomatic relations. I really enjoyed a breakfast with Gert and Warner Brothers' Bill Ireton recently. Much of the talk was about Clint Eastwood's new WB film Invictus, in which Morgan Freeman plays Nelson Mandela. Gert is a friend of Mandela and had some great stories, and Bill, who's a good friend of Eastwood, had some interesting stories as well.
PARTIES
Saudi Arabian National Day Reception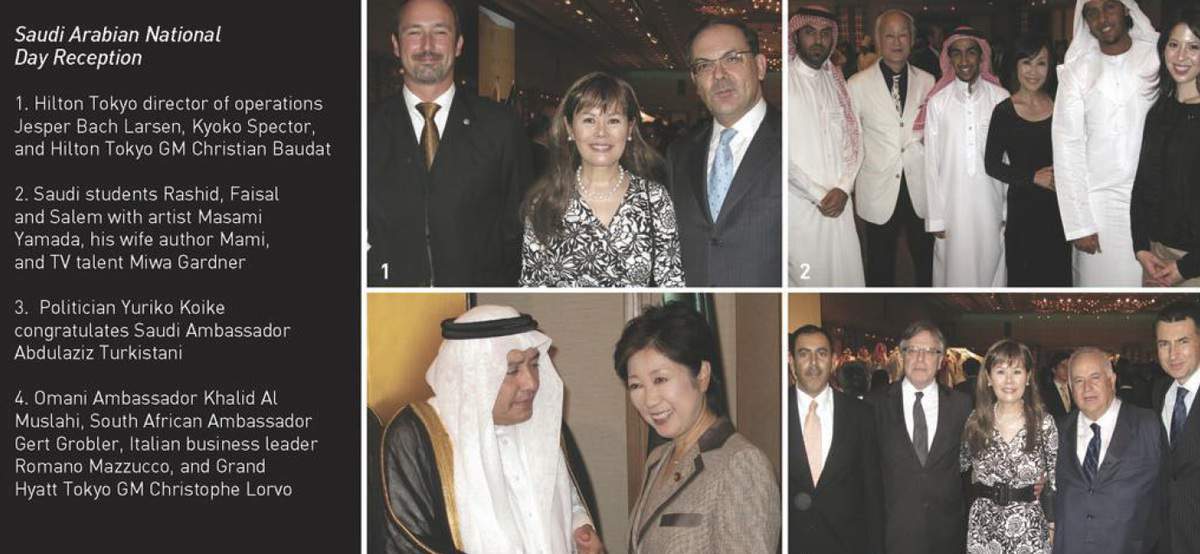 There was a huge turnout at the reception Saudi Ambassador Abdulaziz Turkistani and his wife hosted at the Imperial Hotel on the occasion of their national day. Unfortunately, many of the invited guests brought as many as three friends. That, plus the usual party crashers who seem to be the first to line up for food and really pile their plates high, can really mess up the hosts' plans and organization. These people who party crash don't seem to have any pride, shame or honesty, and that's sad. Thanks to legendary Saudi hospitality, it turned out to be a nice evening with the host couple and the many good and important people they did invite. In addition to the great Arabic food, there was a tent serving mint tea, Arabic coffee, and a wonderful selection of dates. Many of the Arab students I know wore Saudi national costumes and looked great. During the course of the evening, they got on stage and did some colorful and lively traditional dancing.
Spanish National Day Reception
Dja Dja, the wife of Spanish ambassador Miguel Carriedo, is a very artistic, creative, fun individual, and she used her many talents to make the Spanish national day a colorful, exciting midday event. It was a beautiful day, and most of the guests spent their time outside in the residence's gardens and many patios. Plates featuring a variety of Spanish foods were served, and there was an Asian version of paella as well as many of Spain's excellent wines. For entertainment Dja Dja had arranged for several groups of Japan's top flamenco dancers and musicians to be there that day. The costumes were beautiful and the music and dancing dynamic, exciting and truly good. It was all very special and perfect for the occasion.
Party for Handicapped Children
Omani Ambassador Khalid Al-Muslahi and his wife Abeer have really put their new embassy to good use. On Halloween they hosted a colorful and fun party for a large group of handicapped children and their parents. Khalid and Abeer have a handicapped daughter, and they really made the evening a special one for her and her classmates. There was a bountiful buffet and gifts for each child. Entertainers included a tap dancer, saxophone players, and the dutch clown Rene Bosman, who is really great with kids. Kudos to all concerned. For me (and I'm sure others there as well), it was a very inspirational and gratifying evening.
PLACES
Airscape Mask Launch Party
Entrepreneur Phil Miller held a packed party at the New Lex to introduce his new fashion anti-viral mask. Steve Haynes danced (well, sort of), and one of the world's top percussionists, Naoki of the Broadway show Blast, kept the crowd moving to the beat. Considering all the new viruses, pollution, and strange things in the air, the mask (with it's filters and design concept) looks like something we should all consider. It's already becoming popular with bikers. For more information check www.airscape-mask.com.
Wild West Birthday Party
Over at the Roppongi Hills Club, Yuji and Konomi Tamada hosted a fantastic party to help their son Luke Riku celebrate his fourth birthday.I could easily write a whole column on the party, which was set up by event planner Anri Schroff. A film set designer had created a realistic wild west set in the venue with a barn, stage and lots of fun food outlets. Entertainers Steve Haynes and Rene Bosman kept the action going with lots of good ol' country music and dancing, a piñata contest, and more. The many kids there, as well as their parents, all looked great in their western fashion. It was a great day in every way…one that I'm sure Luke and his guests will long remember.
*First published at the Tokyo Weekender
*Images Copyright: Tsukasa Shiga