Bill's Partyline January 9th, 2009
PEOPLE
Writing Partyline over the years (many!) has given me the opportunity to get to know a lot of truly special people. Two of them, Wally and Jane Yonamine, rank right at the top of my—and so many others'—all-time favorites list. On December 8, a group of their closest friends hosted a buffet lunch at the Tokyo American Club. The occasion was to celebrate the publishing of Robert IC Fitt's book, Wally Yonamine, The Man Who Changed Japanese Baseball. Wally's had a long and distinguished career as an outstanding sportsman. He started out playing football for the San Francisco 49ers and then went into baseball, where he had a long and illustrious career in Japan. His fans include well-known Hawaiian Senator Daniel K. Inoue, who wrote a forward for the new book. Wally was awarded the 49ers Unity Award, along with Football Hall of Rimer Joe Perry, and has received many other awards including one from the Emperor of Japan, too. He was also featured in a State Street Bank documentary on Japanese and American baseball. The man keeps busy and is involved in many worthwhile projects. These include baseball clinics where his friends, who are also baseball greats, join him in training little league coaches. He is also head of the Yonamine Foundation, which specializes in leukemia research.
PARTIES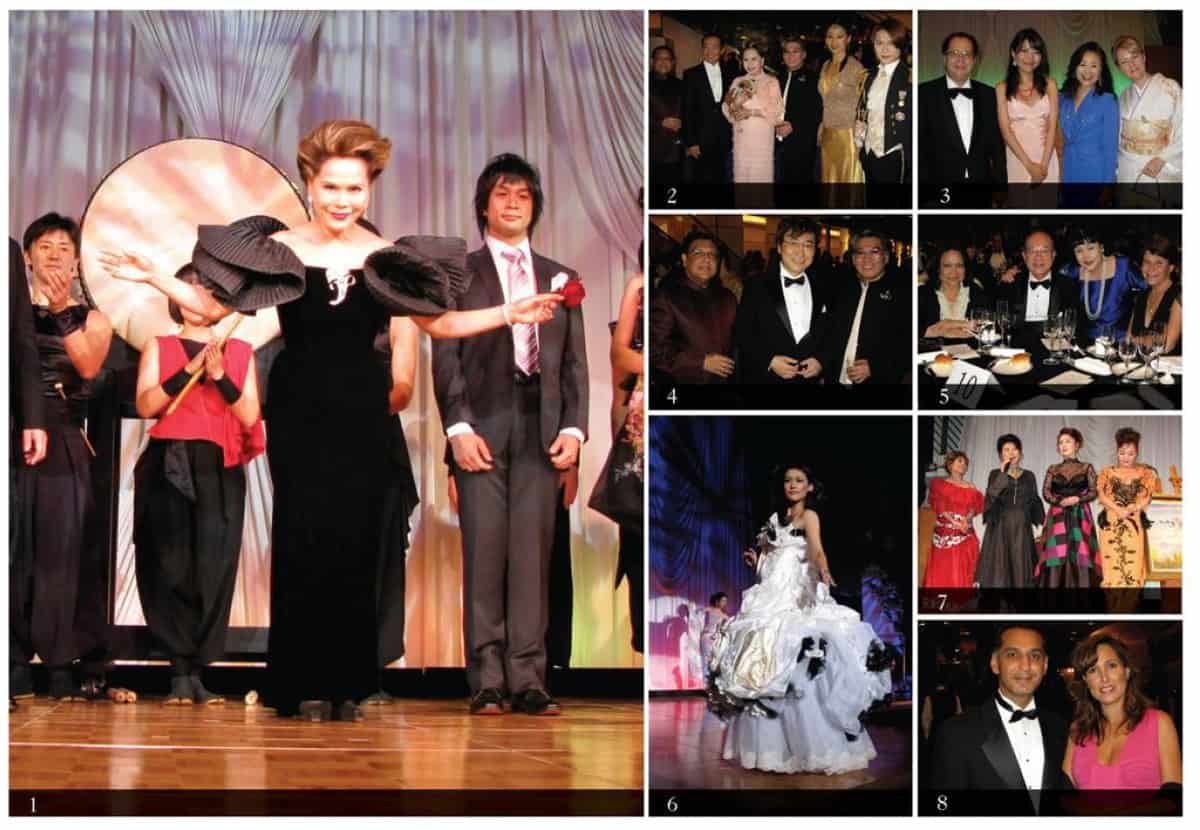 The grandest parties I've been to for a long time was the eleventh Grand Imperial Banquet that was held in the huge Majougi Room at the beautiful and luxurious Tokyo Meguro Gajoen. Lady Ratna Sari Dewi Soekarno, chairwoman of the NPO Earth Aid Society, established the glittering, annual charity gala dinner event a decade ago. She has put so much time and effort into making it the huge success it is, raising funds to benefit refugees and victims of disasters around the world. Primary recipients of aid are the Japan Red Cross Society and the Association for Aid and ReliefJapan.
Latin American Festival
Kudos to the chairperson Kirsten Palma ( from Peru), the many Latin ladies and men. who put so much time and effort into making the Festival Latino Americana 2008 charity the super-success it was. As always. the chic and fashionable Princess Hitachi was there. She visited the exhibitions, enjoyed the entertainment, and helped with the raffle ticket drawing. The entertainment featured songs and colorful dances from Latin American countries. The variety of food was amazing. I am happy to report sales were good and proceeds went to several charity projects here in Japan and in the Latin American countries. The only downer that day was knowing that Peruvian Ambassador Hugo Palma and his wife Kirsten would be leaving soon. They were a very active and popular couple who really did a great deal to promote good relations between their country and Japan in the almost two years they were here.
Latvian Reception at the Okura
Over at the chic event venue the Ascot Hall in the Okura Hotel, Latvian Ambassador Peteris Vaivars hosted a glittering reception to celebrate his country's 90th anniversary. It was a full house of important Japanese government officials, diplomats, and business leaders. the program opened with the NHK children's choir singing both the Latvian and Japanese national anthems. This was followed by several speeches including those of the Latvian Ambassador and Japan's Minister of Foreign Affairs Seiko Hashimoto. About a dozen dignitaries went on stage and donned happi coats for the traditional breaking of not one but two big sake barrels. The lavish buffet included homemade Latvian food in addition to the Okura's always-excellent cuisine. It was delicious. Congratulations to our Latvian friends on enjoyable food, interesting people, and the warm ambiance. It was all perfect for the special occasion.
PLACES
The Hilton Lounge radiated with love from the kids and their sponsors for the day. They all left loaded down with great gifts and big smiles. I want to thank everyone who joined the party and several company executives who couldn't be there but sent tons of toys and presents. These included Warner Bros. Entertainment, Paramount Pictures Japan, Tohokukshinsha Film Corp., Walt Disney Studio Pictures, 20th Century Fox Films, and National Azabu Supermarket. Other Santa's helpers who showed up and acted as interpreters between the participants and kids included National Azabu's Dale Toriumi and caterer Anri Schroff. I also want to take this opportunity to thank Grace Saito, Mitsuo and Lilo Maruyama, Banjiro and Hisako Uemura, and Jane Scolinos for their help on the postage for five big Christmas boxes for families in need in the Philippines.
*First published at the Tokyo Weekender
*Images Copyright: Tsukasa Shiga