Bill's Partyline July 2011
PEOPLE
First off, congratulations to the superb top talent Steven Haynes on the recent publication of his new Book-DVD, "Walking Can Make Your Dreams Come True." Steve is a singer, dancer, and all-around entertainer. He has been involved in the production of the Miss Universe Japan contests for years and he has used his vast experience in this book on how women can achieve their fullest potential through fashion, manners, and yes, walking!
PARTIES
The Tokyo Grace Celebrates 20 years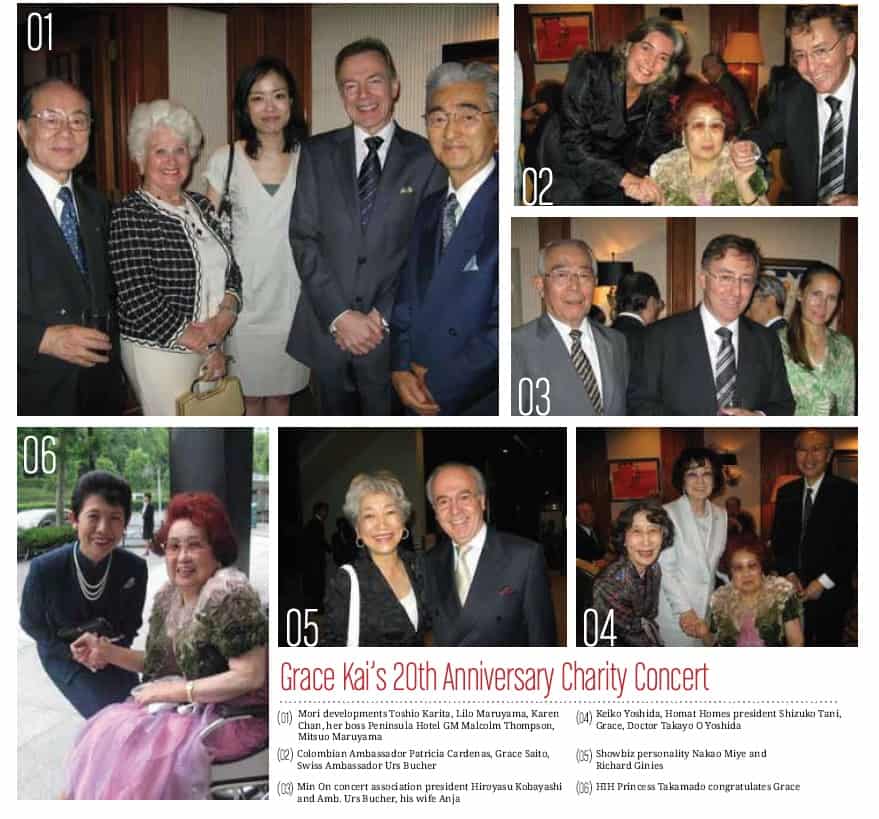 "Tokyo's first lady of philanthropy" Grace Saito and her friends put a lot of thought into her Grace Kai charity concert a few months after the 3/11 disasters. Grace has spent much of her life doing charity work and helping the less fortunate in north-eastern Japan. The 20th Anniversary of her Grace Kai concert series, which has helped so many, was in the planning stage for quite some time and Grace was able to get many of Japan's top classical artists to contribute their time and talent. Everyone who was consulted believed in the healing potential of music and hoped to bring some light into people's life with their music. They did, as hoped so by many. The concert was held at the Sogetsu Kaikan on June 1st. Proceeds will go to the Japan Disaster Recovery Fund as well as the Polio Eradication fund, which they have been supporting for 20 years. A decade ago the late and great Prince Takamado and Princess Takamado were special guests at the 10th anniversary of Grace Kai. In his memory, Her Imperial Highness Princess Takamado honored the 20th-anniversary concert with her presence. The venue was wall-to-wall famous people and the concert was mellifluous classical music at its very best. Congratulations Grace, you really are a very special human being. Keep up the great work.
PLACES
Jamaican One Love Festival at Yoyogi Koen a Huge Success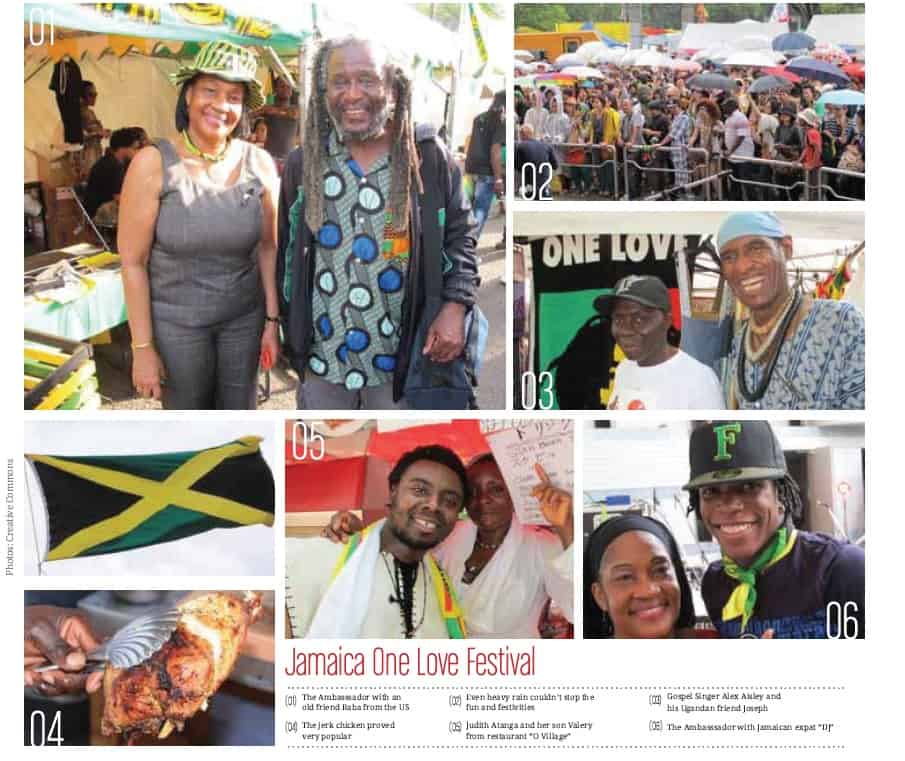 There was considerable rain during the two-day Jamaican One Love Festival at Yoyogi Park, but that certainly didn't keep the people from having a good time. I had the privilege of spending much of the show on the arena stage with Jamaican Ambassador Claudia Barnes. She is a great role model for women and it was wonderful hearing her say "I cannot believe it!" so many times. She was talking about the great turnout and how much fun everybody was having. I was surprised when she told me that there were only about 250 Jamaicans in Japan. (They must have all been there that day). Reggae musicians, energetic dancers, jerk chicken and all kinds of fascinating, exotic Jamaican foods, booth after booth of fun original and inexpensive arts and handicraft, and, of course, huge banners of pictures of Bob Marley all added up to two days of pure joy.
A few months ago when Tokyo Midtown had their "open park" promotion, they held early evening free yoga classes in the park across from the main entrance to the Ritz Carlton Hotel. There was always a nice crowd there and everyone really seemed to be enjoying themselves. Unfortunately, it was only scheduled for a few weeks and has ended. In Bangkok's Lumpini park in the center of the city they have held free yoga classes every evening for years, these are really popular and draw huge crowds. Perhaps Midtown could reconsider these kinds of community activities. (They are really what Japan needs in these trying times.)
Some entrepreneur friends of mine—hard-working brothers—Dike and Rafel Echee from Nigeria, have really done well in the food business there. A few years ago they started out with a small truck roasting chickens. Inconsistent laws and harassment made it difficult to do business, so they opened a small restaurant called "Chicken Man". They have an excellent menu of all kinds of innovative and really delicious chicken-based dishes and are now doing really well. Their restaurant comes highly recommended: it was a favorite of former US Ambassador Howard Baker and his wife Nancy. Chicken Man is located on the 6th floor of the Ishikawa building between Roppongi Crossing and TGIF. They are open daily and even do home deliveries. Tel. (03) 3479-0924. Check it out! Satisfaction Guaranteed.
*First published at the Tokyo Weekender
*Images Copyright: Tsukasa Shiga