Hersey's Partyline July 2016
PEOPLE
Seijoro Udo and his staff at Udo Artists are celebrating the company's 50th year of bringing top international music to Japan, including  Eric Clapton, Duran Duran, Bruce Springsteen, and The Eagles. They're bringing one of my favorite singers, Sarah Brightman, in for concerts at the Budokan on ]uly 11 and 12. Top showbiz agency Kyodo Tokyo is also bringing "Blast" here again this summer. The show won all kinds of awards on Broadway, and has been here many times, and is always sold out. It will be at the Tokyo Forum from August 23 to September 6. I had the privilege of going with a small group of journalists to the Park  Hyatt Hotel's 41 st floor on May 10 for a superb French dinner prepared by Park Hyatt Sydneys executive chef Franck Detrait.
SAYONARA RAUL AND TERESA 
Looking back, I often feel like the only thing I really regret about writing this column is seeing so many good people — good friends! — come and go.  This is especially true with diplomats, whose average posting is three to four years. I don't know why, but it seems like so many have left in the last few months, or are leaving soon. These include the popular Argentine Ambassador Raul Dejean and his super wife Teresa, after five years and five months. Raul and Teresa will return to Buenos Aires where, after retirement, Raul will work in the private sector. Their lovely daughter Mariameles has worked here and will stay on. We wish the Dejeans all the best back home and welcome the new Ambassador, Alan Beraud. 
PARTIES
ARAB WEEK RECEPTION — IMPERIAL HOTEL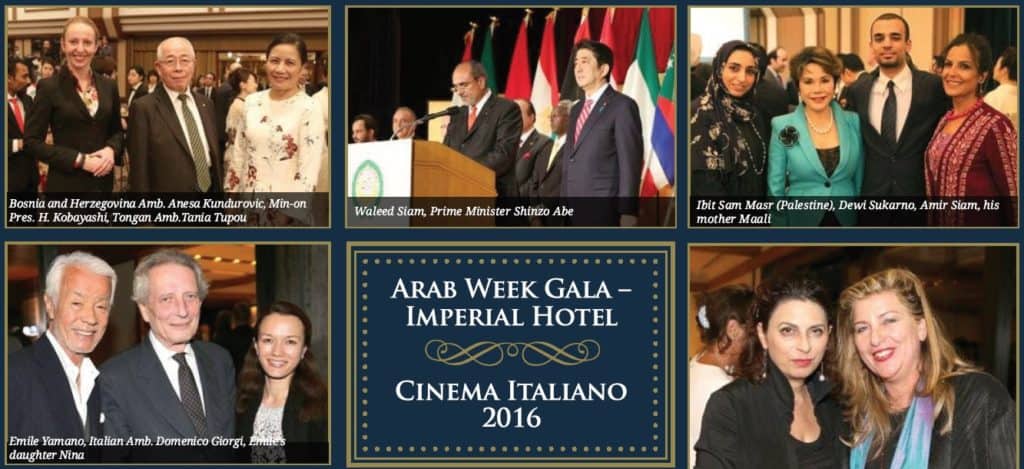 I'd like to start by apologizing for having forgotten to wish my Muslim friends the best for Ramadan, which started on June 6. This very special time ends on July 5 this year, and l hope it was a good one for all my friends. On behalf of the celebration of Arab Japanese friendship and the Council of Arab Ambassadors and Heads of Missions in Japan, Waleed Siam, the Dean of the Arab Diplomatic Corps, hosted a very special reception at the Imperial Hotel on April 4.  As expected, it was wall-to-wall VIPs. The program included a welcome speech by Waleed and another by Prime Minister Shinzo Abe that pretty much chronicled his visits to many Arab countries. lt was a very impressive opening where all the hosting Heads of Missions went on stage and posed for photos in front of the 20 colorful and distinctive flags on display. The wives of the Arab Ambassadors, in their beautiful dresses and jewelry, were particularly lovely. The bountiful buffet that evening was superb, with each of the 20 countries involved in preparing and presenting homemade specialties. Kudos to the many who put so much time and effort into making the evening the special occasion it was. 
ITALIAN CINEMA FESTIVAL RECEPTION 
Italian Ambassador Domenico Giorgi and his wife Rita hosted another great event at their beautiful home in Mita. The  Z016, Tokyo. It was an interesting gathering of the Giorgis occasion was to celebrate the Festival del Cinema Italiano friends that included well-known people in the arts, fashion, show business, and of course film world.
PANAMA PRESIDENT'S VISIT A BIG SUCCESS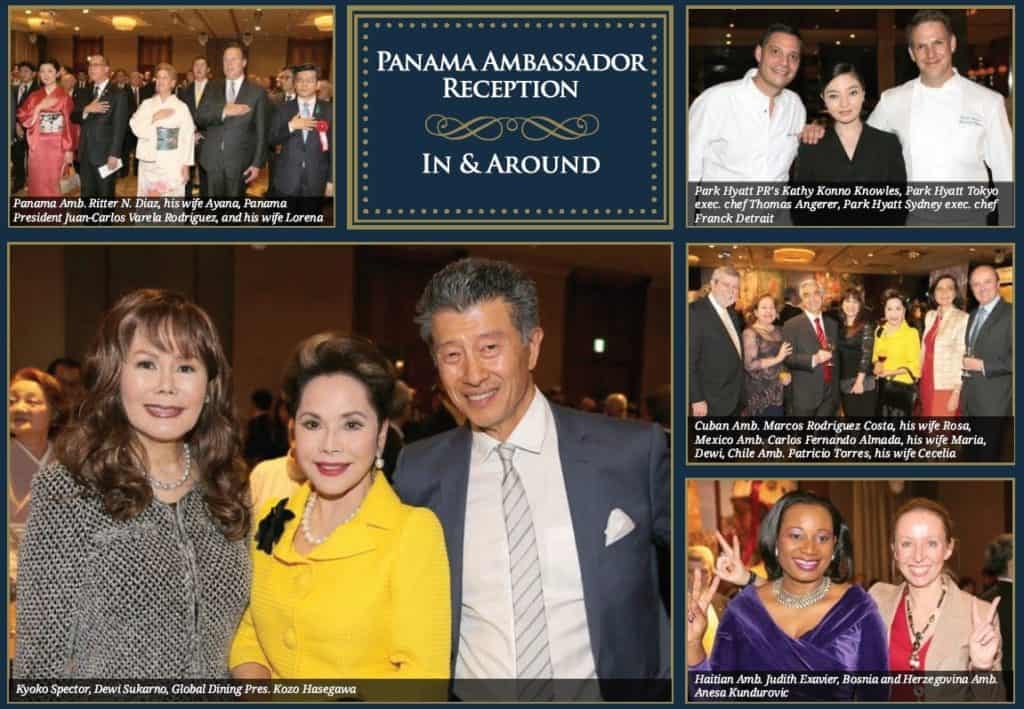 Panama's popular and personable first couple, President ]uan Carlos  Varela and his wife Lorena, and their delegation was in Japan for four days on an official visit recently. Even with a full schedule of meetings with government and business leaders here, they took time to attend and enjoy a huge reception that Panamanian Ambassador Ritter and his wife Ayana hosted in their honor at the Yamabuki room in the Palace Hotel. For the glittering reception, both the President's and Ambassadors' wives wore traditional kimonos, and as you can see by the photos, they looked great. Once the formalities were over, the reception was very lively and  Latin. There was Panamanian music by a Cuban band, and the President moved around the crowded room talking with and having his photo taken with many of the guests.
PLACES
DERMOZONE/STEVEN HAYNES' MISS SUPRANATIONAL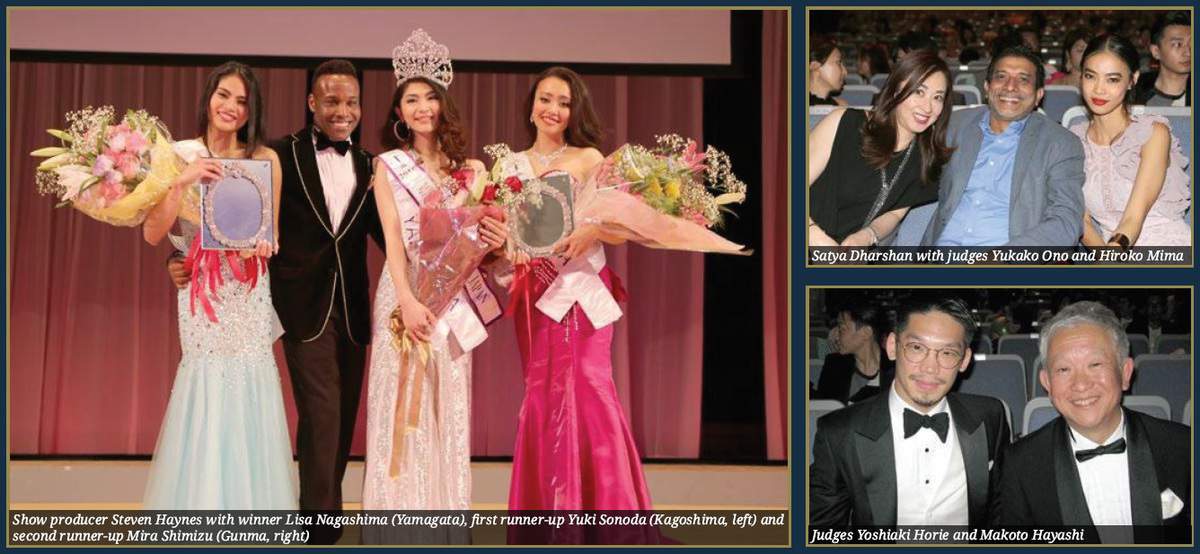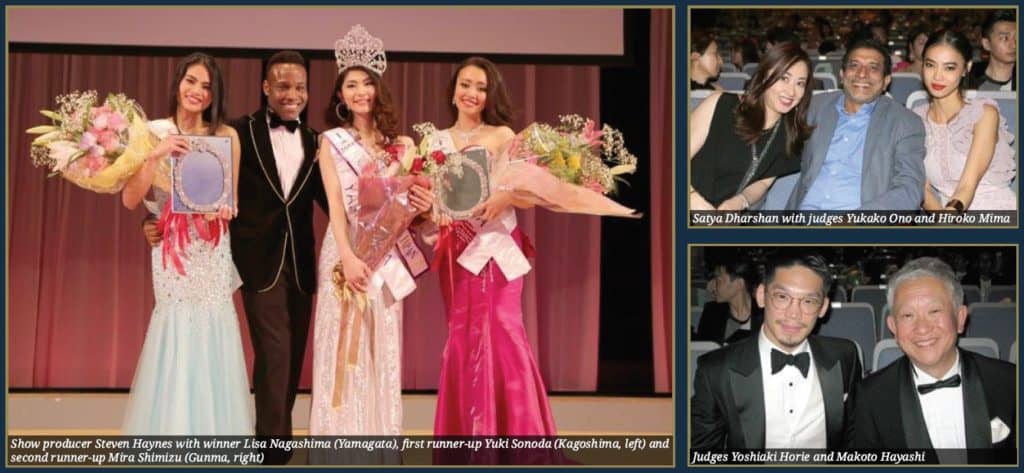 Talk about a great day with beautiful people! Being asked to be a judge in Dermazone and Steven Haynes' Miss Supranational Japan 2016 beauty pageant was all that and more. lt started on a train with my assistant, model/actor Hide Kusakari (who was also cameraman that day) to Omiya City's Sonic City Hall where the contest took place. I really enjoyed the train ride (don't do that much), liked Omiya, and was very impressed with the Palace Hotel and show venue. I was also very impressed with the other judges. They included Miss Universe Japan 2008, Hiroko Mima; Makoto Hayashi; Ebisu Beauty Clinic director Yoshiaki Horie; and Lycee Glamorous director Yukako Ono.
*First published at the Tokyo Weekender
*Images Copyright: Tsukasa Shiga