Bill's Partyline July 4th, 2009
PEOPLE
Thanks to retired business leader Koichi Yoshikoshi and his wife Daniele, we have had a strong reminder, actually several, of how it is really more gratifying to give than it is to receive. After retiring as president of the top German swimwear and lingerie company, Triumph, Koichi decided to go casual chic and only wear a suit when it was absolutely necessary. His closets were full, so he asked his wife Daniele what she thought he should do. She has always supported my charity projects here, as well as in the Philippines, and suggested they give the suits to me to give to others. Koichi's been on Japan's best dressed lists for years, so I ended up with 30 expertly cut, high fashion suits by Saville Row tailors and top international designers including Giorgio Armani, Hugo Boss, and Pierre Cardin. Koichi is well over six feet tall and keeps in good shape. Sadly, the suits were all too big for me. Through friends and just by asking around, I found a couple dozen big Japanese guys working for hotels, restaurants, and clubs. For most, this was their first designer suit and believe me, the Yoshikoshis really helped me make a lot of people happy. I'm so lucky to have friends like them. Good things happen to good people. They are now relaxing for two and a half months at their wonderful home in Southern France.
PARTIES
South African Freedom Day
It was South African Ambassador Gert Grobler's first time to celebrate his country's freedom day here in Tokyo. The reception at the Japan Press Center, with its many interesting guests, had a bountiful buffet that included one of my favorites, boerewors, which is a homemade farmers' sausage. The warm South African hospitality, with a touch of excitement about the world soccer cup that will take place there next year, was very nice. Special guests that evening included the very active former Prime Minister Yoshiro Mori and business Tycoon Yasayuki Nambu. South Africa will have some very special musical events coming up soon. Put these dates on your calendar: Drumstruck, August 18–30 and Umoja, September 19–23.
Philippine Food Festival
Filipino Ambassador Domingo Saizon, Jr. and his wife Kazuko (Kay) invited a large group of special people to a dinner party at Hilton Tokyo on the occasion of the Filipino Food Festival at the Hotel. It was a laid back evening of interesting and casual conversation, live entertainment, and some of the best Filipino food I've ever had. Kudos to the Filipino chefs who Philippine Airlines flew in for the promotion. It was a very successful event. I would also like to congratulate the Filipino people on their Independence Day celebration, which fell on June 12.
Mexican Garden Party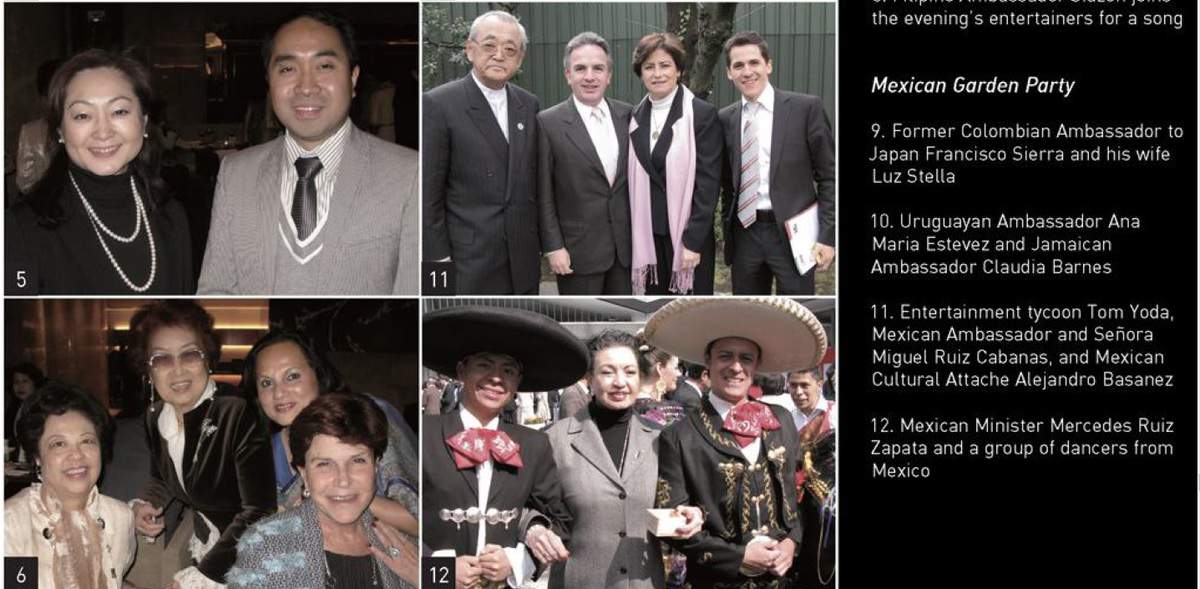 Nobody stays busier than the popular diplomatic couple of Mexican Ambassador Miguel Ruiz Cabanas and his wife Martha. Their recent activities have included endless events to celebrate the 400th anniversary of Mexico-Japan friendship. Just to mention a few of the events, there have been garden parties, art exhibits, piano concerts, and a visit by the majestic Mexican naval officers training ship Cauthemoc. Martha was the chairperson of the year's ILBS Cherry Blossom Ball, and as everyone knows, she did a great job. I knew she would. She's one of the most capable, organized, and nice people I have the privilege of knowing. At another party recently I complimented Martha on a beautiful gold chain with two large gold keys she was wearing. Miguel heard me and said, "do you like it? I just gave it to her for our wedding anniversary!" Later I learned that it was their 26th anniversary. A big and sincere congratulation to this truly exceptional couple—I wish them and their beautiful son and daughter a long and happy life together.
PLACES
Diesel Party at Fiat Cafe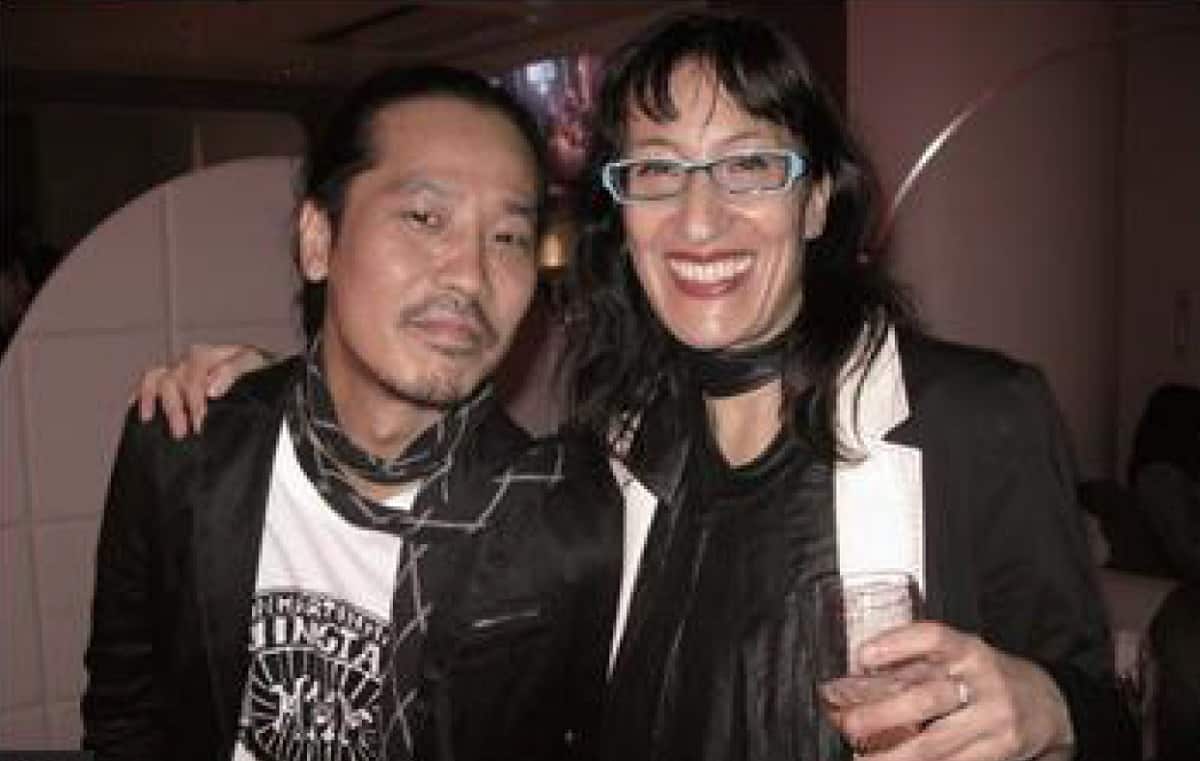 It was fun at Fiat over on Aoyama Dori when the auto company joined fashion leader Diesel in sponsoring a reception at Fiat Café. Fiat's country manager, Tiziana Alamprese, is a dynamic lady who has friends from all over the world and from all walks of life. Consequently, all three floors of the venue were wall-to-wall with interesting and worldly people. I enjoyed talking with Tiziana and appreciated her introducing me to artist Carmela, who is the wife of Israeli Ambassador Nisim Ben-
Shitrit. I hope to see her work sometime soon. It was also nice seeing one of Japan's top pottery artists, Kosei Tsuji, and his wife Takako. Their son Koji, also a renowned ceramics artist, told me he is in the party and event planning business now. Unlike so many who say the same thing, he has the personality and connections to do that kind of work.
*First published at the Tokyo Weekender
*Images Copyright: Tsukasa Shiga