Bill's Partyline July 6th, 2010
PEOPLE
Kazuo Ogawa 's Birthday Blast
Noted jewelry designer, event planner and producer Kazuo Ogawa and his business partner Atul Parekh of Infinity Creations have really been good friends for many years. In all honesty, they don't come any better. Kazuo, who was born in the year of the tiger in 1950, recently celebrated his 60th birthday, and I was really happy to join him, his family, and many of his friends at his awesome celebration at Maison Paul Bocuse in Daikanyama. It was wall-to-wall VIPs from all walks of life. Kazuo made a very moving and emotional speech, and there were even a few tears. Things livened up shortly after with some upbeat violin music by the very talented Paul Slovea and a superb buffet of Paul Bocuse's legendary cuisine. It was all perfect for the special occasion. Happy birthday Kazuo, and many more to come.
PARTIES
Ethihad Inaugural Party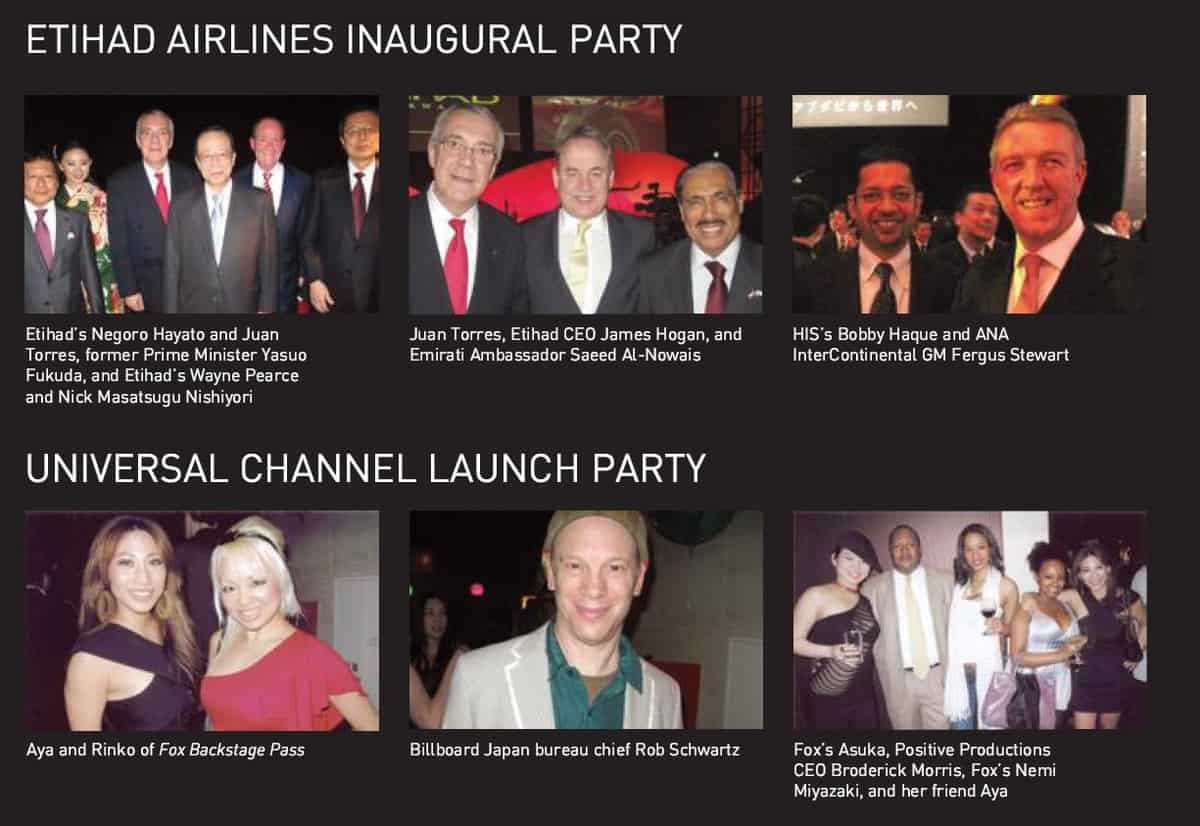 The ANA InterContinental ballroom was luxuriously decorated with an Arabic touch for Etihad Airways' glittering reception to celebrate the launch of a new Narita–Abu Dhabi service five times a week. The many guests there that evening included Japanese government officials, top men from Narita's administration, ambassadors, and travel agents. I had met Ethiad's commercial manager for Japan, Juan Torres, at the opening party of the InterContinental's Pierre Gagnaire French restaurant, and really appreciated him and the hotel's GM Fergus Stewart making sure I met a lot of interesting people at the party. The official program opened with a welcome speech by Etihad CEO James Hogan and a congratulatory speech by a Japanese government official. I was also happy to see former Prime Minister Yasuo Fukuda there. He does keep busy. The food was excellent, and the flight attendants from Etihad were really helpful. A bright red Ferrari F-1 racing car added considerable color to the event, and the musical trio from London performed some great music. Nice people, a warm ambiance, and legendary Arab hospitality made it all very special.
Universal Channel Launch Party
It was glamour galore at the party to launch the Universal Channel there in Japan under the capable management of Fox TV. The blast was held in Curtain Call, a special venue by the Toho Theaters in Roppongi Hills. The crowd included many familiar faces from the worlds of show biz, art and fashion, as well as the usual party crashers who have a magic way of finding out about special events and somehow getting in. You know them when you see them. Entertainment that evening included several songs by Universal Music's Beni. She looks good and is a great singer. I'm a devoted fan of many of Fox's crime programs (Dexter, Law and Order, etc.) and am looking forward to some good stuff from Universal.
PLACES
Asian Ladies Friendship Bazaar
I couldn't stay long at the annual Asian Ladies Friendship Bazaar, but was really happy I had time to drop by. It was nice seeing so many friends working so hard, as well as so many friends buying food, handicrafts, etc. Proceeds, of course, go to many worthwhile charities. Being there also gave me the opportunity to see one of my favorite ladies, Boontipa Simaskul. The popular wife of the former Thai ambassador, who has been involved in endless charitable activities, was in Japan visiting friends.
Here in Tokyo prior to the games, Coca Cola and the South African embassy hosted a star-studded party to celebrate the World Cup trophy tour and the cup's arrival in Japan. The party at the Four Seasons Chinzan was packed with important people. Special guests included HIH Princess Takamado, who's a real soccer fan, soccer celebs Nakata and Tsuyoshi Kitazawa, top Japanese politicians, diplomats, show biz personalities, business leaders, and a host of soccer enthusiasts. I really enjoyed meeting Coke Japan's president Daniel H. Sayre and his wife Iliana. The programs at the party opened with speeches by Sayre, Hide and the princess. There was live music by Canadian singer K'Naan and Japanese pop singer Ai. The buffet featured Japanese, Western and South African favorites. During the course of the evening guests had the opportunity to have their photos taken in front of the trophy, which was encased in glass. It was an inspiring, beautiful evening in every way, perfect for the occasion.
*First published at the Tokyo Weekender
*Images Copyright: Tsukasa Shiga