Bill's Partyline June 2011
My sincerest thanks to Bill Ireton of Warner Brothers and his oldest son Matthew for the invitation to join them on a two day trip to Sendai and Fukushima during Golden Week. It takes an experience like this to make one truly aware of and thankful for their blessings. Bill, who is American-Japanese and Matthew, a marvelous mix of American, Japanese and Filipino was surprised we didn't see any other foreigners anywhere that day until we got to Sendai.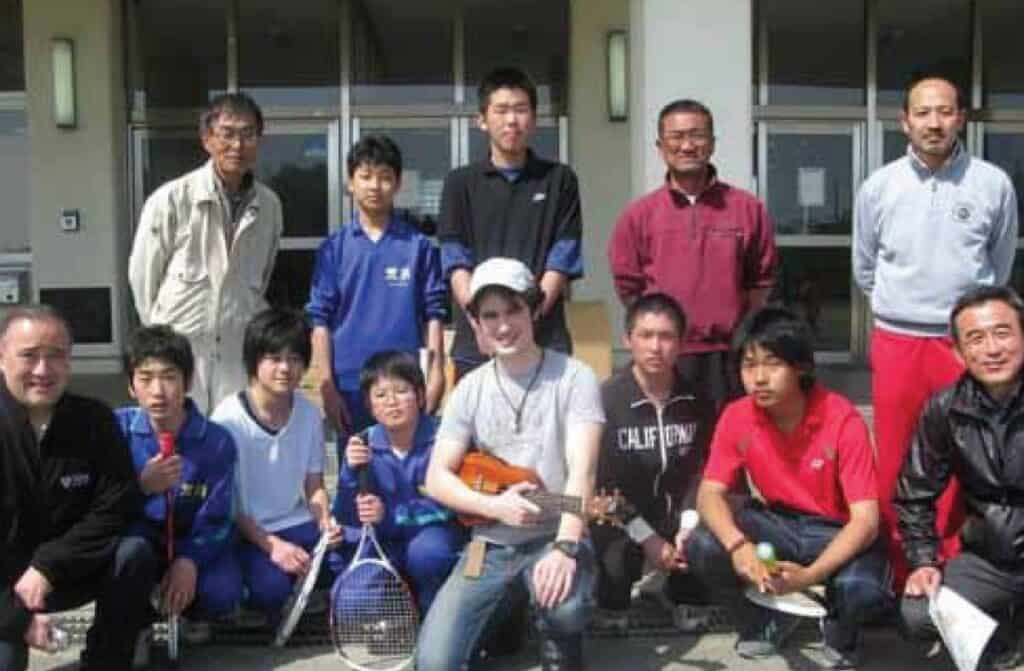 Let's go back a bit, a few months Bill took his younger son Edward to Guam as a graduation present from the Ath grade. While he was there, a friend Cynthia Barcinas told him about a charity drive the students of Commander McCool elementary and middle schools had organized to raise money for victims of 3/11. Through dress-down days and coin drives, they were able to raise $2000 and after talking with Bill, she knew she had the right man to organize something bigger and sent him a check for the $2000. Continue reading below…
Kuwaiti Charity Bazaar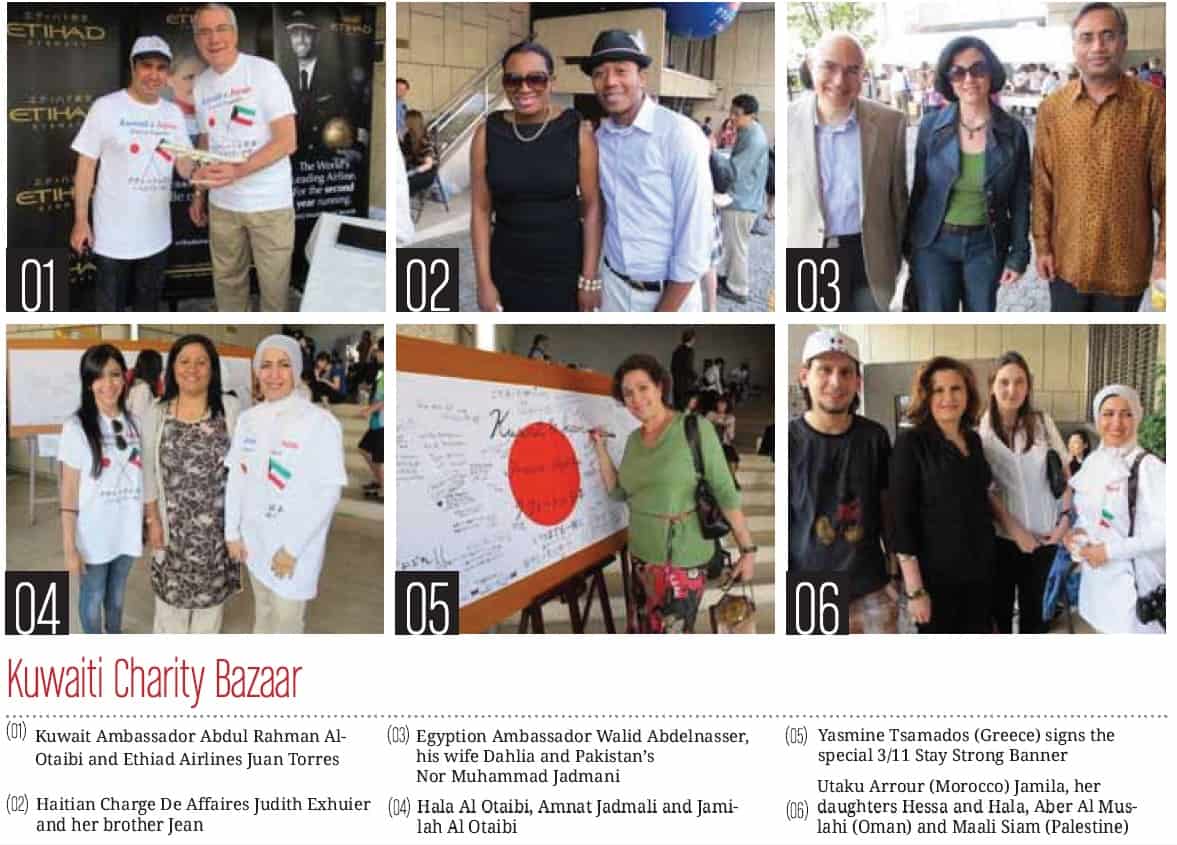 Kuwaiti charity bazaar for earthquake/ tsunami victims was a huge success, kudos to Kuwaiti ambassador Abdul al-otaibi, his wife Thrall ah, their staff and friends for all the time and effort they put into making their charity bazaar such a great happening. The event was held in the beautiful spacious courtyard of the Kenzo Tange designed Kuwait embassy in Mita, the weather was perfect and it was obvious the many people there were really enjoying themselves, and raising money for a good cause.
Vera Cruz photo exhibition at Mexican Embassy
It was wall to wall people at the packed photo exhibition from Vera Cruz (love that city) at the culture hall in the Mexican Embassy, the host Mexican Ambassador Miguel Ruiz Cabanas was just back from a business trip to Mexico and it, was, as always. Nice talking with him. Sorry, his wife Martha couldn't be there. She's a medical doctor and is really into cancer research here in Japan. I also enjoyed talking with the embassy's deputy chief Armando Arriaga, his wife Serok super chic Korean lady who heads Escada fashion here, due to 3/11 had the cancel her event to celebrate the renovation of the Escada store across from the Grand Hyatt. It really does look good, our congratulations. Special guests that evening included Mexican ultra-marathon runner Luis Guerrero Marron who recently ran from Nagoya castle to Kanazawa to raise money for Tohoku victims.
PLACES
The drive to Sendai was an incredible experience. It started out on the new underground and (incredibly long) Yamate tunnel, to the Tohoku expressway, all in all, the seven-hour drive was really interesting with some really beautiful scenery—a stark contrast to the scenes of devastation we saw when we arrived in Sendai. Traffic was fairly quiet but I was amazed at the number of people at the service centers, we stopped at on route. The variety of merchandise (food, souvenirs, drinks, etc.) they have to offer is truly impressive when compared to the U.S.
Arriving at the scene we saw houses, boats and cars were for the most part destroyed. Local authorities had put up red flags where houses had to be completely destroyed, yellow flags where people could return to get valuable possessions and green where houses could possibly be rebuilt I saw a few of these but by far, most were red ones, the ground as far as the eye could see was covered with what one man said was "100 years of junk." The sad part is, a few weeks earlier it wasnt junk almost everything on the beach was once a part many times an important part of someone's life.
Our next stop was Natori, where we visited the Warner Mycal ten theater complex, in the huge Aeon shopping mall. As it was Golden Week there were a lot of people in the mall and most of the theaters were full. Bill introduced some of his executive staff there and we had a tour of the facilities as well as sharing a big bucket of butter popcorn with some locals (love that stuff).
From Natori we drove into Sendai, a beautiful city of one million people. I didn't see too much earthquake damage there but there had been some major damage in some big buildings and a few neighborhoods outside of the center of town. Thanks to good friends we checked into the sparkling ultra-modern Westin hotel right in the heart of the city, we were so lucky to have this luxury. Both Bill and I had friends working there we knew when they worked here in Tokyo, our rooms were fabulous. My bed was as big as my house in Tokyo, and we all had awesome views of the city.
After an early breakfast at the hotel we drove to Ishinomaki's Aeon mall (a shopping paradise) to visit the Warner Mycal theaters there. Over Golden Week Warner had arranged for chartered buses to pick up over 1000 people (mostly mothers and kids) from different evacuee centers and bring them to the mall, give them a ticket to a movie of their choice and a coupon for a meal at one of the mall's many restaurants. Seeing the kids smiles as they came out of the theaters made me realize even more what a great escape movies are, cant tell you how gratifying just being there and seeing that was. Last stop before heading home to Tokyo was the Catholic charity Caritas base in Shiogama.
*First published at the Tokyo Weekender
*Images Copyright: Tsukasa Shiga