Bill's Partyline June 2013
PEOPLE
Toko Shinoda's 100th birthday celebrations
Toko Shinoda, Japan's Grande Dame of beautiful Abstract Expressionism was honored with two gatherings last month – the first to congratulate her on reaching the age of 100 at the Kikuchi Museum in Tokyo, where collectors of from all around the world joined Tokyo art lovers to wish the great artist well. Helping to expand on the birthday theme was Dominic "S," – born on the same day as Toko but 99 years later – who added to the festive nature of the party. Two days later there was a second opening, this time a retrospective, "A lifetime of Accomplishment," held at the same venue and curated by Norman Tolman, Shinoda's major dealer and himself a noted collector. Among the many noteworthy fans was Shima Iwashita, the movie star wife of Toko's equally well-known cousin, film director Masahiro Shinoda.
PARTIES
The Nearys' Irish Party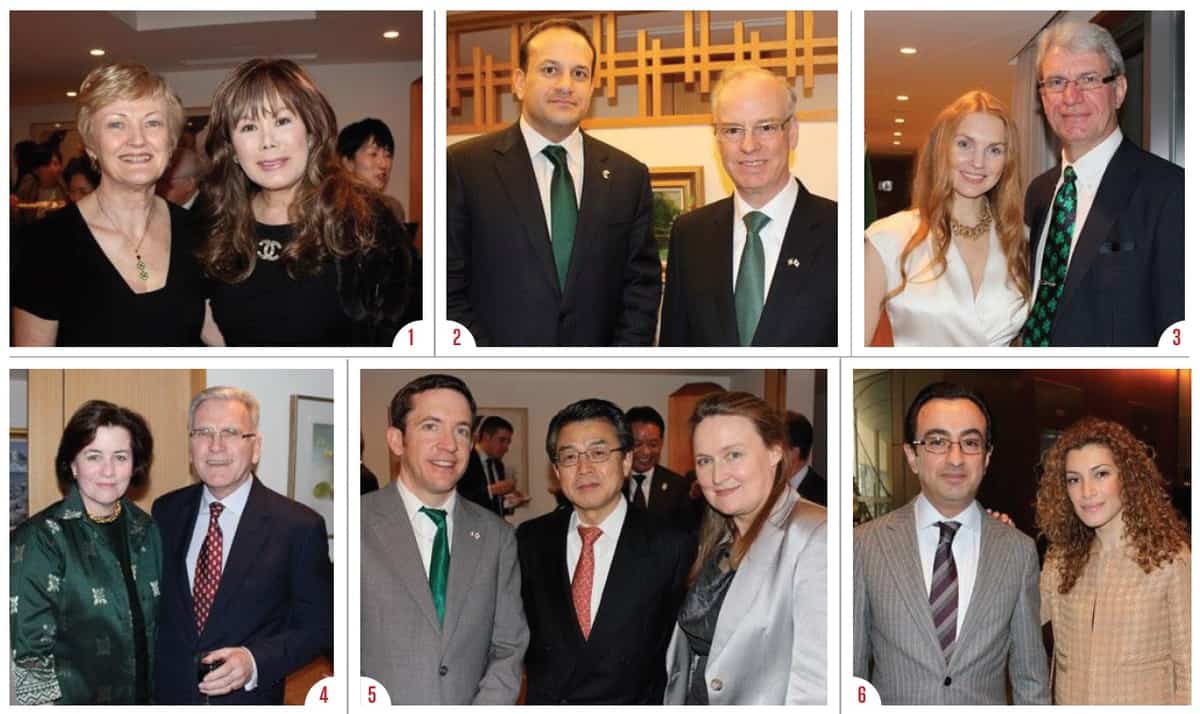 Our Irish friends and the many other guests of Irish ambassador John Neary and his wife, Kathleen White, were certainly smiling at the couple's enjoyable reception in celebration of St. Patrick's Day. It was wall-to-wall interesting people and special guests included Irish politician Leo Varadkar, the transport, tourism and sports minister timing his trip to Tokyo perfectly to enjoy the event. The bountiful buffet of homemade Irish favorites was excellent, and there of course was a lot of Irish beer and whiskey to complement the food.
I really enjoyed talking with Kathleen. Her background includes close work with many foreign dignitaries as head of protocol for the Irish Foreign Ministry. I was really sorry I couldn't get to the always fun, colorful St. Patrick's Day parade on Omotesando. Many friends who were there told me it was bigger and better than ever. Kudos to members of the Irish network and their many helpers for the time and effort spent making the special event the big success that it was.
Jun Ashida's super show at the Grand Hyatt
Travel and heavy schedules here often kept me from the Grand Hyatt fashion shows by world-renowned Japanese designer Jun Ashida. I was glad to be able to get to his recent showing of his latest collection. This really made me realize I had forgotten how chic, classy, tasteful and wearable Jun's creations are. The Hyatt ballroom was beautifully set up and several runways gave everyone there the opportunity to see the fine design, color coordination and details of Jun's work.
I knew many of the 17 international models but hadn't realised how professional they were. Their cool look and movements showed me a big difference from their laid-back, cool appearance when they come to the New Lex Tokyo. The fast pace of the show kept the audience, which included many ambassadors' wives and fashion icons, on the edge of their seats. The background music was Gershwin's "An American in Paris" – just perfect for the shows. I enjoyed talking to Jun's Paris director, who told me that the Ashida's daughter Tae's latest collection, like her father's, was very much in with the French fashion crowd. My thanks to Jun's long-time top assistant Paul Jeffers for his help on names and details – I just wish all embassies and businesses had someone so professional and in the know about what they're doing.
PLACES
Imperial Hotel's First-Class Media Party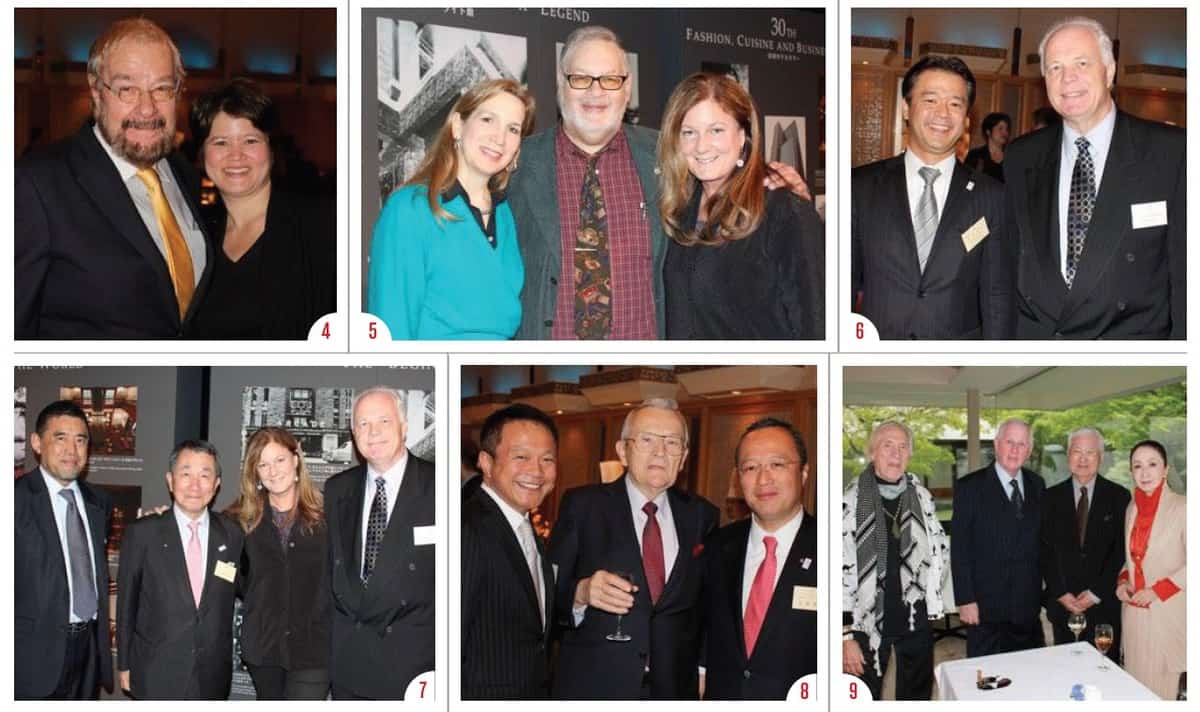 The Imperial Hotel really went all out to make its annual party for the media the best ever. The superb buffet was not only a work of art, it was a gourmet's delight. Special guests included Ulrich Krauer, G.M. of the Imperial Hotel's partner on the beach in Waikiki, the Halekulani. Enjoyed renewing friendships with many of the foreign journalists there.
Lucy Birmingham was really generous and gave me a copy of the book she co-authored with David McNeill, Strong in the Rain. It's an interesting, at times disturbing, look at the coverage of the still hard to believe earthquake and tsunami in Tohoku in 2011. The Imperial's international PR guru, Nacio "Skip" Cronin, had designed the chic stage in the center of the room where Jazz singer Junko Yagami and the Blue Sky Orchestra performed. It was a great evening in every way, perfect for the occasion.
Two of the biggest and most publicized events recently took place in two of our city's most popular and prestigious shopping malls. We all know time flies, and Roppongi Hills had its 10th anniversary to prove it. The theme of the celebrations is Love Tokyo, and in addition to a couple a dozen renewals and new shops and restaurants, there was a busy events calendar. These included all kinds of art exhibits, the J-Wave flea market and a series of pop concerts at the Arena One of these was a show by a good friend, Miyavi (pictured, above). It was packed, I'm happy to say, and he really is talented.
Tokyo Midtown, by the Ritz Carlton Hotel, seems to be the Hills' biggest competitor, and for some reason or another decided to have its big renewal and new shops/restaurants promo 'Tokyo Midtown New Stage' the same time as its near neighbor. It's Midtown's sixth year in business and it also has a couple a dozen new shops and restaurants. I often eat at one of its inexpensive (Korean, Vietnamese, Suzunami Fish, chowder, chicken, etc.) restaurants and often shop at the big Uniqlo store there. I miss the big Muji store that's gone now, but am really happy to see a Midtown branch of Hong Kong Sweets, the very popular Chinese restaurant on Aoyama-dori, has opened right next to one of my favorite bakeries, Maison Kayser. I also love the park area around the mall. Seasonal events there include an ice-skating rink, yoga sessions, classic and pop music and ballet performances.
*First published at the Tokyo Weekender
*Images Copyright: Tsukasa Shiga