Hersey's Partyline June 2017
PEOPLE
RIP, WAYNE GRACZYK
Our condolences to the friends and family of Wayne Graczyk,  a long-time member of the Tokyo Weekender family, and guru of all things baseball in Japan, who died last month. He announced at many baseball games, and people really loved his personality on the mic. He also wrote extensively for the Japan Times. Wayne was one of the kindest, gentlest, most considerate guys you could ever meet. I joined many of his friends at his memorial on May 20 at the Foreign Correspondents' Club of ]apan, where we reminisced about the good times we shared. He will be sorely missed.   
AMBASSADOR LESKOVAR'S SAYONARA FOR AMBASSADOR AMIL
There was party after party for outgoing Pakistan Ambassador Farukh Amil after he received very short notice that he had to move for his new posting at the UN in Switzerland. Farukh was very popular and he has a huge variety of friends from all over the world and from all walks of life. I couldn't get to all the parties for him but did get to three of them. The first was an intimate gathering hosted by Slovenian Ambassador Simona Leskovar at her high-rise apartment with its beautiful view of Tokyo Tower. It was a casual, relaxed evening with a  wholesome buffet of healthy food. I love how smaller parties give us the opportunity to get to know people who we might previously have only seen around on social occasions. 
PARTIES
THE MARUYAMAS' CHINESE DINNER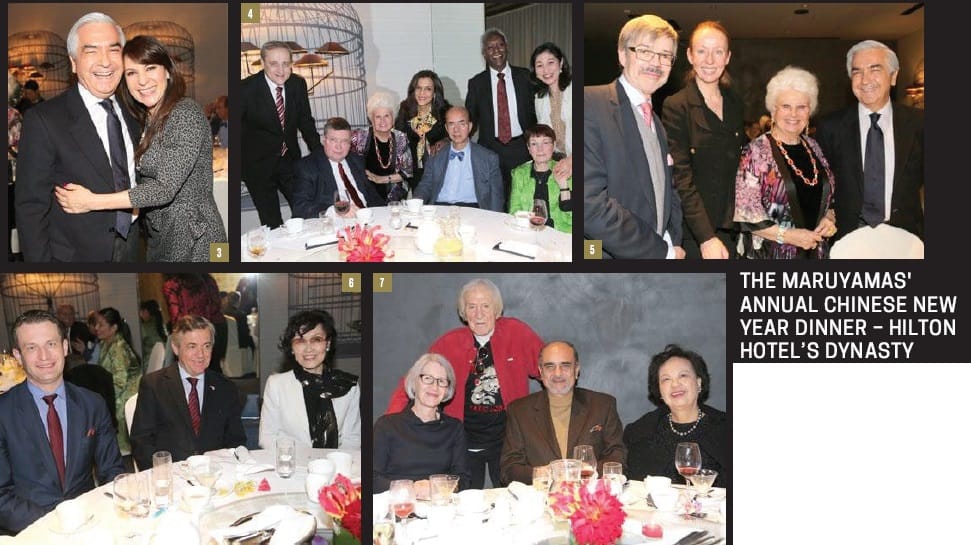 Mitsuo, Lilo, and their son l-Ielge's Chinese dinner at the Hilton Tokyo's Dynasty Restaurant is always very special, and this year was no exception. Sorry — my coverage is a bit late, but there were lots of recent arrivals there, and it was difficult meeting everyone, but thanks to Lilo's help, I was able to get caught up. The Dynasty was tastefully decorated for the occasion, which was a sit-down, 14-course dinner. When guests entered, they chose a tiny miniature of a Japanese or Chinese figure (samurai, geisha, etc.) and sat where a matching figure had been placed by their plate. It was a great way to get to know everyone there. Kudos to the Dynasty staff: they were really efficient and their service for any Chinese specialties, which were all beautifully prepared and delicious, couldn't have been better. It was easy to see why the Hilton's Dynasty has long been a favorite with those who want the best, and the Maruyamas are one of Tokyo's most gracious hosting couples.
TUNISIAN NATIONAL DAY GALA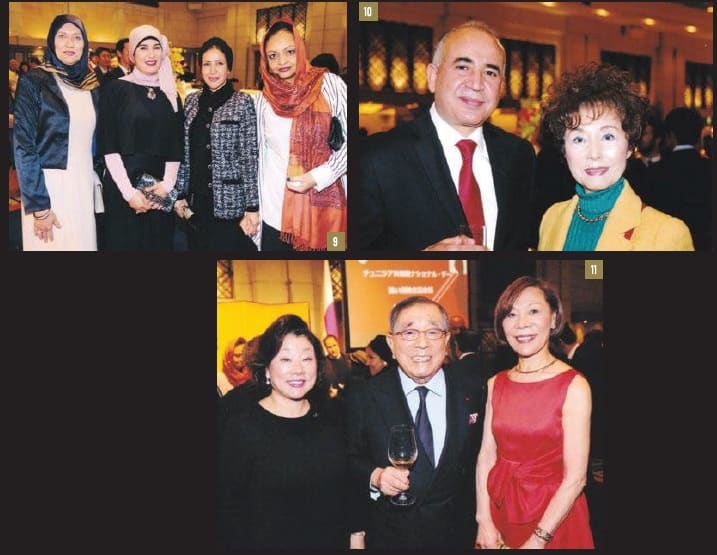 Tunisian Ambassador Kais Darragi, his wife, and their staff went all out to make their national day celebration at the Okura Hotel very special. The evening started out with a seminar and lecture by the highly regarded NHK news reporter and TV presenter Hisanori Isomura. The following reception opened with a speech by the Ambassador and the State Minister for Foreign Affairs, Nobuo Kishi. In addition to a lavish buffet that included delicious Tunisian specialties, it was an evening of mixing with long-time friends and meeting many new and interesting people for the first time. It was a musical evening as well, with both Japanese and Tunisian national anthems played by a well-known pianist, and classical Tunisian and Japanese music played on traditional instruments such as the koto, the flute, and the violin. I really was happy to see old friends, who included former politician Kiyoko Kusakabe, who now is a well-known university professor at the Asian Institute of Technology. Tunisia is a wonderful country and I'm really happy to hear they're solving some of the problems they've had, and that the tourism business they so truly deserve is picking up.
PLACES
MIN-ON LONDON SVMPHONIA — ROTHSCHILD CONCERT

"It's a grand night for singing," as the old song goes, and these words were certainly true for the marvelous Min-On Concert Association Program at Bunkamura's Orchard Hall. The program featured the City of London Symphonia, conducted by Michael Collins, and featured wonderful Japanese children's songs beautifully sung in Japanese by the soprano Charlotte de Rothschild. I could tell by her stage presence and personality that she was a warm and gracious woman. I had the opportunity and privilege of meeting and talking with her at the reception later, and my first impression was quite right. She was super nice and we talked about one of her relatives, whom I met at a Club Med opening in Asia where she was guest of honor and I had been invited to the event. As I often say, the world keeps getting smaller. HIH Princess Takamado was a special guest at the Min-On concert. She, as usual, made a short but very meaningful speech, mingled with the guests, smiled a lot, and was very kind to everyone.
I really enjoyed the Cambodian song,  dance, food, and culture at the embassy's festival in Yoyogi Park. I also had a great time at the Cinco de Mayo celebrations in Odaiba, at Yoyogi  Park, and in a few clubs. Cinco de  Mayo is growing in popularity here, and there are more and more Mexican and  Tex—MeX restaurants popping up here all the time. I think that's great. 
*First published at the Tokyo Weekender
*Images Copyright: Tsukasa Shiga