Bill's Partyline June 4th, 2010
PEOPLE
I did take a break and go down to Yokohama Arena for Lady Gaga's concert. That was really a packed, colorful, fun spectacle. Lady Gaga is phenomenal. She's got a great voice, can really dance, plays several instruments, and has endless energy and a wonderful warm stage presence. On top of all that, her fashion is original, off the wall, and really works for her. It's easy to see how she's earned international recognition and fame in such a short time. Her concert was one of the very best I've seen in a long time. It's too bad she couldn't get to the New Lex, but we did have her entire band and dancers drop by a few times and party into the early mornings. They were all great people.
My thanks to entertainer, philanthropist, and all-around good man Steven Haynes for an awesome hour or so at the official Michael Jackson exhibition at Tokyo Tower. The exhibition, which was the brainchild of Matt Taylor, runs through July 4 and is really beautifully done. My favorite single item in the exhibition was a photo of a young Michael with Princess Diana.
PARTIES
Kuwait National Day Celebration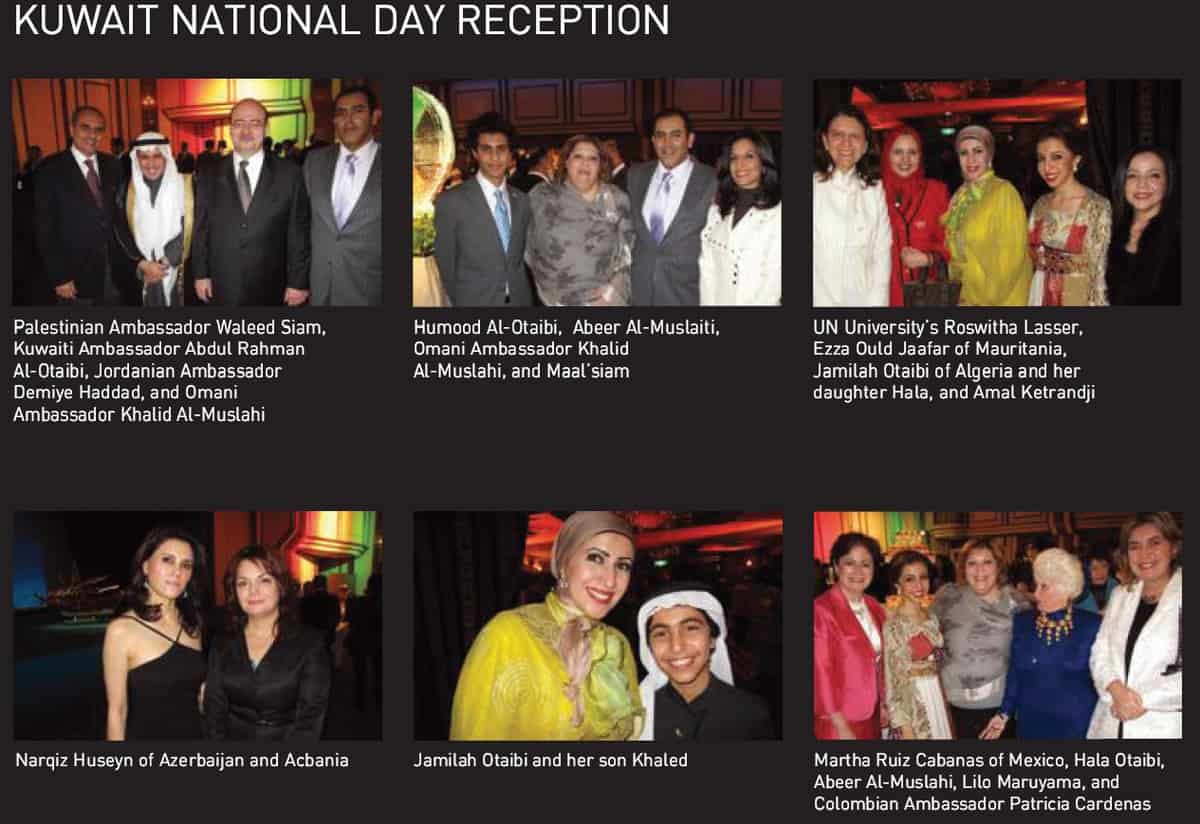 I've had the privilege of visiting Kuwait four times and have great memories of the legendary Arab hospitality I received on each of those visits, Here in Tokyo, Kuwaiti Ambassador Abddul Rahman Otaibi, his wife Jamilah, and their three children Hala, Humood and Khaled showed the epitome of that hospitality at their 49th national day celebration at the Imperial Hotel. There was a beautiful ice sculpture of the Kuwait Towers in the center of the room, and a photo exhibition of Kuwaiti people, scenery and buildings. Several colorful Arab-style tents were set up at one end of the room, where guests could relax, chat and enjoy tea and dates, and these proved to be very popular. The lavish buffet featured Arab, Japanese and Western food. When guests left, each one received a black bag containing an ornate metal box of sweets and a miniature replica of Kuwait Towers. It was a very special evening, and a perfect way to celebrate the occasion.
Emirates Reception
The inaugural reception for Emirates airline's direct flights from Narita to Dubai at the Grand Hyatt was as glittering and glamorous as an event of this kind can get. The party planners went all out to create a mostly red and white fantasy, and the Hyatt's always elegant entrance halls and ballroom couldn't have looked better. I couldn't stay long, but I enjoyed meeting the visiting Emirates executives, as well as watching a musical program by a Japanese women's trio called Velvet. Congratulations to Richard Engelmann on his appointment as manager of Emirates in Japan.
South African Freedom Day Celebration
South African Ambassador Gert Grobler chose the beautiful Meiji Kinenkan in Meiji Park as the venue for his country's Freedom Day celebration. Outside the entrance to the reception venue, there was a colorful display of many of South Africa's best known products, including wines, tea and some great handicrafts. I really enjoyed the intricate patterned beadwork. Three South African musicians greeted guests with tribal drum music, and that livened everyone up before Ambassador Grobler made an interesting and meaningful speech. After enjoying the buffet that included several South African specialties, guests were treated to a musical presentation by Japanese singer Baby M. The talented young lady, who has performed in Japan and South Africa. got several of the guests to join the dancing on stage. It was fun, uplifting and very South African. Congratulations on Freedom Day and South Africa and Japan's 100th anniversary of friendly relations.
PLACES
South African Charity Concert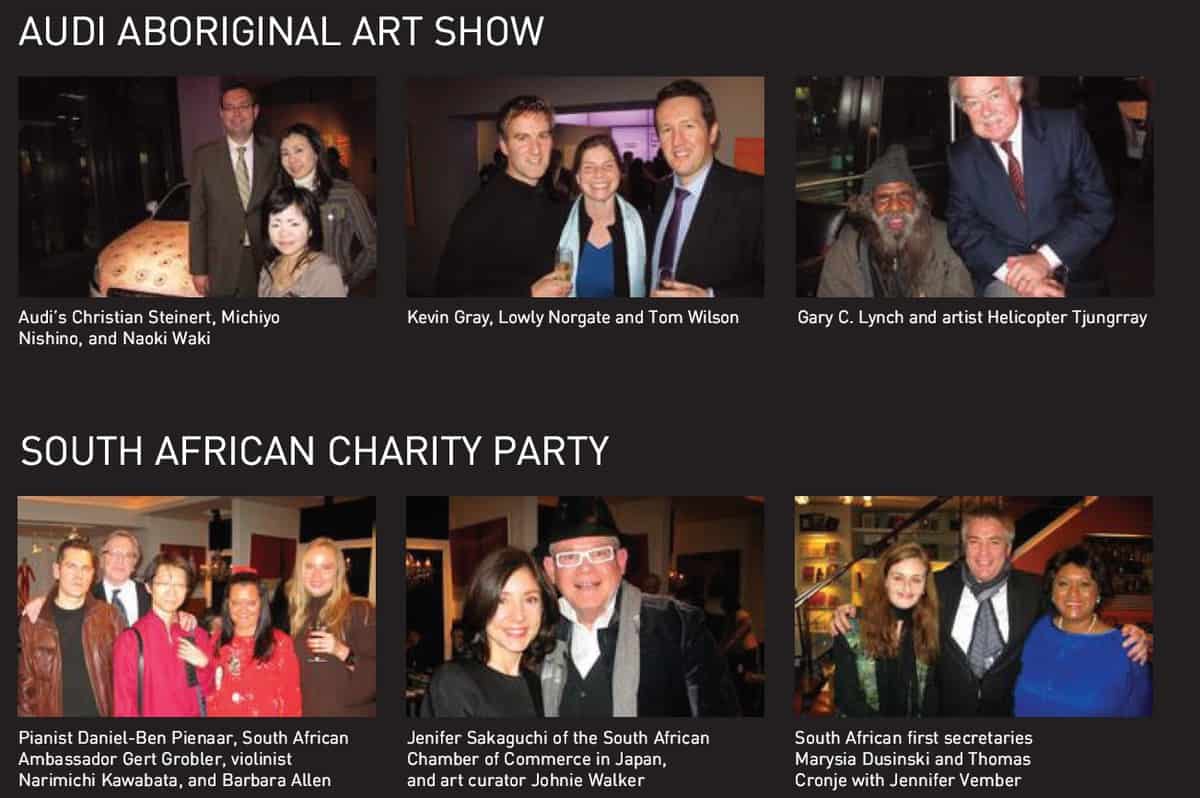 Those who follow this column know how busy South African Ambassador Gert Grobler and his staff have been with the World Cup coming up in South Africa soon, as well as the celebration of 100 years of the country's relations with Japan. There has been and will continue to be a full calendar of special events to celebrate these occasions. One of the most recent was a charity concert in Daikanyama that featured marvelous music by South African pianist Daniel-Ben Pienaar and Japanese violinist Narimichi Kawabata.
Our friends at Audi always come up with original, dynamic cultural events. A few months ago they had marvelous pottery exhibition by renowned German artist Gerd Knapper at their futuristic Meiji-dori showroom. Recently they brought seven Australian aboriginal artists to Japan to show their work in the exhibition entitled Ingatimpa Tjuntu: Singing Songs at the Audi Forum. The artists came from the small colony of Warlayirtui, where 250 of the 400 residents are artists. The exhibition tied in with what the automobile has meant to the artists' culture, and they worked for a week here prior to the opening on beautifully painting an Audi TT Roadster as the center of the exhibition. Another highlight was a large painting valued at $75,000. My congratulations to the people at Audi on the success of the exhibition.
*First published at the Tokyo Weekender
*Images Copyright: Tsukasa Shiga