Bill's Partyline March 2012
PEOPLE
Catching up with old friends
With so many things happening in Tokyo, breakfast meetings are the newest way to catch up with old friends and at one such meeting at the Hotel Seiyo, I recently did just that with art dealer Norman Tolman of the Tolman Collections. It seems that in order to see to the orderly running of his galleries in Hong Kong, Singapore and New York, Norman, with his hardworking P.A. Shin Mochizuki seeing to all the details, has spent about half of his time "someplace else". He said that he has spent so much time out of Japan that there are those who think he has left, though really he's full of plans and schedules beyond belief. Number one on his list is the publication and of a portfolio of prints by eight artists offering one print each on the theme of 'hope for the future'. After last year's many disasters this portfolio is to be released at Art Fair Tokyo 2012, held at Yurakucho's International Forum.
PARTIES
So many of our Arab friends celebrate their national days in November and December. I am sorry about this but I have had to bunch up a few highlights from each of their wonderful receptions.
Qatari ambassador Yousef Bilal's reception for the anniversary of the accession of the Sheikh Jassim Bin Mohamed Bin Thani, founder of the state of Qatar. The dancers at the Qatar event, decked out in national costumes and carrying swords were truly exciting. At the UAE event, students living in Japan had also put on a lively show for their reception. All these parties were a kaleidoscope of color with the women wearing super chic, heavily embroidered, beaded and sequined long dresses. Door prizes included tickets to exotic destinations on Etihad, Emirates and Qatar airlines.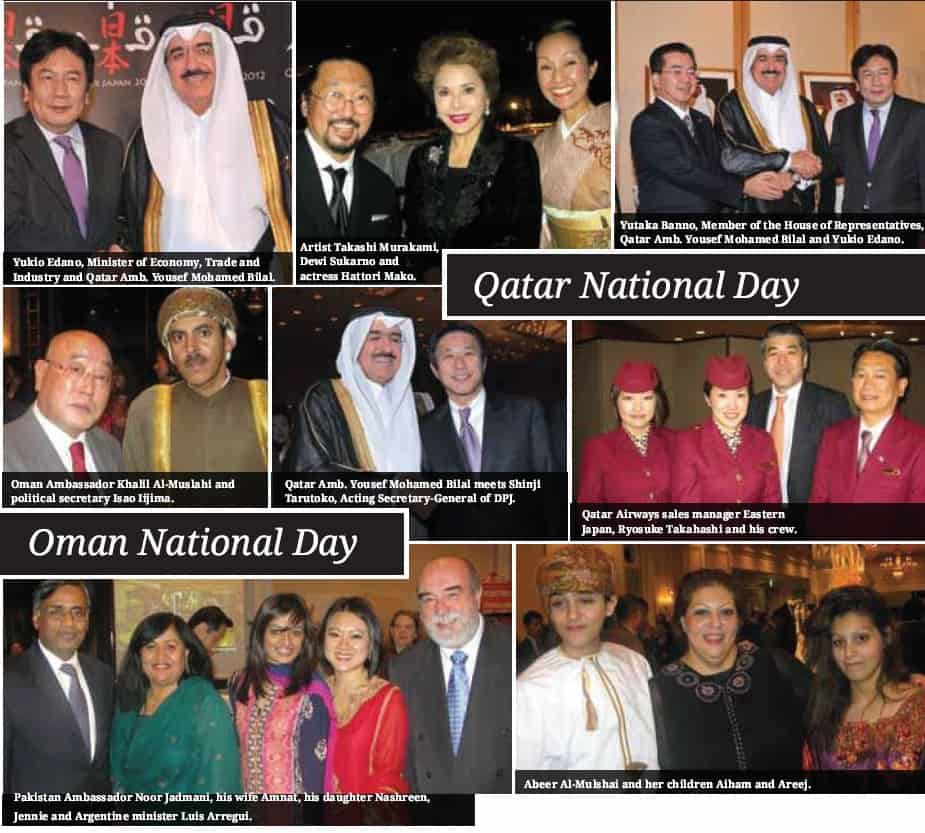 Oman held their colorful well-attended celebration at the New Otani and the United Arab Emirates, Bahrain and Qatar held their huge, joyful events at the Imperial Hotel. All featured amazing Arab-inspired decor with colorful tents, carpets and awesome ice carvings. The lavish bountiful buffets at each event featured a wide variety of Arab, Western and Japanese food favorites.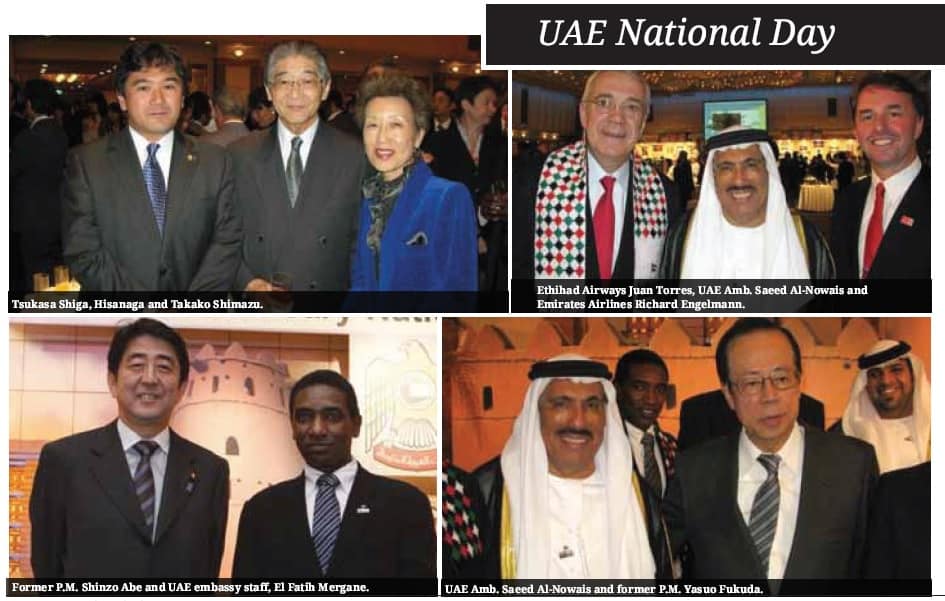 I really enjoyed the 40th anniversary of the founding of the UAE and that special evening sure brought back wonderful memories of my visits there for both their 20th and 25th national day celebrations. Also at the 40th party was a huge replica of a fishery the UAE had kindly donated to the people of Tohoku after the 3/11 disaster last year. I was also very impressed with the country's new emblem: seven men in traditional dress all standing around a high-flying UAE flag, with the new slogan 'spirit of the union' underneath. The huge ice carving of this at the entrance to the party venue was a real work of art and I appreciated Ambassador Al Nowais giving me a beautiful scarf emblazoned with the logo and slogan, what a great souvenir!
PLACES
Grace Saito's 20th anniversary charity concert at Hilton Tokyo.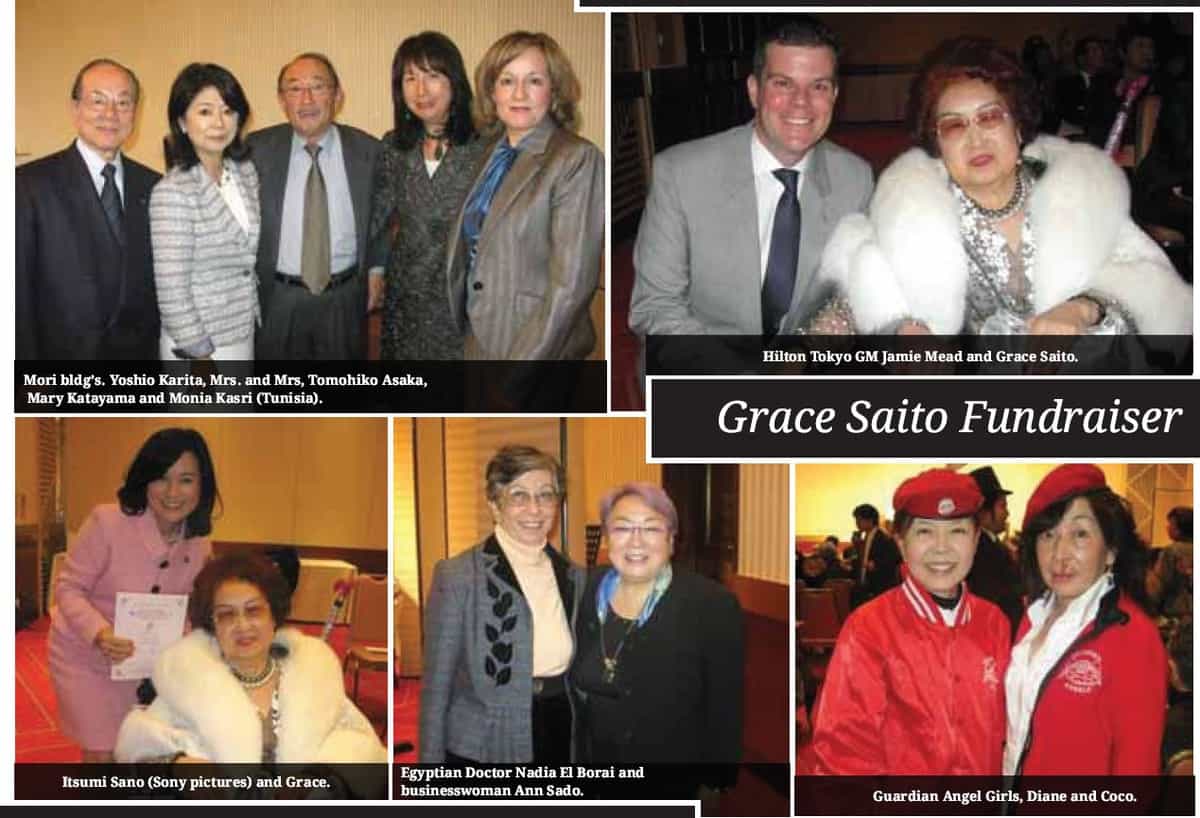 Our sincerest congratulations to Grace Saito on the 20th anniversary of her charity classic concerts. Grace, who does so much to help so many, works closely with the Rotary Club on many worthwhile projects. Proceeds of this concert went to helping the victims of 3/11 and to eradicate polio. The afternoon concert which was sold out, featured many highly acclaimed award winning tenors, mezzo-sopranos, guitarists, violinists and pianists and was wonderful to experience.
Tokyo on Foot
In the last few months of short walks around our city, I've discovered so many fun and funky fashion shops, some good inexpensive restaurants, interesting coffee shops and I've also met a lot of nice people I wouldn't have had I been driving or on the train. Tokyo, with its many parks, museums and variety of people is certainly one of the most exciting and safest cities in the world to walk around and we really are lucky to live here. I recently strolled from Fox Studios above the big Quicksilver store on Meiji Dori to Omotesando to check out the many bargain sales going on there but was surprised to see signs in a considerable number of big fashion stores announcing that once the sales were over they would be closing. I also noticed several restaurants I like and a few clubs I visit from time to time have also closed down recently. All those empty buildings and for rent or sale signs one sees everywhere are proof the economy is not as good as we would like it to be, yet even so, there's construction going on across the city and new malls, stores, restaurants and clubs are opening almost every day. I'm particularly looking forward to the grand opening of Shibuya's new Hikarie tower in April, it looks stunning!

*First published at the Tokyo Weekender
*Images Copyright: Tsukasa Shiga