Bill's Partyline March 2014
PEOPLE
Paramount brought in director Martin Scorsese and actor Leonardo DiCaprio to promote The Wolf of Wall Street and Warner Brothers had a star-studded premiere of their local production Kuroshitsuji.
The Rolling Stones who were here to do their Japan tour, "On Fire," for Kyodo Tokyo have come and gone. I heard it was a huge success and even the "gold ring seats" at Tokyo Dome—which were ¥80,000 each!—sold out.
If you're wondering, who's that gorgeous young blonde you see around town and often on TV, it's Roberta Ireton. Peek-a-boo Hair Salon's boss Fumio Kawashima did a great job of changing Roberta's long black hair to blonde for her role as a CIA agent in the TV drama, Naomi Closet. She also had her eyebrows reshaped by Hollywood's Damone Robert, whose clients include Robert Downey Jr., Beyonce and Madonna.
PARTIES
Thai Ambassador and Mrs. Upatising's celebration for King, HM Bhumibol Adulyade
The Thai party was beautifully done with live traditional music and dance, and a lavish buffet of Thai specialties that are so popular all over the world. Former Prime Minister Yasuo Fukuda was special guest, and he as well as the Thai Ambassador made short meaningful congratulatory speeches. Thanks to Kyoko Spector, I got to both of these events, but neither of us was able to stay as long as we would have liked.
The Maruyama's annual Chinese New Year's dinner party
at Tokyo Hilton's Dynasty restaurant with 11 courses and interesting people was perfect in every way. Special guests included Prime Minister Abe's mother, father, and mother-in-law, as well as Princess Takamado's mother Fumiko Tottori. My congratulations to Fumiko for the special decoration she received from the French government for her work on so many worthwhile projects. My thanks as well to Fumiko for a copy of the book on her dynamic family.
The UAE National Day reception,


hosted by Ambassador Saeed Al-Nowais and his wife Zahra at the Imperial Hotel; the Bahrain National Day party hosted by Ambassador Khalil Hassan and his wife Dr. Yoshiko Hatakeyama, also at the Imperial; and the Lebanon National Day festivities, hosted by Ambassador Mohammed Al-Dib and his wife Randa at the Okura, were all regal celebrations with many VIP guests, lots of party crashers and bountiful buffets of excellent food and legendary Arab hospitality. At the UAE, there was a name card drawing for tickets on the highly acclaimed Emirates Air to exotic destinations in the UAE. At the Bahrain party, a colorful and energetic group of Japanese drummers and festival dancers really livened things up. Lebanon's celebration featured a huge selection of Lebanese cuisine, which is some of the best in the world. The wall-to-wall guests at Oman's party at the New Otani showed off a kaleidoscope of color with most of the Arab ladies in beautiful designer Arab fashion. The dynamic hostess was super chic in a black-and-gold original creation.
PLACES
Grace's Charity Concert—Peninsula Hotel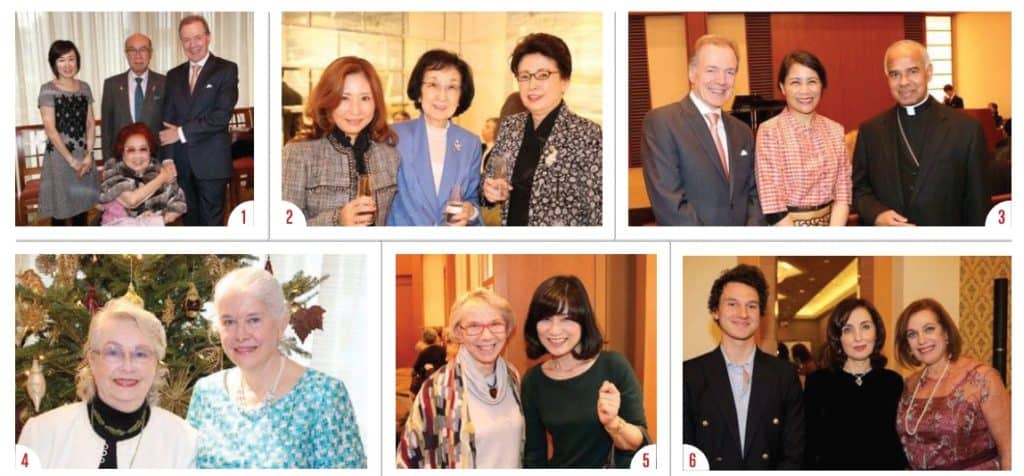 Grace Saito's annual autumn charity concert was held in the Peninsula Tokyo Grand ballroom on November 25. It was a marvelous afternoon of music—violin and piano, and tenor, soprano and baritone vocalists. Grace is one of our city's most generous philanthropists, and as always at her events, there was a big turnout. The concert was in cooperation with Rotary Int'l District 2750 and proceeds went towards the eradication of polio. For the closing of the concert, the audience joined the participating artists in singing "We are the World."
SPECIAL EXHIBITION
Other January and February happenings here included photographer Hiroyuki Suzuki's original black-and-white exhibition of his creative photos of construction being done at New York's Grand Central Terminal, which was held at the Grand Hyatt. Hiroyuki's wife, fashion designer Junko Koshino, is—as always—on the go and involved in all kinds of activities. I saw her costumes for the world-renowned Japanese drum group Tao at their performance last year. The costumes were awesome, as was the group's performance, at Bunkamura on January 31 this year. Junko's a super talent in everything she does: and that's a lot.
CIRQUE DU SOLEIL
I just received two tickets from Cirque du Soleil founder and president Guy Liberté for a performance on February 12 of the acclaimed show Ovo, which has had a long and successful run in Las Vegas. The show is sponsored by Daihatsu here, and will run at Big Top in Odaiba through May 11. Cirque du Soleil's shows, as most of your probably know, are pure magic and well worth seeing. I hope you can check this one out for yourself.
Sake Superstars Tasting
Advertising and marketing giant ADK, along with the Tokyo Weekender, Co-op Sachi, and the Sake Samurai Supporters Club, put on an awesome event at the Café Serre over at ADK Shōchiku Square. The talented palates who judge sake at the International Wine Challenge put together a selection of some of their top sake picks in 2013. There was a great spread of food to go along with the nihonshu, and the evening kicked off with some lively remarks from Tokyo Weekender publisher Ray Pedersen. We're looking forward to their next event.
*First published at the Tokyo Weekender
*Images Copyright: Tsukasa Shiga