Bill's Partyline March 2015
PEOPLE
STANDING OVATIONS FOR TAO DRUMMERS
lt was standing room only at Bunkamura's Orchard Hall for the Drum TAO Group's latest show "33 Samurai." The world-renowned group has become a real must-see if you're anywhere in the world where They're performing. The dynamic taiko drums, shamisen, koto and choreography add up to what is not only a great theatrical treat, it's got to be the most exciting and energetic shows of its kind. The large cast of mostly young men and women were loudly applauded by everyone in the full house and received a standing ovation after several encores. 
IRISH AMBASSADOR BARRINGTON'S  WELCOME PARTY 


The new Ambassador of Ireland, Ms. Anne Barrington, hosted a reception to celebrate the presentation of credentials to His Majesty, the  Emperor and to introduce the deputy head of mission, Mr. Diarmuid  O'Leary. Anne, who's very outgoing, is here with her husband Ed Milano. He's an artist and they're a very cool couple. The buffets at the Irish Embassy are always good, but that evening they were very special with turkey, ham cranberry sauce and all the things most of us love for special holidays.  In addition to many members of the Irish community and their friends, a well-known Irish singing group called Anuna was there and we all really enjoyed their singing—the Irish really know how to make good music. It was a really laid back enjoyable evening,  but you can be sure that Anne, her staff, and other Irish  WW friends are super busy preparing for St. Patrick's Day  " events all over Japan. 
PARTIES
LATIN CHARITY BAZAAR — AT TOKYO PRINCE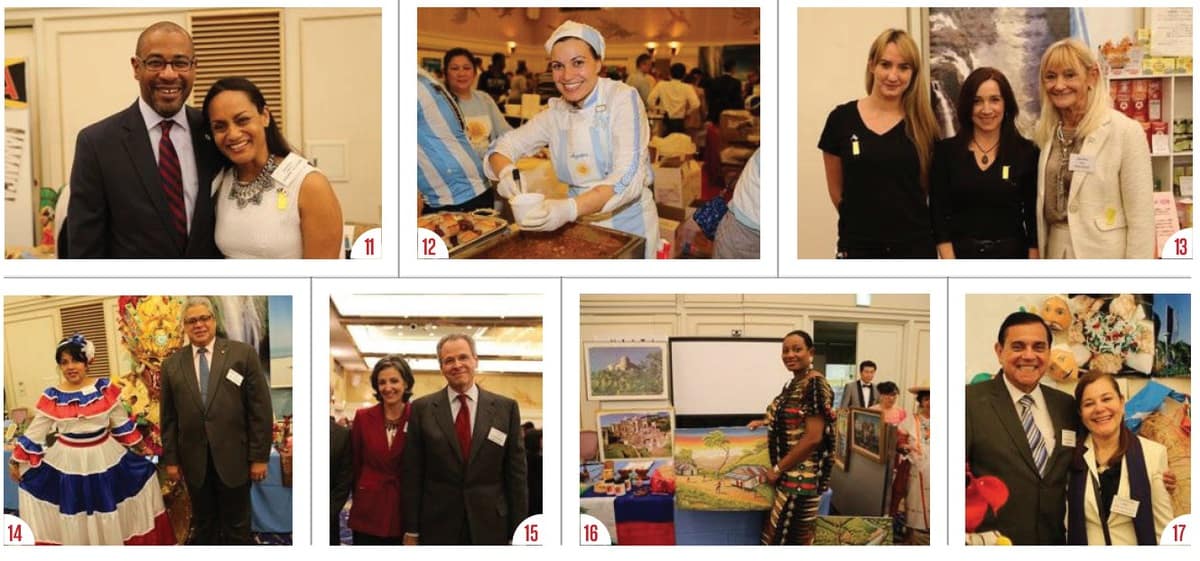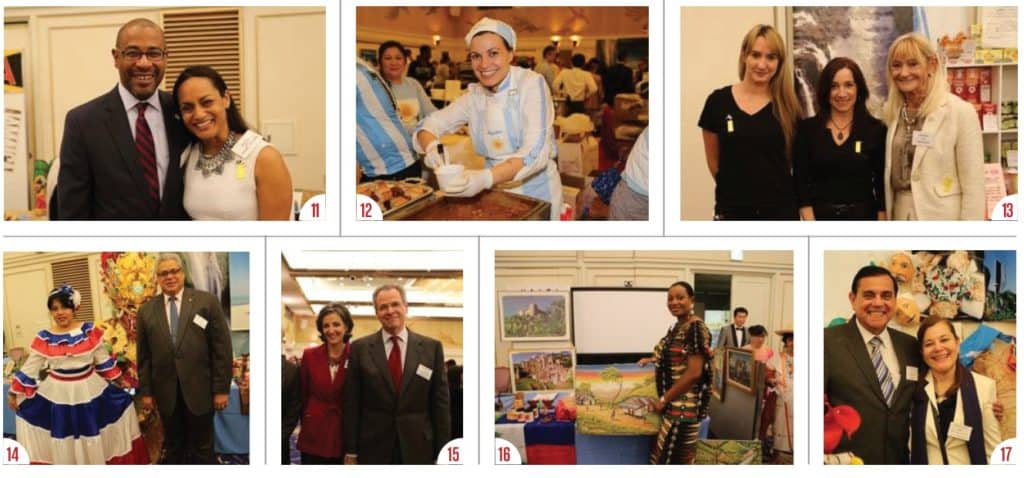 It was a colorful crowd that showed up at the Tokyo Prince Hotel for the  Annual Latin Ladies Charity Bazaar. HIH Princess Hitachi was there to  officiate at the Opening Ribbon Cutting. Each of the Latin Embassies and  a few related embassies had set up booths where they sold an amazi.ng  amount of their count!y's amazing fashions, jewelry, and handicraft.  Most of the embassies had food booths as well, serving homemade  specialties from their country. Several Ambassadors were there  can Argentine, and Peruvian. The showtime that included  supporting their wives and staff. Between them all I ended up eating a lot more than I should have Congratulations to the many who went all i.n to make it all possible. 
LEBANON NATIONAL DAY – OKURA 
I couldn't stay as long as I wanted, but I'm glad I left another event  early and got myself over to the Okura for Ambassador Mohammed  E1 Dib and his wife's Lebanon National Day reception, The Ambassador's speech was short and meaningful. After the opening ceremony guests relaxed and enjoyed the laid-back ambiance of the evening.  The buffet of Lebanese food sure brought back memories. Years ago I used to drive from Beirut to Balab for the music festival there. We'd  always stop by one of the hillside restaurants for a marvelous Lebanese meal that included a couple dozen different specialties.
ALGERIAN NATIONAL DAY RECEPTION & SAYONARA 
Walking around the beautiful Algerian Embassy with its tile floors,  many arches, garden, and fountains, you really feel like you've stepped out of a page from Arabian Nights. The Embassy, I might add, has one of the best chefs in town for Arab food, and the variety is amazing, You could always expect true Arab hospitality whenever popular Algerian  Ambassador Sid Ketrandji and his wife Amal invited you to their home in Mita, but what we didn't expect when we went to their reception was hearing the bad news for their many friends—they would be leaving ]apan in about 10 days.
PLACES
Some big changes have started in my own neighborhood near the Vietnamese Embassy in Moto-Yoyogi. I lived there for almost 30 years and they recently tore down the old house across the narrow street in front and cleared all the greenery in what was nearly a city block there. The many construction workers have really been working hard, and come April, people start to move into the huge condominium building they've built there.
I'd like to share some great smaller places I  often patronize. There's usually a line waiting at the Omotesando location of Max Brenner Chocolate Shop, and they also recently opened one in Hiroo Plaza—the chocolate pizza's fun. The Little Pie Factory across from  National Azabu Supermarket features a variety of fresh daily fruit, meat and seafood pies that cost ¥380 to ¥450. Brian Mori now has an interesting and tasty selection of Italian favorites (pasta, risotto, pizza) in most of the many Segafredo Espresso shops around town. The one in Hiroo by The Little Pie Factory and the one in Shibuya across from H&M is the most popular with foreigners.  If you're in the mood for some tastefully prepared, beautifully presented Japanese food, visit Ootoya Restaurant. It's downstairs by Segafredo and Citibank in Shibuya.
*First published at the Tokyo Weekender
*Images Copyright: Tsukasa Shiga