Bill's Partyline March 6th, 2009
PEOPLE
I met many people last month. First, there was Guy Laliberte, the founding president of the now world-famous Cirque du Soleil. He was in town for the opening of his new show Corteo in the bigger than ever tent-building in Yoyogi Park. It was also nice having long-time friend Eric Clapton back in town. Udo Intl Artists brought Eric in for a series of sold out concerts. Sony had a press conference at the Ritz Carlton for frequent Tokyo visitor Will Smith, first-time-to-Tokyo actress Rosario Dawson, and director Gabriele Maccino to promote their film 7 Pounds. It was also nice having Hong Kong producer Bill Kong here to promote his ballet-inspired film Subaru for Warner Bros. It's his first Japanese film and the actresses, Meisa Kuroki and Kaori Momoi, were both at the press conference at the Grand Hyatt. I spent some time in Shanghai with Bill and superstar Jet Li when they were filming Fearless. Looking back, I can honestly say it was a great experience. A special kudos to Jet, who is really devoting his life now to doing so much for others.
PARTIES
Irish Prime Minister Visits Tokyo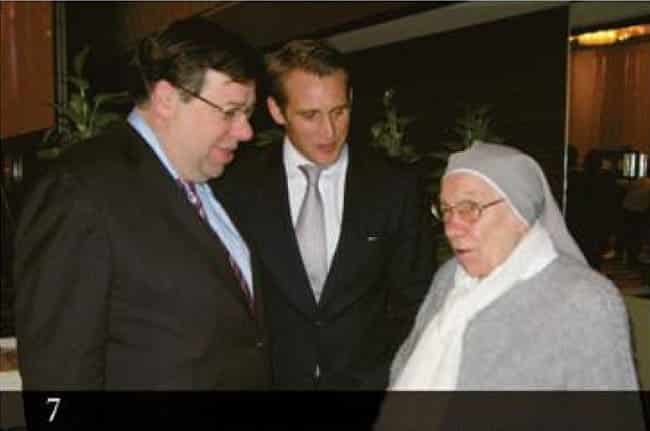 It was a full house at the New Otani's Tsuru banquet room when Irish Ambassador Brendan Scannell and his wife Margaret hosted a reception on January 14th. The occasion was the visit to Japan of the Prime Minister of Ireland An Taoiseach Brian Cowen TD. The PM was invited by the Japanese government and his visit included meetings with Prime Minister Aso and members of the Imperial family. PM Cowen was with a delegation of about 40 Irish business leaders and they kept busy meeting long time business partners here and making new contacts as well.
Ambassador Scannell told me there were about 2,000 Irish living in Japan. Many were at the reception that evening. I appreciated his always kind and considerate wife Margaret introducing me to another super Irish lady, Sister Pascal. She has devoted most of her 95 years to serving God and helping others. She still has that Irish twinkle in her eyes and still keeps very active. She also likes to sing.
Super Colombian Cultural Promo
Colombia's popular and always busy Ambassador Senora Patricia Cardenas has really been doing an awesome job of promoting her country here. Her cultural 'Colombia in Japan' program has just been one after another special and often spectacular events. In university I was an anthropology major, specializing in ethnology, and so the highlights of the promotion for me were performances by two of Colombia's top dance groups, Ballet Folklorico de Antioquia and El Colegio del Cuerpo. The energy, color, and a bit oferoticism from the first group, and grace and drama of the second were all amazing. Guests enjoying it all included Princess Takamado's daughters Princess Tsuguko and Princess Noriko, TIH Prince and Princess Hitachi, and visiting Colombian Vice President H.E. Francisco Santos Calderon.
Bahrain Photo Exhibition
Bahraini Ambassador Dr. Khalil Hassan and his wife Dr. Salwa Almahroos have had a heavy schedule of events to promote their country recently. In addition to their national day reception at the Imperial Hotel, they hosted a marvelous photo exhibition on the history, development, and culture of Bahrain at the Roppongi Hills Arena. Our congratulations. Now that I've covered people and parties, a few notes on places. If (a big if) things go as planned I have hopped on an Austrian Airlines flight on February 28th and have flown to Vienna for a few days in the beautiful (and cold) city before heading for warmer weather in either Tunisia or Morocco. More on all this later.
PLACES
Tolman's Toko Shinoda Exhibit at the Peninsula
Whenever renowned art dealer Norman Tolman does something you know it's going to be something special. It was all that and more at his recent exhibition of top artist Toko Shinoda's new paintings in the Ginza Ballroom at the Peninsula Hotel.
Toko, Tolman's 'star' is 95 and just never stops creating her beautiful masterpieces. It was nice seeing Norman's daughter Hilary at the exhibit and this is the first time I had met his good looking livewire, five-and-a half-year-old grandson Lucas. The exhibition featured 36 paintings, all beautifully shown. Guests included government officials, diplomats, business leaders, and true art lovers. It was a classy evening in every way. Norman, who's known worldwide for his knowledge of, and connections with, the Japanese art world really keeps busy.' here are Tolman Collection galleries in Shanghai, Singapore, New York, and Tokyo. His huge, beautiful apartment in Kamiyacho is also a showplace for Toko and other top artists' works. Norman's just back from Finland where he opened a show of five Japanese women artists and had "a wonderful timer He never slows down.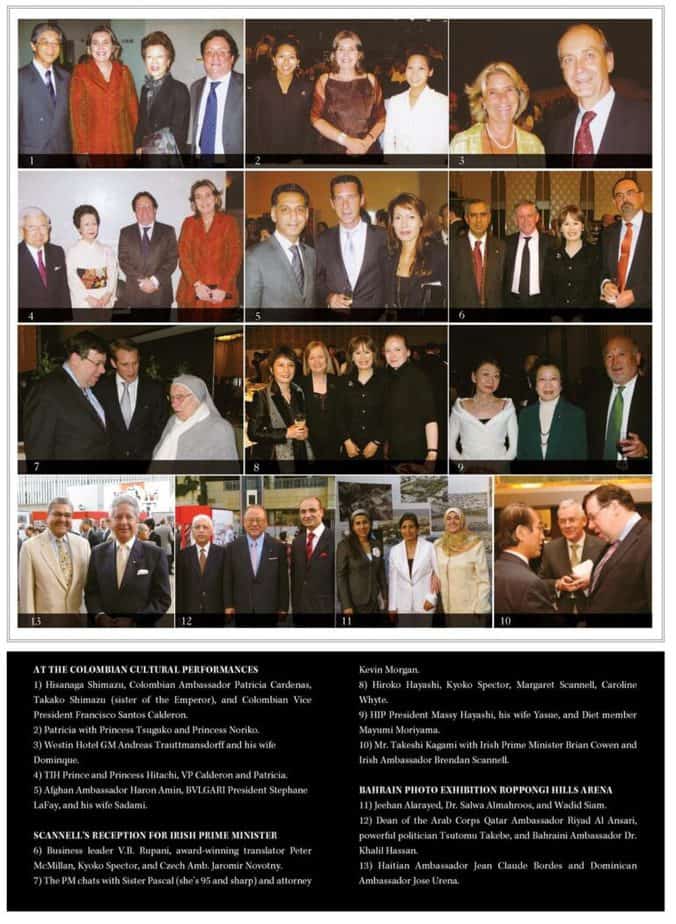 *First published at the Tokyo Weekender
*Images Copyright: Tsukasa Shiga