Bill's Partyline May 2014
PEOPLE
Moving on, I'd like to thank a lot of really good people for their hospital visits and support. These included a lot of popular and busy diplomats—Omanian Ambassador Khalid Muslahi and his wife Abeer, Palestine Ambassador Waleed Siam and his wife, Maali; Philippines Ambassador Manuel Lopez; Paula Bowers, wife of the Canadian Ambassador, Bicky Comberbach, wife of the Zimbabwean Ambassador; and Yasmirte Tsamados, wife of the great Greek Ambassador. A whole lot of other talented, well worth knowing friends also dropped by, including former Tokyo American Club President Lance Lee and his son Lance Jr., baseball guru Wayne Graczyk, Segafredo Espresso owner (Japan and Asia) Brian Mori, top art collector and gallery group president Norman Tolman, and many more. These are the kind of people we all need as friends. There just isn't enough space to go through what they and so many friends did to help me get through my medical crisis. God bless them all.
PARTIES
NEARY'S PARTY FOR THE VISMNG IRISH PRIME MINISTER
It was a power-packed evening when Irish Ambassador John Neary and his wife Kathleen hosted a reception at the Okura to welcome the Taoisech (Prime Minister of Ireland), Enda Kenny, to Japan. The outgoing and truly personable Prime Minister was here in response to an invitation extended by Prime Minister Abe during his successful visit to Ireland in June 2013. Other special guests that evening included First Minister Peter Robinson and Deputy First Minister Martin McGuinness who were in Japan on a trade mission, as well as Irish Minister for Agriculture, Food and the Marine, Simon Conveney, who accompanied the P.M. on his visit. The Irish P.M. and the other VIP's key objectives were to further increase Irish trade, economic and political relationships with Japan, and to explore potential areas for future collaboration between Japan and Ireland. Mr. Kenny spent two days in Tokyo and traveled to Nagoya and Osaka to meet with Japanese and Irish business leaders there. Happy to report his meetings with Prime Minister Abe and Osaka governor Matsui were very successful The ambiance at the Okura event was excellent, with the Prime Minister really going all out to meet, talk, and pose for photos with the many people there.
QATAR'S NATIONAL DAY


Qatar Ambassador Yousef Bilal and his wife Jamila went all out to make a glittering reception for their country's national day reception. The venue, the Imperial Hotel's huge Peacock Room, was full of interesting people from all walks of life, and the lavish buffets of Arabic, Japanese and Western foods were beautiful and bountiful. The Ambassador's wife had worked with the hotel staff on setting up a large Arabic-style lounge where guests could really enjoy the festive celebration.
HYMAN AMBASSADOR DEEPA GOPALAN WADWHA'S FESTIVAL
To celebrate India's 65th Republic Day, a festival was held at The Okura. It was an exciting get-together with great Indian food, traditional dancing and a colorful kaleidoscope of fantastic Indian fashion. The highlight for me was receiving a work-of-art invitation to the wedding party (four days in New Delhi), which included a musical evening, a traditional ceremony, and the wedding of Toyota and Amil Kami's daughter Tanya to Kristopher Brown. I've been to Indian weddings—they're unbelievably beautiful. So sorry I had to miss this one! Big congratulations to the Kamis and the newlyweds; I heard it was all really very special. A few weeks later Ambassador Wadwha hosted a sakura-viewing party on the terrace of the Indian Embassy—one of Tokyo's most beautiful places for • the much-cherished tradition. In closing, our congratulations to long-time friend Taishin Kohirumald, a three-time Japan K-1 Champion. He recently opened a very upscale gym in Ebisu: Tel. 03-6450-5072.
PLACES
HIROYUKI SUZUKI PHOTO EXHIBITION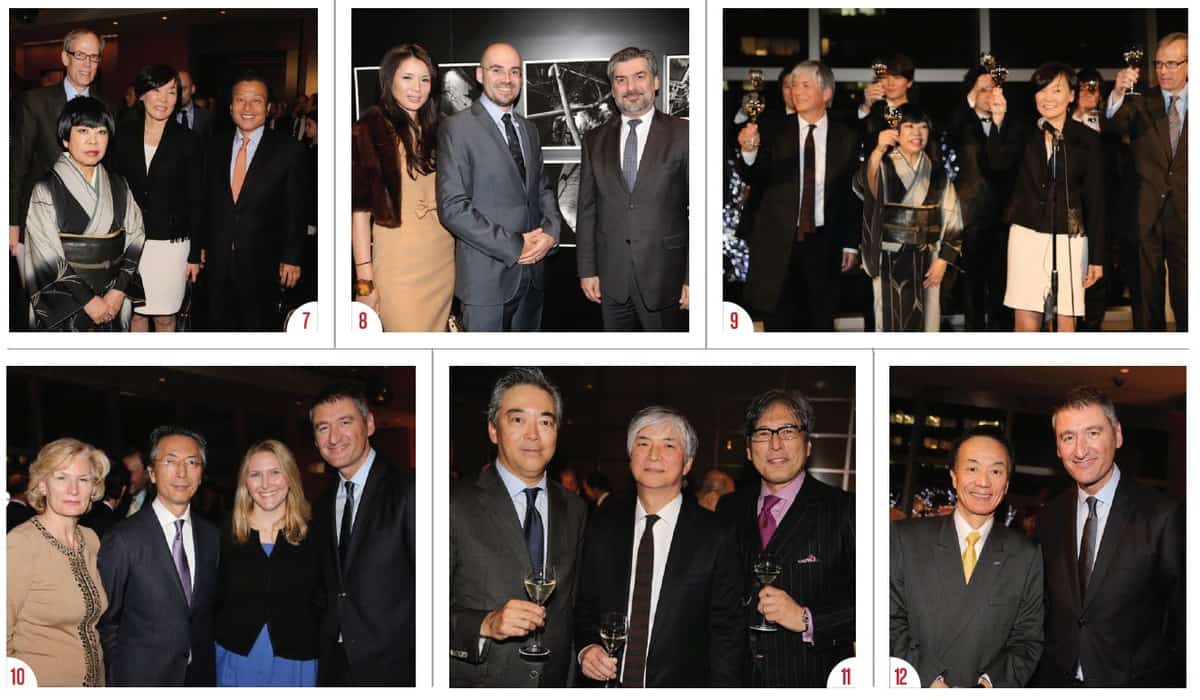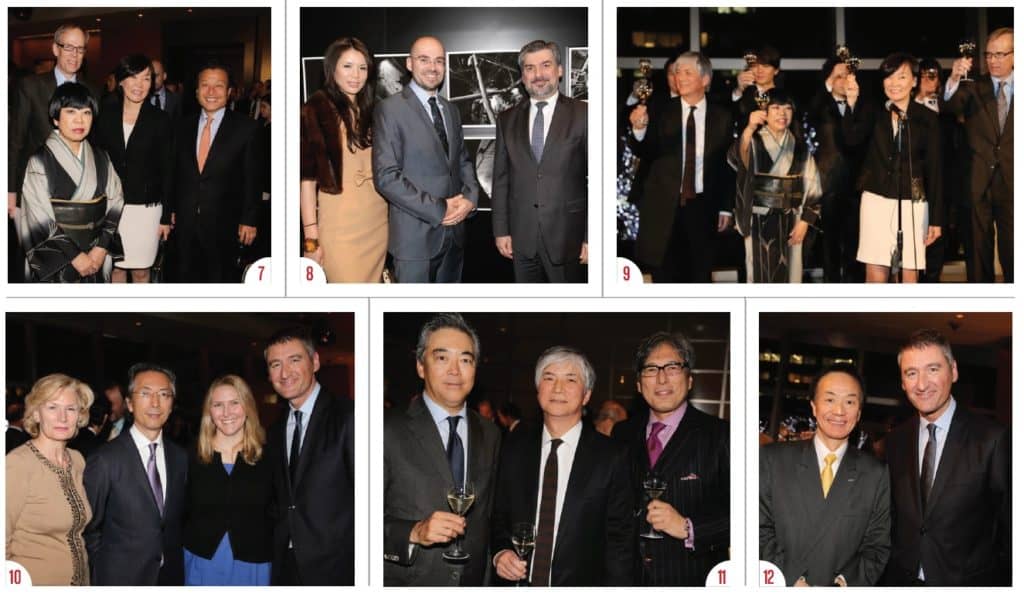 It was a very special evening at the Grand Hyatt, where a lot of really interesting people showed up for noted photographer Hiroyuki Suzuki's latest exhibition. He's really gained fame over the last few years with his creative monochromatic photos of enormous construction sites the world over. This exhibition is titled "The Next Level A Dynamic Original Collection of Photos of the Grand Central Terminal in New York and lbkyo Station." Special guests that evening included Prime Minister Abe's wife Aide and U.S. Minister Counselor for Public Affairs, Mark J. Davidson, who both made excellent opening speeches. Hiroyuki's wife, world famous fashion designer Junko Koshino was also there, of course.
It's been almost forty years since I started writing "People, Parties, Places," and bragging a bit, 35 years that've worked on making first the Lexington Queen dub, and later the New Lex Tokyo dub in Roppongi. Both of them were known the world over as the places for spotting celebs of all kinds, and they almost always visited the clubs when they were in town. Sorry to say, but the Roppongi club scene has really changed. As Roman Adrian Gybriwsky wrote in his book Roppongi Crossing it looks like the Mori company, Mitsui, and the many museums and upscale restaurants in Roppongi are really pushing on making the neighborhood much more classy. Along that line, I'm trying to figure out why they've made the main streets of Roppongi narrower, and impossible to park on. I have some friends checking it out and from what I've heard, it was for President Obama's visit at the end of April.
*First published at the Tokyo Weekender
*Images Copyright: Tsukasa Shiga