Hersey's Partyline May 2017
THE ESCALAS SAY SAYONARA
There was a long line waiting outside the Peruvian embassy to say sayonara to the popular Peruvian Ambassador Elard Escala and his lovely wife Cristina. I didn't mind waiting, as it gave me time to talk with the Kuwaiti Ambassador and Mrs. Al-Otaibi, and to get to know the Russian Ambassador and his wife better. The Peruvian embassy is not small, but it was packed with people all wanting their photo taken with the Ambassador couple.
It was proof of the popularity of the Escalas who, after five years in Tokyo, have returned to Lima for a new assignment by the Ministry of Foreign Affairs. Elard and Cristina did a lot of special things to promote Peru during their posting here. They arrived about a year before the beautiful new embassy opened, and used it for seminars, exhibitions, and special events to promote their country. The Peruvian food festivals were especially impressive and of course, very popular.
DEWI'S DINNER FOR HER VISITING DAUGHTER
It was great having Dewi Sukarno's daughter Karina in town for a few days. I watched Karina grow up and we had some good times with a lot of interesting people. Karina, who now lives in London, was here with her husband Frits Frederik Seegers, and 10-year-old son Kiran. I had a great evening at a cherry blossom dinner for Karina and assorted celebrities at the famous Shiba Tofu Ukai restaurant, hosted by Dewi, who had just come back from Vietnam.
PARTIES
ST. PATRICK'S DAY HAPPENINGS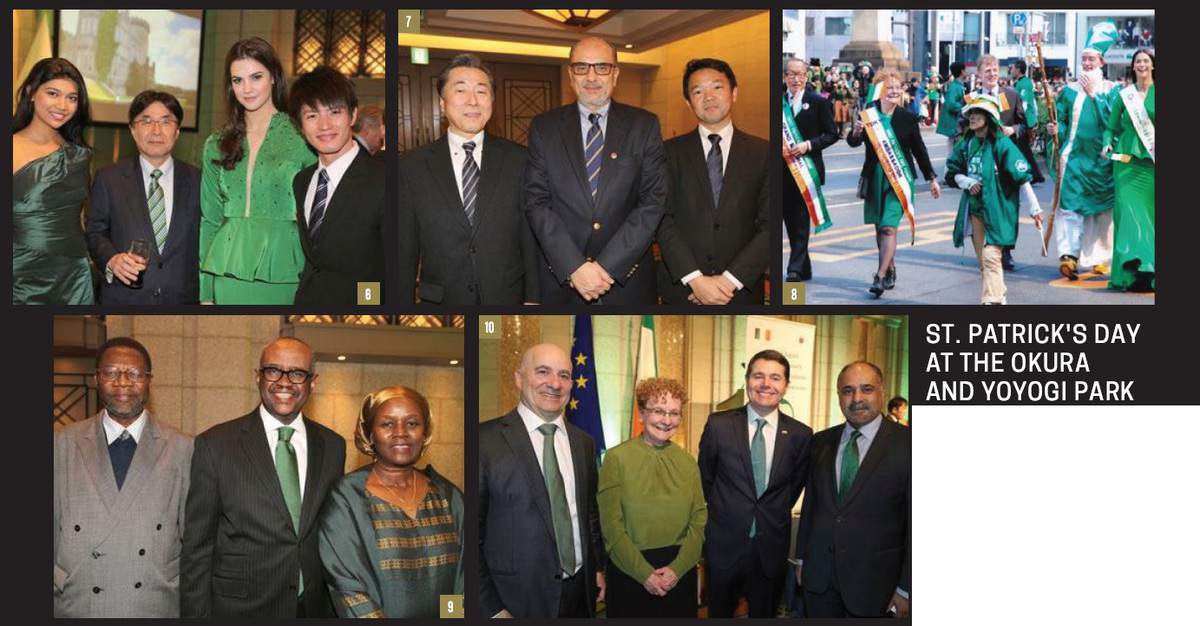 A big, sincere, and well-deserved kudos to Irish Ambassador Anne Barrington. She, along with the Irish community in Japan, and the many Japanese people who love Ireland went all out this year, making St. Patrick's Day a nationwide celebration. This year marks the 60th anniversary of Japan-Ireland diplomatic relations. Anne, who's an excellent speaker, made a very warm and meaningful welcome speech.
I was a bit late, but I made it in time to enjoy the Irish, Japanese, and EU anthems, which were played on Irish flutes, fiddles and bagpipes. In the Okura Hotel's popular Ascot Room, Anne and her artist husband Ed Milian° introduced me to Irish Minister Paschal Donohoe, who was here for the celebration. I was also happy to meet two other special guests – Miss Japan, Priyanka Yoshikawa (who's half Indian), and her new best friend, Miss Ireland, Niamh Kennedy. Fame hasn't spoiled either of these beauties. They're both super nice, and I was happy to hear Niamh may be back in Japan for a big rugby game later this year.
BRUNEI DARUSSALAM'S NATIONAL DAY AT NEW OTANI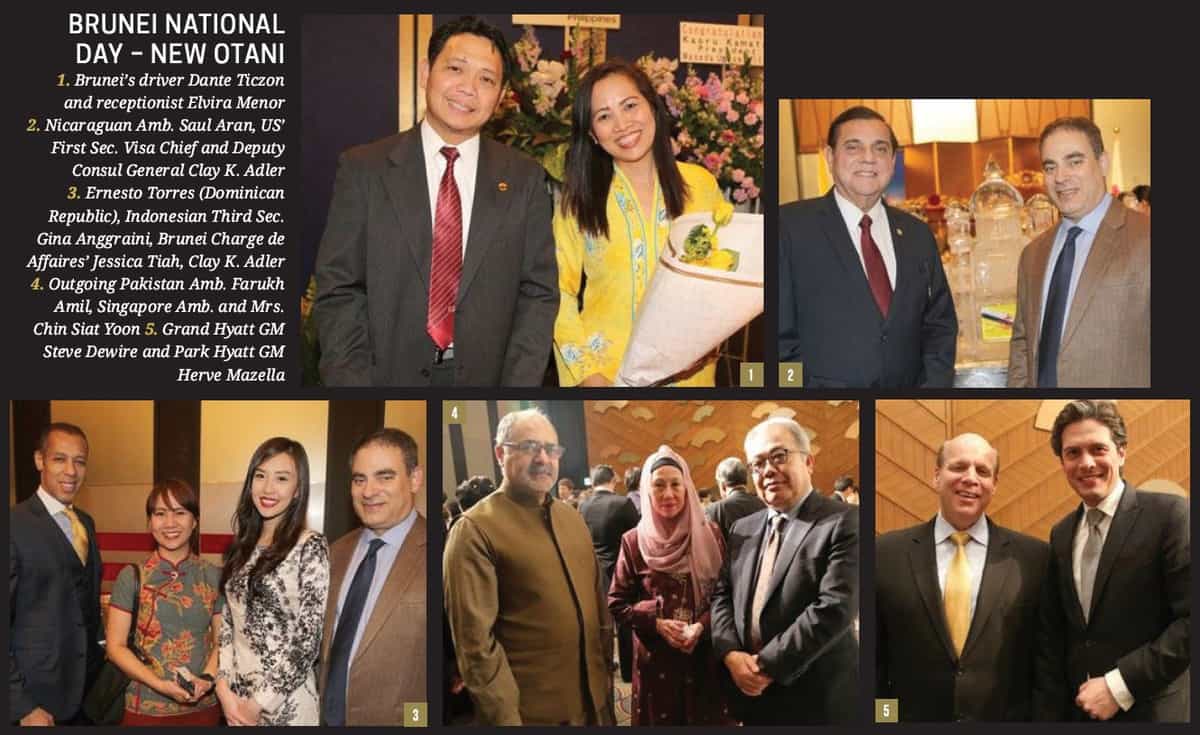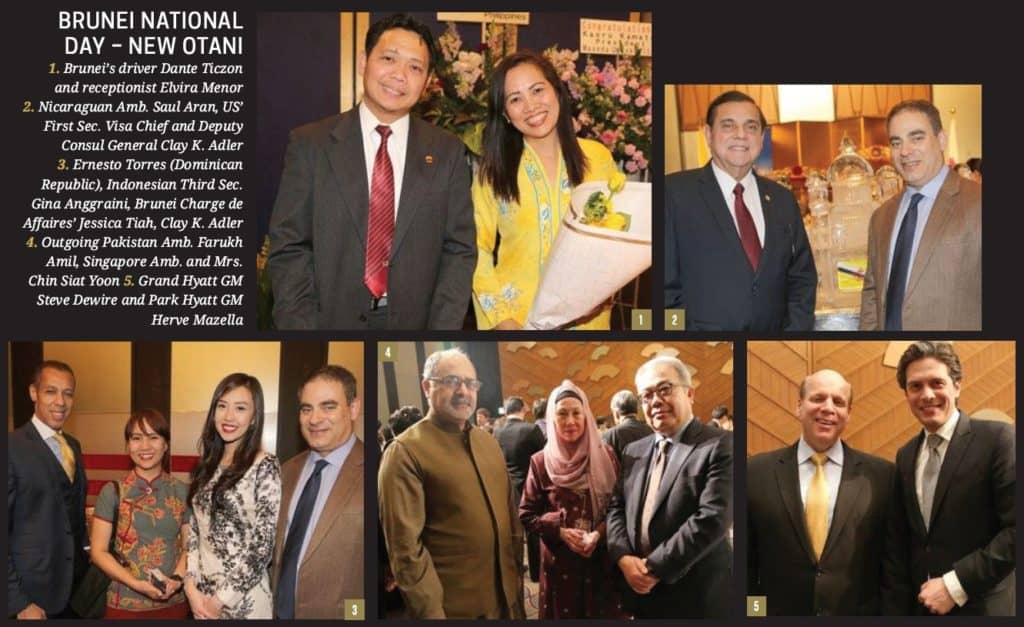 I wish the new Bruneian ambassador Ms. Kamilah Hanifah and her husband all the best in Japan. Before they arrived, the embassy celebrated their National Day with a well-attended reception at the New Otani. My good friends, the previous ambassador and Mrs. Mahamud Ahmad had already returned home, so a young, beautiful, and very smart lady called Jessica Tiah hosted the special evening. For a cultural touch, the embassy set up an interesting exhibition of traditional Bruneian musical instruments. The buffet, especially the selection of Bruneian specialties, was excellent. The Hyatt was well represented by Grand Hyatt GM Steve Dewire and the Park Hyatt's GM Herve Mazella, both of whom were kept busy preparing for the many guests coming to see the cherry blossoms.
PLACES
Earlier this month we checked out Tokyo's colorful, fun, and growing-in-popularity Rainbow Pride week-long celebration. In addition to the three-kilometer parades, where some of the costumes get pretty wild, Yoyogi Park was buzzing with performances, parties, and booths run by both individuals and businesses that support the LGBTQ community. I hope you also took time to camp it up a bit.
One of my favorites, West Side Story, will be back with an international cast in July. It's got to be one of the best shows ever — from the choreography to the story, and the Bernstein tunes. What must be one of the greatest Japanese drumming shows, Drum Tao, just finished 15 performances at Zepp Blue Theater in Roppongi. The talented cast, the staging, and the costumes by Junko Koshino make their show a real must-see while you're in Japan. Check it out online.
*First published at the Tokyo Weekender
*Images Copyright: Tsukasa Shiga