Bill's Partyline November 2011
PEOPLE
Philippe and Christine bid adieu
The spacious and chic French residence in Hiroo was, as expected, wall-to-wall people for ambassador Philippe and his wife Christine Faure's sayonara. After three and a half years in of endless contributions to French-Japanese relations, the popular couple has returned to Paris where he will go into private business. Christine is a wonderful person in addition to supporting him in his work will continue to work with charities and many community projects there. Guests in attendance that evening were really a sea of familiar faces, mostly our city's real movers and shakers, they included top Japanese diplomats, their wives, business leaders, fashion designers, personalities from the arts, and entertainment world and of course leaden in the very active French community here. It was nice seeing fashion designer Hanae Mori, her son Kei and her long-time personal assistant Suita san, as well as designer Jun Ashida, his wife and their daughter Tae who's also a popular designer. The beautifully set up, bountiful and fabulous gourmet buffet was a perfect example of Christine's ability to get things done. She proved this when she was chairperson of the EMS cherry blossom ball and so many other times as well. Needless to say like everyone who had the privilege of getting to know this very special couple, I'm so thankful and will really miss them.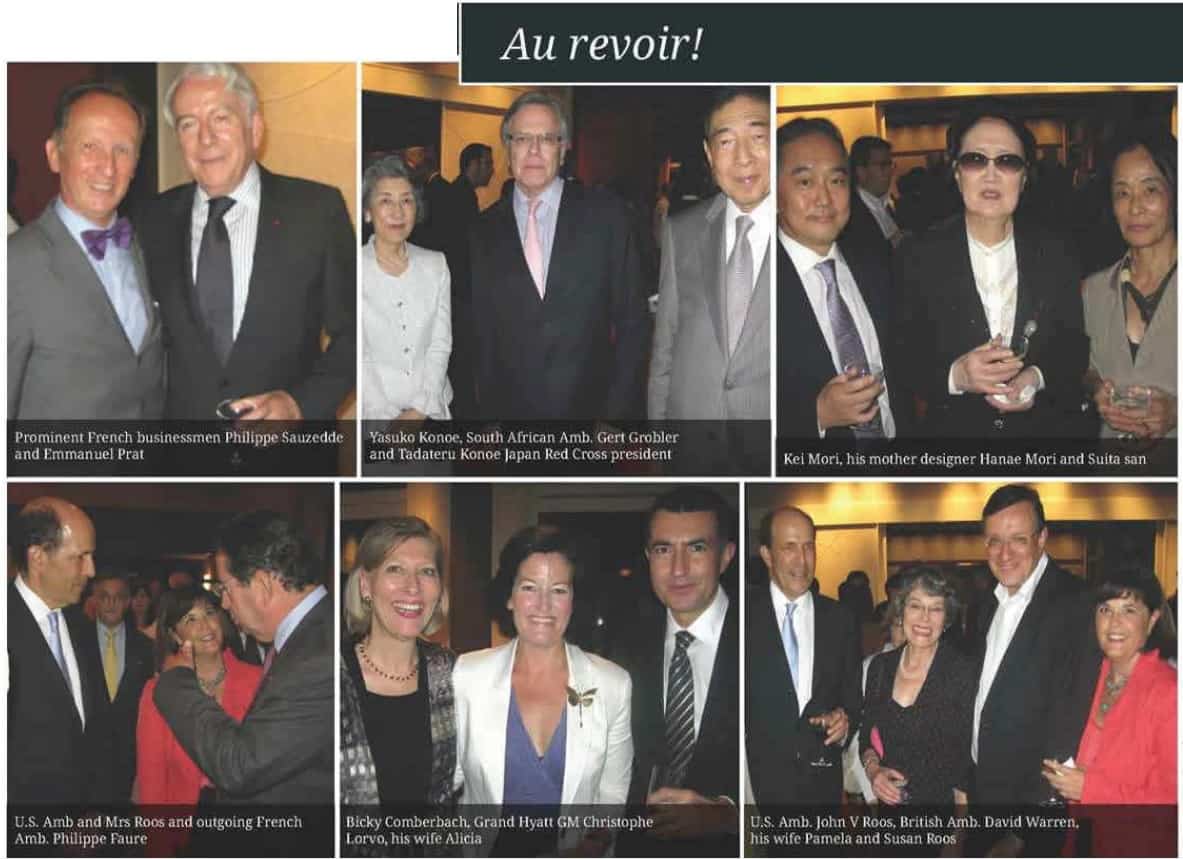 I really appreciated Fox producer Dan Smith introducing me to LW Jordan, a cool 14-year-old who's making big news in the golfing world. Jordan who was here with his father on promotion is also a rapper and actor. they were also special guests at Fox's big launch party for their new 135238 channel, performers there included British singer Leona Lewis. pop star Crystal Kay and Japanese duo Def Tech.
PARTIES
Welcome Party for the Westin's new General Manager
There was another laid-back evening at the beautiful Westin hotel, which gave guests the opportunity to meet the new General Manager Weimar Kielnhofer and get to know him and his dedicated staff. Like his predecessor, Dietmar is from Austria and prior to his appointment here he was GM at the Sheraton in Ito Chi Minh city. He's in Japan with his wife and son and we wish them all the best. The Westin people are super-busy with their U.S. food festival. which runs until the end of this month and in December they'll have a big German festival in honor of 150 years of friendship between Japan and Germany. I recently talked with Andreas Trauttmansdorff who was Westin GM here for several years and believe me, a real friend. He and his wife miss Tokyo but are really enjoying discovering dynamic Shanghai where he's GM at the Westin. Dominique has continued teaching yoga and is happy to be able to spend time with her daughter who's also living there, I really hope to visit them soon.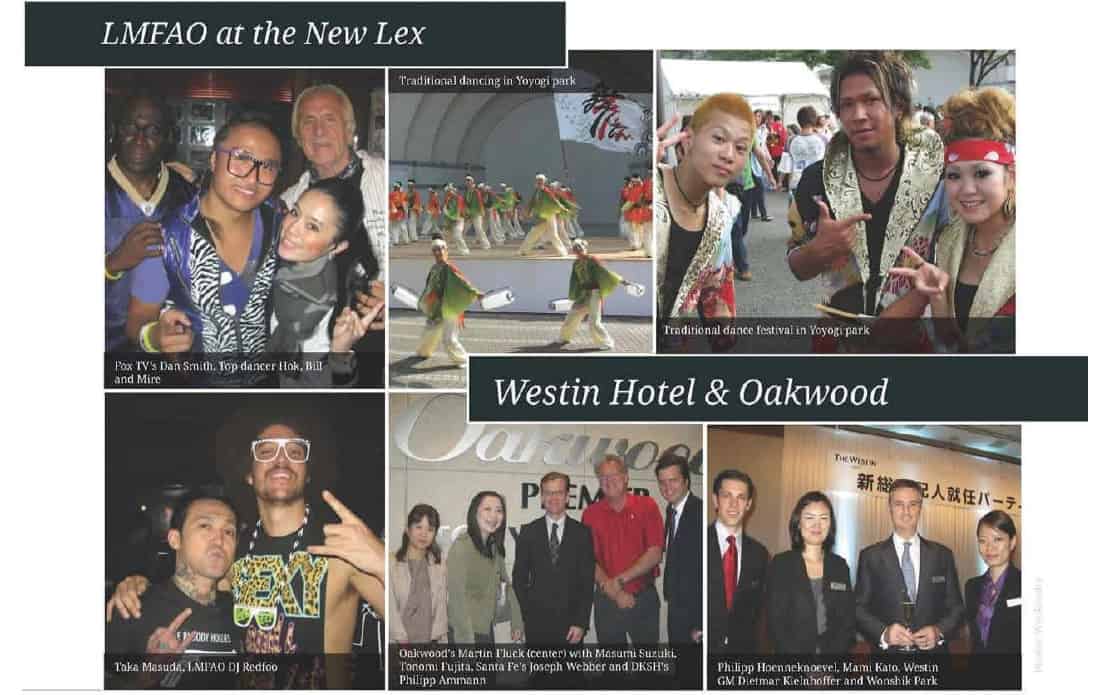 "LMFAO" party rock group party at New Lex
The club really rocked when visiting rock group LMFAO partied from late night until early morning recently. LMFAO, as you may know has two meanings, the first is "laugh my f****** ass off",I don't feel Pm a prude but I prefer the second, more family friendly version: "Loving my friends and others". The two main men in the group, Drs Redfoo and SkyBlu are the son and grandson of Motown records founder Berry Gordy. The group had some great dancers as well, these included the Japanese dancer Hokuto "Hok" Konishi, who grew up in the U.K. but now lives in the U.S. And from what I hear is on about every TV show in the States that feature dancers. it really turned out to be an amazing night. The group not only partied, they danced and performed two of their top hits "party rock" and "sorry for party rocking". I usually have a club policy when we have celebs In of "No autographs or photos" but after talking to the chilled out members of LMFAO about this and they said "no problem," so I relaxed on the rules a bit. This was great and so many young Japanese and international dubbers left with their pies with the stars. It was one hell of a special night in every way.
PLACES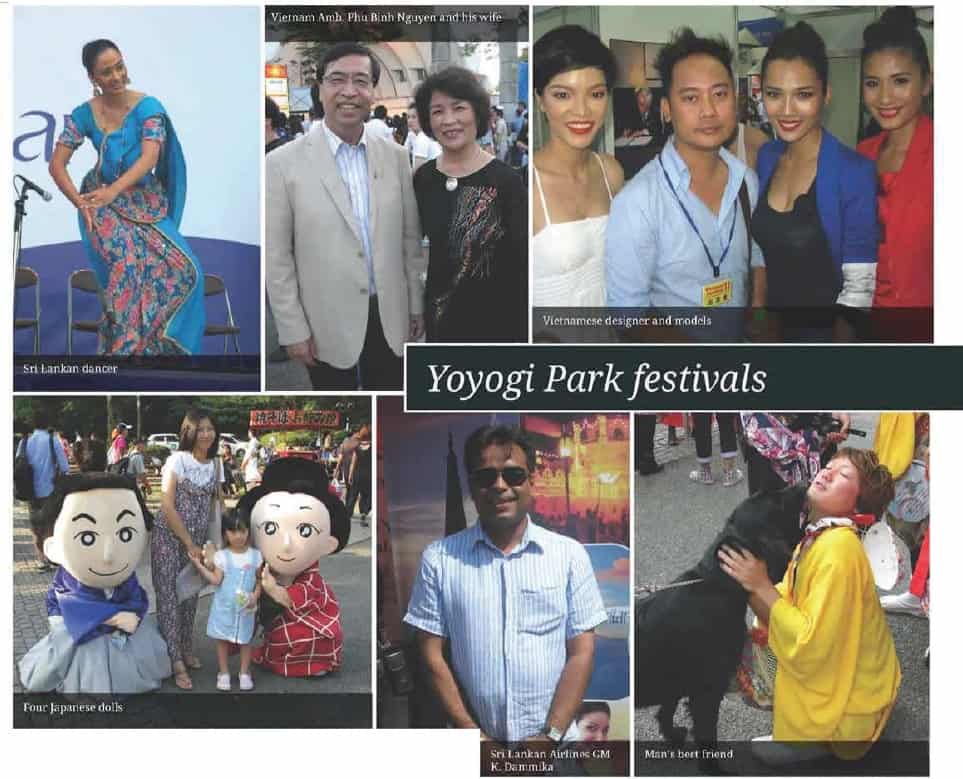 Yoyogi Koen, which is a short walk from my home, is a great spot for a weekend stroll or break from the hustle and bustle. The local government has really done a great job of event planning at Yoyogi with some incredible international festivals this year. My highlights were the pets day, the hip hop MC competition, the Earth days, sports events, traditional Japanese festivals, concerts. cheer leader competitions, in fact there are things happening literally every weekend. Most festivals are held in spring, summer and early tall. Things will slow down a bit but during the winter you can bundle up for one of the regular flea markets, where you can find some great and unusual bargains.
I particularly loved the Sri-Lankan festival and I was especially impressed with ambassador Wasantha Karannagoda's speech. Ile had decided not to cancel the special event because of the 3/11 earthquake and tsunami but instead to make it bigger and better to show the world Japan is well on its way to recovery. I really enjoyed the food, fashion and fun at the Vietnam Love Festival and the Nepal food and music that same day. The park really came alive with samba music, colorful costumes and lots of impromptu samba dancing at the Brazilian festival. I also enjoyed the variety of elephants (my favorite animal) carved In wood and even sculptured in sand at the India weekend. One of the most exciting and memorable weekends was the two day parade and competition of Japanese traditional dance groups. The costumes and hairstyles of the 91 teams were awesome, as was the choreography and seeing so many people really into and enjoying what they were doing.
The Thai Festival which is usually the biggest and busiest event at the park was held at Yasukuni Shrine for one day this year, it seems Yoyogi was booked up and I'm sorry I couldn't get to it. I also want to mention how sorry I am about the suffering of our Thai friends and their neighbors from the floods there recently. t hope they can recover as soon as possible—it seems mother nature's been tough all over the world this year. Kudos by the way to event planners for the arena at ltoppongi Hills. The recent Korean festival and bon odori were exciting and packed with people. All over our great city there are happenings, let's catch up with some recent highlights of Tokyo's social scene.
*First published at the Tokyo Weekender
*Images Copyright: Tsukasa Shiga