Bill's Partyline November 2014
PEOPLE
The city's fashion calendar has been lively. Vogue had their annual fashion night on Omotesando and Mercedes Benz had many events to celebrate their fashion week. Renowned designer Jun Ashida's daughter Tae had her latest collection showing at the Grand Hyatt and it with a big hit with everyone lucky enough to be at one of the three shows there. This is Jun's 50th anniversary in fashion. He'll be showing a retrospective of his work, as well as his latest creations, and is really backing up his talented daughter for her newest show. Needless to say, she's good at what she does. Junko Koshino did the awesome costumes for the spectacular, world-acclaimed Drum TAO rock show and will do the costumes for the group in a show titled Drum Rock—The 33 Samurai, which plays December 9 and 10 at Orchard Hall in Bunkamura, Shibuya. You don't want to miss them.
THE SCHWEISGUTS ARE OFF TO CHINA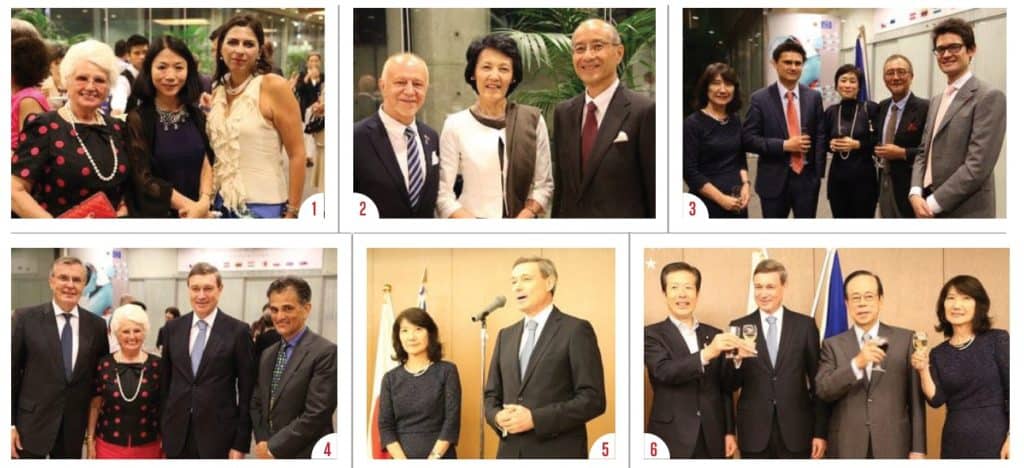 As always, its not easy saying sayonara to good friends, and this was especially true when EU Ambassador Hans Dieter Schweisgut and his super wife Kaoru left for his new posting in China recently. He served here as EU Ambassador since 2011, but I had the good fortune of getting to know him and Kaoru several years ago when he was Austria's Ambassador to Japan. The popular couple have made countless friends during all of their postings over the years—China, Europe and of course Japan. Hans is known as a very capable diplomat and real gentleman. Kaoru is from the Sumitomo family—she's well educated and the epitome of kindness. Their sayonara party was packed with interesting people.
PARTIES
THE NEARYS' HOME TO IRELAND RECEPTION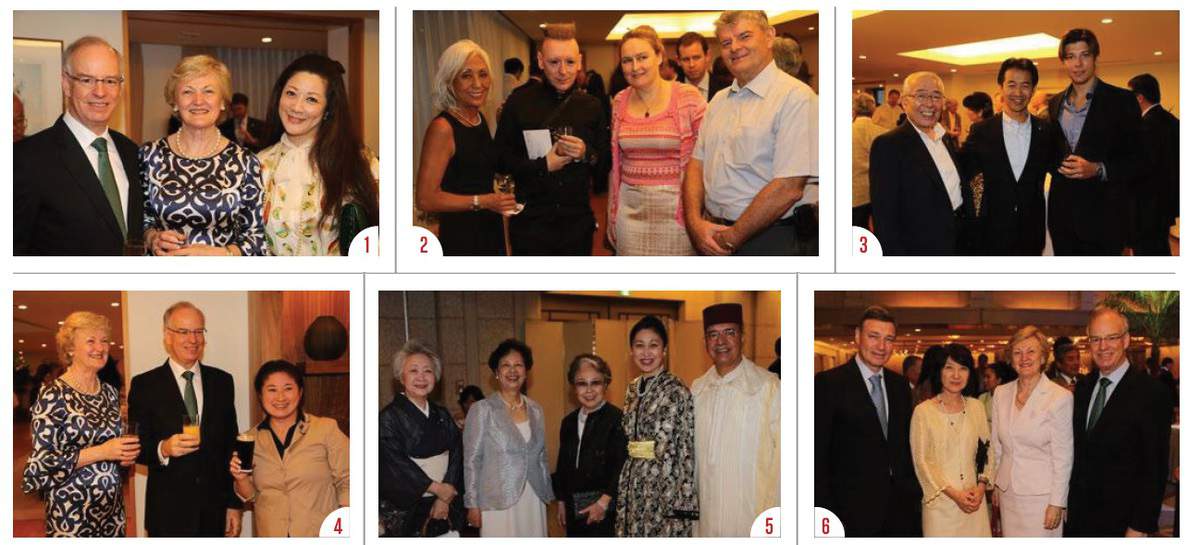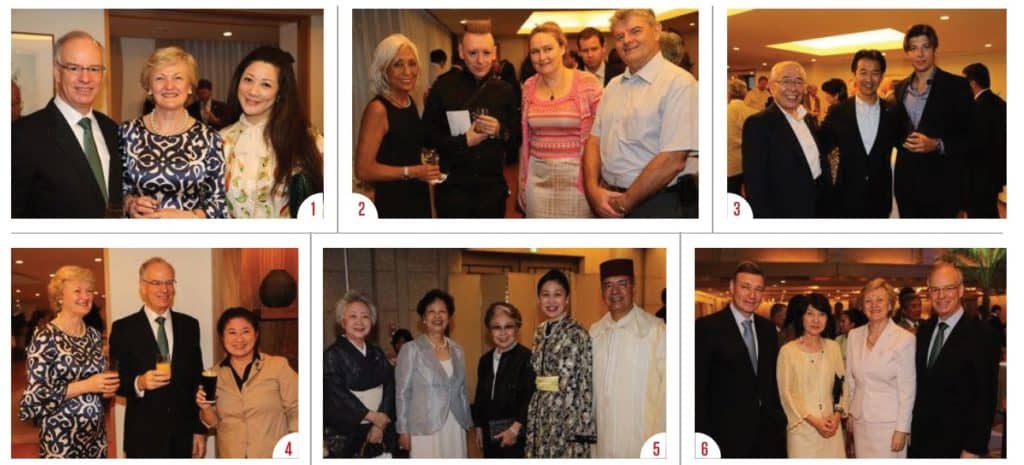 It was as I knew it would be—a wall-to-wall crowd at the home of Irish Ambassador John Neary and his dynamic wife Kathleen. The occasion was to say sayonara to the popular couple, who had been posted in Japan for four years—busy years for them both. John has been a liaison between visitors—including the Irish PM—and Japanese government officials and business leaders, while Kathleen kept super busy as well, often going back to Dublin to help with international VIPs visiting the Irish President. A few of their major accomplishments were the Emerald Ball for St. Patrick's Day, the St. Patrick's Day Parade on Omotesando, which is getting bigger and more colorful as well (mostly green of course), and plenty of dance, poetry, art and other cultural events that were pure excellent Irish all the way. The Nearys are great friends—good people, and will really be missed. We wish them all the best in the Netherlands, where John is now Irish Ambassador.
MOROCCAN NATIONAL DAY AT THE OKURA
Kudos to Moroccan Ambassador Samir Arrour, his wife Utako, and the Okura Hotel. The venue decorations, the food (especially the tajine) and the many interesting guests all added up to a colorful exciting evening. The occasion was to celebrate the 15th anniversary of HM King Mohammed VI's ascension to the throne. I've had a long-time romance with beautiful Morocco, and even had the opportunity to meet the king when he was crown prince. I also showed his super cool younger brother prince Molay around Roppongi when he was in Tokyo. I was really impressed with both of their manners, intelligence and internationalism.
LOTS OF PHILIPPINES HAPPENINGS
As I've written before, our friends, the Philippines Ambassador Manuel Lopez and his wife Maritess are one of the busiest couples in this city of very busy people. On May 31, the popular couple celebrated their 50th wedding anniversary. To mark the occasion they invited many of their friends to Manila for what I heard was a fantastic party at the Lopez family development, "Rockwell." I had to miss this one, but have had many opportunities to attend special events in Rockwell as well as countless fiestas all around what is one of my favorite countries. The history, the culture, the beaches, the mountains, and especially the people make it well worth spending some time there. The Lopezes also worked very hard with their staff and the vibrant Filipino community here, making the Philippine Festival in Ueno Park interesting, colorful, exciting and fun.
PLACES
HOLIDAY HAPPENINGS
Here are a few pre-holiday events that you shouldn't miss. The ILBS Christmas Fair at TAC on Sunday, November 9, from 11:00 am to 2:30 pm. Lots of fun shopping, and good conversation with Tokyo society, original gifts, both for you and for holiday giving. There will be a coffee bar and refreshments, as well as a variety of home-made baked goods available. There's also a chance to win some great prizes with the raffle tickets you buy. Proceeds go to many worthy causes.
Daniel Yoshikoshi is the chairperson this year, so you can be sure that it will be a well-organized event. Ikebana International's Tokyo founding chapter will have their annual Holiday Fair on Monday, December 8, at the Tokyo Prince Hotel. MB Princess Takamado will be there to cut the ribbon. The event features an exhibition of ikebana creations by headmasters of top ikebana schools. There'll be many international booths selling handicrafts and fashion from participating embassies and once again, wonderful baked goods for sale alongside nice raffle prizes. Maali Siam, the wife of the Palestine Ambassador, is chairperson this year, and knowing her, I expect a big success.
Hilton Tokyo, and I will hold our 17th (where did the years go??) Annual Christmas Party for Japanese orphans on Tuesday, December 9, in the afternoon. So many of you have helped make this a truly fun event for so many beautiful kids. Each participant is assigned a little boy or girl, and they buy a gift (less than 3000 yen) for their child, and spend the day enjoying the festivities with them. There's a bountiful buffet for all, balloons, downs, face painters, and fingernail artists, as well as song, dance and fun thanks to the help )of top entertainers Steve Haynes and Rene Bozeman. If you're interested in joining, please give me a call at 090-3200-6767. Thanks on this
*First published at the Tokyo Weekender
*Images Copyright: Tsukasa Shiga