Hersey's Partyline November 2016
PEOPLE
STEVE HAYNES & PAULA JOHNSONS SANNO  BRUNCH
It was a very special group of very special people at Steve and Paula's Sunday brunch at the New Sanno Hotel. The guests, as you can see by the photos, were mostly the contestants and judges for Steven's Miss Supranational Pageant. The event's winner was Risa Nagashima and Steve will take her to Warsaw in December for the international final. We certainly wish her all the best. If you've been to the Sanno's legendary Sunday champagne brunch you know what a feast it is. I was surprised at how much the all slim beauty contestants ate and enjoyed it all. Including champagne and caviar, it's all just ¥3,000.
CEREMONY LUNCH AT RITZ CARLTON 
Thanks to Ceremony president Tsukasa Shiga, who I've known for over 30 years, I've been his guest along with some really interesting people, like lawyer Timothy Langley, Rotary Club's international director Hiro Kobayashi, and plenty more at many of our city's most prestigious hotels' beautiful Japanese restaurants. All of the hotels really go all out to make their meals not only delicious but real works of art, The food and company were both great at the Ritz Carlton's Hinokizaka Restaurant. The many-course meal was awesome, the service by Ayako (Who lived in Australia for several years) and Eri was great, and the view was spectacular. It couldn't have been nicer.
PARTIES
ESCALAS' PERU NATIONAL DAY FOOD FESTIVAL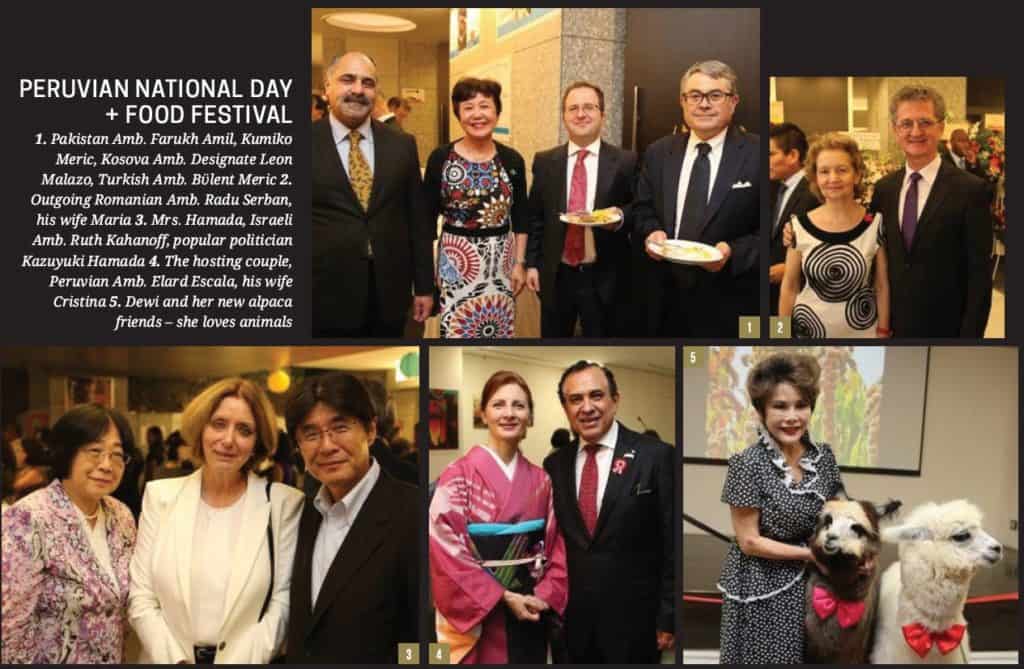 With the growing popularity of Peruvian food here in Japan, I easily understand why Peruvian Ambassador Elard Escala and his wife Cristina had a food festival at their Peruvian 195th Independence Day celebration. It was wall-to-wall people at their modern-designed embassy for the event — a "Pisco of Honor" & "Oishii Peru" evening. Guests enjoyed petting and having their photos taken with two really cute young alpacas. Cristina, always fashionable, wore a Peruvian scenery print kimono, which looked beautiful. The large party venue in the embassy had booths that featured 19 Peruvian food specialties, eight different drinks, and four desserts. It was a totally enjoyable evening in every way. And if you haven't had Peruvian food, you should visit "Aldo Peru-  via Food & Bar" in Kita Aoyama.
POGOSYAN'S ARMENIAN NATIONAL DAY
It was wall-to-wall people at Armenian Ambassador Grant Pogosyan and his wife Natalia's reception at the Okura Hotel to celebrate their country's 25th independence anniversary. It was a full house that night with a lot of friends and other interesting people. The party started with short welcome speeches by Ambassador Pogosyan and  Parliament member Shunichi Suzuki, who's head of the Japan—Armenia Parliamentary Friendship League. I took Patrice Gobat, a Swiss/  Italian university student who was visiting here from Switzerland.  He's a super cool guy and made many friends that evening. These, of course, included the three Japanese models who were promoting the Armenian cosmetic line called Nairian. The Armenian food was excellent and the ambiance warm. Our congratulations on a great celebration. 
ARROURS' MOROCCO NATIONAL DAY RECEPTION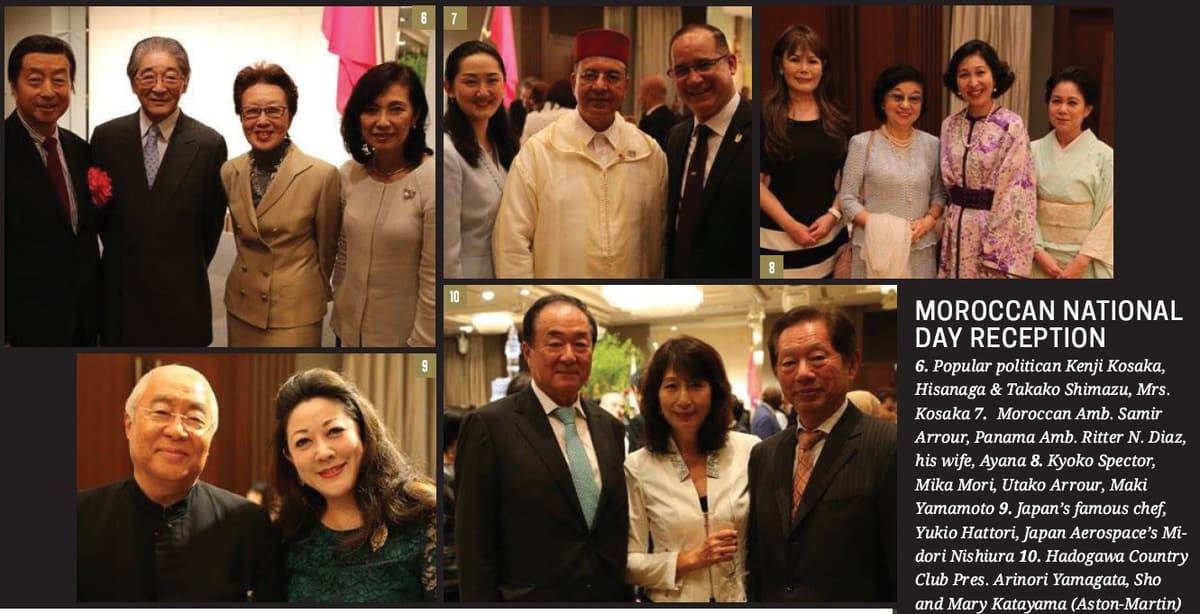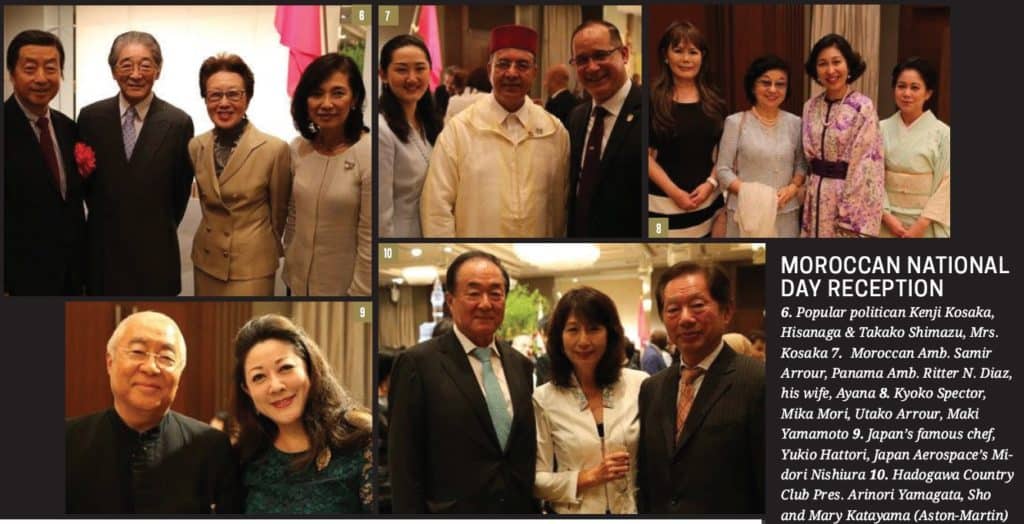 Moroccan Ambassador Samir Arrour has been a good friend since l first met him many years ago when he was counselor and deputy chief at the embassy here seven years ago. He came back as Ambassador, and he and his wife Utako are a very popular couple.  Their reception at the Okura to celebrate the 17th anniversary of the enthronement of H. M. King Mohammed VI, as well as Morocco's 60th anniversary of diplomatic relations between Japan and Morocco, was a laid-back and enjoyable evening for the many guests there. I  enjoyed talking with popular Diet member Kenji Kosaka. His late and great father — a famous Minister of Foreign Affairs – was the man who first introduced me to H. M. King Mohammed VI when he visited Japan as the crown prince. 
PLACES
NATIONAL AZABU'S BARBECUE
Close to 400 people got together in the parking lot of National Azabu Supermarket for their annual barbecue. In addition to all they could eat  (steak, lamb, health food, and of course, paella), the late afternoon guests had the chance to see friends and meet many interesting people for the first time. Many food and health outlets had booths there, and they all kept busy. These included the store's new fast delivery service honest-  bee, the healthy Tokyo Bento parlor, and the Tokyo American Club. There was also some great live music and a variety of children's games, The store's hardworking and always helpful staff really made the event an enjoyable one, where many of the guests came early and stayed late. Our congratulations on the success of it all.

*First published at the Tokyo Weekender
*Images Copyright: Tsukasa Shiga