Hersey's Partyline November 2017
PEOPLE
MIN-ON SPONSORS SOUTH AFRICAN BOYS CHOIR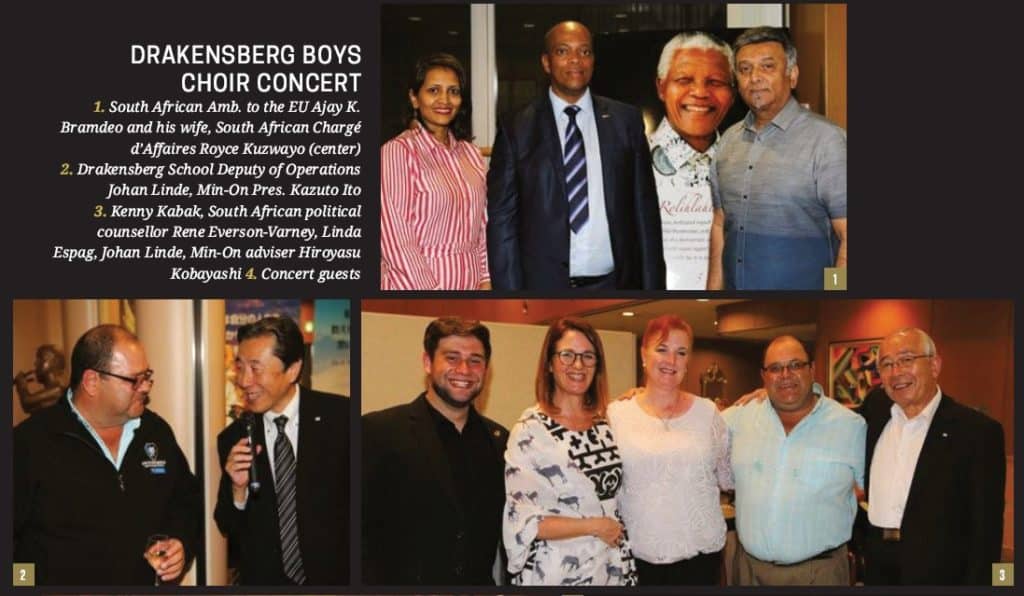 Over the years, Soka Gakkai, through its music subsidiary the Min-On Concert Association, has given me and so many others the opportunity to see an amazing variety of international cultural events. One of their most recent cultural exchanges was bringing in  South Africa's Drakensberg Boys Choir for their fourth Japanese tour. 
This tour was to commemorate the 50th anniversary of the choir.  They were in Japan for a two-month-long, 25-city tour. The youngest members of the choir were 10, while the oldest was 16. They performed pop songs, gospel, and both South African and Japanese folk songs. Their energy and choreography drew enthusiastic cheers and standing ovations at every performance.
Congratulations to Min-On Founder Daisaku Ikeda, Min-On President Kazuto Ito, his staff,  South African Charge d'Affaires Royce Kuzwayo, the embassy staff, and of course Mandela-san for making the evening with its energy and sensitivity so very special.
PARTIES
BOUHLAL'S NATIONAL DAY RECEPTION AT THE PALACE HOTEL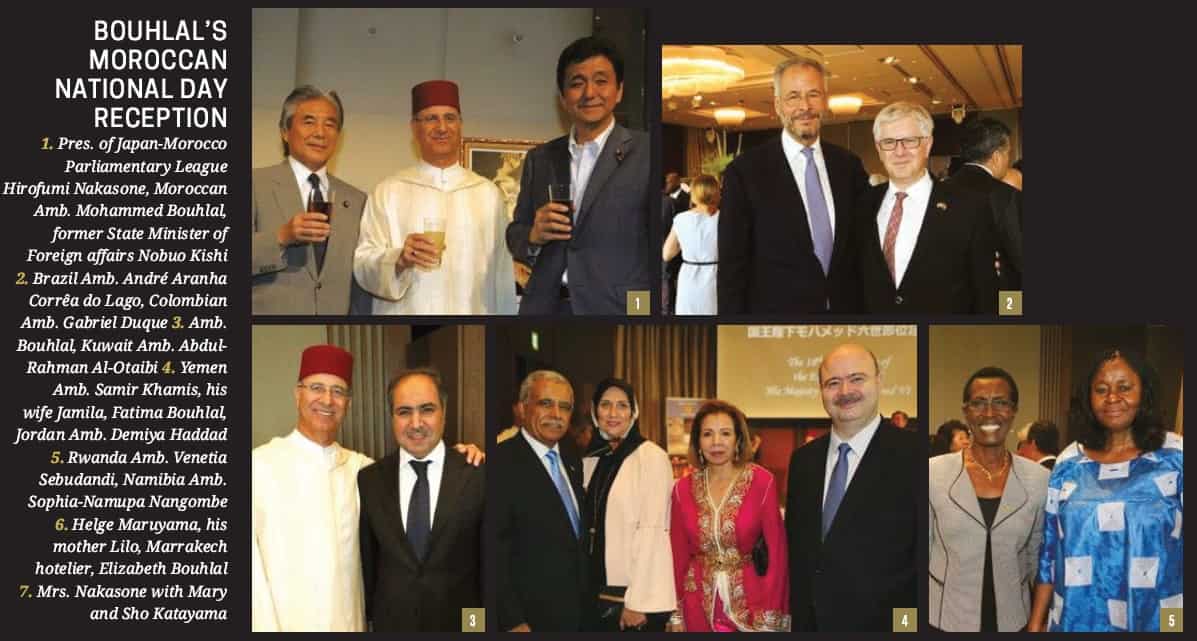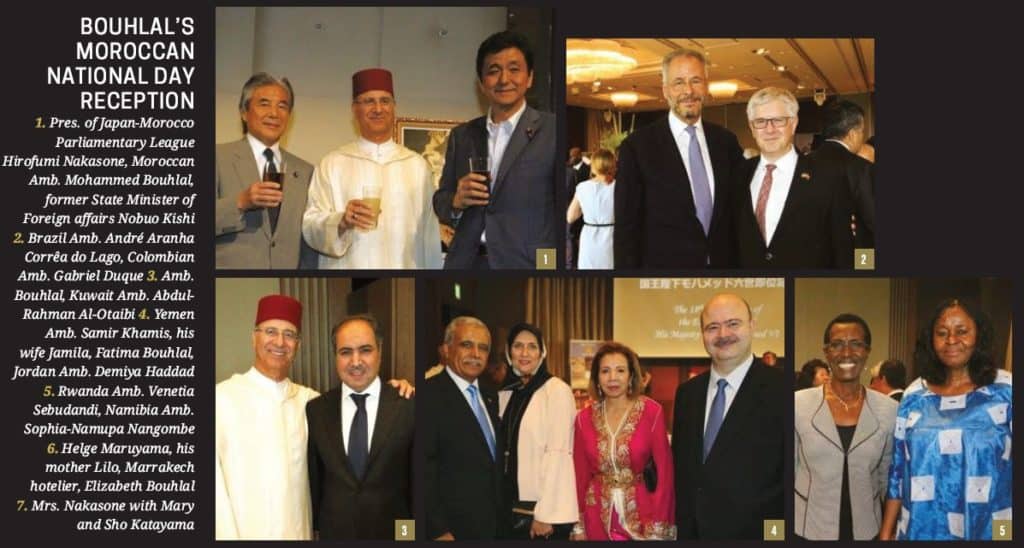 Talk about wonderful memories. Moroccan Ambassador Mohammed Bouhlal and his wife Patima's reception to celebrate the 18th anniversary of King H.M. Mohammed V'l's ascension to the throne. This year's National Day was held in the spacious Yamabuki room at the Palace Hotel. It was perfect for the occasion. It was good timing as Takashimaya was having a big Morocco promotion and let several of the musicians and craftsmen, whom they had flown in for the promotion, join the embassy event.
DJIBOUTI INDEPENDENCE DAY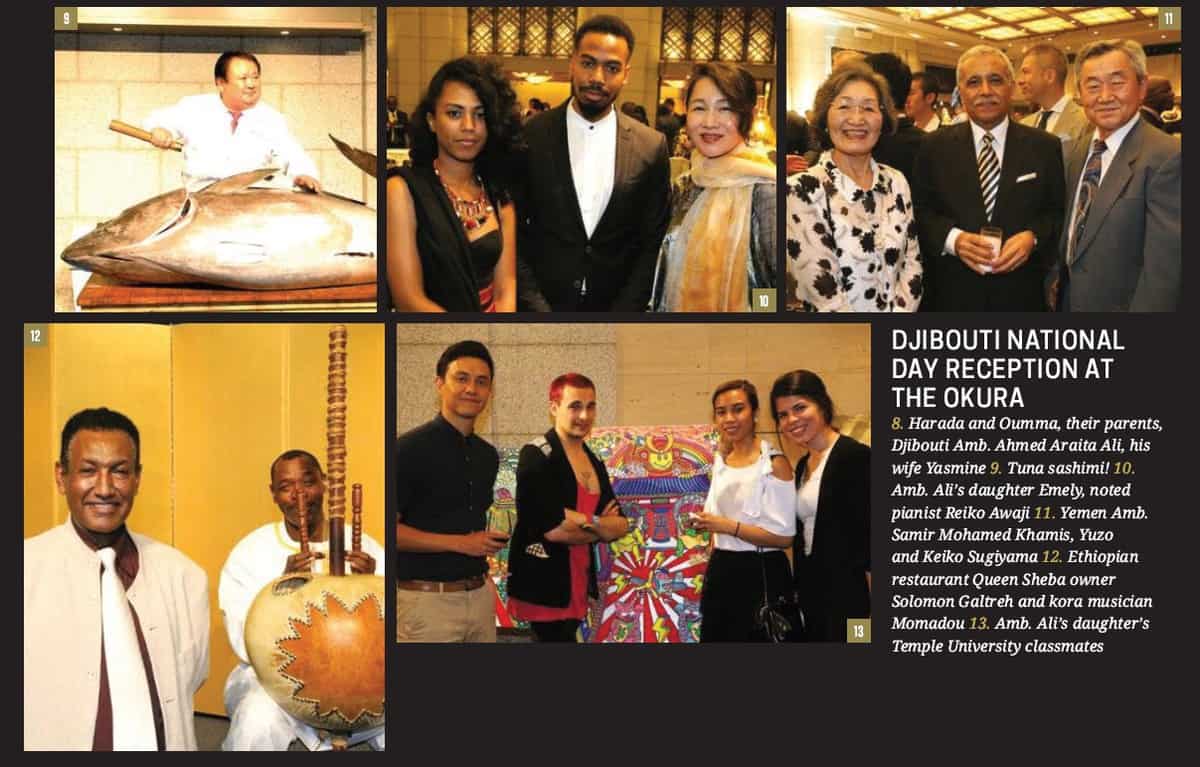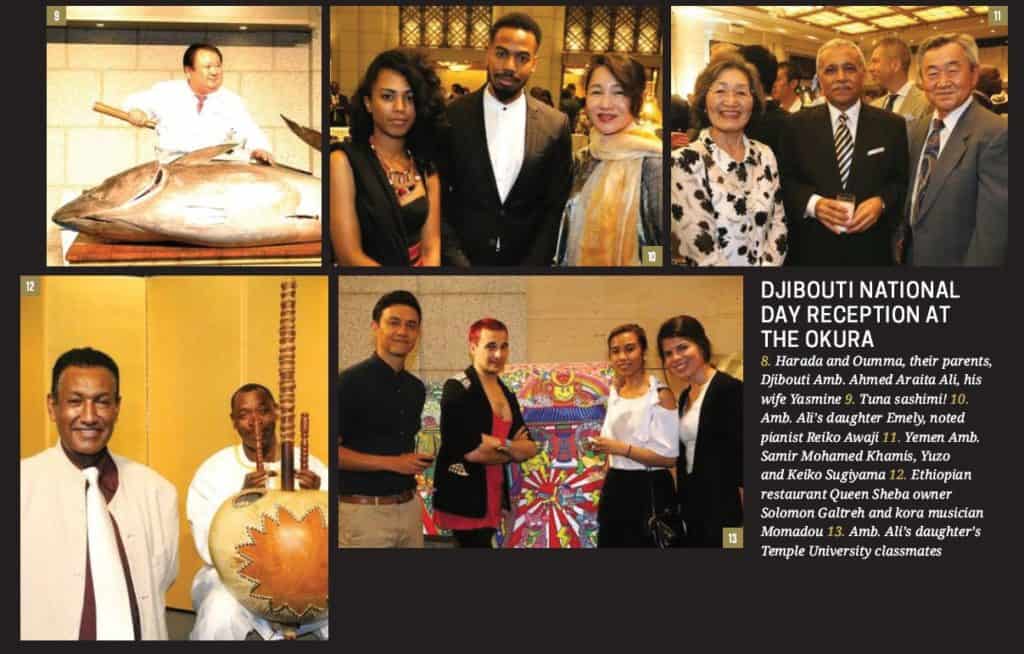 Djibouti Ambassador Ahmed Araita Ali, his lovely wife, their children, and the embassy staff went all out to make the country's  40th Independence Day celebration at the Okura a special evening.  The program opened with a welcome speech by the host about his country's strong and important diplomatic relationship with Japan and the many projects between the two countries.  Kudos again to the Alis and the Djibouti Embassy for putting on a perfect evening, 
PLACES
As we all know, Tokyo is a really busy city and there's so much to do. My recent discoveries and a few re-discoveries include  Takeshita Dori near Harajuku Station. This is such a fun, colorful,  funky street with its fashion shops, restaurants, sweets shops, music studios, cat cafe, and the Harajuku Owl's Forest – and it also has a  currency exchange and information center for tourists. The street is well known and very popular with Japanese and Korean pop stars and many international visitors just looking for unusual fashion and souvenirs at reasonable prices.
ROYAL BANGKOK SYMPHONY ORCHESTRA AT SUNTORY HALL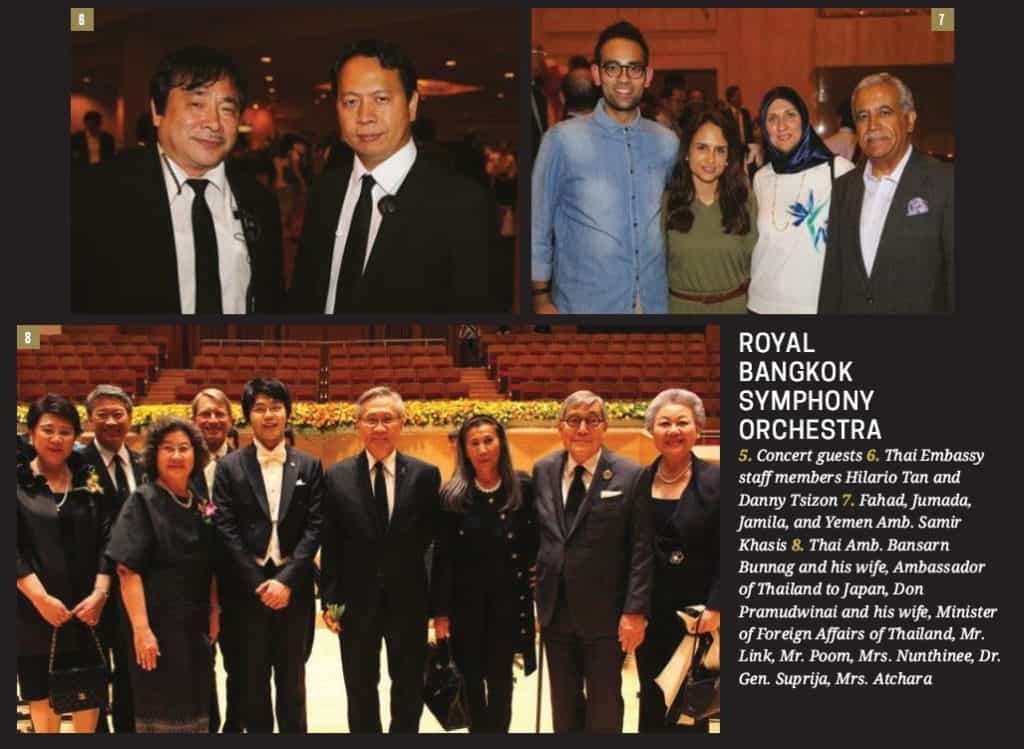 I hadn't been to Suntory Hall since the late great Sony President Norio Ohga, who was also a talented conductor, passed away. My thanks to him for the invitations to his concerts there as well as he and Chichan Plessner's invitation to the opening party in Berlin for the launch of the Sony Center. This time at Suntory Hall I was the guest of the very popular Thai Ambassador Bansarn Bunnag and his wife Yupadee. The occasion was a concert by the Royal Bangkok Symphony Orchestra in commemoration of the 130th anniversary of Thailand-Japan diplomatic relations. Prominent Japanese conductor Koji Kawamoto accomplished Thai pianist Poom Prommachart, and the versatile bass-baritone singer Kittinant Chinsamran performed with the 65-piece orchestra to make it a very special evening of beautiful music.
*First published at the Tokyo Weekender
*Images Copyright: Tsukasa Shiga