Bill's Partyline November 2nd, 2007
PEOPLE
Catherine Zeta-Jones is not only gorgeous and super chic, she's smart, outgoing and really knows how to promote herself and her work. Her recent visit to Japan was to promote her latest film 'No Reservations' for Warner Brothers. "I loved working on the film" she told the press, adding, "it was a new character, something completely different from what I've done, and I'm proud of the way it turned out. I really hope you enjoy it." In the film Catherine plays a master chef who's a real perfectionist, and the changes she goes through as a result of new people in her life—an opera singing sous chef, played by Aaron Eckhart, and her recently orphaned nine year old niece The (played by Abigail Breslin). Catherine said she really didn't cook much before, but has retained some of the cooking skills she has learned for the film. "That makes my husband (actor Michael Douglas) and our children happy which, of course makes me happy."
PARTIES
US Ambassador Thomas Schieffer and his wife Susanne's truly red, white and blue celebration for the 231st anniversary of American independence was a spectacular evening in every way. Once guests congratulated the hosting couple they moved around in the residence or out into the garden to mix with the other guests, and those from the huge variety of American foods on buffet tables set up everywhere.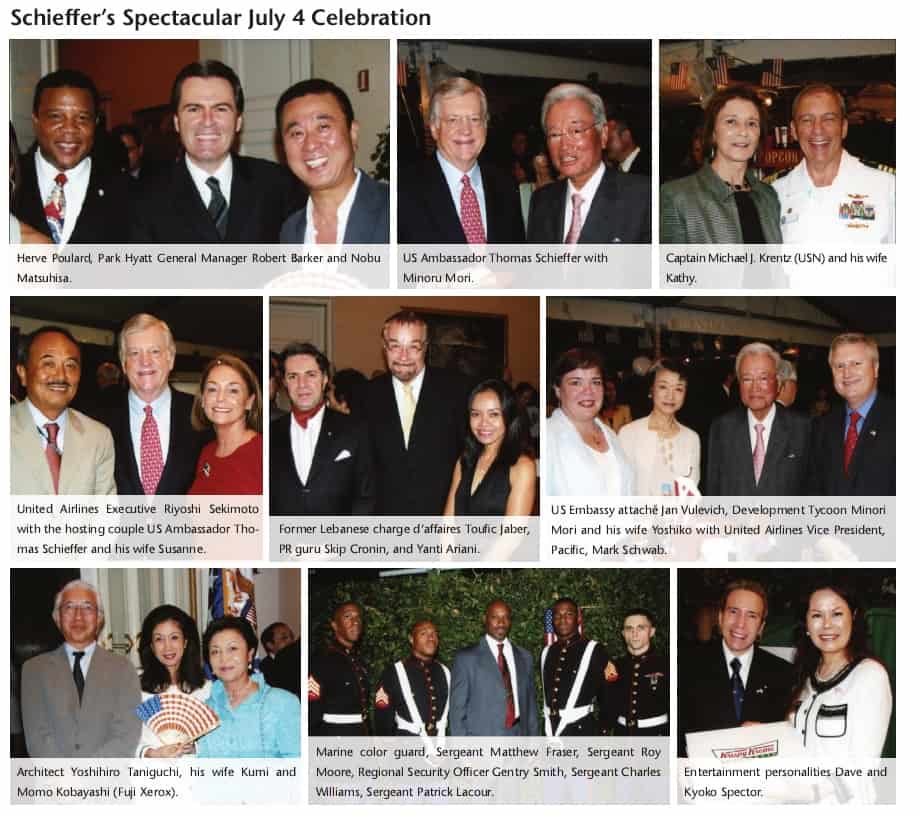 Susanne and her staff did a super job of decorating all the venues very much American. As I once told her, she should start a catering company. That would be a sure success. I wish I had space to mention (and thank) the many sponsors who contributed to the party. I don't so I will just list a few of my favorites—Alaska Seafood, California Prune Board, all the new Coca Cola products, Cold Stone Creamery ice cream, Hawaii Papaya, Hersheys, Krispy Kreme Do-nuts, Starbucks, Snapple and Ocean Spray. Hilton Tokyo sent over a delicious chocolate cake, Tokyo Disney sent Goofy and Mickey and Pat Boone Enterprises let their client Jimmy angel do a show. The program included the singing of the national anthem, a US marine colorguard, the cake cutting and toasts. There was music in the garden by the US Airforce Band of the Pacific. Rock singer Jimmy Angel, all dressed in black, put on one hell of a show belting out the best songs of the 70s. He worked hard and was really good. It was a really special evening with special people.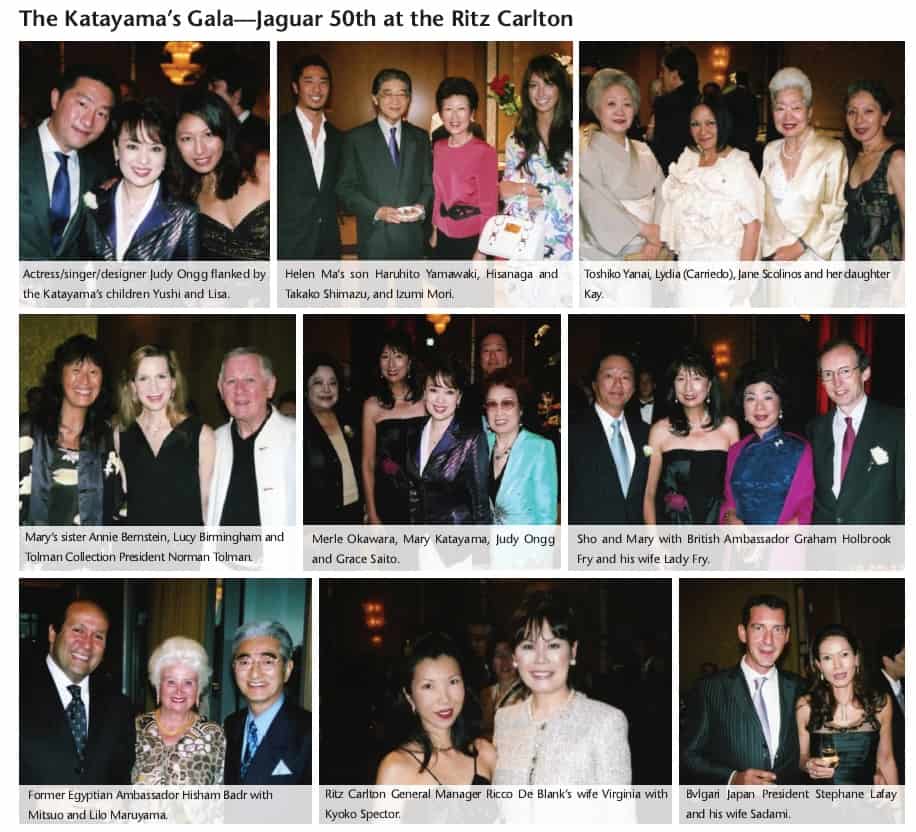 I am a strong believer in the old saying, "It's the people that make the party" and believe me, it was certainly true at the huge gathering of Sho and Mary Katayama and Mary's late and great parents Paul and Amy Sung's friends. The occasion was the 50th anniversary of the Katayama's company Shintoyo Enterprises Ltd, which was founded July 19, 1957 by Mary's father, Paul H. Sung. The first importer of Jaguar and other European cars, Shintoyo now has several showrooms selling Jaguars and Aston Martins. Looking back I have some wonderful memories of great times with Paul and Amy. They were, as many of you out there know, very special people. It was nice seeing Mary's sister Annie Bernstein here. She lives in Hawaii and flew out for the celebration.
PLACES
As always many spent their free time partying and making new friends at the New In. From Japan they went to Hawaii, Tahiti, Easter Island and home to Chile. I wish I could have stowed away on that part of the hip. Everyone at Luxemourg Ambassador Michele Pranchere Tomassini and her husband Jeans Yves's mid-day reception to celebrate Luxembourg's National Day were happy to have the opportunity to congratulate the popular couple. At the same time, we were all sad knowing that this was Michele, Jeans Yves and their children's sayonara party as well. The outgoing and dynamic lady served the country well during her four and a half years here. Believe me—she and her family will really be Masafumi (Andy) an mutt aboard the Chi Esmeralda tied at the missed. They're in Belgium now where Michele is Ambassador Permanent Representative to the European Union.
To do: Be sure to drop by the Tokyo American Club 4F on Sat. Nov. 10 from 10 to 2pm for ILBS's always popular annual Christmas charity fair. There's lots of great shopping opportunities for homemade baked goods, jewelry, greeting cards, dolls, ornaments, Christmas decorations, bags, etc. Entrance tickets are VS00. Raffle tickets are also YS00 and the grand prize is a pair of return tickets to London courtesy of Virgin Atlantic. All proceeds go to charity and with Mary Katayama as ILBS President and Lady Toyoko Fry as Chairperson, it's sure to be one of the best fairs ever. See you there. Drop by Hilton Tokyo's beautiful new marble lounge from Nov. 2 to 11 and enjoy the 2nd Peruvian gourmet and cultural promotion. The special event features over so Peruvian culinary dishes, Peruvian drinks, a cooking class and cultural performances. For details and reservations call 03-3344-S111 #219.
*First published at the Tokyo Weekender
*Images Copyright: Tsukasa Shiga